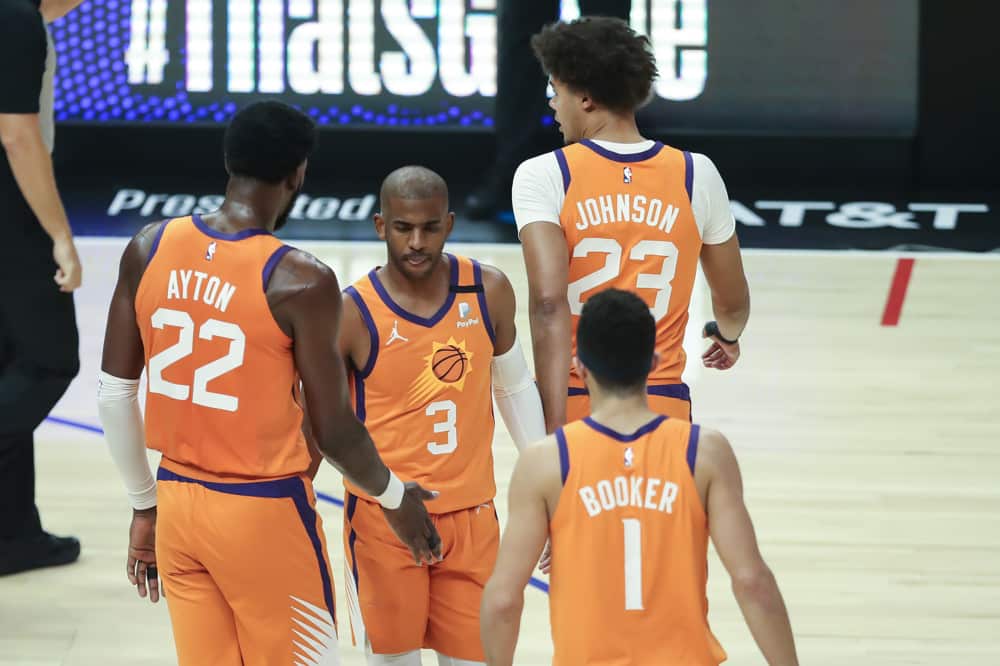 2021 Phoenix Suns Preview & Gambling Guide
2020 Phoenix Suns Review
Two wins. Just two more wins and the Phoenix Suns' dream season would have come to the appropriate dream ending. But, just like the previous two times the franchise reaching the NBA Finals, the Suns couldn't get past two wins on their side of the ledger. The fact that the team made it farther than anyone could have anticipated is beside the point – they couldn't get the job done when it mattered most. Will there be a letdown this season? Will the enhanced expectations and scrutiny this season be too much for the young team to handle? Here is your 2021 Phoenix Suns preview and gambling guide.
What's New for 21/22
If it ain't broke, don't fix it, so the only changes the Suns made going into this season were on the margins. Their top six players last season, in terms of minutes per game, are all back – the five starters: Chris Paul, Devin Booker, Mikal Bridges, Jae Crowder, and Deandre Ayton, plus sixth man Cameron Johnson. Torrey Craig, who gave them solid minutes, left as a free agent and big man Dario Saric tore his ACL in the playoffs and will be out indefinitely.
The Suns looked to plug these holes and missing minutes with a couple of newcomers. Landry Shamet, acquired in a trade for Jevon Carter, will bring some always important long-range shooting from off the bench. And three-time NBA Champion JaVale McGee will look to contribute some much-needed interior defense and shot-blocking as Ayton's backup.
The above-mentioned players, as well as breakout star (kinda, sorta) Cameron Payne, will make up the core of the team. A very nice mixture of young players in their prime with a sprinkle of grizzled veterans every successful team needs. Will it be enough this season to get the job done? Probably not. A lot of things serendipitously fell into place last year for the team, from Chris Paul defying the odds and history by playing at an elite level at his age, to opposing teams in the playoffs having key players hurt. While expecting them to win the title this year is probably unfair, expecting them to be one of the best teams in the league once again is very reasonable.
Season Odds
NBA Title +1700
Western Conference: +650
Pacific Division: +215
To Make Playoffs: -3500
O/U: 51.5 (U:-120, O:+100)
Best Bet: Phoenix Suns Over 51.5 Wins (+100)
The Suns won 51 games last season in only 72 tipoffs. With this season back to the normal 82 game schedule, I see them having no problem getting another win and topping 51.5. They should be very hungry after coming so close to the championship last season, and they have a young team still out to prove they are legit. Plus, all their key players were remarkably healthy last season which hopefully, knock on wood, continues this year. Even with a bit of a dropoff from Chris Paul due to his age (it's bound to happen eventually, right?!), the improvements from their young core should more than offset. I'm also not against sprinkling some dough on them winning the conference and winning their division for some nice plus money.

Phoenix Suns Player Prop Bets
Cameron Johnson: Sixth Man of the Year (+4500)
I'll take a stab at a big one and put a little bet on Cameron Johnson to win Sixth Man of the Year. He's got a couple of things going for him that makes him better than a +4500 underdog to win this award, in my eyes. First off, he'll be playing for a top team that will be garnering lots of attention and should have among the most wins in the league this season. Secondly, this award tends to go to the player that scores the most – or a lot – of points, something Johnson should be able to do with his sweet three-point stroke. If he can take the next step and get his point total up in the low-teens – and the team is as good as expected – he should be in the running.
Phoenix Suns Fantasy Preview
Devin Booker is better than his average draft position of 25, so grab him if you can. He'll get you elite numbers in all categories outside of the defensive ones. I'm fading Deandre Ayton at an ADP of 32 as he's not a huge help in a bunch of categories, but taking him a bit later is fine by me. Chris Paul HAS to slow down eventually, but his ADP of 37 seems like a bit of a steal to me. But my favorite play is Mikal Bridges at 82 – he's constantly improving and stuffs the stat-sheet for you.
Draft: Devin Booker, Chris Paul, Mikal Bridges
Fade: Deandre Ayton (at 32)
NBA Team Previews