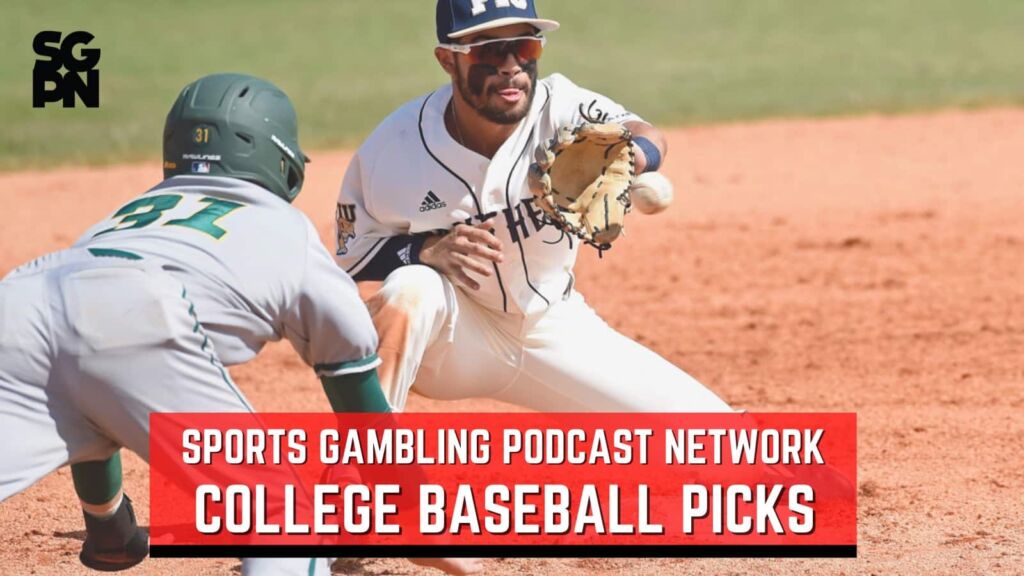 Colby Dant and Noah Bieniek from the Sports Gambling Podcast Network's, "The College Baseball Experience," are providing college baseball picks FOR FREE throughout the Road to Omaha and the College World Series. Want to listen to the betting picks with gambling analysis on NCAA Baseball in audio form? We have that. Is there not enough time to listen to a podcast and you just want to see what the sharpest bets of the day are? This webpage is the place. SGPN is your home for the 2023 NCAA Tournament.
Subscribe to The College Baseball Experience on Apple & Spotify
If our podcasts' funny and sharp college baseball gambling analysis is too long for your day, or you don't want to read a juicy 5-10 minute article on NCAA Baseball gambling expert picks, you have found the right page for the rest of the season. Our analysts update this webpage with their favorite college baseball picks each day. You will find moneyline plays, run line bets, and picks on the totals for every game, every day, right here. The LOCK icon indicates that the pick is one of our favorites of the day and that we have real money action on that game.
It's like a 1-2-3 inning from Kevin Kopps, quick and easy.
TODAYS COLLEGE BASEBALL PICKS
Spread The Love To Our Daily Experts
Follow The College Experience and our Sports Gambling Podcast Network contributors on Twitter! Our entire Degens Only Crew works tirelessly to be sure that they have every pick covered from every angle.
Nowhere else will you find a team of contributors riding out sweats right there with you on college baseball through the highs and the lows. This dedication and passion is what makes SGPN different. That's why the Degens Only Crew is the best around.
Why Roll with SGPN?
The College Baseball Experience is dedicated to providing the absolute best in NCAA baseball gambling content. From conference tournaments to the College World Series, the SGPN crew has you covered during the Road To Omaha.
No other organization is going to get into the nitty gritty of moneylines, totals, and run lines in NCAA Baseball. We are dedicated to providing the best free baseball bets found anywhere. Why roll with corporate gambling when SGPN has you covered? Unlike the other guys, we will never put anything behind a paywall.
So support The College Baseball Experience by reading, listening, downloading, and sharing today! Other than placing and cashing our bets together, there's only one more thing to say. PLAY BALL!