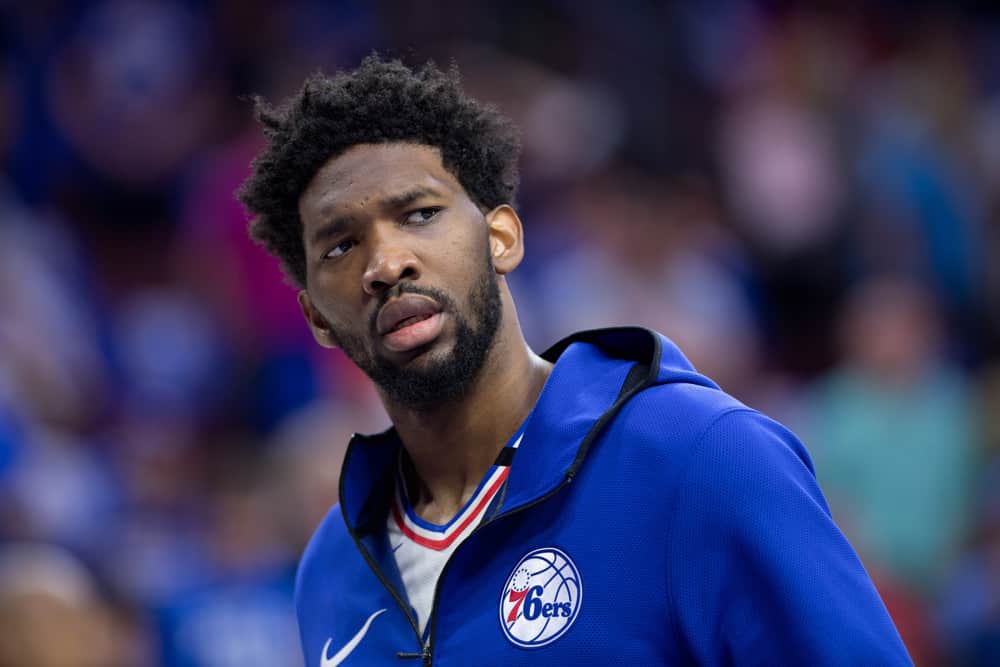 2021 Philadelphia 76ers Preview & Betting Guide
2020 Philadelphia 76ers Review
It was another disappointing season last year in The City of Brotherly Love, as the Philadelphia 76ers failed to make it past the second round of the playoffs, marking four straight years of the same fate (three times out in the second round, one time out in the first). This despite their 49-23 record being the best in the Eastern Conference and the franchise's best season since they made the NBA Finals 20 years previous. Not only did they get picked off by the upstart Atlanta Hawks in the playoffs, but things ended on a sour note between the team and star Ben Simmons after he passed up a layup at a crucial point in the deciding game. Which brings us to our 2021 Philadelphia 76ers Preview & Betting Guide – surely the Sixers cleared up this issue with their star guard in the offseason.
What's New for 21/22
And…..nothing has changed. The team and Ben Simmons are still on the outs. It's actually even worse than how things left off last season, with Simmons holding out for a trade then just recently, surprisingly. showing up to camp (maybe – things are still sketchy). So that really isn't what's new for 2021/22 – that's what's the same, sadly for Sixer fans.
Outside of the Simmons saga, other things have remained mostly constant with the squad. The top eight players from last season (in terms of minutes played per game) have all returned. Veterans George Hill and Dwight Howard have left town, to be replaced by big men Andre Drummond and Georges Niang, both expected to come off the bench. The team used their first-round draft pick on Jaden Springer, who is currently penciled in as the third-string shooting guard.
However, when you have a team as solid as the Sixers do, with three players earning over $30 million a year, there aren't too many changes to be made, unless you are making a big deal like shipping Simmons out of town. And, until that happens (if it does), it'll be more the same this season on the court for the team. But you can't sneeze at a core of Simmons, Seth Curry, Danny Green, Tobias Harris, and Embiid, with youngsters like Shake Milton and Matisse Thybulle coming off of the bench.
Season Odds
NBA Title +2000
Eastern Conference: +750
Atlantic Division: +360
To Make Playoffs: -2000
O/U: 50.5 (O:-105, U:-115)
Best Bet: Under 50.5 Wins (-115)
There aren't really any Sixer team bets I'm gung ho about, but I'll pick them under 50.5 wins for -115. I'm betting on the Simmons turmoil to translate to losses on the court, either due to the fractured relationship between himself and the team/teammates, or due to him refusing to play, or due to transitioning in new players if he does get traded. Plus you can never count on a full season out of Joel Embiid. Simmons tended to pick up the slack when the big man was in street clothes, but that is obviously up in the air now.

Philadelphia 76ers Player Prop Bets
This one works since it doesn't depend on Embiid playing in every game – it's an average, not a total. He put up a career-best 28.5 ppg last season, and I don't see any reason why he won't continue to improve. Plus if Simmons isn't playing then more of the offense and more shots will have to go through the big man's mitts.
Philadelphia 76ers Fantasy Preview
First off, I'm fading Joel Embiid at his current average draft position of nine. While he puts up insane stats, he is unreliable, missing a significant portion of every NBA season he has been a pro for. And you know what – as crazy as it sounds, I'm snatching up Ben Simmons at his average draft spot of 53. This, of course, is based on him not holding out. If he indeed is playing, he's a steal at that slot as he is a stat-sheet stuffer. This is especially true if he gets traded and gets a new lease on life elsewhere.
Draft: Ben Simmons
Fade: Joel Embiid

NBA Team Previews