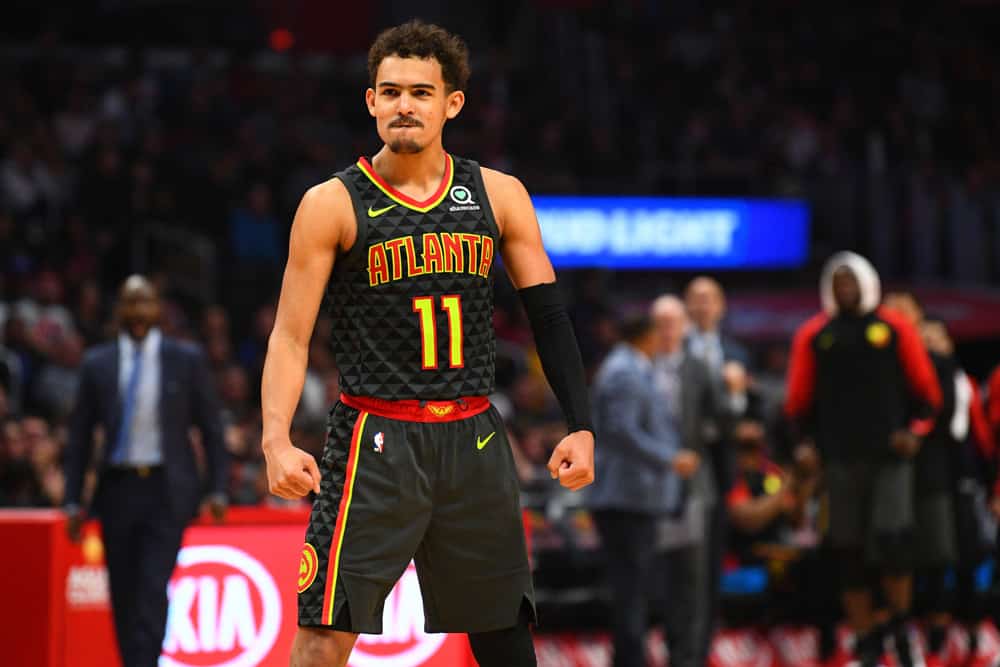 2021 Atlanta Hawks Preview & Gambling Guide
2020 Atlanta Hawks Review
With an exciting young core consisting of Trae Young, Clint Capela, and John Collins, the Hawks brought in sharpshooters Danilo Gallinari and Bogdan Bogdanović, along with veteran Rajon Rondo. The Hawks had one of the more exciting offseasons, only to start 14-20, which ultimately led to the release of head coach Lloyd Pierce. Assistant coach Nate McMillan took control of the team as the interim head coach and started with an eight game winning streak, finishing the regular season with a 41-31 record, winning the Southeast Division. Their playoff run was considered a Cinderella story, but they were clearly the better team in their series vs the Knicks and 76ers. Their run ended in the Eastern Conference Finals, as they lost four games to two to the eventual NBA Champs, the Bucks.
What's New for 21/22
The Atlanta Hawks offseason starts with the most obvious move in which they drop the "interim" tag for Nate McMillan and make him the head coach. They drafted 6 '8" combo forward Jalen Johnson from Duke, a player whose freshman season was cut short but his ceiling in the Association is of superstar status. Look for him to get more minutes as the season moves on and he finds his role. Another new addition to this team includes Gorgui Dieng, who will play as Capela's backup with Onyeka Okongwu expected to miss some major time this season.
Continuity is the name of the game for the Atlanta Hawks; why fix what isn't broken. Because he is a scoring machine and a centerpiece to this Hawks team, the premiere superstar, Trae Young got his five year, $207 million extension. Alongside him is John Collins who also decided to re-sign with the Atlanta Hawks. He was second on the Hawks in scoring, rebounding, and blocks. Then there is Clint Capela who led the league in rebounds and offensive rebounds. Look for him to put in the same workload this season.
To fill in the holes, they are returning to their three-point specialists in Danilo Gallinari and Bogdan Bogdanović, who both shot just over 38% from the three-point line. At the wings, they have both length and size in Cam Reddish and De'Andre Hunter. Hunter is likely to start with his ability to score efficiently. In their second unit, they have a multi-Sixth Man of the Year winner Lou Williams, who joined the team via trade for Rajon Rondo. His veteran leadership can lead the second unit alongside Kevin Huerter (who is a sneaky pick for Sixth Man of the Year this year at +1300).
It was mentioned before, but the Hawks continuity is the key to their success. This is a core squad that can make some noise and shake up the top four in the East yet again this year, and years to come.
Season Odds
NBA Title +3500
Eastern Conference +1500
Southeast Division +135
To Make Playoffs -500
O/U 46.5 (Over -115; Under -105)
Best Bet: Hawks over 46.5 wins (-115)
The Atlanta Hawks finished last season 41-31, which, for an 82 game season, converts to a 47-35 record. But if we take Nate McMillan's record as the interim head coach last year, 27-11, this converts to a 58-24 record in an 82 game season. This is not to say to expect the Hawks to approach 60 wins this season but it is not unreasonable to say that the Hawks can get very close to matching last year's success. The Hawks have only gotten to this win total twice in the last decade, with both teams making a deep run into the playoffs. Look for this squad to match that success and hit the over.
Atlanta Hawks Player Prop
Trae Young over 9.5 assists per game (-115)
Trae Young has slowly been improving his game in distributing the ball to his teammates. In his first three years in the league he has seen his assist per game increase from 8.1 per game to 9.4 per game. This offseason, Coach Nate McMillian has challenged his All-Star point guard to involve his teammates even more. With a stronger core around Trae this year, look for his assist numbers to go up from 9.4 and over 9.5.

Atlanta Hawks Fantasy Preview
The Hawks have two players that will find a comfortable home as your starter in your league. Trae Young averaged 25/4/9 with 2.2 three pointers made per game, while Clint Capela got 15/14 with two blocks per game. After that, John Collins can provide bench depth as a player who's got a high ceiling game to game. A dark horse on this team is Jalen Johnson – watch his progression as the season goes on. He could be a nice midseason pick-up if he really explodes. Players to fade are Danilo Gallinari and Bogdan Bogdanović, as Danilo provides inconsistency and will not get better with age, and Bogdan only got 15 points a game – he may just stay on your bench all season.
Draft: Trae Young, Clint Capela, John Collins, Jalen Johnson (from free agency)
Fade: Danilo Gallinari, Bogdan Bogdanović
NBA Team Previews