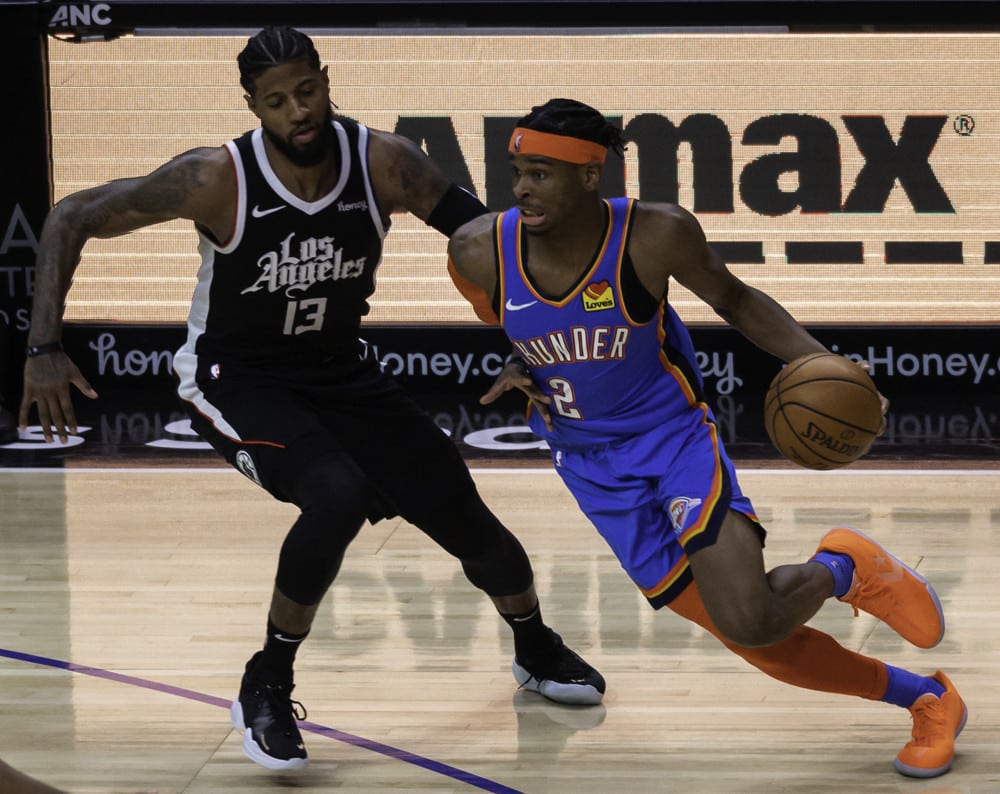 Oklahoma City Thunder – Best Bets 2021
2020 Oklahoma City Thunder Review
The Thunder's five-year run of making the playoffs (and 10 times in 11 years) came to a screeching halt last season, as the team bottomed out (hopefully) at 22-50. The seemingly constant rebuild in OKC is underway once more, with the team relying heavily on their youth last season. In terms of total minutes played, their top nine players last year were all 26 years old or younger, with most of them in the 21-22 year range. The good news is all of these players bar one (the traded Moses Brown) are all returning this season, looking to build on their trial by fire.

What's New for 21/22
The only players who played significant minutes for the Thunder who won't be returning this season are Al Horford, who the Thunder shut down before the end of last season anyhow, and the aforementioned Brown. Horford has effectively been replaced with Derrick Favors, one of only two 30-year-olds on the roster (along with holdover Mike Muscala). Also new this season is hopefully a healthy star player in Shai Gilgeous-Alexander after he tore his plantar fascia last season and only played in 35 games.
For a team that hoards and relies on prime draft picks, the lottery balls didn't bounce their way this past draft. In a draft with five players considered potential future stars, and the top pick being from Oklahoma State, the Thunder ended up picking sixth. With that pick they took young Australian combo guard Josh Giddey, a surprise pick to many. They followed that up with another point guard in Tre Mann later in the draft.
Season Odds
NBA Title +100000
Western Conference: +35000
Northwest Division: +50000
To Make Playoffs +2200
O/U: 23.5
Best Bet: Thunder Win Over 23.5 Games (-115)
OKC won 22 games last year in a 72-game season, with SGA playing in half the games. Assuming he is back and healthy and the young players continue to develop thanks to their extended floor time, I don't see any reason that the Thunder can't top 23 wins. It's not like they are going to tear down the roster and rebuild mid-season – they have no key veterans left to trade.

Oklahoma City Thunder Player Prop Bets
Shai Gilgeous-Alexander Wins Scoring Title: +10000
Just for fun let's sprinkle a little money on SGA leading the league in scoring. He's still only 23-years-old and improving by leaps and bounds each season, going from 19.0 to 23.7 points per game from season two to season three. Plus, with last season's second leading scorer on the team, Horford, out the door he'll be looked at for his scoring even heavier this year. Can you really pass on a +10000 line?
Oklahoma City Thunder Fantasy Preview
Once again, Shai Gilgeous-Alexander is the one to look for in terms of your fantasy basketball team as well. His currently average draft position of 30 looks like a steal to me, assuming he is up and running full speed at the start of the season. He's a player that will get you production in every category. Newcomer Derrick Favors is currently ranked around 132, but with the youth movement on in OKC, I don't know how much of a factor he'll be, so I'm fading him. But, sticking with Canadians, grab Lu Dortz, especially if he falls to around 171 like he currently is projected at. He broke out last season for the Thunder and should play an even bigger role this year.
Draft: Shai Gilgeous-Alexander, Lu Dortz
NBA Team Previews