NFL Picks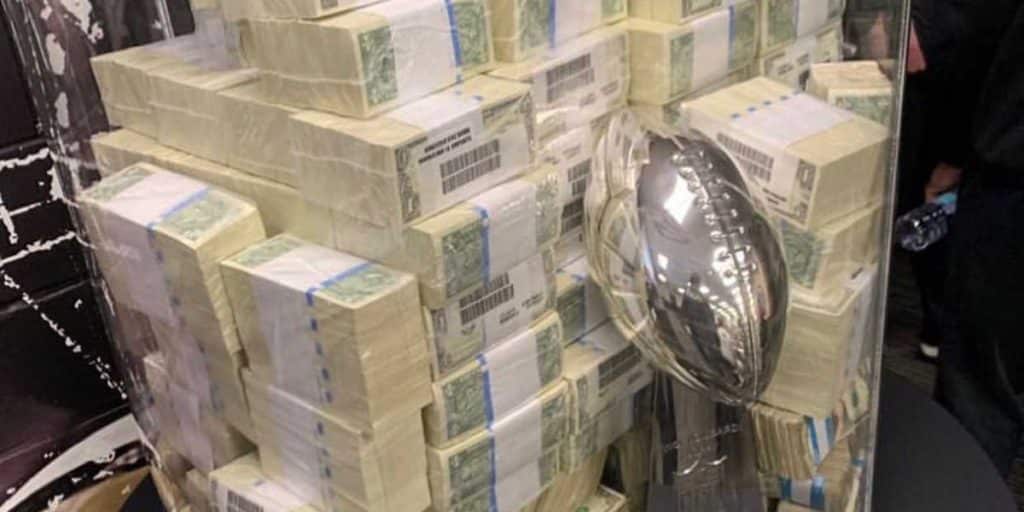 Since 2011, Sean Green and Ryan Kramer have picked every NFL game against the spread. This approach as completely revolutionized the gambling industry, as no one has consistently given away that many free NFL picks.
There is an old adage that you get what you pay for but that doesn't apply to the content and analysis Sean and Ryan give to their NFL predictions. Ryan, a Jersey native and die-hard Giants fan, brings an analytical approach and Sean a die-hard Eagles fan is a self-described "gut handicapper."
Latest NFL Picks Podcast
Subscribe to the Sports Gambling Podcast & Sports Gambling Podcast Network to get the latest in National Football League analysis and picks.
NFL Week Seven Picks
*Odds provided by MyBookie.ag use promo code SGP for a 100% deposit bonus!

Time
Teams
Spread
Ryan
Sean
Adam
Boston
Capper
Will
Shawn B
5:20 PM
NYG
NYG +4.5
NYG +4.5
NYG +4.5
PHI
-4.5
PHI -4.5
PHI -4.5
PHI -4.5
10:00 AM
BUF
-13.5
BUF -13.5
BUF -13.5
BUF -13.5
BUF -13.5
BUF -13.5
BUF -13.5
NYJ
10:00 AM
CAR
CAR +7
CAR +7
CAR +7
CAR +7
NO
-7
NO -7
NO -7
10:00 AM
CLE
-3.5
CLE -3.5
CLE -3.5
CLE -3.5
CLE -3.5
CIN
CIN +3.5
CIN +3.5
10:00 AM
DAL
0
DAL PK
DAL PK
DAL PK
WAS
0
WAS PK
WAS PK
WAS PK
10:00 AM
DET
DET +2.5
DET +2.5
DET -2.5
ATL
-2.5
ATL -2.5
ATL -2.5
ATL -2.5
10:00 AM
GB
-4
GB -4
GB -4
GB -4
GB -4
GB -4
HOU
HOU +4
10:00 AM
PIT
PIT +1
PIT +1
PIT +1
TEN
-1
TEN -1
PIT +1
TEN -1
1:05 PM
SEA
-3.5
SEA -3.5
SEA -3.5
SEA -3.5
SEA -3.5
SEA -3.5
ARZ
ARZ +3.5
1:25 PM
JAX
JAX +7.5
JAX +7.5
LAC
-7.5
LAC -7.5
LAC -7.5
LAC -7.5
LAC -7.5
1:25 PM
KC
-9.5
KC -9.5
KC -9.5
KC -9.5
KC -9.5
DEN
DEN +9.5
DEN +9.5
1:25 PM
SF
SF +2
SF +2
NE
-2
NE -2
NE -2
NE -2
NE -2
5:20 PM
TB
-3.5
TB -3.5
TB -3.5
TB -3.5
TB -3.5
TB -3.5
LVR
LVR +3.5
5:15 PM
CHI
CHI +6
CHI +6
CHI +6
CH +6
LAR
-6
LAR -6
LAR -6
BYE
BAL
BYE
IND
BYE
MIA
BYE
MIN
Record
-
-
44-46-1
53-37-1
42-47-1
42-45-1
43-46-1
48-42-1
Time
Teams
Spread
Tyler
Lentz
Nick
Dant
Rod
JonBoy
Pick
Dundee
Wiesguy
Scott
Reichel
5:20 PM
NYG
NYG +4.5
NYG +4.5
NYG +4.5
NYG +4.5
PHI
-4.5
PHI -4.5
PHI -4.5
PHI -4.5
10:00 AM
BUF
-13.5
BUF -13.5
BUF -13.5
BUF -13.5
BUF -13.5
Buf -13.5
BUF-13.5
BUF -13.5
NYJ
10:00 AM
CAR
CAR +7
CAR +7
NO
-7
NO -7
NO -7
NO -7
NO -7
NO -7
10:00 AM
CLE
-3.5
CLE -3.5
CLE -3.5
CLE -3.5
CLE -3.5
CLE -3.5
CIN
CIN +3.5
CIN +3.5
10:00 AM
DAL
0
DAL PK
DAL PK
DAL PK
DAL PK
DAL PK
WAS
0
WAS PK
WAS
10:00 AM
DET
DET +2.5
DET +2.5
DET +2.5
DET +2.5
ATL
-2.5
ATL -2.5
ATL -2.5
ATL -2.5
10:00 AM
GB
-4
GB -4
GB -4
GB -4
GB -4
GB -4
GB -4
HOU
HOU +4
10:00 AM
PIT
PIT +1
PIT +1
PIT -1
TEN
-1
TEN -1
TEN -1
TEN -1
TEN -1
1:05 PM
SEA
-3.5
SEA -3.5
SEA -3.5
SEA -3.5
SEA -3.5
SEA +3.5
ARZ
SEA +3.5
ARZ +3.5
1:25 PM
JAX
JAX +7.5
JAX +7.5
JAX +7.5
LAC
-7.5
LAC -7.5
LAC -7.5
LAC -7.5
LAC -7.5
1:25 PM
KC
-9.5
KC -9.5
KC -9.5
KC -9.5
KC -9.5
KC -9.5
DEN
DEN +9.5
DEN +9.5
1:25 PM
SF
SF +2
SF +2
SF +2
NE
-2
NE -2
NE -2
NE -2
NE -2
5:20 PM
TB
-3.5
TB -3.5
TB -3.5
TB -3.5
LVR
LVR + 3.5
LVR + 3.5
LAR -6
LVR +3.5
LVR +3.5
5:15 PM
CHI
CH +6
CHI +6
CHI +6
Chi +6
CHI +6
LAR
-6
LAR-6
BYE
BAL
BYE
IND
BYE
MIA
BYE
MIN
Record
-
-
52-38-1
47-43-1
40-47-1
55-35-1
48-41-1
41-33-1
37-37-0