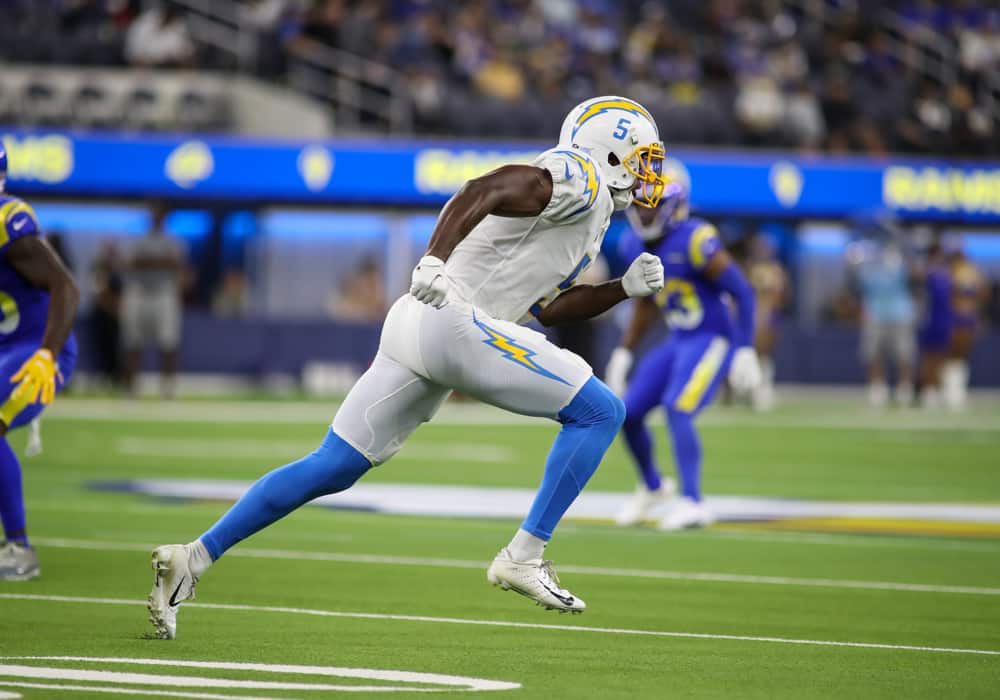 Everybody has heard someone say at one point or another, leagues are won and lost on the waiver wire. While true, this discounts the value of late round picks. The rest of your league may check out during rounds 12th-16th. And focusing on kickers, DST, and players like Tim Tebow and Nathan Peterman to get a good laugh you can have a plan to carry your team to success this January in the playoffs. Who you have as your late round targets will help you win your fantasy football league. Fantasy sleeper targets are getting harder to come by, but here are ten players who could fit the bill.
EXCLUSIVE SGPN FANTASY CONTENT
SGPN Fantasy Football Projections
SGPN Fantasy Football Rankings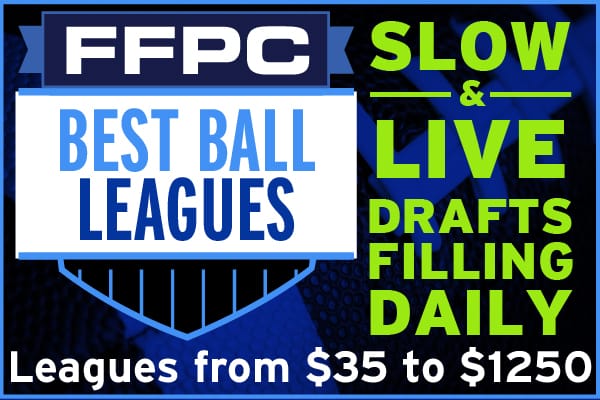 Josh Palmer (WR) Los Angeles Chargers – ADP: 231
Palmer was selected with the 77th overall pick out of Tennessee by the Los Angeles Rams. Josh Palmer enters this season third on the depth chart behind Mike Williams and Keenan Allen. Palmer slides into this role with second-year QB standout, Justin Herbert and new offensive coordinator Joe Lombardi from the Saints. Many around the league expect Lombardi to add in features from the pass-heavy Saints offense of late and per Albert Breer of NFL Network, Palmer could slide into a "Michael Thomas-like role."
It is unlikely he will see the same production as Thomas, despite the high praise. I think Palmer could find himself to be a high-end flex-type player in leagues. In his NFL debut in the preseason, Palmer had six catches for 36 yards. His value is likely higher in PPR leagues as he was heavily featured on short and quick routes. Palmer's upside makes him appealing among the fantasy sleeper targets.
Jalen Reagor (WR) Philadelphia Eagles – ADP: 189
Jalen Reagor was far from impressive in his rookie season. However, injuries and poor quarterback play certainly had a role in the former first-round pick's lackluster season. With impressive speed and pass-catching ability, Reagor remains a rather raw prospect out of TCU heading into his second season. However, according to Eagles head coach Nick Sirianni, Reagor's 1-on-1's have been particularly impressive. He has been utilizing techniques in joint practices with the Patriots which will allow his athleticism to be put on full display this year.
A thing of beauty@jalenreagor | #EaglesCamp pic.twitter.com/sxpqwUc5q5

— Philadelphia Eagles (@Eagles) August 5, 2021
With all the talent in the world and a full camp to build rapport with QB, Jalen Hurts it's hard to believe he underperforms this year for the Eagles in the WR2 role. Consider Reagor a low-risk potential high reward pick in late rounds. Reagor could rebound this year and emerge as one of the more valuable late round fantasy targets.
Irv Smith Jr (TE) Minnesota Vikings – ADP: 148
Irv Smith Jr. has been patiently waiting behind Kyle Rudolph for two seasons. Now that he's the bonafide TE1 I expect production to ramp up extremely. While there is no shortage of pass catchers in Minnesota I think Smith can carve out a role. Especially as a red zone threat on a weekly basis. Reports out of Minnesota's camp per Judd Zulaag state that Smith is expected to be the third option in the passing game for Kirk Cousins. Additionally, reports note that Smith's target share in practices indicates Cousins is far more comfortable with him than he was with Rudolph in his time there.
Overall Smith is a guy with great speed who isn't afraid to go deep as he was the 13th most targeted TE on deep routes as a backup last year, a stat which I expect to vault into the top five with increased playing time Additionally he managed to grab 5 touchdowns last season, on limited snaps, a number which I also expect to increase as well as his yardage from 365 in 2020. Smith could emerge as a top performer among fantasy sleeper targets.
Tre'Quan Smith (WR) New Orleans Saints – ADP: 195
Tre'Quan Smith enters this season as WR1 on the depth chart with Michael Thomas slated to miss a significant amount of time to start the season. This opens up a world of opportunity for the fourth-year veteran out of Ohio State, in his first three seasons Smith totaled a combined 80 receptions, 1109 yard, and 14 touchdowns, which seems a bit underwhelming. However, he has never been in the role in which he is now. A role where he will presumably be the featured pass-catcher. Smith should be featured regardless of Jameis Winston or Taysom Hill starting. I do think Smith has more value with Winston under center. However, he is worth a pick either way in what is an uncertain Saints' offense. This makes Smith one of the better fantasy sleeper targets.
Gabriel Davis (WR) Buffalo Bills – ADP: 162
Gabriel Davis enters this season fresh off a successful rookie year in which he caught 35 passes on 62 targets for 599 yards and 7 touchdowns. The Bills brought in veteran receiver Emmanuel Sanders in the offseason. I don't expect this to hold Davis back as he built a solid rapport with Allen last year. Additionally, Davis (6-2) brings height which the Bills lack at the wide receiver position and could make him a big red zone threat this season.
Speaking of red-zone targets Davis had 15 last season which was more than any other rookie WR and the number one fantasy receiver last year, Davante Adams. There's not much of a reason to expect those red zone targets to decrease this season as his snap percentage should increase resulting in more touchdowns. Davis has the upside and targets to be valuable in the late rounds of your fantasy draft.
Justin Fields (QB) Chicago Bears – ADP: 143
It is still unclear who will line up under center for the Bears week one. I think it is only a matter of time before we see Justin Fields top the depth chart. When that time eventually comes I think Fields would certainly be worth a start in fantasy. Especially if you're a guy who doesn't go big on the quarterback position. So far from Fields, we've seen one preseason game. While it is preseason, he still looked pretty damn good as he went 14 of 20 on passes for 142 yards and a touchdown, as well as running for 33 yards and a touchdown on five carries.
Fields was the third-fastest of all ball carriers, 20.39 MPH, in Week 1 of the preseason. This speed will allow Fields more opportunities as he can evade pass rushers. This will let him extend plays as well as take off for extra yards (and fantasy points). Fields could be the best league winner among the fantasy sleeper targets.
https://twitter.com/NextGenStats/status/1427688541987823617?s=20
Phillip Lindsay (RB) Houston Texans – ADP: 156
Phillip Lindsay enters his first season with the Texans this season in a crowded backfield. It's full of familiar names like David Johnson and Mark Ingram II. While that may scare some fantasy owners away it really doesn't bother me. Mark Ingram is on a sharp decline. Johnson failed to capitalize on his chance as a feature back last season. Additionally, Johnson's injury history suggests that he may miss time this year. But even if that doesn't happen Lindsay still holds value. He should be the featured pass-catcher out of the backfield. Additionally, with his explosive speed and elusiveness he could find his way into the highest percentage of snaps out of any halfback on the team. Picking up a sleeper back like Lindsay in your late round targets will win you fantasy leagues.
Jake Funk (RB) Los Angeles Rams – ADP: N/A
With Cam Akers out for the season with a torn ACL, the Rams backfield is a bit up in the air. Many expect Darrell Henderson to be the sole guy. I just can't see the Rams using him as an every-down back. Enter Jake Funk. Funk put up absolute video game numbers in his senior year of high school (2866 yards and 57 touchdowns). Funk put up ridiculous numbers in high school. However, he had limited offers and his college career was plagued by two torn ACLs. In his final season at Maryland Funk averaged 8.6 YPC on 60 carries, which ultimately got him drafted in the 7th round by the Rams.
In terms of his NFL outlook, Funk ran a 4.43 at his NFL Draft pro day, possesses great pass-blocking, balance after contact, and pass-catching ability making him a viable option in a running back by committee situation. In his pro debut in the preseason, Funk received 5 carries for 12 yards and caught one pass, which while underwhelming is a great sign to see him getting snaps in the backfield as many expected Funk to be used mostly on special teams. Never bet against a kid like this who always ends up on top. Look for Funk to be more of a waiver addition later in the season. That is if he's able to capitalize on his chances.
Michael Pittman Jr (WR) Indianapolis Colts – ADP: 112
Michael Pittman Jr. is entering his second season in the NFL and already has a chance to overtake the WR1 role. With T.Y. Hilton aging, the 23-year-old Pittman will have plenty of opportunities to make a name for himself. Last season Pittman saw most of his catches coming over the middle, in fact, the drag, slant, and crossing routes accounted for 59% of his catches last season. This is good news because Pittman's new QB Carson Wentz tends to favor throwing the ball over the middle as we saw in his career with Philadelphia. With complimentary play styles, this might be a match made in heaven. Additionally, Pittman is 6-4 so he could turn into a favorite red-zone target of Wentz. Pittman emerging as the WR1 in Indy makes him highly appealing among late round fantasy targets.
Jakobi Meyers (WR) New England Patriots – ADP: 314
Following N'Keal Harry's trade request and Julian Edelman's retirement the Patriots certainly have some questions at WR. This leaves Nelson Agholor and Jakobi Meyers to fight it out for the WR1 position. However, I don't think it matters too much who wins that, Meyers will still produce. One of the main reasons I'm high on Meyers is his outstanding target share at 27% last season. This was one of the highest in the NFL (7th) yet failed to amount to too much with a poor passing attack mostly to blame. Whether we see an improved version of Cam Newton or rookie Mac Jones I expect QB play to be better making Meyers an absolute steal.
RELATED CONTENT
10 Players to Avoid this Fantasy Football Season
Fantasy Football Value Picks: Mid-Round Value Picks and Targets
Fantasy Football Draft Strategy: How to Draft with RB Zero
Most Underrated Fantasy Football Players On Each NFL Team
Fantasy Football Injury Analysis: 5 Players to Avoid Drafting