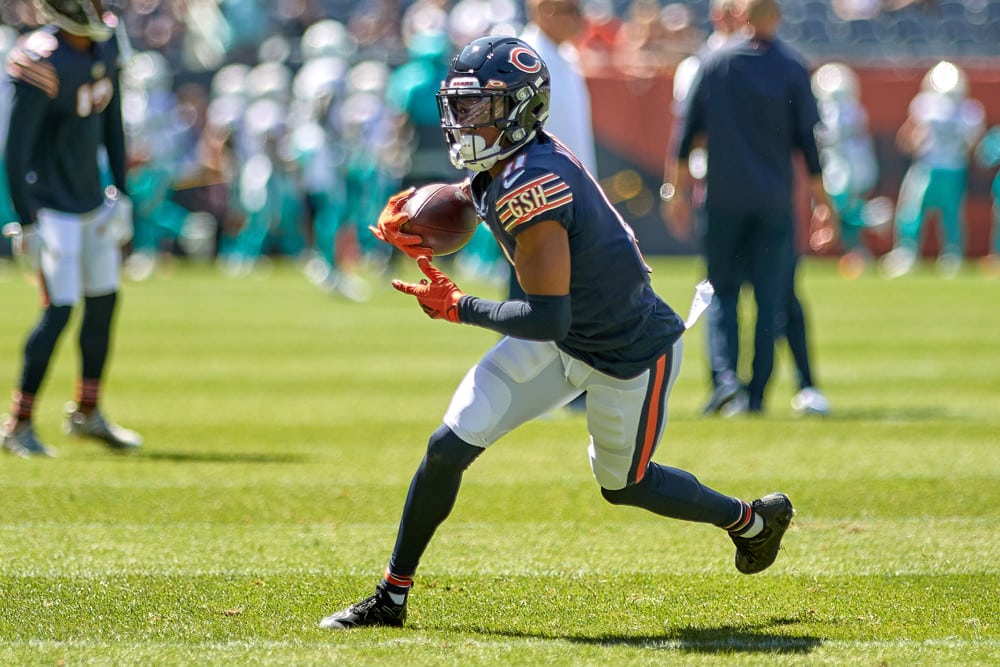 As fantasy football players we all want to win the championship or at least avoid our league's dreaded last place challenge. In order to do this no matter the format, you have to draft well in what I call the heart of the draft. Rounds 6-12 can make or break your roster. To make things harder the bust rate also increases in these rounds. I am here to help you hit on your picks. I have broken down two fantasy value picks in each round to target to help you win your leagues! Let's dive right in and dominate your mid-round picks.
EXCLUSIVE SGPN FANTASY CONTENT
SGPN Fantasy Football Projections
Fantasy Football Value Picks: Mid-Round Value Picks and Targets
Round 6
Tee Higgins (WR) Cincinnati Bengals
Tee Higgins is a player who has fallen to the wayside with the addition of Ja'Marr Chase. His ADP has dropped however late in the sixth round he is a great target. Last season in the 16 game fantasy schedule he finished WR24 in full PPR. He saw 107 targets that were tied for the team lead. He is now going into his second season in the NFL, as well as with the Bengals. Rookie Ja'Marr Chase is struggling early in camp and the preseason.
This leaves Higgins as the top outside option in this offense. Even if Chase becomes a factor, this offense is primed to see over 600 passing attempts in 2021, there will be plenty of volume to go around to all three receivers. With his size and speed, Higgins will be an option all over the field, however, he will excel in the red zone. This is where the "Money" is in fantasy football, touchdowns are king and I want the guy who will see the most targets on his team. This is Higgins! With all of this, I see Higgins finishing in the to-20 this season and is one of the better amazing fantasy value picks.
James Robinson (RB) Jacksonville Jaguars
James Robinson is back on top of the depth chart after an unfortunate injury to rookie Travis Etienne. Last year's RB4 in PPR formats seems to be in a similar situation as last season now. The Jaguars have a touch more depth at the position with Carlos Hyde also on the roster, however, Robinson looks to be in line for a large workload. Last season on 240 attempts he rushed for over a thousand yards and seven touchdowns.  He also added over 300 yards receiving and three more touchdowns.
This is a new regime and new offense, however, Robinson will be the lead guy here. I expect him to continue with if not improve his efficiency from last season. This offense should have an improved passing attack which will only open up lanes for him. It is not out of the realm for him to see at least 20 touches a game this season. With this being said Robinson has a safe floor of a low-end RB2 with RB1 upside in 2021, snatch this up at any point in the sixth round!
James Robinson just makes that drill look effortless pic.twitter.com/eX8tOsgyfM

— Jamal St. Cyr (@JStCyrTV) August 20, 2021
Round 7
Jerry Jeudy (WR) Denver Broncos
This second-year wide receiver is primed for a breakout this season. Last year Jerry Jeudy struggled with drops, some on his part and others on poor quarterback play. Teddy Bridgewater has won the starting job this offseason. This is great news for Jeudy, he is the perfect fit for Teddy's short and interment passing game he excels at. Judy's ability to run routes is second to none and he has great speed after the catch. This allows him to be a home run threat every time he touches the ball. He has worked long and hard on the jugs machine to improve on his drop issue from last season, it has appeared to work so far.
With the return of Courtland Sutton, Jeudy will have another wide receiver teams have to respect. This will allow for more one-on-one coverage, and with his route running ability, Jeudy will be open almost every play. Jeudy saw over 100 targets last season and I do not expect that to decrease much if at all. He will have all the opportunities to produce WR2 numbers this season. The storm is brewing and it seems like Jeudy is primed for a breakout! He will be among the best mid-round value picks in round seven of your fantasy draft!
4th down.

No problem for Teddy and Jerry Jeudy. 🔥

— Pro Football Network (@PFN365) August 22, 2021
Robby Anderson (WR) Carolina Panthers
Fresh off his new two-year deal Robby Anderson is set to help you win your leagues.  Last season he finished as WR15 in full PPR scoring. He also led the Panthers in targets with 129 and in red-zone targets will 11. He turned all of this into over 1000 yards and 3 touchdowns. With the addition of a familiar face in Sam Darnold, an adjustment period should not be needed. This could be an issue for D.J. Moore early on. Anderson will have an opportunity to become Darnold's go-to guy over D.J. Moore.
I expect Anderson to see at least 100 targets again this season and produce similar numbers to last season. I hope he can improve on his poor touchdown total as well. This could help propel Anderson into a high WR2 this season. The floor is fairly safe here with Anderson as well, I expect the Panthers to be throwing a decant amount in 2021. This makes Robby a standout among mid-round value picks who can help your fantasy team win big.
Round 8
Matthew Stafford (QB) Los Angeles Rams
After many years in Detroit Matthew Stafford has taken things to Long Beach. This is huge news for Stafford and the Rams offense. Last season in Detroit Stafford finished QB16 with little help from his playmakers. Insert him into an offense led by Mcvay and that has playmakers like Robert Woods and Cooper Kupp in it, and the sky's the limit for him. He is the key cog to unlock this team and help them reach their full potential. Stafford has averaged around 4000 yards and 25 touchdowns a season in his career in Detroit. I expect this if not more in year one in LA.
I see Stafford pushing QB1 numbers this season, on a team who lost their lead running back to a season-ending injury. They may need to lean a touch more on the shoulders of Stafford and the passing game. This is good news for his overall fantasy production! He is the perfect mid-round quarterback to wait for while you build your team up in the earlier rounds with running backs and wide receivers
🚨 2021 Sleeper MVP Picks! 🚨@PSchrags ➡️ Matthew Stafford@nateburleson ➡️ @Jaboowins@heykayadams ➡️ @ryantannehill1 @KyleBrandt ➡️ @tae15adams pic.twitter.com/82gNDGO1mO

— Good Morning Football (@gmfb) August 25, 2021
Brandin Cooks (WR) Houston Texans
Mr. Consistant, Brandin Cooks could be one of the most undervalued players in the fantasy market. No matter the team, no matter the situation he produces solid fantasy numbers year in and year out. In five of his seven years in the NFL, he has finished as a top 20 wide receiver for PPR scoring. Most recently last season in Houston where he finished WR17. The crazy storyline is his health he has only missed 11 of 112 games over his career, this does not sound like an injury-prone guy to me.
As the top option in Houston again this year I expect him to see a ton of targets. As a high-end talent, he will produce with these targets and I expect a top 20 finish again from Cooks. His ceiling is even higher if the offense is better than expected under Tyrod Taylor or Davis Mills. This is a great mid-round value pick in Round 8 and should be one of your more exciting picks.
Round 9
Corey Davis (WR) New York Jets
The new lead receiver in the new-look Jets offense may be the cheapest top pass-catching option in all your drafts. Corey Davis has shown signs of struggling in a lead role early in his career. However, he seems primed for a late breakout. Last season he performed well as the second option in the Titans offense finishing as the WR29. He produced career highs in receptions, yards, and touchdowns. Early on in the preseason, it appears that Zach Wilson trusts and enjoys targeting Davis. This is great news for his fantasy value.
In 2021 I expect Davis to emerge as the led target getter in this offense. He should see over 100 targets as I expect the Jets to be playing from behind a lot. Davis has a floor of a high-end WR3, however, a ceiling of a high-end WR2. There is a large range of outcomes here, this is why you can get him so late. However, adding him as your WR3 or Flex play could pay off big time this year! Davis has the chance to be among the league-winning picks this year and will be a great mid-round value in your fantasy draft.
Corey. Davis. pic.twitter.com/hxiOk9b74p

— Nate Tice (@Nate_Tice) August 25, 2021
Joe Burrow (QB) Cincinnati Bengals
Entering year two and fully healed from his leg injury last season Joe Burrow is primed for a big year. The addition of college teammate Ja'Marr Chase adds another weapon to a team that enjoys airing it out! Last season Burrow finished as the QB23 in 10 games. In Weeks 1-10, he finished as the QB15 and was on pace to finish higher averaging 18.60 points a game. Although they added Chase, the Bengals failed to address the offensive line this offseason. This is a concern here with Burrow, however, I think he will be okay if the line can improve just a little bit from last season.
The Bengals also did not address the defense too much this offseason, so I expect them to be playing from behind a lot. This will lead to a ton of passing from a team that has passed more than560 times the past two seasons. I expect that number to be well over the 600-attempt mark this year. If Burrow can stay healthy I can see him landing in the low-end QB1 discussion.  If Burrow can overcome his injury concerns, he could be one of the stronger fantasy value picks this year.
Round 10
Mike Gesicki (TE) Miami Dolphins
In a landscape that is hard to predict Mike Gesicki could be the one who gives you the best value. A true athlete at the position has proven he can be a high-end fantasy option in the past. Finishing as a TE1 the past two seasons, and TE7 just last year. He also missed two games due to injury, had he played in those two games he could have finished even higher. Late last season Tua found comfort in targeting the big tight end. This has seemed to carry over to this season. The addition of Will Fuller and Jaylen Waddle has decreased his value for some, however, he is still a key cog in the scheme.
Last year Tua enjoyed targeting his tight ends and early on in the preseason, the offense seems to be similar. Gesicki can stretch the field through the seams or create yards from a simple flat route. In a position that people tend to punt on, adding Geskici this late could win you your league as he could finish as a top 5 tight end this season. He has the highest upside of any other tight end in this range.
Darnell Mooney (WR) Chicago Bears
We have all seen the clips of Darnell Mooney turning guys inside out just to be overthrown by a mile. The hope is that this season we will see less of those clips and more Mooney touchdowns. As a rookie, he saw 98 targets, which he was only able to turn into 61 receptions for 631 yards and 4 touchdowns. However, these numbers could have been much more had there been better quarterback play. This season we will see that with either Andy Dalton or Justin Fields under center. Both are very accurate quarterbacks who have the ability to throw to all parts of the field.
Mooney is the clear-cut number two option in this offense, with this, he should see over 100 targets in 2021. He has enough talent to turn this into good fantasy production. Like most wide receivers he will carry WR2 upside however it's more likely he finishes as a WR3. He will be a weekly flex play for your roster with boom weeks sprinkled in. This is the perfect player to hit on and help you win your league.
Free Darnell Mooney pic.twitter.com/HZIaXwiUYm

— Ian Hartitz (@Ihartitz) October 28, 2020
Round 11
Marvin Jones Jr. (WR) Jacksonville Jaguars
This man always outproduces his ADP, year in and year out he just produces. This year in Jacksonville I expect nothing less. With new starter Trevor Lawrence at the helm, I expect Marvin Jones Jr. to get a decent amount of work. Dj Chark has missed most of camp and preseason to an injury this has allowed Jones to build the much need chemistry with the young quarterback. Jones has proven to be reliable and sure-handed. He is battling an injury currently but is expected to play in Week 1. The Jaguars also lost Travis Etienne to injury for the year, he was expected to be heavily involved in the passing game. This will allow for more targets to be given to Jones.
With all of this being said, I expect Jones to be very fantasy relevant in 2021. A high-end WR3 is well within grasps for last year's WR29. Getting him here in the 11th round is a great value. He could end up being the team's top target if Chark and Shenault cant stay on the field. If this happens he could even finish as a low-end WR2.
Gus Edwards (RB) Baltimore Ravens.
One of the new duo of running backs the Ravens will run with for the 2021 season. Last Season both J.K. Dobbins and Gus Edwards saw similar workloads. Edwards saw over 144 opportunities (Targets + Carries), I do not expect this much of a workload again this season. However, Edwards is extremely talented and possibly the best "backup " running back in the NFL. With the high rushing volume, the Ravens deploy we may even see weeks Edwards and Dobbins are both RB2s. Along with this upside, he carries a huge upside in case of injury. If either Dobbins or Edwards goes down the other immediately becomes an RB1.
With all of this begin said Edwards in round 11 could win you your league, he has the chance to outperform this ADP easily. The path is not that complicated, for a team that has almost no starting wide receivers for week 1. We could see a heavily rushing volume early and often. Edwards will finish as a high-end RB3 in 2021, this will be a great flex play or bye week fill-in for you. However, if an injury occurs he will have high-end RB2 upside.
All effort for Gus Edwards 😤

(via @NFL)pic.twitter.com/p0D8Q3JQwu

— Bleacher Report (@BleacherReport) December 15, 2020
Round 12
Phillip Lindsay (RB) Houston Texans
The former Bronco star has seen his career fizzle out sadly. He struggled with injuries as of late, however, he is a former 1000 yard rusher. He has added this offseason to one of the oldest running back rooms in the NFL. Most thought we would see a timeshare between David Johnson and Phillip Lindsay. However, as of late the Texans have thrown a wrench in this plan. It appears that Lindsay and Mark Ingram are getting most of the work with the ones in camp and preseason. Lindsay is in line for a huge workload if he wins the starting job this season in Houston.
If Lindsay does in fact win the job you will have drafted a starter in the 12th round! This is unheard of.  However in this round, you are shooting for upside, so look no further. Last Season David Johnson finished as the RB25, while only playing 11 games. If you held off on running backs Lindsay is the perfect dart throw here. He will carry low-end RB2 upside if he is the sole lead in the backfield, this is well worth the gamble to me here. Lindsay is one of those picks who returns massive fantasy value tough to find in a mid-round pick.
Cole Beasley (WR) Buffalo Bills
Just last season Cole Beasley finished as the WR21 in PPR scoring. He has always shown an ability to get open and shed defenders with ease. Beasley has carved out a role in this offense that no one can duplicate. Allen has grown to love the reliability Beasley comes with. If it is third down and under 10 you know Allen is looking Beasley's way first and he is always open. The Bills offense is one of the highest-scoring in the league. It also is one of the most pass-heavy that runs the most four and three-wide receiver sets in the league.
If you factor all of this in again this year and the fact they added no real competition for Beasley I expect him to reproduce a similar season to a year ago. I see the Bills continuing to lean on the arm of Allen to lead them to the playoffs and beyond. If Allens throwing you know he will look Beasley's way and this will lead to WR2 numbers again in 2021 for him. The upside is huge here and you should be chasing that with your mid-round picks to find some big fantasy value.
Cole Beasley and Isaiah McKenzie were both lights out today in a light practice. Bills were only in shells. But what both slot receivers can do is just unfair. pic.twitter.com/cfr6wulIDR

— Matt Parrino (@MattParrino) August 19, 2021
RELATED FANTASY CONTENT
Fantasy Football Injury Analysis: 5 Players to Avoid Drafting
10 Late Round Fantasy Targets: Fantasy Football Sleepers
Funny Fantasy Football Names 2021
Last Year's Fantasy Football Busts and their 2021 Outlook
Fantasy Football Draft Strategy: How to Draft with RB Zero