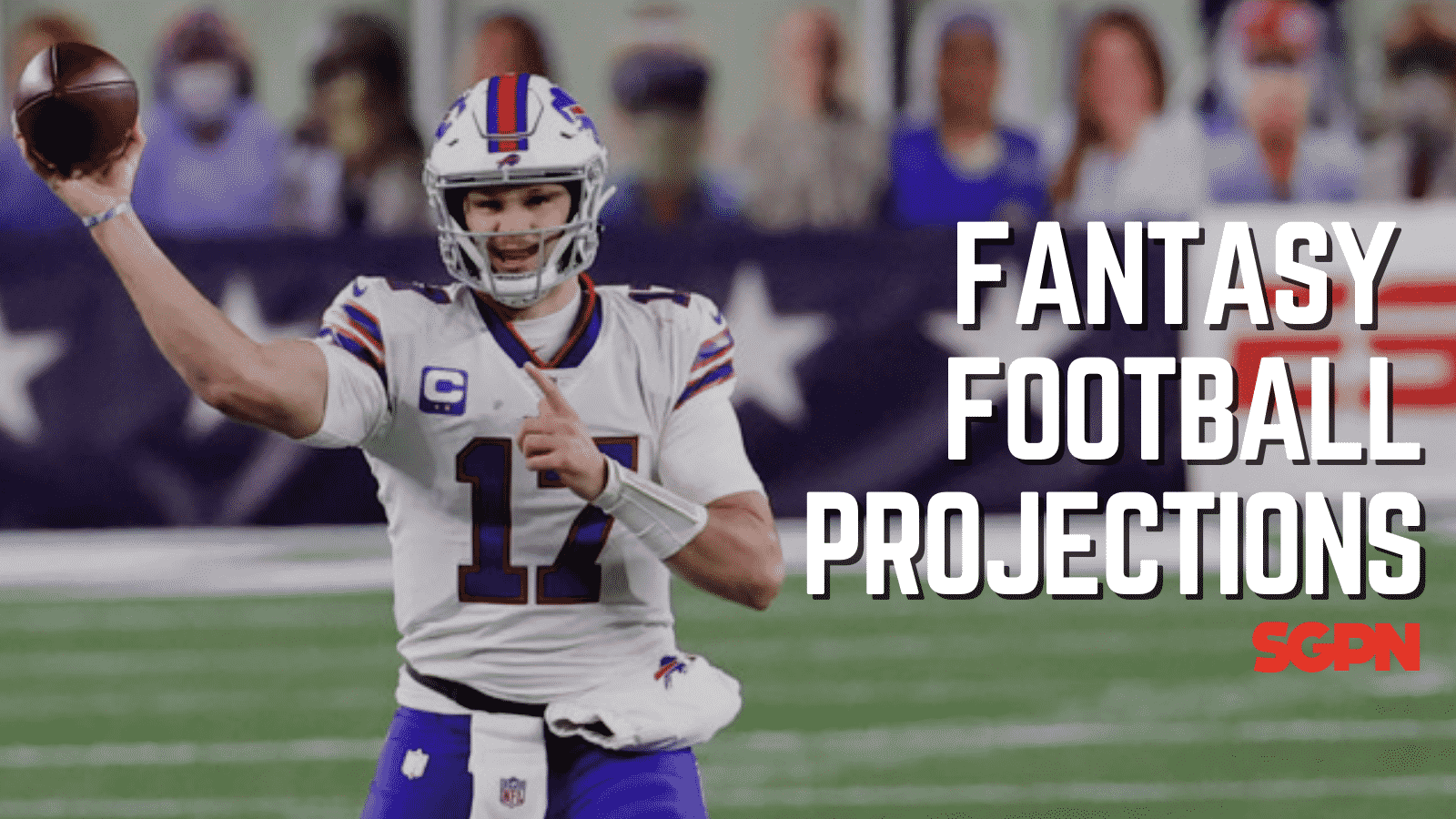 The NFL and Fantasy Football season is right around the corner and SGPN is here with all the data and information you need. We scoured the information and data you need to start preparing for your Fantasy Draft. These are some of the most comprehensive Fantasy Football Projections you can find out there.

Our contributors to this were Dan Titus, Scott Reichel, Jeremy Popielarz, Nick Dant, Rod Villagomez, Scott Simpson, and Adam Pelletier. Through a divide and conquer approach the team dove deep on an assigned division and then worked as a team to fine-tune them. This was a collaborative effort that took us weeks of researching, discussing, analyzing, and revising to complete. However, we did it all for your Degen Nation!
Our plan is to update these numbers throughout the season by staying up-to-date on all the information. This includes OTAs and training camps. Once the season kicks off we will not be updating them anymore, but we are working on some other great fantasy content.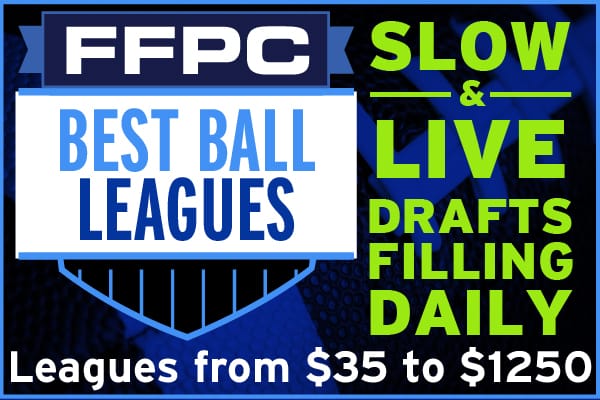 Stay tuned in to the SGPN Fantasy Football Feed for all your fantasy football wants and needs this season.
Check out the SGPN Fantasy Football Podcast.
Download an Excel File of SGPN Fantasy Football Projections
SGPN Fantasy Football Projections
| Rk | Player | Tm | Pos | Age | G | Cmp | Att | Yds | TD | INT | Att | Yds | Y/A | TD | Tgt | Rec | Yds | Y/R | TD | TD | Fmb | FL | FantPt | PPR | POS RK |
| --- | --- | --- | --- | --- | --- | --- | --- | --- | --- | --- | --- | --- | --- | --- | --- | --- | --- | --- | --- | --- | --- | --- | --- | --- | --- |
| 1 | Patrick Mahomes | KC | QB | 25 | 17 | 445 | 660 | 5320 | 44 | 8 | 60 | 300 | 5 | 2 | 0 | 0 | 0 | 0 | 0 | 2 | 6 | 6 | 402.8 | 402.8 | QB01 |
| 2 | Kyler Mrray | ARI | QB | 23 | 17 | 410 | 590 | 4226 | 29 | 15 | 141 | 860 | 6.1 | 12 | 0 | 0 | 0 | 0 | 0 | 12 | 8 | 8 | 397.1 | 397.1 | QB02 |
| 3 | Josh Allen | BUF | QB | 25 | 17 | 399 | 612 | 4649 | 35 | 10 | 115 | 441 | 3.8 | 9 | 0 | 0 | 0 | 0 | 0 | 9 | 9 | 6 | 392.1 | 392.1 | QB03 |
| 4 | Russell Wilson | SEA | QB | 32 | 17 | 380 | 582 | 4475 | 43 | 14 | 88 | 537 | 6.1 | 2 | 0 | 0 | 0 | 0 | 0 | 2 | 0 | 0 | 388.7 | 388.7 | QB04 |
| 5 | Tom Brady | TPA | QB | 43 | 17 | 422 | 659 | 5101 | 44 | 13 | 15 | 7 | 0.4 | 3 | 0 | 0 | 0 | 0 | 0 | 3 | 5 | 3 | 366.7 | 366.7 | QB05 |
| 6 | Aaron Rodgers | GB | QB | 37 | 17 | 379 | 552 | 4417 | 42 | 4 | 34 | 133 | 3.9 | 2 | 0 | 0 | 0 | 0 | 0 | 2 | 2 | 1 | 360 | 360 | QB06 |
| 7 | Dak Prescott | DAL | QB | 27 | 17 | 430 | 645 | 5031 | 33 | 8 | 43 | 192 | 4.5 | 5 | 0 | 0 | 0 | 0 | 0 | 5 | 10 | 5 | 356.5 | 356.5 | QB07 |
| 8 | Lamar Jackson | BAL | QB | 24 | 17 | 260 | 410 | 3025 | 29 | 10 | 165 | 1028 | 6.2 | 7 | 0 | 0 | 0 | 0 | 0 | 7 | 11 | 4 | 352.9 | 352.9 | QB08 |
| 9 | Justin Herbert | LAC | QB | 22 | 17 | 442 | 662 | 4961 | 37 | 11 | 48 | 236 | 4.9 | 3 | 0 | 0 | 0 | 0 | 0 | 3 | 8 | 8 | 350 | 350 | QB09 |
| 10 | Jalen Hurts | PHI | QB | 22 | 17 | 333 | 585 | 3733 | 27 | 14 | 152 | 837 | 5.5 | 6 | 0 | 0 | 0 | 0 | 0 | 6 | 10 | 3 | 343 | 343 | QB10 |
| 11 | Cristian McCaffery | CAR | RB | 24 | 17 | 0 | 0 | 0 | 0 | 0 | 302 | 1390 | 4.6 | 15 | 122 | 97 | 819 | 8.4 | 5 | 20 | 0 | 0 | 340.9 | 437.9 | RB01 |
| 12 | Deshaun Watson * | HOU | QB | 25 | 17 | 391 | 575 | 4495 | 28 | 8 | 100 | 500 | 5 | 2 | 0 | 0 | 0 | 0 | 0 | 2 | 2 | 2 | 331 | 331 | QB11 |
| 13 | Matt Ryan | ATL | QB | 36 | 17 | 380 | 584 | 4710 | 34 | 12 | 30 | 96 | 3.2 | 2 | 0 | 0 | 0 | 0 | 0 | 2 | 5 | 1 | 320 | 320 | QB12 |
| 14 | Ryan Tannehill | TEN | QB | 33 | 17 | 354 | 500 | 3955 | 29 | 8 | 40 | 250 | 6.3 | 5 | 0 | 0 | 0 | 0 | 0 | 5 | 5 | 3 | 313 | 313 | QB13 |
| 15 | Dalvin Cook | MIN | RB | 25 | 17 | 0 | 0 | 0 | 0 | 0 | 332 | 1725 | 5.2 | 17 | 50 | 35 | 330 | 8.3 | 1 | 18 | 4 | 2 | 309.5 | 344.5 | RB02 |
| 16 | Ben Roethlisberger | PIT | QB | 39 | 17 | 451 | 692 | 4385 | 37 | 12 | 34 | 5 | 0.2 | 0 | 0 | 0 | 0 | 0 | 0 | 0 | 5 | 1 | 299.3 | 299.3 | QB14 |
| 17 | Jameis Winston | NO | QB | 27 | 17 | 369 | 595 | 4648 | 35 | 20 | 24 | 98 | 4.1 | 1 | 0 | 0 | 0 | 0 | 0 | 1 | 7 | 2 | 297.7 | 297.7 | QB15 |
| 18 | Trevor Lawrance | JAX | QB | 21 | 17 | 344 | 490 | 3673 | 27 | 12 | 75 | 400 | 5.3 | 5 | 0 | 0 | 0 | 0 | 0 | 5 | 8 | 5 | 294 | 294 | QB16 |
| 19 | Kirk Cousins | MIN | QB | 32 | 17 | 360 | 530 | 4400 | 32 | 15 | 30 | 140 | 4.7 | 1 | 0 | 0 | 0 | 0 | 0 | 1 | 4 | 0 | 294 | 294 | QB17 |
| 20 | Tua Tagovailoa | MIA | QB | 23 | 17 | 385 | 592 | 4042 | 26 | 14 | 70 | 276 | 3.9 | 5 | 0 | 0 | 0 | 0 | 0 | 5 | 1 | 1 | 291.7 | 291.7 | QB18 |
| 21 | Joe Burrow | CIN | QB | 25 | 17 | 411 | 614 | 4013 | 27 | 8 | 65 | 250 | 3.9 | 4 | 0 | 0 | 0 | 0 | 0 | 4 | 10 | 5 | 291.5 | 291.5 | QB19 |
| 22 | Cam Newton | NWE | QB | 32 | 17 | 296 | 463 | 3474 | 11 | 12 | 154 | 645 | 4.2 | 11 | 0 | 0 | 0 | 0 | 0 | 11 | 7 | 2 | 285.9 | 285.9 | QB20 |
| 23 | Daniel Jones | NYG | QB | 23 | 17 | 335 | 545 | 3996 | 25 | 14 | 80 | 458 | 5.7 | 3 | 0 | 0 | 0 | 0 | 0 | 3 | 13 | 8 | 280 | 280 | QB21 |
| 24 | Alvin Kamara | NO | RB | 25 | 17 | 0 | 0 | 0 | 0 | 0 | 204 | 1020 | 5 | 13 | 107 | 85 | 736 | 8.7 | 5 | 18 | 2 | 2 | 279.6 | 364.6 | RB03 |
| 25 | Derek Carr | LVR | QB | 29 | 17 | 380 | 556 | 4540 | 29 | 12 | 36 | 126 | 3.5 | 2 | 0 | 0 | 0 | 0 | 0 | 2 | 10 | 10 | 278.2 | 278.2 | QB22 |
| 26 | Sam Darnold | CAR | QB | 24 | 17 | 379 | 611 | 4735 | 26 | 17 | 24 | 74 | 3.1 | 2 | 0 | 0 | 0 | 0 | 0 | 2 | 5 | 1 | 276.8 | 276.8 | QB23 |
| 27 | Justin Fields | CHI | QB | 22 | 17 | 405 | 622 | 3995 | 24 | 15 | 64 | 333 | 5.2 | 4 | 0 | 0 | 0 | 0 | 0 | 4 | 7 | 4 | 275.1 | 275.1 | QB24 |
| 28 | Ryan Fitzpatrick | WAS | QB | 38 | 17 | 380 | 583 | 4218 | 22 | 16 | 57 | 286 | 5 | 4 | 0 | 0 | 0 | 0 | 0 | 4 | 7 | 2 | 273.3 | 273.3 | QB25 |
| 29 | Carson Wentz | IND | QB | 28 | 17 | 361 | 517 | 3865 | 24 | 7 | 50 | 250 | 5 | 2 | 0 | 0 | 0 | 0 | 0 | 2 | 8 | 6 | 265 | 265 | QB26 |
| 30 | Matthew Stafford | LAR | QB | 33 | 17 | 371 | 587 | 4150 | 31 | 15 | 22 | 84 | 3.8 | 0 | 0 | 0 | 0 | 0 | 0 | 0 | 3 | 3 | 262.4 | 262.4 | QB27 |
| 31 | Baker Mayfield | CLE | QB | 26 | 17 | 324 | 517 | 3786 | 28 | 9 | 57 | 175 | 3.1 | 1 | 0 | 0 | 0 | 0 | 0 | 1 | 9 | 4 | 260.4 | 260.4 | QB28 |
| 32 | Jared Goff | DET | QB | 26 | 17 | 380 | 593 | 4320 | 25 | 15 | 46 | 91 | 2 | 2 | 0 | 0 | 0 | 0 | 0 | 2 | 3 | 2 | 259.9 | 259.9 | QB29 |
| 33 | Zach Wilson | NYJ | QB | 22 | 17 | 388 | 590 | 3979 | 27 | 16 | 22 | 106 | 4.8 | 2 | 0 | 0 | 0 | 0 | 0 | 2 | 4 | 2 | 254.5 | 254.5 | QB30 |
| 34 | Saquon Barkley | NYG | RB | 23 | 17 | 0 | 0 | 0 | 0 | 0 | 264 | 1321 | 5 | 10 | 87 | 54 | 445 | 8.3 | 2 | 12 | 0 | 0 | 248.6 | 302.2 | RB04 |
| 35 | Derrick Henry *+ | TEN | RB | 26 | 17 | 0 | 0 | 0 | 0 | 0 | 325 | 1625 | 5 | 13 | 30 | 20 | 150 | 7.5 | 1 | 14 | 2 | 14 | 248 | 283 | RB05 |
| 36 | Davante Adams | GB | WR | 28 | 16 | 0 | 0 | 0 | 0 | 0 | 0 | 0 | 0 | 0 | 171 | 120 | 1441 | 12 | 17 | 17 | 1 | 1 | 244.1 | 364.1 | WR01 |
| 37 | Tyreek Hill | KC | WR | 26 | 17 | 0 | 0 | 0 | 0 | 0 | 15 | 120 | 8 | 1 | 145 | 90 | 1418 | 15.8 | 14 | 15 | 0 | 0 | 243.8 | 333.8 | WR02 |
| 38 | Darrell Henderson | LAR | RB | 23 | 17 | 0 | 0 | 0 | 0 | 0 | 265 | 1270 | 4.8 | 9 | 51 | 33 | 380 | 11.5 | 3 | 12 | 2 | 2 | 233 | 266 | RB06 |
| 39 | Chase Edmonds | ARI | RB | 24 | 17 | 0 | 0 | 0 | 0 | 0 | 211 | 1107 | 4.5 | 10 | 71 | 47 | 356 | 7.5 | 5 | 15 | 4 | 2 | 232.3 | 279.3 | RB07 |
| 40 | Ezekiel Elliott | DAL | RB | 25 | 17 | 0 | 0 | 0 | 0 | 0 | 280 | 1233 | 4.4 | 10 | 84 | 58 | 365 | 6.3 | 3 | 13 | 5 | 4 | 229.8 | 287.7 | RB08 |
| 41 | Joe Mixon | CIN | RB | 25 | 17 | 0 | 0 | 0 | 0 | 0 | 305 | 1370 | 4.5 | 8 | 68 | 54 | 351 | 6.5 | 1 | 9 | 0 | 0 | 226.2 | 280.2 | RB09 |
| 42 | Jonathan Taylor | IND | RB | 21 | 17 | 0 | 0 | 0 | 0 | 0 | 250 | 1250 | 5 | 12 | 40 | 33 | 267 | 8.1 | 1 | 13 | 1 | 13 | 226 | 259 | RB10 |
| 43 | Travis Kelce | KC | TE | 31 | 17 | 0 | 0 | 0 | 0 | 0 | 0 | 0 | 0 | 0 | 160 | 110 | 1526 | 13.9 | 12 | 12 | 0 | 0 | 224.6 | 334.6 | TE01 |
| 44 | Nick Chubb | CLE | RB | 26 | 17 | 0 | 0 | 0 | 0 | 0 | 223 | 1247 | 5.6 | 13 | 26 | 21 | 186 | 9 | 0 | 13 | 1 | 1 | 219.3 | 240 | RB11 |
| 45 | Aaron Jones | GB | RB | 26 | 17 | 0 | 0 | 0 | 0 | 0 | 210 | 1150 | 5.5 | 8 | 65 | 50 | 382 | 7.6 | 3 | 11 | 1 | 1 | 217.2 | 267.2 | RB12 |
| 46 | Calvin Ridley | ATL | WR | 26 | 17 | 0 | 0 | 0 | 0 | 0 | 0 | 0 | 0 | 0 | 152 | 101 | 1417 | 14.1 | 12 | 12 | 0 | 0 | 213.7 | 314.2 | WR03 |
| 47 | Austin Ekeler | LAC | RB | 25 | 17 | 0 | 0 | 0 | 0 | 0 | 214 | 960 | 4.5 | 6 | 98 | 72 | 568 | 7.9 | 4 | 10 | 0 | 0 | 212.8 | 284.8 | RB13 |
| 48 | D.K. Metcalf | SEA | WR | 24 | 17 | 0 | 0 | 0 | 0 | 0 | 0 | 0 | 0 | 0 | 140 | 94 | 1451 | 15.5 | 11 | 11 | 0 | 0 | 211.1 | 305.1 | WR04 |
| 49 | A.J. Brown* | TEN | WR | 23 | 17 | 0 | 0 | 0 | 0 | 0 | 0 | 0 | 0 | 0 | 130 | 95 | 1330 | 14 | 13 | 13 | 1 | 13 | 211 | 306 | WR05 |
| 50 | Antonio Gibson | WAS | RB | 22 | 17 | 0 | 0 | 0 | 0 | 0 | 209 | 1024 | 4.9 | 12 | 76 | 49 | 282 | 5.7 | 2 | 14 | 3 | 2 | 210.6 | 260 | RB14 |
| 51 | Jimmy Garoppolo | SFO | QB | 29 | 17 | 321 | 480 | 3375 | 26 | 12 | 30 | 42 | 1.4 | 0 | 0 | 0 | 0 | 0 | 0 | 0 | 7 | 5 | 209.2 | 209.2 | QB31 |
| 52 | Clyde Edwards-Helaire | KC | RB | 21 | 17 | 0 | 0 | 0 | 0 | 0 | 215 | 1050 | 4.9 | 7 | 67 | 45 | 365 | 8.1 | 3 | 10 | 0 | 0 | 201.5 | 246.5 | RB15 |
| 53 | D'Andre Swift | DET | RB | 22 | 17 | 0 | 0 | 0 | 0 | 0 | 189 | 832 | 4.4 | 10 | 75 | 57 | 439 | 7.7 | 3 | 13 | 4 | 2 | 201.1 | 258.1 | RB16 |
| 54 | Stefon Diggs | BUF | WR | 28 | 17 | 0 | 0 | 0 | 0 | 0 | 0 | 0 | 0 | 0 | 170 | 121 | 1464 | 12.1 | 9 | 9 | 0 | 0 | 200.4 | 321.4 | WR06 |
| 55 | Josh Jacobs | LVR | RB | 22 | 17 | 0 | 0 | 0 | 0 | 0 | 266 | 1090 | 4.1 | 10 | 46 | 34 | 248 | 7.3 | 1 | 11 | 0 | 0 | 199.8 | 233.8 | RB17 |
| 56 | Micheal Thomas | NO | WR | 28 | 17 | 0 | 0 | 0 | 0 | 0 | 0 | 0 | 0 | 0 | 130 | 105 | 1225 | 11.7 | 12 | 12 | 0 | 0 | 194.5 | 299.5 | WR07 |
| 57 | Mike Evans | TPA | WR | 27 | 17 | 0 | 0 | 0 | 0 | 0 | 0 | 0 | 0 | 0 | 125 | 81 | 1218 | 15 | 12 | 12 | 0 | 0 | 193.8 | 274.8 | WR08 |
| 58 | Chris Carson | SEA | RB | 26 | 17 | 0 | 0 | 0 | 0 | 0 | 171 | 771 | 4.5 | 10 | 57 | 38 | 284 | 7.5 | 5 | 15 | 4 | 2 | 191.5 | 229.5 | RB18 |
| 59 | Najee Harris | PIT | RB | 23 | 17 | 0 | 0 | 0 | 0 | 0 | 234 | 1123 | 4.8 | 9 | 35 | 28 | 180 | 6.5 | 1 | 10 | 1 | 1 | 188.3 | 216 | RB19 |
| 60 | Miles Sanders | PHI | RB | 23 | 17 | 0 | 0 | 0 | 0 | 0 | 200 | 1021 | 5.1 | 7 | 70 | 40 | 332 | 8.3 | 2 | 9 | 4 | 2 | 185.2 | 225.2 | RB20 |
| 61 | Justin Jefferson | MIN | WR | 21 | 17 | 0 | 0 | 0 | 0 | 0 | 2 | 10 | 5 | 0 | 133 | 85 | 1300 | 15.3 | 9 | 9 | 1 | 0 | 185 | 270 | WR09 |
| 62 | Chase Claypool | PIT | WR | 23 | 17 | 0 | 0 | 0 | 0 | 0 | 0 | 0 | 0 | 0 | 125 | 87 | 1221 | 14 | 10 | 10 | 1 | 1 | 180.1 | 267.3 | WR10 |
| 63 | Tyler Lockett | SEA | WR | 28 | 17 | 0 | 0 | 0 | 0 | 0 | 0 | 0 | 0 | 0 | 146 | 97 | 1072 | 11 | 12 | 12 | 0 | 0 | 179.2 | 276.2 | WR11 |
| 64 | Darren Waller | LVR | TE | 28 | 17 | 0 | 0 | 0 | 0 | 0 | 0 | 0 | 0 | 0 | 152 | 114 | 1230 | 10.8 | 9 | 9 | 0 | 0 | 177 | 291 | TE02 |
| 103 | Robert Woods | LAR | WR | 28 | 17 | 0 | 0 | 0 | 0 | 0 | 20 | 130 | 6.5 | 0 | 135 | 85 | 1055 | 12.4 | 10 | 10 | 1 | 1 | 176.5 | 261.5 | WR12 |
| 66 | Kareem Hunt | CLE | RB | 26 | 17 | 0 | 0 | 0 | 0 | 0 | 181 | 760 | 4.2 | 5 | 57 | 43 | 341 | 8 | 6 | 11 | 2 | 1 | 174.1 | 216.8 | RB21 |
| 67 | Mike Davis | ATL | RB | 28 | 17 | 0 | 0 | 0 | 0 | 0 | 232 | 859 | 3.7 | 7 | 58 | 47 | 299 | 6.4 | 3 | 10 | 1 | 1 | 173.8 | 220.5 | RB22 |
| 68 | JK Dobbins | BAL | RB | 23 | 17 | 0 | 0 | 0 | 0 | 0 | 166 | 912 | 5.5 | 10 | 25 | 20 | 157 | 8 | 1 | 11 | 0 | 0 | 172.9 | 192.5 | RB23 |
| 65 | DeAndre Hopkins | ARI | WR | 28 | 17 | 0 | 0 | 0 | 0 | 0 | 0 | 0 | 0 | 0 | 165 | 111 | 1372 | 12.4 | 7 | 7 | 3 | 2 | 175.2 | 286.2 | WR13 |
| 69 | Terry McLaurin | WAS | WR | 25 | 17 | 0 | 0 | 0 | 0 | 0 | 0 | 0 | 0 | 0 | 140 | 95 | 1208 | 12.7 | 9 | 9 | 2 | 1 | 172.8 | 267.9 | WR14 |
| 70 | DJ Moore | CAR | WR | 24 | 17 | 0 | 0 | 0 | 0 | 0 | 0 | 0 | 0 | 0 | 134 | 83 | 1231 | 14.8 | 8 | 8 | 0 | 0 | 171.1 | 254.1 | WR15 |
| 72 | George Kittle | SFO | TE | 27 | 17 | 0 | 0 | 0 | 0 | 0 | 0 | 0 | 0 | 0 | 155 | 101 | 1326 | 13.2 | 6 | 6 | 0 | 0 | 168.6 | 269.6 | TE03 |
| 73 | Myles Gaskin | MIA | RB | 24 | 17 | 0 | 0 | 0 | 0 | 0 | 171 | 770 | 4.5 | 6 | 51 | 45 | 426 | 9.5 | 2 | 8 | 2 | 1 | 165.6 | 210.5 | RB24 |
| 71 | Adam Thielen | MIN | WR | 30 | 16 | 0 | 0 | 0 | 0 | 0 | 2 | 15 | 7.5 | 0 | 122 | 80 | 1020 | 12.8 | 11 | 11 | 0 | 0 | 169.5 | 249.5 | WR16 |
| 75 | Javonte Williams | DEN | RB | 21 | 17 | 0 | 0 | 0 | 0 | 0 | 198 | 924 | 4.7 | 6 | 44 | 34 | 208 | 6.1 | 2 | 8 | 0 | 0 | 161.2 | 195.2 | RB25 |
| 74 | Kenny Golladay | NYG | WR | 28 | 17 | 0 | 0 | 0 | 0 | 0 | 0 | 0 | 0 | 0 | 120 | 74 | 1157 | 15.7 | 8 | 8 | 0 | 0 | 163.7 | 237.4 | WR17 |
| 76 | Chris Godwin | TPA | WR | 25 | 17 | 0 | 0 | 0 | 0 | 0 | 0 | 0 | 0 | 0 | 118 | 80 | 1063 | 13.2 | 9 | 9 | 0 | 0 | 160.3 | 240.3 | WR18 |
| 78 | David Montgomery | CHI | RB | 23 | 17 | 0 | 0 | 0 | 0 | 0 | 230 | 1010 | 4.4 | 6 | 35 | 26 | 191 | 7.3 | 1 | 7 | 1 | 1 | 160.1 | 186.1 | RB26 |
| 79 | Raheem Mostert | SFO | RB | 28 | 17 | 0 | 0 | 0 | 0 | 0 | 160 | 880 | 5.5 | 8 | 17 | 11 | 102 | 9.5 | 2 | 10 | 0 | 0 | 158.2 | 169.2 | RB27 |
| 77 | CeeDee Lamb | DAL | WR | 21 | 17 | 0 | 0 | 0 | 0 | 0 | 14 | 107 | 7.5 | 1 | 129 | 89 | 1095 | 12.3 | 6 | 7 | 2 | 1 | 160.2 | 249.2 | WR19 |
| 80 | Julio Jones | TEN | WR | 32 | 17 | 0 | 0 | 0 | 0 | 0 | 0 | 0 | 0 | 0 | 115 | 85 | 1100 | 13 | 8 | 8 | 0 | 0 | 158 | 243 | WR20 |
| 82 | Ronald Jones | TPA | RB | 23 | 17 | 0 | 0 | 0 | 0 | 0 | 200 | 944 | 4.7 | 8 | 26 | 17 | 102 | 5.9 | 1 | 9 | 1 | 1 | 156.6 | 173.6 | RB28 |
| 81 | Amari Cooper | DAL | WR | 26 | 17 | 0 | 0 | 0 | 0 | 0 | 5 | 16 | 3.3 | 0 | 142 | 98 | 1175 | 12 | 7 | 7 | 3 | 2 | 157.1 | 255 | WR21 |
| 83 | Brandin Cooks | HOU | WR | 27 | 17 | 0 | 0 | 0 | 0 | 0 | 0 | 0 | 0 | 0 | 125 | 85 | 1190 | 14 | 6 | 6 | 0 | 6 | 155 | 240 | WR22 |
| 84 | Keenan Allen | LAC | WR | 28 | 17 | 0 | 0 | 0 | 0 | 0 | 0 | 0 | 0 | 0 | 166 | 106 | 1062 | 10 | 8 | 8 | 0 | 0 | 154.2 | 260.2 | WR23 |
| 85 | Brandon Aiyuk | SFO | WR | 22 | 17 | 0 | 0 | 0 | 0 | 0 | 8 | 100 | 12.5 | 0 | 138 | 90 | 1121 | 12.5 | 5 | 5 | 0 | 0 | 152.1 | 242.1 | WR24 |
| 87 | Melvin Gordon | DEN | RB | 27 | 17 | 0 | 0 | 0 | 0 | 0 | 210 | 902 | 4.3 | 6 | 48 | 33 | 162 | 4.9 | 1 | 7 | 0 | 0 | 148.4 | 181.4 | RB29 |
| 88 | Kyle Pitts | ATL | TE | 20 | 17 | 0 | 0 | 0 | 0 | 0 | 0 | 0 | 0 | 0 | 105 | 63 | 940 | 14.9 | 9 | 9 | 0 | 0 | 148 | 211 | TE04 |
| 89 | Zach Moss | BUF | RB | 24 | 17 | 0 | 0 | 0 | 0 | 0 | 181 | 922 | 5.1 | 7 | 20 | 13 | 92 | 7.1 | 1 | 8 | 1 | 1 | 147.4 | 160.4 | RB30 |
| 86 | Allen Robinson | CHI | WR | 27 | 16 | 0 | 0 | 0 | 0 | 0 | 0 | 0 | 0 | 0 | 135 | 89 | 1080 | 12.1 | 7 | 7 | 0 | 0 | 150 | 239 | WR25 |
| 90 | Mike Williams | LAC | WR | 26 | 17 | 0 | 0 | 0 | 0 | 0 | 0 | 0 | 0 | 0 | 100 | 57 | 966 | 16.9 | 8 | 8 | 0 | 0 | 144.6 | 201.6 | WR26 |
| 91 | Henry Ruggs III | LVR | WR | 21 | 17 | 0 | 0 | 0 | 0 | 0 | 10 | 72 | 7.2 | 0 | 84 | 52 | 1010 | 19.4 | 6 | 6 | 0 | 0 | 144.2 | 196.2 | WR27 |
| 93 | Robert Tonyan | GB | TE | 27 | 17 | 0 | 0 | 0 | 0 | 0 | 0 | 0 | 0 | 0 | 90 | 77 | 835 | 10.8 | 10 | 10 | 0 | 0 | 143.5 | 220.5 | TE05 |
| 94 | James Robinson | JAX | RB | 22 | 17 | 0 | 0 | 0 | 0 | 0 | 175 | 805 | 4.6 | 7 | 25 | 20 | 138 | 6.9 | 1 | 8 | 1 | 8 | 142.3 | 162.3 | RB31 |
| 95 | Michael Carter | NYJ | RB | 22 | 17 | 0 | 0 | 0 | 0 | 0 | 165 | 759 | 4.6 | 7 | 47 | 33 | 215 | 6.5 | 1 | 8 | 2 | 2 | 141.4 | 174.4 | RB32 |
| 92 | Diontae Johnson | PIT | WR | 25 | 17 | 0 | 0 | 0 | 0 | 0 | 0 | 0 | 0 | 0 | 152 | 99 | 1039 | 10.5 | 7 | 7 | 3 | 1 | 143.9 | 242.9 | WR28 |
| 97 | Adam Trautman | NO | TE | 24 | 17 | 0 | 0 | 0 | 0 | 0 | 0 | 0 | 0 | 0 | 101 | 81 | 922 | 11.4 | 8 | 8 | 0 | 0 | 140.2 | 221.2 | TE06 |
| 96 | Michael Pittman Jr. | IND | WR | 23 | 17 | 0 | 0 | 0 | 0 | 0 | 5 | 45 | 9 | 0 | 100 | 70 | 945 | 13.5 | 7 | 7 | 0 | 7 | 141 | 211 | WR29 |
| 98 | Courtland Sutton | DEN | WR | 25 | 17 | 0 | 0 | 0 | 0 | 0 | 0 | 0 | 0 | 0 | 122 | 70 | 1032 | 14.7 | 6 | 6 | 0 | 0 | 139.2 | 209.2 | WR30 |
| 99 | DeVante Parker | MIA | WR | 28 | 17 | 0 | 0 | 0 | 0 | 0 | 0 | 0 | 0 | 0 | 113 | 77 | 966 | 12.6 | 7 | 7 | 1 | 0 | 138.6 | 215.3 | WR31 |
| 101 | Damien Harris | NWE | RB | 24 | 17 | 0 | 0 | 0 | 0 | 0 | 173 | 882 | 5.1 | 6 | 19 | 13 | 126 | 9.5 | 0 | 6 | 0 | 0 | 136.8 | 150 | RB33 |
| 100 | Tee Higgins | CIN | WR | 22 | 17 | 0 | 0 | 0 | 0 | 0 | 0 | 0 | 0 | 0 | 123 | 80 | 1086 | 13.6 | 5 | 5 | 0 | 0 | 138.6 | 218.4 | WR32 |
| 111 | Cooper Kupp | LAR | WR | 27 | 17 | 0 | 0 | 0 | 0 | 0 | 0 | 0 | 0 | 0 | 123 | 78 | 963 | 12.4 | 7 | 7 | 1 | 1 | 136.3 | 214.3 | WR33 |
| 102 | Michael Gallup | DAL | WR | 24 | 17 | 0 | 0 | 0 | 0 | 0 | 0 | 0 | 0 | 0 | 110 | 76 | 1074 | 14.2 | 5 | 5 | 1 | 1 | 135.4 | 211.1 | WR34 |
| 105 | Travis Etienne Jr. | JAX | RB | 22 | 17 | 0 | 0 | 0 | 0 | 0 | 125 | 687 | 5.5 | 5 | 50 | 40 | 320 | 8 | 4 | 9 | 1 | 9 | 130.7 | 170.7 | RB34 |
| 106 | Teddy Bridgewater | DEN | QB | 28 | 9 | 199 | 316 | 2002 | 11 | 7 | 36 | 180 | 5 | 2 | 0 | 0 | 0 | 0 | 0 | 2 | 5 | 5 | 130.1 | 130.1 | QB32 |
| 104 | DJ Chark | JAX | WR | 24 | 17 | 0 | 0 | 0 | 0 | 0 | 0 | 0 | 0 | 0 | 105 | 74 | 965 | 13 | 7 | 7 | 0 | 7 | 132 | 201 | WR35 |
| 107 | Tyrell Williams | DET | WR | 29 | 16 | 0 | 0 | 0 | 0 | 0 | 1 | 6 | 6 | 0 | 105 | 65 | 1008 | 15.5 | 5 | 5 | 1 | 1 | 129.4 | 194.4 | WR36 |
| 108 | Cole Beasely | BUF | WR | 32 | 17 | 0 | 0 | 0 | 0 | 0 | 0 | 0 | 0 | 0 | 116 | 84 | 991 | 11.8 | 5 | 5 | 0 | 0 | 129.1 | 213.1 | WR37 |
| 109 | Robby Anderson | CAR | WR | 28 | 17 | 0 | 0 | 0 | 0 | 0 | 0 | 0 | 0 | 0 | 128 | 74 | 899 | 12.1 | 6 | 6 | 0 | 0 | 125.9 | 199.9 | WR38 |
| 110 | DeVonta Smith | PHI | WR | 22 | 17 | 0 | 0 | 0 | 0 | 0 | 0 | 0 | 0 | 0 | 105 | 60 | 797 | 13.3 | 8 | 8 | 2 | 1 | 125.7 | 185.6 | WR39 |
| 112 | Curtis Samuel | WAS | WR | 24 | 17 | 0 | 0 | 0 | 0 | 0 | 46 | 285 | 6.2 | 2 | 93 | 61 | 675 | 11.1 | 3 | 5 | 3 | 2 | 122 | 182.8 | WR40 |
| 113 | Mark Andrews | BAL | TE | 26 | 17 | 0 | 0 | 0 | 0 | 0 | 0 | 0 | 0 | 0 | 91 | 61 | 738 | 12.1 | 8 | 8 | 0 | 0 | 121.8 | 182.8 | TE07 |
| 114 | Leonard Fournette | TPA | RB | 26 | 17 | 0 | 0 | 0 | 0 | 0 | 164 | 640 | 3.9 | 6 | 39 | 30 | 195 | 6.5 | 0 | 6 | 0 | 0 | 119.5 | 149.5 | RB35 |
| 115 | Lativus Murray | NO | RB | 31 | 17 | 0 | 0 | 0 | 0 | 0 | 163 | 734 | 4.5 | 5 | 30 | 24 | 100 | 4.2 | 1 | 6 | 1 | 1 | 117.4 | 141.4 | RB36 |
| 116 | Jamaal Williams | DET | RB | 26 | 15 | 0 | 0 | 0 | 0 | 0 | 130 | 559 | 4.3 | 5 | 43 | 34 | 252 | 7.4 | 1 | 6 | 0 | 0 | 117.1 | 151.1 | RB37 |
| 117 | Irv Smith Jr. | MIN | TE | 22 | 17 | 0 | 0 | 0 | 0 | 0 | 0 | 0 | 0 | 0 | 84 | 60 | 750 | 12.5 | 7 | 7 | 1 | 1 | 115 | 175 | TE08 |
| 118 | Gus Edwards | BAL | RB | 26 | 17 | 0 | 0 | 0 | 0 | 0 | 123 | 640 | 5.2 | 7 | 16 | 11 | 85 | 8 | 0 | 7 | 0 | 0 | 114.5 | 125.1 | RB38 |
| 119 | T.J. Hockenson | DET | TE | 23 | 17 | 0 | 0 | 0 | 0 | 0 | 0 | 0 | 0 | 0 | 108 | 72 | 770 | 10.7 | 6 | 6 | 0 | 0 | 113 | 185 | TE09 |
| 120 | Marquise Brown | BAL | WR | 24 | 17 | 0 | 0 | 0 | 0 | 0 | 0 | 0 | 0 | 0 | 95 | 59 | 766 | 13 | 6 | 6 | 0 | 0 | 112.6 | 171.5 | WR41 |
| 121 | Mike Gesicki | MIA | TE | 26 | 17 | 0 | 0 | 0 | 0 | 0 | 0 | 0 | 0 | 0 | 93 | 58 | 766 | 13.2 | 6 | 6 | 0 | 0 | 112.6 | 170.6 | TE10 |
| 122 | Kenyan Drake | LVR | RB | 27 | 17 | 0 | 0 | 0 | 0 | 0 | 140 | 568 | 4.1 | 6 | 30 | 22 | 194 | 8.8 | 0 | 6 | 0 | 0 | 112.2 | 134.2 | RB39 |
| 123 | Rob Gronkowski | TPA | TE | 32 | 17 | 0 | 0 | 0 | 0 | 0 | 0 | 0 | 0 | 0 | 72 | 46 | 638 | 14 | 8 | 8 | 0 | 0 | 111.8 | 157.8 | TE11 |
| 124 | Gabriel Davis | BUF | WR | 22 | 17 | 0 | 0 | 0 | 0 | 0 | 0 | 0 | 0 | 0 | 75 | 42 | 656 | 15.5 | 8 | 8 | 1 | 1 | 111.6 | 153.9 | WR42 |
| 125 | Tyler Boyd | CIN | WR | 27 | 17 | 0 | 0 | 0 | 0 | 0 | 0 | 0 | 0 | 0 | 114 | 82 | 870 | 10.6 | 4 | 4 | 0 | 0 | 111 | 193.1 | WR43 |
| 126 | Devin Singletary | BUF | RB | 24 | 17 | 0 | 0 | 0 | 0 | 0 | 130 | 623 | 4.8 | 3 | 54 | 35 | 263 | 7.5 | 1 | 4 | 1 | 1 | 110.6 | 145.6 | RB40 |
| 127 | Mecole Hardman | KC | WR | 22 | 17 | 0 | 0 | 0 | 0 | 0 | 5 | 45 | 9 | 0 | 80 | 48 | 638 | 13.3 | 7 | 7 | 0 | 0 | 110.3 | 158.3 | WR44 |
| 128 | Hunter Henry | NWE | TE | 26 | 17 | 0 | 0 | 0 | 0 | 0 | 0 | 0 | 0 | 0 | 93 | 65 | 927 | 14.3 | 4 | 4 | 0 | 4 | 108.7 | 173.5 | TE12 |
| 129 | Drew Locke | DEN | QB | 24 | 8 | 154 | 272 | 1916 | 12 | 12 | 34 | 126 | 3.7 | 1 | 0 | 0 | 0 | 0 | 0 | 1 | 6 | 6 | 107.2 | 107.2 | QB33 |
| 130 | Logan Thomas | WAS | TE | 29 | 17 | 0 | 0 | 0 | 0 | 0 | 0 | 0 | 0 | 0 | 102 | 67 | 771 | 11.6 | 5 | 5 | 0 | 0 | 107.1 | 173.6 | TE13 |
| 131 | David Johnson | HOU | RB | 29 | 17 | 0 | 0 | 0 | 0 | 0 | 120 | 540 | 4.5 | 4 | 40 | 30 | 270 | 9 | 1 | 5 | 2 | 6 | 107 | 137 | RB41 |
| 132 | Ja'Marr Chase | CIN | WR | 21 | 17 | 0 | 0 | 0 | 0 | 0 | 0 | 0 | 0 | 0 | 108 | 65 | 810 | 12.5 | 4 | 4 | 0 | 0 | 105 | 169.8 | WR45 |
| 133 | Nyheim Hines | IND | RB | 24 | 17 | 0 | 0 | 0 | 0 | 0 | 75 | 340 | 4.5 | 2 | 60 | 44 | 330 | 7.5 | 3 | 5 | 1 | 5 | 105 | 149 | RB42 |
| 134 | Jerry Jeudy | DEN | WR | 21 | 17 | 0 | 0 | 0 | 0 | 0 | 0 | 0 | 0 | 0 | 102 | 58 | 802 | 13.8 | 4 | 4 | 0 | 0 | 104.2 | 162.2 | WR46 |
| 135 | Laviska Shenault Jr. | JAX | WR | 22 | 17 | 0 | 0 | 0 | 0 | 0 | 15 | 100 | 6.7 | 1 | 85 | 63 | 630 | 10 | 5 | 6 | 0 | 5 | 104 | 162 | WR47 |
| 136 | Dallas Goedert | PHI | TE | 25 | 17 | 0 | 0 | 0 | 0 | 0 | 0 | 0 | 0 | 0 | 100 | 57 | 696 | 12.3 | 6 | 6 | 1 | 1 | 103.6 | 160.2 | TE14 |
| 137 | Deebo Samuel | SFO | WR | 24 | 17 | 0 | 0 | 0 | 0 | 0 | 6 | 19 | 3.1 | 0 | 83 | 54 | 657 | 12.2 | 6 | 6 | 0 | 0 | 103.6 | 157.6 | WR48 |
| 138 | Noah Fant | DEN | TE | 23 | 17 | 0 | 0 | 0 | 0 | 0 | 0 | 0 | 0 | 0 | 110 | 68 | 734 | 10.8 | 5 | 5 | 0 | 0 | 103.4 | 171.4 | TE15 |
| 139 | Will Fuller | MIA | WR | 27 | 17 | 0 | 0 | 0 | 0 | 0 | 0 | 0 | 0 | 0 | 94 | 61 | 800 | 13.1 | 4 | 4 | 1 | 1 | 102 | 163.1 | WR49 |
| 140 | Marvin Jones Jr. | JAX | WR | 31 | 17 | 0 | 0 | 0 | 0 | 0 | 0 | 0 | 0 | 0 | 95 | 65 | 720 | 12 | 5 | 5 | 0 | 5 | 102 | 162 | WR50 |
| 141 | Tony Pollard | DAL | RB | 23 | 17 | 0 | 0 | 0 | 0 | 0 | 133 | 599 | 4.5 | 2 | 45 | 31 | 218 | 7 | 2 | 4 | 4 | 2 | 101.7 | 132.9 | RB43 |
| 142 | Tra'quan Smith | NO | WR | 25 | 17 | 0 | 0 | 0 | 0 | 0 | 0 | 0 | 0 | 0 | 77 | 51 | 709 | 13.9 | 5 | 5 | 0 | 0 | 100.9 | 151.9 | WR51 |
| 143 | Anthony Firkser | TEN | TE | 25 | 17 | 0 | 0 | 0 | 0 | 0 | 0 | 0 | 0 | 0 | 65 | 50 | 550 | 11 | 5 | 5 | 0 | 5 | 100 | 170 | TE16 |
| 144 | Odell Beckham Jr. | CLE | WR | 29 | 17 | 0 | 0 | 0 | 0 | 0 | 0 | 0 | 0 | 0 | 88 | 53 | 738 | 14 | 5 | 5 | 2 | 2 | 99.8 | 152.5 | WR52 |
| 145 | Jarvis Landry | CLE | WR | 29 | 17 | 0 | 0 | 0 | 0 | 0 | 0 | 0 | 0 | 0 | 93 | 65 | 769 | 11.8 | 4 | 4 | 1 | 1 | 98.9 | 164 | WR53 |
| 146 | Darnell Mooney | CHI | WR | 23 | 17 | 0 | 0 | 0 | 0 | 0 | 3 | 18 | 6 | 0 | 88 | 65 | 663 | 10.2 | 5 | 5 | 0 | 0 | 98.1 | 163.1 | WR54 |
| 147 | Jeff Wilson | SFO | RB | 25 | 11 | 0 | 0 | 0 | 0 | 0 | 86 | 387 | 4.5 | 6 | 11 | 7 | 73 | 10.2 | 3 | 9 | 1 | 1 | 98 | 105 | RB44 |
| 148 | Jamison Crowder | NYJ | WR | 28 | 17 | 0 | 0 | 0 | 0 | 0 | 0 | 0 | 0 | 0 | 96 | 62 | 674 | 10.8 | 5 | 5 | 0 | 0 | 97.4 | 159.8 | WR55 |
| 149 | Terrace Marshall | CAR | WR | 20 | 17 | 0 | 0 | 0 | 0 | 0 | 0 | 0 | 0 | 0 | 79 | 52 | 731 | 14 | 4 | 4 | 0 | 0 | 97.1 | 149.1 | WR56 |
| 150 | John Brown | LVR | WR | 31 | 17 | 0 | 0 | 0 | 0 | 0 | 0 | 0 | 0 | 0 | 80 | 50 | 670 | 13.4 | 5 | 5 | 0 | 0 | 97 | 147 | WR57 |
| 151 | JuJu Smith-Schuster | PIT | WR | 25 | 17 | 0 | 0 | 0 | 0 | 0 | 0 | 0 | 0 | 0 | 118 | 71 | 621 | 8.8 | 6 | 6 | 3 | 1 | 96.1 | 166.7 | WR58 |
| 152 | Josh Reynolds | TEN | WR | 26 | 17 | 0 | 0 | 0 | 0 | 0 | 0 | 0 | 0 | 0 | 45 | 32 | 350 | 11 | 1 | 1 | 0 | 4 | 95 | 145 | WR59 |
| 155 | Jalen Reagor | PHI | WR | 21 | 17 | 0 | 0 | 0 | 0 | 0 | 4 | 26 | 6 | 0 | 82 | 47 | 653 | 14 | 5 | 5 | 3 | 2 | 93.9 | 140.5 | WR60 |
| 154 | James Connor | ARI | RB | 26 | 17 | 0 | 0 | 0 | 0 | 0 | 117 | 493 | 4.2 | 4 | 30 | 20 | 154 | 7.8 | 1 | 5 | 0 | 0 | 94.7 | 114.7 | RB45 |
| 156 | T.Y. Hilton | IND | WR | 31 | 17 | 0 | 0 | 0 | 0 | 0 | 0 | 0 | 0 | 0 | 80 | 48 | 576 | 12 | 4 | 4 | 0 | 4 | 92 | 140 | WR61 |
| 160 | Marquez Valdes-Scantling | GB | WR | 26 | 17 | 0 | 0 | 0 | 0 | 0 | 3 | 12 | 4 | 0 | 62 | 37 | 641 | 17.3 | 4 | 4 | 1 | 1 | 87.3 | 124.3 | WR62 |
| 157 | Ty Johnson | NYJ | RB | 24 | 17 | 0 | 0 | 0 | 0 | 0 | 94 | 423 | 4.5 | 3 | 35 | 27 | 173 | 6.5 | 2 | 5 | 0 | 0 | 89.6 | 116.2 | RB46 |
| 158 | AJ Dillon | GB | RB | 23 | 17 | 0 | 0 | 0 | 0 | 0 | 135 | 632 | 4.7 | 4 | 6 | 3 | 22 | 3.1 | 0 | 4 | 0 | 0 | 89.4 | 92.4 | RB47 |
| 159 | Evan Engram * | NYG | TE | 26 | 17 | 0 | 0 | 0 | 0 | 0 | 0 | 0 | 0 | 0 | 93 | 57 | 638 | 11.2 | 4 | 4 | 0 | 0 | 87.8 | 144.8 | TE17 |
| 161 | James Washington | PIT | WR | 25 | 17 | 0 | 0 | 0 | 0 | 0 | 0 | 0 | 0 | 0 | 62 | 42 | 551 | 13 | 6 | 6 | 3 | 2 | 87.1 | 129.5 | WR63 |
| 164 | Russell Gage | ATL | WR | 25 | 17 | 0 | 0 | 0 | 0 | 0 | 0 | 0 | 0 | 0 | 82 | 54 | 549 | 10.2 | 5 | 5 | 0 | 0 | 84.9 | 138.7 | WR64 |
| 162 | Lamical Perine | NYJ | RB | 23 | 17 | 0 | 0 | 0 | 0 | 0 | 104 | 447 | 4.3 | 4 | 24 | 17 | 134 | 8.1 | 1 | 5 | 1 | 1 | 86.1 | 102.6 | RB48 |
| 163 | Jonnu Smith | NWE | TE | 26 | 17 | 0 | 0 | 0 | 0 | 0 | 0 | 0 | 0 | 0 | 70 | 49 | 734 | 15.1 | 3 | 3 | 0 | 3 | 85.4 | 134 | TE18 |
| 165 | Breshad Perriman | DET | WR | 27 | 15 | 0 | 0 | 0 | 0 | 0 | 1 | 4 | 4 | 0 | 68 | 37 | 658 | 17.8 | 3 | 3 | 0 | 0 | 84.2 | 121.2 | WR65 |
| 167 | Demarcus Robinson | KC | WR | 26 | 17 | 0 | 0 | 0 | 0 | 0 | 0 | 0 | 0 | 0 | 65 | 52 | 582 | 11.2 | 4 | 4 | 0 | 0 | 82.2 | 134.2 | WR66 |
| 166 | Jordan Akins | HOU | TE | 28 | 17 | 0 | 0 | 0 | 0 | 0 | 0 | 0 | 0 | 0 | 70 | 50 | 600 | 12 | 4 | 4 | 0 | 4 | 84 | 134 | TE19 |
| 168 | Hunter Renfrow | LVR | WR | 25 | 17 | 0 | 0 | 0 | 0 | 0 | 0 | 0 | 0 | 0 | 78 | 53 | 630 | 11.9 | 3 | 3 | 0 | 0 | 81 | 134 | WR67 |
| 169 | A.J. Green | ARI | WR | 32 | 17 | 0 | 0 | 0 | 0 | 0 | 0 | 0 | 0 | 0 | 83 | 55 | 686 | 12.4 | 2 | 2 | 0 | 0 | 80.6 | 135.6 | WR68 |
| 170 | Jalen Guyton | LAC | WR | 23 | 17 | 0 | 0 | 0 | 0 | 0 | 0 | 0 | 0 | 0 | 64 | 33 | 566 | 17.2 | 4 | 4 | 0 | 0 | 80.6 | 113.6 | WR69 |
| 171 | D'Wayne Eskridge | SEA | WR | 22 | 17 | 0 | 0 | 0 | 0 | 0 | 0 | 0 | 0 | 0 | 68 | 46 | 564 | 12.4 | 4 | 4 | 0 | 0 | 80.4 | 126.4 | WR70 |
| 172 | Christian Kirk | ARI | WR | 24 | 17 | 0 | 0 | 0 | 0 | 0 | 0 | 0 | 0 | 0 | 65 | 43 | 500 | 11.5 | 5 | 5 | 0 | 0 | 80 | 123 | WR71 |
| 173 | Denzel Mims | NYJ | WR | 24 | 17 | 0 | 0 | 0 | 0 | 0 | 0 | 0 | 0 | 0 | 75 | 45 | 554 | 12.3 | 4 | 4 | 0 | 0 | 79.4 | 124.4 | WR72 |
| 174 | Darius Slayton | NYG | WR | 23 | 17 | 0 | 0 | 0 | 0 | 0 | 0 | 0 | 0 | 0 | 76 | 47 | 553 | 11.8 | 4 | 4 | 0 | 0 | 79.3 | 126.2 | WR73 |
| 176 | Tim Patrick | DEN | WR | 27 | 17 | 0 | 0 | 0 | 0 | 0 | 0 | 0 | 0 | 0 | 68 | 44 | 590 | 13.4 | 3 | 3 | 0 | 0 | 77 | 121 | WR74 |
| 175 | J.D. McKissic | WAS | RB | 29 | 17 | 0 | 0 | 0 | 0 | 0 | 33 | 137 | 4.1 | 2 | 88 | 57 | 342 | 6 | 3 | 5 | 0 | 0 | 77.9 | 134.9 | RB49 |
| 179 | Keelan Cole | NYJ | WR | 28 | 17 | 0 | 0 | 0 | 0 | 0 | 0 | 0 | 0 | 0 | 65 | 42 | 570 | 13.5 | 3 | 3 | 0 | 0 | 75 | 117.3 | WR75 |
| 177 | James White | NWE | RB | 29 | 17 | 0 | 0 | 0 | 0 | 0 | 43 | 153 | 3.6 | 1 | 74 | 56 | 433 | 7.8 | 2 | 3 | 0 | 0 | 76.7 | 132.3 | RB50 |
| 178 | Jake Funk | LAR | RB | 23 | 17 | 0 | 0 | 0 | 0 | 0 | 95 | 428 | 4.5 | 3 | 21 | 15 | 113 | 7.5 | 1 | 4 | 1 | 1 | 76 | 91 | RB51 |
| 184 | Marquez Callaway | NO | WR | 23 | 17 | 0 | 0 | 0 | 0 | 0 | 0 | 0 | 0 | 0 | 84 | 55 | 553 | 10.1 | 3 | 3 | 0 | 0 | 73.3 | 128.3 | WR76 |
| 210 | Tyler Higbee | LAR | TE | 27 | 17 | 0 | 0 | 0 | 0 | 0 | 0 | 0 | 0 | 0 | 70 | 44 | 493 | 11.1 | 5 | 5 | 0 | 0 | 79.3 | 123.3 | TE20 |
| 181 | Trey Lance | SFO | QB | 21 | 17 | 44 | 72 | 975 | 4 | 2 | 20 | 110 | 5.5 | 2 | 0 | 0 | 0 | 0 | 0 | 2 | 0 | 0 | 74 | 74 | QB34 |
| 180 | Jared Cook | LAC | TE | 34 | 17 | 0 | 0 | 0 | 0 | 0 | 0 | 0 | 0 | 0 | 68 | 47 | 504 | 10.7 | 4 | 4 | 0 | 0 | 74.4 | 121.4 | TE21 |
| 183 | Benny Snell Jr. | PIT | RB | 23 | 17 | 0 | 0 | 0 | 0 | 0 | 72 | 266 | 3.7 | 3 | 55 | 42 | 249 | 6 | 1 | 4 | 2 | 1 | 73.6 | 115.1 | RB52 |
| 185 | Randall Cobb | HOU | WR | 30 | 17 | 0 | 0 | 0 | 0 | 0 | 0 | 0 | 0 | 0 | 75 | 50 | 550 | 11 | 3 | 3 | 0 | 3 | 73 | 123 | WR77 |
| 187 | Quintez Cephus | DET | WR | 23 | 16 | 0 | 0 | 0 | 0 | 0 | 0 | 0 | 0 | 0 | 52 | 31 | 536 | 17.3 | 3 | 3 | 0 | 0 | 71.6 | 102.6 | WR78 |
| 186 | Marlon Mack | IND | RB | 24 | 17 | 0 | 0 | 0 | 0 | 0 | 100 | 450 | 4.5 | 2 | 15 | 12 | 100 | 8.3 | 1 | 3 | 1 | 3 | 73 | 85 | RB53 |
| 189 | Antonio Brown | TPA | WR | 32 | 17 | 0 | 0 | 0 | 0 | 0 | 0 | 0 | 0 | 0 | 72 | 48 | 533 | 11 | 3 | 3 | 0 | 0 | 71.3 | 119.3 | WR79 |
| 188 | Sony Michel | NWE | RB | 26 | 17 | 0 | 0 | 0 | 0 | 0 | 87 | 496 | 5.7 | 3 | 5 | 4 | 39 | 11.1 | 0 | 3 | 0 | 0 | 71.5 | 75 | RB54 |
| 190 | Corey Davis | NYJ | WR | 26 | 17 | 0 | 0 | 0 | 0 | 0 | 0 | 0 | 0 | 0 | 89 | 58 | 593 | 10.3 | 2 | 2 | 0 | 0 | 71.3 | 128.8 | WR80 |
| 192 | Elijah Moore | NYJ | WR | 21 | 17 | 0 | 0 | 0 | 0 | 0 | 10 | 101 | 10.1 | 1 | 59 | 35 | 428 | 12.1 | 2 | 3 | 0 | 0 | 70.9 | 106.3 | WR81 |
| 191 | Mark Ingram | HOU | RB | 31 | 17 | 0 | 0 | 0 | 0 | 0 | 100 | 430 | 4.3 | 3 | 15 | 10 | 60 | 6 | 1 | 4 | 1 | 4 | 71 | 81 | RB55 |
| 199 | Olamide Zaccheaus | ATL | WR | 23 | 17 | 0 | 0 | 0 | 0 | 0 | 0 | 0 | 0 | 0 | 47 | 29 | 491 | 16.9 | 3 | 3 | 0 | 0 | 67.1 | 96.2 | WR82 |
| 193 | Justin Jackson | LAC | RB | 25 | 17 | 0 | 0 | 0 | 0 | 0 | 98 | 372 | 3.8 | 3 | 28 | 22 | 154 | 7 | 0 | 3 | 0 | 0 | 70.6 | 92.6 | RB56 |
| 182 | Blake Jarwin | DAL | TE | 26 | 17 | 0 | 0 | 0 | 0 | 0 | 0 | 0 | 0 | 0 | 58 | 40 | 437 | 10.9 | 5 | 5 | 0 | 0 | 73.7 | 113.8 | TE22 |
| 195 | Kyle Juszczyk* | SFO | RB | 29 | 17 | 0 | 0 | 0 | 0 | 0 | 21 | 72 | 3.4 | 3 | 22 | 14 | 148 | 10.3 | 5 | 8 | 0 | 0 | 70 | 84 | RB57 |
| 194 | Jimmy Graham | CHI | TE | 34 | 17 | 0 | 0 | 0 | 0 | 0 | 0 | 0 | 0 | 0 | 71 | 45 | 401 | 8.9 | 5 | 5 | 0 | 0 | 70.1 | 115.1 | TE23 |
| 197 | Chuba Hubbard | CAR | RB | 21 | 17 | 0 | 0 | 0 | 0 | 0 | 83 | 418 | 5 | 3 | 12 | 9 | 48 | 5 | 1 | 4 | 1 | 1 | 68.6 | 77.6 | RB58 |
| 198 | Damien Williams | CHI | RB | 29 | 15 | 0 | 0 | 0 | 0 | 0 | 110 | 425 | 3.9 | 2 | 23 | 12 | 137 | 11.4 | 0 | 2 | 0 | 0 | 68.2 | 80.2 | RB59 |
| 200 | Jakobi Meyers | NWE | WR | 25 | 17 | 0 | 0 | 0 | 0 | 0 | 0 | 0 | 0 | 0 | 79 | 54 | 669 | 12.5 | 0 | 0 | 0 | 0 | 66.9 | 120.4 | WR83 |
| 201 | Rashard Higgins | CLE | WR | 27 | 17 | 0 | 0 | 0 | 0 | 0 | 0 | 0 | 0 | 0 | 52 | 35 | 580 | 16.5 | 2 | 2 | 3 | 2 | 66 | 101.2 | WR84 |
| 202 | Nico Collins | HOU | WR | 22 | 17 | 0 | 0 | 0 | 0 | 0 | 0 | 0 | 0 | 0 | 50 | 30 | 420 | 14 | 4 | 4 | 0 | 4 | 66 | 96 | WR85 |
| 204 | Allen Lazard | GB | WR | 25 | 15 | 0 | 0 | 0 | 0 | 0 | 1 | 7 | 7 | 0 | 57 | 33 | 460 | 13.9 | 3 | 3 | 0 | 0 | 64.7 | 97.7 | WR86 |
| 203 | Carlos Hyde | JAX | RB | 30 | 17 | 0 | 0 | 0 | 0 | 0 | 41 | 181 | 4.4 | 3 | 10 | 7 | 30 | 5 | 0 | 3 | 0 | 3 | 65 | 71 | RB60 |
| 205 | Emanuel Sanders | BUF | WR | 34 | 17 | 0 | 0 | 0 | 0 | 0 | 0 | 0 | 0 | 0 | 56 | 33 | 462 | 14 | 3 | 3 | 0 | 0 | 64.2 | 97.2 | WR87 |
| 213 | Rashod Bateman | BAL | WR | 22 | 17 | 0 | 0 | 0 | 0 | 0 | 0 | 0 | 0 | 0 | 43 | 26 | 297 | 11.5 | 5 | 5 | 0 | 0 | 59.7 | 85.5 | WR88 |
| 206 | Xavier Jones | LAR | RB | 23 | 17 | 0 | 0 | 0 | 0 | 0 | 81 | 365 | 4.5 | 3 | 26 | 14 | 105 | 7.5 | 0 | 3 | 1 | 1 | 63 | 77 | RB61 |
| 207 | Joshua Kelly | LAC | RB | 23 | 17 | 0 | 0 | 0 | 0 | 0 | 94 | 346 | 3.7 | 3 | 22 | 17 | 101 | 5.9 | 0 | 3 | 0 | 0 | 62.7 | 79.7 | RB62 |
| 208 | Alexander Mattison | MIN | RB | 22 | 14 | 0 | 0 | 0 | 0 | 0 | 90 | 402 | 4.5 | 2 | 15 | 10 | 95 | 9.5 | 0 | 2 | 0 | 0 | 61.7 | 71.7 | RB63 |
| 196 | Austin Hooper | CLE | TE | 26 | 17 | 0 | 0 | 0 | 0 | 0 | 0 | 0 | 0 | 0 | 72 | 48 | 454 | 9.5 | 4 | 4 | 0 | 0 | 69.4 | 117.2 | TE24 |
| 209 | Drew Sample | CIN | TE | 25 | 17 | 0 | 0 | 0 | 0 | 0 | 0 | 0 | 0 | 0 | 55 | 41 | 373 | 9 | 4 | 4 | 0 | 0 | 61.3 | 102.7 | TE25 |
| 211 | Caleb Huntley | ATL | RB | 22 | 17 | 0 | 0 | 0 | 0 | 0 | 84 | 422 | 5 | 2 | 23 | 15 | 65 | 4.3 | 0 | 2 | 0 | 0 | 60.7 | 75.9 | RB64 |
| 212 | Chris Herndon | NYJ | TE | 25 | 17 | 0 | 0 | 0 | 0 | 0 | 0 | 0 | 0 | 0 | 71 | 50 | 446 | 9 | 3 | 3 | 1 | 1 | 60.6 | 110.2 | TE26 |
| 214 | Richie James | SFO | WR | 25 | 17 | 0 | 0 | 0 | 0 | 0 | 0 | 0 | 0 | 0 | 66 | 43 | 534 | 12.4 | 1 | 1 | 0 | 0 | 59.4 | 102.4 | WR89 |
| 153 | Van Jefferson | LAR | WR | 24 | 17 | 0 | 0 | 0 | 0 | 0 | 0 | 0 | 0 | 0 | 65 | 41 | 468 | 11.5 | 2 | 2 | 0 | 0 | 58.8 | 99.8 | WR90 |
| 215 | Taysom Hill | NO | QB | 31 | 17 | 0 | 0 | 0 | 0 | 0 | 76 | 413 | 5.4 | 3 | 0 | 0 | 0 | 0 | 0 | 3 | 1 | 0 | 59.3 | 59.3 | QB35 |
| 216 | Tarik Cohen | CHI | RB | 25 | 15 | 0 | 0 | 0 | 0 | 0 | 33 | 122 | 3.7 | 0 | 75 | 55 | 362 | 6.6 | 2 | 2 | 1 | 1 | 58.4 | 113.4 | RB65 |
| 217 | Nelson Agholor | NWE | WR | 28 | 17 | 0 | 0 | 0 | 0 | 0 | 0 | 0 | 0 | 0 | 51 | 31 | 504 | 16.1 | 2 | 2 | 0 | 2 | 58.4 | 89.7 | WR91 |
| 218 | Hayden Hurst | ATL | TE | 27 | 17 | 0 | 0 | 0 | 0 | 0 | 0 | 0 | 0 | 0 | 64 | 42 | 462 | 10.9 | 2 | 2 | 0 | 0 | 58.2 | 100.6 | TE27 |
| 219 | Darrel Williams | KC | RB | 25 | 17 | 0 | 0 | 0 | 0 | 0 | 65 | 250 | 3.8 | 3 | 30 | 20 | 152 | 7.6 | 0 | 3 | 0 | 0 | 58.2 | 78.2 | RB66 |
| 220 | Kenneth Gainwell | PHI | RB | 22 | 17 | 0 | 0 | 0 | 0 | 0 | 52 | 230 | 4.4 | 1 | 59 | 33 | 253 | 7.6 | 1 | 2 | 2 | 2 | 56.3 | 89.6 | RB67 |
| 221 | Jaylen Waddle | MIA | WR | 22 | 17 | 0 | 0 | 0 | 0 | 0 | 0 | 0 | 0 | 0 | 75 | 38 | 399 | 10.5 | 3 | 3 | 1 | 1 | 55.9 | 93.9 | WR92 |
| 222 | Jack Doyle | IND | TE | 30 | 17 | 0 | 0 | 0 | 0 | 0 | 0 | 0 | 0 | 0 | 45 | 33 | 330 | 10 | 2 | 2 | 0 | 2 | 55 | 78 | TE28 |
| 223 | Sammy Watkins | BAL | WR | 28 | 17 | 0 | 0 | 0 | 0 | 0 | 0 | 0 | 0 | 0 | 37 | 22 | 309 | 14 | 4 | 4 | 0 | 0 | 54.9 | 77 | WR93 |
| 224 | Keke Coutee | HOU | WR | 23 | 17 | 0 | 0 | 0 | 0 | 0 | 0 | 0 | 0 | 0 | 50 | 33 | 429 | 13 | 2 | 2 | 2 | 2 | 55 | 88 | WR94 |
| 225 | Wayne Gallman | SFO | RB | 26 | 17 | 0 | 0 | 0 | 0 | 0 | 58 | 249 | 4.3 | 3 | 17 | 11 | 58 | 5.4 | 1 | 4 | 0 | 0 | 54.7 | 65.7 | RB68 |
| 226 | Donald Parham | LAC | TE | 23 | 17 | 0 | 0 | 0 | 0 | 0 | 0 | 0 | 0 | 0 | 38 | 26 | 306 | 11.8 | 4 | 4 | 0 | 0 | 54.6 | 80.6 | TE29 |
| 227 | Eric Ebron | PIT | TE | 28 | 17 | 0 | 0 | 0 | 0 | 0 | 0 | 0 | 0 | 0 | 55 | 37 | 365 | 10 | 3 | 3 | 0 | 0 | 54.5 | 91 | TE30 |
| 228 | Samaje Perine | CIN | RB | 26 | 17 | 0 | 0 | 0 | 0 | 0 | 65 | 294 | 4.5 | 2 | 31 | 20 | 130 | 6.5 | 0 | 2 | 0 | 0 | 54.3 | 74.3 | RB69 |
| 229 | Parris Campbell | IND | WR | 22 | 17 | 0 | 0 | 0 | 0 | 0 | 1 | 7 | 7 | 0 | 50 | 35 | 420 | 12 | 2 | 2 | 0 | 2 | 54 | 89 | WR95 |
| 230 | Harrison Bryant | CLE | TE | 23 | 17 | 0 | 0 | 0 | 0 | 0 | 0 | 0 | 0 | 0 | 47 | 29 | 279 | 9.5 | 5 | 5 | 2 | 2 | 53.9 | 83.2 | TE31 |
| 231 | Anthony Miller | CHI | WR | 26 | 17 | 0 | 0 | 0 | 0 | 0 | 2 | 11 | 5.5 | 0 | 60 | 37 | 459 | 12.4 | 1 | 1 | 0 | 0 | 53 | 90 | WR96 |
| 232 | Trey Sermon | SFO | RB | 22 | 17 | 0 | 0 | 0 | 0 | 0 | 56 | 235 | 4.2 | 1 | 44 | 29 | 235 | 8.2 | 0 | 1 | 0 | 0 | 53 | 82 | RB70 |
| 233 | Sterling Shepard | NYG | WR | 27 | 17 | 0 | 0 | 0 | 0 | 0 | 0 | 0 | 0 | 0 | 60 | 37 | 398 | 10.8 | 2 | 2 | 0 | 0 | 51.8 | 88.7 | WR97 |
| 266 | Rashaad Penny | SEA | RB | 25 | 17 | 0 | 0 | 0 | 0 | 0 | 90 | 315 | 3.5 | 2 | 28 | 19 | 93 | 4.9 | 0 | 2 | 0 | 0 | 52.8 | 71.8 | RB71 |
| 235 | Travis Fulgham | PHI | WR | 25 | 17 | 0 | 0 | 0 | 0 | 0 | 0 | 0 | 0 | 0 | 64 | 37 | 392 | 10.7 | 2 | 2 | 0 | 0 | 51.2 | 87.8 | WR98 |
| 236 | Dez Fitzpatrick | TEN | WR | 23 | 17 | 0 | 0 | 0 | 0 | 0 | 0 | 0 | 0 | 0 | 25 | 15 | 175 | 11.66 | 2 | 2 | 0 | 2 | 51 | 86 | WR99 |
| 234 | Phillip Lindsay | HOU | RB | 26 | 17 | 0 | 0 | 0 | 0 | 0 | 50 | 230 | 4.6 | 2 | 40 | 31 | 186 | 6 | 2 | 4 | 1 | 4 | 52 | 83 | RB72 |
| 237 | Salvon Ahmed | MIA | RB | 23 | 17 | 0 | 0 | 0 | 0 | 0 | 63 | 320 | 5.1 | 1 | 15 | 12 | 84 | 7 | 1 | 2 | 1 | 1 | 50.4 | 62.4 | RB73 |
| 238 | Malcolm Brown | MIA | RB | 28 | 17 | 0 | 0 | 0 | 0 | 0 | 65 | 247 | 3.8 | 4 | 11 | 8 | 36 | 4.5 | 0 | 4 | 1 | 1 | 50.3 | 58.3 | RB74 |
| 240 | Andy Isabella | ARI | WR | 24 | 17 | 0 | 0 | 0 | 0 | 0 | 0 | 0 | 0 | 0 | 47 | 32 | 379 | 12 | 2 | 2 | 0 | 0 | 49.9 | 81.9 | WR100 |
| 241 | Donovan Peoples-Jones | CLE | WR | 22 | 17 | 0 | 0 | 0 | 0 | 0 | 0 | 0 | 0 | 0 | 36 | 24 | 435 | 18.5 | 1 | 1 | 0 | 0 | 49.5 | 73 | WR101 |
| 242 | KeeSean Johnson | ARI | WR | 24 | 17 | 0 | 0 | 0 | 0 | 0 | 0 | 0 | 0 | 0 | 41 | 28 | 429 | 15.5 | 1 | 1 | 0 | 0 | 48.9 | 76.9 | WR102 |
| 243 | KJ Hamler | DEN | WR | 21 | 17 | 0 | 0 | 0 | 0 | 0 | 0 | 0 | 0 | 0 | 58 | 34 | 360 | 10.6 | 2 | 2 | 0 | 0 | 48 | 82 | WR103 |
| 244 | Gerald Everett | SEA | TE | 26 | 17 | 0 | 0 | 0 | 0 | 0 | 0 | 0 | 0 | 0 | 47 | 31 | 296 | 9.5 | 3 | 3 | 0 | 0 | 47.6 | 78.6 | TE32 |
| 245 | Tutu Atwell | LAR | WR | 21 | 17 | 0 | 0 | 0 | 0 | 0 | 0 | 0 | 0 | 0 | 47 | 30 | 355 | 12 | 2 | 2 | 0 | 0 | 47.5 | 77.5 | WR104 |
| 246 | Maxx Williams | ARI | TE | 26 | 17 | 0 | 0 | 0 | 0 | 0 | 0 | 0 | 0 | 0 | 47 | 32 | 351 | 11.1 | 2 | 2 | 0 | 0 | 47.1 | 79.1 | TE33 |
| 247 | Dan Arnold | CAR | TE | 26 | 17 | 0 | 0 | 0 | 0 | 0 | 0 | 0 | 0 | 0 | 36 | 29 | 409 | 14 | 1 | 1 | 0 | 0 | 46.9 | 75.9 | TE34 |
| 248 | Zach Pascal | IND | WR | 26 | 17 | 0 | 0 | 0 | 0 | 0 | 0 | 0 | 0 | 0 | 30 | 21 | 294 | 13 | 3 | 3 | 0 | 3 | 46 | 68 | WR105 |
| 249 | Isaiah McKenzie | BUF | WR | 26 | 17 | 0 | 0 | 0 | 0 | 0 | 11 | 17 | 1.5 | 0 | 37 | 22 | 220 | 10 | 4 | 4 | 1 | 1 | 45.7 | 67.7 | WR106 |
| 250 | Pat Freiermuth | PIT | TE | 23 | 17 | 0 | 0 | 0 | 0 | 0 | 0 | 0 | 0 | 0 | 55 | 35 | 314 | 9 | 3 | 3 | 2 | 2 | 45.4 | 80.3 | TE35 |
| 239 | Peyton Barber | WAS | RB | 26 | 17 | 0 | 0 | 0 | 0 | 0 | 75 | 248 | 3.3 | 4 | 6 | 4 | 11 | 3 | 0 | 4 | 0 | 0 | 50 | 53.8 | RB75 |
| 252 | Foster Moreau | LVR | TE | 23 | 17 | 0 | 0 | 0 | 0 | 0 | 0 | 0 | 0 | 0 | 30 | 22 | 202 | 9.2 | 4 | 4 | 0 | 0 | 44.2 | 66.2 | TE36 |
| 253 | DeSean Jackson | LAR | WR | 34 | 17 | 0 | 0 | 0 | 0 | 0 | 0 | 0 | 0 | 0 | 41 | 25 | 382 | 15.5 | 1 | 1 | 0 | 0 | 44.2 | 69.2 | WR107 |
| 254 | Tyron Johnson | LAC | WR | 24 | 17 | 0 | 0 | 0 | 0 | 0 | 0 | 0 | 0 | 0 | 27 | 18 | 318 | 17.7 | 2 | 2 | 0 | 0 | 43.8 | 61.8 | WR108 |
| 255 | Kelvin Harmon | WAS | WR | 24 | 17 | 0 | 0 | 0 | 0 | 0 | 0 | 0 | 0 | 0 | 47 | 30 | 377 | 12.4 | 1 | 1 | 0 | 0 | 43.7 | 74.1 | WR109 |
| 256 | Dawson Knox | BUF | TE | 25 | 17 | 0 | 0 | 0 | 0 | 0 | 0 | 0 | 0 | 0 | 48 | 24 | 288 | 12 | 3 | 3 | 2 | 2 | 42.8 | 66.8 | TE37 |
| 251 | Rhamondre Stevenson | NWE | RB | 22 | 17 | 0 | 0 | 0 | 0 | 0 | 78 | 390 | 5 | 0 | 5 | 7 | 60 | 8.5 | 0 | 0 | 0 | 0 | 45 | 52 | RB76 |
| 258 | Chris Conley | HOU | WR | 28 | 17 | 0 | 0 | 0 | 0 | 0 | 0 | 0 | 0 | 0 | 50 | 30 | 300 | 13 | 2 | 2 | 0 | 2 | 42 | 72 | WR110 |
| 259 | Will Dissly | SEA | TE | 24 | 17 | 0 | 0 | 0 | 0 | 0 | 0 | 0 | 0 | 0 | 33 | 22 | 240 | 11 | 3 | 3 | 0 | 0 | 42 | 64 | TE38 |
| 260 | James O'Shaughnessy | JAX | TE | 28 | 17 | 0 | 0 | 0 | 0 | 0 | 0 | 0 | 0 | 0 | 45 | 30 | 300 | 10 | 2 | 2 | 0 | 2 | 42 | 67 | TE39 |
| 261 | Scotty Miller | TPA | WR | 23 | 17 | 0 | 0 | 0 | 0 | 0 | 0 | 0 | 0 | 0 | 32 | 20 | 300 | 14.5 | 2 | 2 | 0 | 0 | 42 | 62 | WR111 |
| 262 | Mason Schreck | CIN | TE | 28 | 17 | 0 | 0 | 0 | 0 | 0 | 0 | 0 | 0 | 0 | 8 | 5 | 57 | 11.5 | 6 | 6 | 0 | 0 | 41.7 | 46.7 | TE40 |
| 257 | Gio Bernard | TPA | RB | 29 | 17 | 0 | 0 | 0 | 0 | 0 | 13 | 45 | 3.4 | 0 | 46 | 34 | 262 | 7.6 | 2 | 2 | 0 | 0 | 42.7 | 76.7 | RB77 |
| 264 | Tyler Johnson | TPA | WR | 22 | 17 | 0 | 0 | 0 | 0 | 0 | 0 | 0 | 0 | 0 | 26 | 16 | 230 | 14.1 | 3 | 3 | 0 | 0 | 41 | 57 | WR112 |
| 263 | Javian Hawkins | ATL | RB | 21 | 17 | 0 | 0 | 0 | 0 | 0 | 51 | 299 | 5.9 | 2 | 6 | 4 | 18 | 5 | 0 | 2 | 1 | 1 | 41.6 | 45.1 | RB78 |
| 265 | Devontae Booker | NYG | RB | 28 | 17 | 0 | 0 | 0 | 0 | 0 | 31 | 123 | 4 | 1 | 38 | 24 | 167 | 7.1 | 1 | 2 | 0 | 0 | 40.9 | 64.4 | RB79 |
| 267 | Stevie Scott | NO | RB | 21 | 17 | 0 | 0 | 0 | 0 | 0 | 36 | 161 | 4.5 | 2 | 12 | 10 | 67 | 7 | 1 | 3 | 0 | 0 | 40.8 | 50.8 | RB80 |
| 268 | Damiere Byrd | CHI | WR | 28 | 16 | 0 | 0 | 0 | 0 | 0 | 3 | 19 | 6.3 | 0 | 49 | 29 | 342 | 11.8 | 1 | 1 | 1 | 1 | 40.1 | 69.1 | WR113 |
| 269 | Dalton Schultz | DAL | TE | 24 | 17 | 0 | 0 | 0 | 0 | 0 | 0 | 0 | 4.4 | 0 | 24 | 32 | 316 | 9.8 | 2 | 2 | 2 | 2 | 39.6 | 71.8 | TE41 |
| 270 | Kadarius Toney | NYG | WR | 22 | 17 | 0 | 0 | 0 | 0 | 0 | 0 | 0 | 1.5 | 0 | 27 | 17 | 273 | 16.3 | 2 | 2 | 0 | 0 | 39.3 | 56.1 | WR114 |
| 271 | Cameron Brate | TPA | TE | 29 | 17 | 0 | 0 | 0 | 0 | 0 | 0 | 0 | 0 | 0 | 39 | 27 | 268 | 10 | 2 | 2 | 0 | 0 | 38.8 | 65.8 | TE42 |
| 272 | Kylen Granson | IND | TE | 23 | 17 | 0 | 0 | 0 | 0 | 0 | 0 | 0 | 0 | 0 | 35 | 25 | 225 | 9 | 1 | 1 | 0 | 1 | 39 | 54 | TE43 |
| 273 | Jeremy McNichols | TEN | RB | 25 | 17 | 0 | 0 | 0 | 0 | 0 | 50 | 225 | 4.5 | 1 | 20 | 12 | 60 | 5 | 1 | 2 | 1 | 2 | 39 | 51 | RB81 |
| 274 | Cedrick Wilson Jr. | DAL | WR | 25 | 17 | 0 | 0 | 0 | 0 | 0 | 0 | 0 | 0 | 0 | 39 | 27 | 262 | 9.8 | 2 | 2 | 0 | 0 | 38.2 | 64.9 | WR115 |
| 275 | Jamycal Hasty | SFO | RB | 24 | 17 | 0 | 0 | 0 | 0 | 0 | 50 | 185 | 3.7 | 2 | 6 | 4 | 16 | 4.5 | 1 | 3 | 0 | 0 | 38.1 | 42.1 | RB82 |
| 276 | Justice Hill | BAL | RB | 24 | 17 | 0 | 0 | 0 | 0 | 0 | 64 | 289 | 4.5 | 1 | 5 | 3 | 23 | 7 | 0 | 1 | 0 | 0 | 37.2 | 40.5 | RB83 |
| 277 | Greg Ward | PHI | WR | 25 | 17 | 0 | 0 | 0 | 0 | 0 | 0 | 0 | 0 | 0 | 47 | 27 | 309 | 11.6 | 1 | 1 | 0 | 0 | 36.9 | 63.5 | WR116 |
| 278 | Byron Pringale | KC | WR | 27 | 17 | 0 | 0 | 0 | 0 | 0 | 0 | 0 | 0 | 0 | 25 | 17 | 246 | 14.5 | 2 | 2 | 0 | 0 | 36.6 | 53.6 | WR117 |
| 279 | Tevin Coleman | NYJ | RB | 28 | 17 | 0 | 0 | 0 | 0 | 0 | 37 | 158 | 4.3 | 3 | 6 | 4 | 27 | 6.5 | 0 | 3 | 0 | 0 | 36.5 | 40.6 | RB84 |
| 280 | Amari Rodgers | GB | WR | 21 | 15 | 0 | 0 | 0 | 0 | 0 | 2 | 10 | 5 | 0 | 34 | 22 | 230 | 10.5 | 2 | 2 | 0 | 0 | 36 | 58 | WR118 |
| 281 | Racey McMath | TEN | WR | 21 | 17 | 0 | 0 | 0 | 0 | 0 | 0 | 0 | 0 | 0 | 20 | 12 | 144 | 12 | 0 | 0 | 0 | 1 | 36 | 62 | WR119 |
| 282 | Josh Palmer | LAC | WR | 21 | 17 | 0 | 0 | 0 | 0 | 0 | 0 | 0 | 0 | 0 | 24 | 17 | 294 | 17.3 | 1 | 1 | 0 | 0 | 35.4 | 52.4 | WR120 |
| 283 | Auden Tate | CIN | WR | 24 | 17 | 0 | 0 | 0 | 0 | 0 | 0 | 0 | 0 | 0 | 44 | 28 | 291 | 10.5 | 1 | 1 | 0 | 0 | 35.1 | 62.8 | WR121 |
| 284 | Brevin Jordan | HOU | TE | 20 | 17 | 0 | 0 | 0 | 0 | 0 | 0 | 0 | 0 | 0 | 25 | 17 | 221 | 13 | 2 | 2 | 0 | 2 | 34 | 51 | TE44 |
| 293 | DeeJay Dallas | SEA | RB | 22 | 17 | 0 | 0 | 0 | 0 | 0 | 41 | 205 | 5 | 1 | 23 | 16 | 96 | 6 | 0 | 1 | 0 | 0 | 36.1 | 52.1 | RB85 |
| 309 | Freddie Swain | SEA | WR | 22 | 17 | 0 | 0 | 0 | 0 | 0 | 0 | 0 | 0 | 0 | 28 | 19 | 231 | 12.2 | 2 | 2 | 0 | 0 | 35.1 | 54.1 | WR122 |
| 286 | Kendrick Bourne | NWE | WR | 26 | 17 | 0 | 0 | 0 | 0 | 0 | 0 | 0 | 0 | 0 | 46 | 30 | 334 | 11.1 | 0 | 0 | 0 | 0 | 33.4 | 63.5 | WR123 |
| 285 | Brian Hill | TEN | RB | 25 | 17 | 0 | 0 | 0 | 0 | 0 | 50 | 250 | 5 | 1 | 10 | 8 | 50 | 6.25 | 0 | 1 | 1 | 1 | 34 | 42 | RB86 |
| 289 | Cole Kmet | CHI | TE | 22 | 17 | 0 | 0 | 0 | 0 | 0 | 0 | 0 | 0 | 0 | 53 | 31 | 267 | 8.6 | 1 | 1 | 0 | 0 | 32.7 | 63.7 | TE45 |
| 290 | Darren Fells | DET | TE | 35 | 17 | 0 | 0 | 0 | 0 | 0 | 0 | 0 | 0 | 0 | 26 | 18 | 202 | 11.2 | 2 | 2 | 0 | 0 | 32.2 | 50.2 | TE46 |
| 291 | Geoff Swain | TEN | TE | 27 | 17 | 0 | 0 | 0 | 0 | 0 | 0 | 0 | 0 | 0 | 30 | 20 | 200 | 10 | 2 | 2 | 0 | 2 | 32 | 52 | TE47 |
| 288 | Rodney Smith | CAR | RB | 25 | 17 | 0 | 0 | 0 | 0 | 0 | 65 | 247 | 3.8 | 1 | 6 | 5 | 21 | 4.3 | 0 | 1 | 0 | 0 | 32.8 | 37.8 | RB87 |
| 292 | Jalen Richard | LVR | RB | 27 | 17 | 0 | 0 | 0 | 0 | 0 | 20 | 104 | 5.2 | 1 | 22 | 17 | 146 | 8.6 | 0 | 1 | 0 | 0 | 31 | 48 | RB88 |
| 287 | Shi Smith | CAR | WR | 22 | 17 | 0 | 0 | 0 | 0 | 0 | 0 | 0 | 0 | 0 | 37 | 23 | 273 | 12 | 1 | 1 | 0 | 0 | 33.3 | 56.3 | WR124 |
| 294 | Frank Darby | ATL | WR | 24 | 17 | 0 | 0 | 0 | 0 | 0 | 0 | 0 | 0 | 0 | 23 | 15 | 290 | 19.7 | 0 | 0 | 0 | 0 | 29 | 43.7 | WR125 |
| 296 | Tyler Conklin | MIN | TE | 25 | 16 | 0 | 0 | 0 | 0 | 0 | 0 | 0 | 0 | 0 | 31 | 28 | 286 | 10.2 | 0 | 0 | 1 | 0 | 28.6 | 56.6 | TE48 |
| 295 | Cam Sims | WAS | WR | 24 | 17 | 0 | 0 | 0 | 0 | 0 | 0 | 0 | 0 | 0 | 23 | 15 | 227 | 14.9 | 1 | 1 | 0 | 0 | 28.7 | 43.9 | WR126 |
| 297 | Trenton Irwin | CIN | WR | 26 | 17 | 0 | 0 | 0 | 0 | 0 | 0 | 0 | 0 | 0 | 25 | 16 | 161 | 10.1 | 2 | 2 | 0 | 0 | 28.1 | 44.1 | WR127 |
| 299 | Noah Gray | KC | TE | 22 | 17 | 0 | 0 | 0 | 0 | 0 | 0 | 0 | 0 | 0 | 25 | 16 | 148 | 9.3 | 2 | 2 | 0 | 0 | 26.8 | 42.8 | TE49 |
| 300 | Nick Boyle | BAL | TE | 28 | 17 | 0 | 0 | 0 | 0 | 0 | 0 | 0 | 0 | 0 | 23 | 17 | 147 | 8.5 | 2 | 2 | 0 | 0 | 26.7 | 44 | TE50 |
| 301 | Ameer Abdullah | MIN | RB | 27 | 15 | 0 | 0 | 0 | 0 | 0 | 11 | 50 | 4.5 | 0 | 9 | 5 | 34 | 6.8 | 3 | 3 | 0 | 0 | 26.4 | 31.4 | RB89 |
| 302 | Richard Rodgers | PHI | TE | 28 | 17 | 0 | 0 | 0 | 0 | 0 | 0 | 0 | 0 | 0 | 29 | 17 | 195 | 11.7 | 1 | 1 | 0 | 0 | 25.5 | 42.2 | TE51 |
| 298 | Chad Beebe | MIN | WR | 26 | 14 | 0 | 0 | 0 | 0 | 0 | 0 | 0 | 0 | 0 | 25 | 21 | 210 | 10 | 1 | 1 | 0 | 0 | 27 | 48 | WR128 |
| 304 | Kyle Rudolph | NYG | TE | 31 | 17 | 0 | 0 | 0 | 0 | 0 | 0 | 0 | 0 | 0 | 27 | 17 | 184 | 11 | 1 | 1 | 0 | 0 | 24.4 | 41.2 | TE52 |
| 305 | Tre McKitty | LAC | TE | 21 | 17 | 0 | 0 | 0 | 0 | 0 | 0 | 0 | 0 | 0 | 16 | 11 | 122 | 11.1 | 2 | 2 | 0 | 0 | 24.2 | 35.2 | TE53 |
| 303 | Cordarrelle Patterson | ATL | WR | 30 | 17 | 0 | 0 | 0 | 0 | 0 | 25 | 114 | 4.5 | 1 | 12 | 8 | 75 | 9.7 | 0 | 1 | 0 | 0 | 24.9 | 32.6 | WR129 |
| 307 | Pharaoh Brown | HOU | TE | 26 | 17 | 0 | 0 | 0 | 0 | 0 | 0 | 0 | 0 | 0 | 20 | 16 | 176 | 11 | 1 | 1 | 0 | 1 | 24 | 40 | TE54 |
| 308 | David Njoku | CLE | TE | 25 | 17 | 0 | 0 | 0 | 0 | 0 | 0 | 0 | 0 | 0 | 24 | 16 | 175 | 11.2 | 1 | 1 | 0 | 0 | 23.5 | 39.1 | TE55 |
| 306 | Bryan Edwards | LVR | WR | 22 | 17 | 0 | 0 | 0 | 0 | 0 | 0 | 0 | 0 | 0 | 24 | 14 | 178 | 12.7 | 1 | 1 | 0 | 0 | 23.8 | 37.8 | WR130 |
| 310 | Miles Boykin | BAL | WR | 25 | 17 | 0 | 0 | 0 | 0 | 0 | 0 | 0 | 0 | 0 | 32 | 19 | 230 | 12 | 0 | 0 | 0 | 0 | 23 | 42.2 | WR131 |
| 311 | O.J. Howard | TPA | TE | 26 | 17 | 0 | 0 | 0 | 0 | 0 | 0 | 0 | 0 | 0 | 19 | 13 | 169 | 13 | 1 | 1 | 0 | 0 | 22.9 | 35.9 | TE56 |
| 312 | Hunter Long | MIA | TE | 23 | 17 | 0 | 0 | 0 | 0 | 0 | 0 | 0 | 0 | 0 | 24 | 15 | 165 | 11 | 1 | 1 | 0 | 0 | 22.5 | 37.5 | TE57 |
| 313 | Jerick McKinnon | KC | RB | 29 | 17 | 0 | 0 | 0 | 0 | 0 | 20 | 80 | 4 | 1 | 14 | 10 | 84 | 8.4 | 0 | 1 | 0 | 0 | 22.4 | 32.4 | RB90 |
| 314 | CJ Uzomah | CIN | TE | 28 | 17 | 0 | 0 | 0 | 0 | 0 | 0 | 0 | 0 | 0 | 12 | 9 | 99 | 11 | 2 | 2 | 0 | 0 | 21.9 | 30.9 | TE58 |
| 315 | Trayveon Williams | CIN | RB | 24 | 17 | 0 | 0 | 0 | 0 | 0 | 44 | 196 | 4.5 | 0 | 5 | 3 | 20 | 6 | 0 | 0 | 0 | 0 | 21.5 | 24.8 | RB91 |
| 316 | Lynn Bowden Jr. | MIA | WR | 24 | 17 | 0 | 0 | 0 | 0 | 0 | 11 | 17 | 1.5 | 0 | 35 | 27 | 199 | 7.5 | 0 | 0 | 0 | 0 | 21.5 | 48 | WR132 |
| 317 | Jaelon Darden | TPA | WR | 22 | 17 | 0 | 0 | 0 | 0 | 0 | 8 | 32 | 4 | 0 | 19 | 11 | 123 | 11 | 1 | 1 | 0 | 0 | 21.5 | 32.5 | WR133 |
| 318 | Trey Burton | IND | TE | 29 | 17 | 0 | 0 | 0 | 0 | 0 | 3 | 12 | 4 | 1 | 15 | 10 | 82 | 8.2 | 1 | 2 | 0 | 12 | 21 | 31 | TE59 |
| 319 | Marcedes Lewis | GB | TE | 36 | 14 | 0 | 0 | 0 | 0 | 0 | 0 | 0 | 0 | 0 | 14 | 9 | 92 | 10.2 | 2 | 2 | 0 | 0 | 21.2 | 30.2 | TE60 |
| 320 | Devin Duvernay | BAL | WR | 23 | 17 | 0 | 0 | 0 | 0 | 0 | 0 | 0 | 0 | 0 | 19 | 14 | 150 | 10.5 | 1 | 1 | 0 | 0 | 21 | 35.3 | WR134 |
| 321 | Gerrid Doaks | MIA | RB | 23 | 17 | 0 | 0 | 0 | 0 | 0 | 30 | 152 | 5.1 | 0 | 8 | 7 | 56 | 8 | 0 | 0 | 0 | 0 | 20.8 | 27.8 | RB92 |
| 322 | Tylan Wallace | BAL | WR | 22 | 17 | 0 | 0 | 0 | 0 | 0 | 0 | 0 | 0 | 0 | 15 | 8 | 83 | 10.1 | 2 | 2 | 0 | 0 | 20.3 | 28.6 | WR135 |
| 323 | Darwin Thompson | KC | RB | 23 | 17 | 0 | 0 | 0 | 0 | 0 | 20 | 75 | 3.8 | 1 | 12 | 8 | 68 | 8.5 | 0 | 1 | 0 | 0 | 20.3 | 28.3 | RB93 |
| 324 | Mo Alie-Cox | IND | TE | 27 | 17 | 0 | 0 | 0 | 0 | 0 | 0 | 0 | 0 | 0 | 20 | 13 | 130 | 13 | 1 | 1 | 0 | 1 | 20 | 33 | TE61 |
| 325 | Anthony McFarland | PIT | RB | 22 | 17 | 0 | 0 | 0 | 0 | 0 | 32 | 117 | 3.6 | 1 | 6 | 4 | 22 | 6 | 0 | 1 | 0 | 0 | 19.8 | 23.4 | RB94 |
| 326 | Preston Williams | MIA | WR | 24 | 17 | 0 | 0 | 0 | 0 | 0 | 0 | 0 | 0 | 0 | 22 | 11 | 137 | 12.1 | 1 | 1 | 0 | 0 | 19.7 | 31 | WR136 |
| 327 | D'Ernest Johnson | CLE | RB | 25 | 17 | 0 | 0 | 0 | 0 | 0 | 23 | 116 | 5 | 1 | 6 | 4 | 16 | 4.5 | 0 | 1 | 0 | 0 | 19.2 | 22.8 | RB95 |
| 328 | Rondale Moore | ARI | WR | 20 | 17 | 0 | 0 | 0 | 0 | 0 | 0 | 0 | 0 | 0 | 18 | 12 | 130 | 11 | 1 | 1 | 0 | 0 | 19 | 31 | WR137 |
| 329 | Chris Myarick | MIA | TE | 26 | 17 | 0 | 0 | 0 | 0 | 0 | 0 | 0 | 0 | 0 | 30 | 20 | 180 | 9 | 0 | 0 | 0 | 0 | 18 | 38 | TE62 |
| 330 | John Ross | NYG | WR | 26 | 17 | 0 | 0 | 0 | 0 | 0 | 0 | 0 | 0 | 0 | 11 | 7 | 111 | 16.5 | 1 | 1 | 0 | 0 | 17.1 | 23.8 | WR138 |
| 331 | N'Keal Harry | NWE | WR | 24 | 17 | 0 | 0 | 0 | 0 | 0 | 0 | 0 | 0 | 0 | 22 | 13 | 129 | 10.1 | 1 | 1 | 0 | 1 | 16.9 | 29.6 | WR139 |
| 332 | Antonio Williams | BUF | RB | 24 | 17 | 0 | 0 | 0 | 0 | 0 | 14 | 71 | 5.1 | 1 | 6 | 5 | 35 | 7 | 0 | 1 | 0 | 0 | 16.6 | 21.6 | RB96 |
| 333 | Equanimeous St. Brown | GB | WR | 24 | 11 | 0 | 0 | 0 | 0 | 0 | 1 | 5 | 5 | 0 | 10 | 6 | 97 | 16.2 | 1 | 1 | 0 | 0 | 16.2 | 22.2 | WR140 |
| 334 | Olabisi Johnson | MIN | WR | 24 | 16 | 0 | 0 | 0 | 0 | 0 | 0 | 0 | 0 | 0 | 24 | 12 | 162 | 13.5 | 0 | 0 | 0 | 0 | 16.2 | 28.2 | WR141 |
| 335 | Ryan Griffin | NYJ | TE | 31 | 17 | 0 | 0 | 0 | 0 | 0 | 0 | 0 | 0 | 0 | 6 | 4 | 39 | 11.1 | 2 | 2 | 0 | 0 | 15.9 | 19.4 | TE63 |
| 336 | Jonathan Ward | ARI | RB | 23 | 17 | 0 | 0 | 0 | 0 | 0 | 42 | 147 | 3.5 | 0 | 3 | 2 | 10 | 4.9 | 0 | 0 | 0 | 0 | 15.7 | 17.7 | RB97 |
| 337 | Chris Manhertz | JAX | TE | 29 | 17 | 0 | 0 | 0 | 0 | 0 | 0 | 0 | 0 | 0 | 25 | 15 | 96 | 8 | 1 | 1 | 0 | 1 | 16 | 28 | TE64 |
| 338 | Boston Scott | PHI | RB | 25 | 17 | 0 | 0 | 0 | 0 | 0 | 9 | 35 | 4 | 0 | 18 | 10 | 60 | 6 | 1 | 1 | 0 | 0 | 15.5 | 25.5 | RB98 |
| 339 | Noah Brown | DAL | WR | 24 | 17 | 0 | 0 | 0 | 0 | 0 | 0 | 0 | 0 | 0 | 13 | 9 | 91 | 10.2 | 1 | 1 | 0 | 0 | 15.1 | 24 | WR142 |
| 340 | Josh Adams | NYJ | RB | 25 | 17 | 0 | 0 | 0 | 0 | 0 | 28 | 119 | 4.3 | 0 | 6 | 4 | 27 | 6.5 | 0 | 0 | 0 | 0 | 14.6 | 18.7 | RB99 |
| 341 | Collin Johnson | JAX | WR | 23 | 17 | 0 | 0 | 0 | 0 | 0 | 0 | 0 | 0 | 0 | 25 | 16 | 144 | 12 | 0 | 0 | 0 | 0 | 14 | 26 | WR143 |
| 342 | Kerryon Johnson | PHI | RB | 23 | 17 | 0 | 0 | 0 | 0 | 0 | 17 | 57 | 3.3 | 1 | 12 | 7 | 46 | 6.9 | 0 | 1 | 1 | 1 | 14.3 | 21 | RB100 |
| 343 | Isaiah Ford | MIA | WR | 25 | 17 | 0 | 0 | 0 | 0 | 0 | 0 | 0 | 0 | 0 | 16 | 10 | 97 | 9.5 | 1 | 1 | 1 | 1 | 13.7 | 23.9 | WR144 |
| 344 | Tommy Sweeney | BUF | TE | 26 | 17 | 0 | 0 | 0 | 0 | 0 | 0 | 0 | 0 | 0 | 12 | 7 | 74 | 10 | 1 | 1 | 0 | 0 | 13.4 | 20.8 | TE65 |
| 345 | Jordan Wilkins | IND | RB | 26 | 17 | 0 | 0 | 0 | 0 | 0 | 25 | 120 | 4.8 | 0 | 2 | 1 | 8 | 8 | 0 | 0 | 0 | 0 | 13 | 14 | RB101 |
| 346 | Elijah Mitchell | SFO | RB | 23 | 17 | 0 | 0 | 0 | 0 | 0 | 15 | 48 | 3.2 | 1 | 6 | 4 | 19 | 5.2 | 0 | 1 | 0 | 0 | 12.7 | 16.7 | RB102 |
| 347 | Reggie Bonnafon | CAR | RB | 25 | 17 | 0 | 0 | 0 | 0 | 0 | 18 | 109 | 6 | 0 | 6 | 4 | 18 | 4 | 0 | 0 | 0 | 0 | 12.7 | 16.7 | RB103 |
| 348 | Tommy Tremble | CAR | TE | 20 | 17 | 0 | 0 | 0 | 0 | 0 | 0 | 0 | 0 | 0 | 18 | 11 | 126 | 11.5 | 0 | 0 | 0 | 0 | 12.6 | 23.6 | TE66 |
| 349 | Ke'Shawn Vaughan | TPA | RB | 24 | 17 | 0 | 0 | 0 | 0 | 0 | 21 | 86 | 4.2 | 0 | 13 | 6 | 39 | 6 | 0 | 0 | 0 | 0 | 12.5 | 18.5 | RB104 |
| 350 | Jacques Patrick | CIN | RB | 24 | 17 | 0 | 0 | 0 | 0 | 0 | 21 | 95 | 4.5 | 0 | 6 | 5 | 29 | 6 | 0 | 0 | 0 | 0 | 12.3 | 17.1 | RB105 |
| 351 | Darrynton Evans | TEN | RB | 22 | 17 | 0 | 0 | 0 | 0 | 0 | 25 | 120 | 4.8 | 0 | 0 | 0 | 0 | 0 | 0 | 0 | 0 | 0 | 12 | 12 | RB106 |
| 352 | Travis Homer | SEA | RB | 22 | 17 | 0 | 0 | 0 | 0 | 0 | 20 | 94 | 4.7 | 0 | 5 | 4 | 25 | 7.3 | 0 | 0 | 0 | 0 | 11.9 | 15.9 | RB107 |
| 353 | Lil' Jordan Humphrey | NO | WR | 23 | 17 | 0 | 0 | 0 | 0 | 0 | 0 | 0 | 0 | 0 | 12 | 7 | 104 | 15.3 | 0 | 0 | 0 | 0 | 10.4 | 17.4 | WR145 |
| 354 | Tyler Kroft | NYJ | TE | 28 | 17 | 0 | 0 | 0 | 0 | 0 | 0 | 0 | 0 | 0 | 6 | 4 | 43 | 12.1 | 1 | 1 | 0 | 0 | 10.3 | 13.8 | TE67 |
| 355 | Braxton Berrios | NYJ | WR | 26 | 17 | 0 | 0 | 0 | 0 | 0 | 0 | 0 | 0 | 0 | 6 | 4 | 33 | 8.5 | 1 | 1 | 0 | 0 | 9.3 | 13.2 | WR146 |
| 356 | Kalen Ballage | PIT | RB | 25 | 17 | 0 | 0 | 0 | 0 | 0 | 21 | 84 | 4 | 0 | 2 | 1 | 7 | 6 | 0 | 0 | 0 | 0 | 9.1 | 10.3 | RB108 |
| 357 | Deonte Harris | NO | WR | 23 | 17 | 0 | 0 | 0 | 0 | 0 | 0 | 0 | 0 | 0 | 17 | 11 | 90 | 8.1 | 0 | 0 | 0 | 0 | 9 | 20 | WR147 |
| 358 | KhaDarel Hoge | CLE | WR | 26 | 17 | 0 | 0 | 0 | 0 | 0 | 0 | 0 | 0 | 0 | 8 | 5 | 86 | 16.5 | 0 | 0 | 0 | 0 | 8.6 | 13.8 | WR148 |
| 359 | Matt Breida | BUF | RB | 26 | 17 | 0 | 0 | 0 | 0 | 0 | 12 | 56 | 4.8 | 0 | 6 | 4 | 28 | 7 | 0 | 0 | 0 | 0 | 8.4 | 12.4 | RB109 |
| 360 | Jace Sternberger | GB | TE | 24 | 11 | 0 | 0 | 0 | 0 | 0 | 0 | 0 | 0 | 0 | 12 | 9 | 80 | 8.9 | 0 | 0 | 0 | 0 | 8 | 17 | TE68 |
| 361 | Phillip Dorsett | JAX | WR | 28 | 17 | 0 | 0 | 0 | 0 | 0 | 0 | 0 | 0 | 0 | 15 | 8 | 80 | 10 | 0 | 0 | 0 | 0 | 8 | 16 | WR149 |
| 362 | Kahale Warring | HOU | TE | 23 | 17 | 0 | 0 | 0 | 0 | 0 | 0 | 0 | 0 | 0 | 10 | 6 | 72 | 12 | 0 | 0 | 0 | 0 | 7 | 13 | TE69 |
| 363 | JJ Nelson | IND | WR | 23 | 17 | 0 | 0 | 0 | 0 | 0 | 0 | 0 | 0 | 0 | 10 | 7 | 70 | 10 | 0 | 0 | 0 | 0 | 7 | 14 | WR150 |
| 364 | Antonio Gandy-Golden | WAS | WR | 22 | 17 | 0 | 0 | 0 | 0 | 0 | 2 | 9 | 4.5 | 0 | 6 | 4 | 57 | 15 | 0 | 0 | 0 | 0 | 6.6 | 10.4 | WR151 |
| 365 | C.J. Ham | MIN | RB | 27 | 16 | 0 | 0 | 0 | 0 | 0 | 4 | 16 | 4 | 0 | 11 | 7 | 50 | 7.1 | 0 | 0 | 0 | 0 | 6.6 | 13.6 | RB110 |
| 366 | Nick Vannett | NO | TE | 28 | 17 | 0 | 0 | 0 | 0 | 0 | 0 | 0 | 0 | 0 | 12 | 7 | 65 | 9.1 | 0 | 0 | 0 | 0 | 6.5 | 13.5 | TE70 |
| 367 | Christian Blake | ATL | WR | 24 | 17 | 0 | 0 | 0 | 0 | 0 | 0 | 0 | 0 | 0 | 12 | 7 | 65 | 9.7 | 0 | 0 | 0 | 0 | 6.5 | 13.1 | WR152 |
| 368 | Ty Montgomery | NO | RB | 28 | 17 | 0 | 0 | 0 | 0 | 0 | 6 | 28 | 4.7 | 0 | 6 | 4 | 35 | 8.2 | 0 | 0 | 0 | 0 | 6.3 | 10.3 | RB111 |
| 369 | Ian Thomas | CAR | TE | 25 | 17 | 0 | 0 | 0 | 0 | 0 | 0 | 0 | 0 | 0 | 12 | 7 | 62 | 8.5 | 0 | 0 | 0 | 0 | 6.2 | 13.2 | TE71 |
| 370 | Luke Farrell | JAX | TE | 29 | 17 | 0 | 0 | 0 | 0 | 0 | 0 | 0 | 0 | 0 | 10 | 6 | 60 | 10 | 0 | 0 | 0 | 0 | 6 | 12 | TE72 |
| 371 | Ray-Ray McCloud | PIT | WR | 25 | 17 | 0 | 0 | 0 | 0 | 0 | 0 | 0 | 0 | 0 | 18 | 12 | 70 | 6 | 0 | 0 | 1 | 1 | 5 | 16.7 | WR153 |
| 372 | Nick Westbrook-Ikhine | TEN | WR | 23 | 17 | 0 | 0 | 0 | 0 | 0 | 0 | 0 | 0 | 0 | 10 | 5 | 50 | 10 | 0 | 0 | 0 | 0 | 5 | 10 | WR154 |
| 373 | David Moore | CAR | WR | 26 | 17 | 0 | 0 | 0 | 0 | 0 | 0 | 0 | 0 | 0 | 6 | 4 | 50 | 12.9 | 0 | 0 | 0 | 0 | 5 | 9 | WR155 |
| 374 | Jared Pinkney | TEN | TE | 23 | 17 | 0 | 0 | 0 | 0 | 0 | 0 | 0 | 0 | 0 | 10 | 6 | 50 | 8.3 | 0 | 0 | 0 | 0 | 5 | 11 | TE73 |
| 375 | De'Michael Harris | IND | WR | 26 | 17 | 0 | 0 | 0 | 0 | 0 | 0 | 0 | 0 | 0 | 10 | 6 | 48 | 8 | 0 | 0 | 0 | 0 | 5 | 11 | WR156 |
| 376 | Brandon Zylstra | CAR | WR | 28 | 17 | 0 | 0 | 0 | 0 | 0 | 0 | 0 | 0 | 0 | 6 | 3 | 47 | 13.7 | 0 | 0 | 0 | 0 | 4.7 | 7.7 | WR157 |
| 377 | Ross Dwelley | SFO | TE | 25 | 17 | 0 | 0 | 0 | 0 | 0 | 0 | 0 | 0 | 0 | 6 | 4 | 45 | 12.6 | 0 | 0 | 0 | 0 | 4.5 | 8.5 | TE74 |
| 378 | Elijhaa Penny | NYG | RB | 27 | 17 | 0 | 0 | 0 | 0 | 0 | 8 | 23 | 3 | 0 | 6 | 3 | 21 | 6.4 | 0 | 0 | 0 | 0 | 4.4 | 7.8 | RB112 |
| 379 | Patrick Ricard | BAL | RB | 26 | 17 | 0 | 0 | 0 | 0 | 0 | 1 | 5 | 5 | 0 | 6 | 5 | 38 | 8 | 0 | 0 | 0 | 0 | 4.3 | 9.1 | RB113 |
| 380 | Duke Williams | BUF | WR | 28 | 17 | 0 | 0 | 0 | 0 | 0 | 0 | 0 | 0 | 0 | 6 | 4 | 40 | 10 | 0 | 0 | 0 | 0 | 4 | 8 | WR158 |
| 381 | Ashton Dulin | IND | WR | 23 | 17 | 0 | 0 | 0 | 0 | 0 | 0 | 0 | 0 | 0 | 5 | 3 | 40 | 13.3 | 0 | 0 | 0 | 0 | 4 | 7 | WR159 |
| 382 | Malik Taylor | GB | WR | 25 | 14 | 0 | 0 | 0 | 0 | 0 | 0 | 0 | 0 | 0 | 4 | 3 | 39 | 13 | 0 | 0 | 0 | 0 | 3.9 | 6.9 | WR160 |
| 383 | Javon Wims | CHI | WR | 26 | 12 | 0 | 0 | 0 | 0 | 0 | 0 | 0 | 0 | 0 | 9 | 5 | 38 | 7.6 | 0 | 0 | 0 | 0 | 3.8 | 8.8 | WR161 |
| 384 | Juwan Johnson | NO | WR | 24 | 17 | 0 | 0 | 0 | 0 | 0 | 0 | 0 | 0 | 0 | 6 | 4 | 37 | 9.8 | 0 | 0 | 0 | 0 | 3.7 | 7.7 | WR162 |
| 385 | Demetric Felton | CLE | RB | 23 | 17 | 0 | 0 | 0 | 0 | 0 | 5 | 25 | 5 | 0 | 2 | 1 | 7 | 6 | 0 | 0 | 0 | 0 | 3.2 | 4.4 | RB114 |
| 386 | Patrick Taylor | GB | RB | 23 | 5 | 0 | 0 | 0 | 0 | 0 | 5 | 20 | 4 | 0 | 3 | 2 | 12 | 6 | 0 | 0 | 0 | 0 | 3.2 | 5.2 | RB115 |
| 387 | K.J. Osborn | MIN | WR | 23 | 7 | 0 | 0 | 0 | 0 | 0 | 0 | 0 | 0 | 0 | 6 | 2 | 30 | 7.5 | 0 | 0 | 0 | 0 | 3 | 5 | WR163 |
| 388 | Dyami Brown | WAS | WR | 21 | 17 | 0 | 0 | 0 | 0 | 0 | 0 | 0 | 0 | 0 | 3 | 2 | 30 | 13 | 0 | 0 | 0 | 0 | 3 | 5.3 | WR164 |
| 389 | Jakeem Grant | MIA | WR | 29 | 17 | 0 | 0 | 0 | 0 | 0 | 0 | 0 | 0 | 0 | 4 | 3 | 27 | 10.1 | 0 | 0 | 0 | 0 | 2.7 | 5.4 | WR165 |
| 390 | Jacob Hollister | BUF | TE | 28 | 17 | 0 | 0 | 0 | 0 | 0 | 0 | 0 | 0 | 0 | 5 | 3 | 26 | 8 | 0 | 0 | 0 | 0 | 2.6 | 5.8 | TE75 |
| 391 | Stanley Morgan Jr. | CIN | WR | 25 | 17 | 0 | 0 | 0 | 0 | 0 | 0 | 0 | 0 | 0 | 11 | 2 | 23 | 11.5 | 0 | 0 | 0 | 0 | 2.3 | 4.3 | WR166 |
| 392 | James Proche | BAL | WR | 25 | 17 | 0 | 0 | 0 | 0 | 0 | 0 | 0 | 0 | 0 | 3 | 2 | 23 | 11.5 | 0 | 0 | 0 | 0 | 2.3 | 4.3 | WR167 |
| 393 | Buddy Howell | HOU | RB | 24 | 17 | 0 | 0 | 0 | 0 | 0 | 0 | 0 | 0 | 0 | 5 | 3 | 21 | 7 | 0 | 0 | 0 | 0 | 2 | 5 | RB116 |
| 394 | Tommy Hudson | TEN | TE | 24 | 17 | 0 | 0 | 0 | 0 | 0 | 0 | 0 | 0 | 0 | 5 | 3 | 20 | 6.8 | 0 | 0 | 0 | 0 | 2 | 5 | TE76 |
| 395 | Dominique Dafney | GB | TE | 23 | 3 | 0 | 0 | 0 | 0 | 0 | 0 | 0 | 0 | 0 | 4 | 2 | 17 | 8.5 | 0 | 0 | 0 | 0 | 1.7 | 3.7 | TE77 |
| 396 | Trent Taylor | SFO | WR | 26 | 17 | 0 | 0 | 0 | 0 | 0 | 0 | 0 | 0 | 0 | 3 | 2 | 15 | 8.6 | 0 | 0 | 0 | 0 | 1.5 | 3.5 | WR168 |
| 397 | Brandon Dillon | MIN | TE | 24 | 10 | 0 | 0 | 0 | 0 | 0 | 0 | 0 | 0 | 0 | 5 | 2 | 12 | 6 | 0 | 0 | 0 | 0 | 1.2 | 3.2 | TE78 |
| 398 | Mike Thomas | CIN | WR | 27 | 17 | 0 | 0 | 0 | 0 | 0 | 0 | 0 | 0 | 0 | 5 | 1 | 12 | 11.5 | 0 | 0 | 0 | 0 | 1.2 | 2.2 | WR169 |
| 399 | Binjimen Victor | BAL | WR | 24 | 17 | 0 | 0 | 0 | 0 | 0 | 0 | 0 | 0 | 0 | 1 | 1 | 12 | 11.5 | 0 | 0 | 0 | 0 | 1.2 | 2.2 | WR170 |
| 400 | Isaiah Hodgins | BUF | WR | 23 | 17 | 0 | 0 | 0 | 0 | 0 | 0 | 0 | 0 | 0 | 1 | 1 | 10 | 10 | 0 | 0 | 0 | 0 | 1 | 2 | WR171 |
| 401 | Anthony Schwartz | CLE | WR | 21 | 17 | 0 | 0 | 0 | 0 | 0 | 0 | 0 | 0 | 0 | 4 | 0 | 0 | 12 | 0 | 0 | 0 | 0 | 0 | 0 | WR172 |
| 402 | Tre Nixon | NWE | WR | 23 | 17 | 0 | 0 | 0 | 0 | 0 | 0 | 0 | 0 | 0 | 4 | 4 | 0 | 0 | 0 | 0 | 0 | 0 | 0 | 4 | WR173 |
| 403 | Khari Blasingame | TEN | RB | 24 | 17 | 0 | 0 | 0 | 0 | 0 | 0 | 0 | 0 | 0 | 0 | 0 | 0 | 0 | 0 | 0 | 0 | 0 | 0 | 0 | RB117 |
| 404 | Ja'Marcus Bradley | CLE | WR | 24 | 17 | 0 | 0 | 0 | 0 | 0 | 0 | 0 | 0 | 0 | 2 | 0 | 0 | 11.5 | 0 | 0 | 0 | 0 | 0 | 0 | WR174 |
| 405 | Cameron Batson | TEN | WR | 25 | 17 | 0 | 0 | 0 | 0 | 0 | 0 | 0 | 0 | 0 | 0 | 0 | 0 | 0 | 0 | 0 | 0 | 0 | 0 | 0 | WR175 |
| 406 | Chester Rogers | TEN | WR | 27 | 17 | 0 | 0 | 0 | 0 | 0 | 0 | 0 | 0 | 0 | 0 | 0 | 0 | 0 | 0 | 0 | 0 | 0 | 0 | 0 | WR176 |
| 407 | Marcus Johnson | TEN | WR | 26 | 17 | 0 | 0 | 0 | 0 | 0 | 0 | 0 | 0 | 0 | 0 | 0 | 0 | 0 | 0 | 0 | 0 | 0 | 0 | 0 | WR177 |
| 408 | Chad Hansen | HOU | WR | 25 | 17 | 0 | 0 | 0 | 0 | 0 | 0 | 0 | 0 | 0 | 0 | 0 | 0 | 0 | 0 | 0 | 0 | 0 | 0 | 0 | WR178 |
| 409 | Andre Roberts | HOU | WR | 33 | 17 | 0 | 0 | 0 | 0 | 0 | 0 | 0 | 0 | 0 | 0 | 0 | 0 | 0 | 0 | 0 | 0 | 0 | 0 | 0 | WR179 |
| 410 | Donte Moncrief | HOU | WR | 27 | 17 | 0 | 0 | 0 | 0 | 0 | 0 | 0 | 0 | 0 | 0 | 0 | 0 | 0 | 0 | 0 | 0 | 0 | 0 | 0 | WR180 |
| 411 | Isaiah Coulter | HOU | WR | 22 | 17 | 0 | 0 | 0 | 0 | 0 | 0 | 0 | 0 | 0 | 0 | 0 | 0 | 0 | 0 | 0 | 0 | 0 | 0 | 0 | WR181 |
| 412 | Tim Tebow | JAX | TE | 33 | 17 | 0 | 0 | 0 | 0 | 0 | 0 | 0 | 0 | 0 | 0 | 0 | 0 | 0 | 0 | 0 | 0 | 0 | 0 | 0 | TE79 |
| 413 | Dare Ogunbowale | JAX | RB | 26 | 17 | 0 | 0 | 0 | 0 | 0 | 0 | 0 | 0 | 0 | 0 | 0 | 0 | 0 | 0 | 0 | 0 | 0 | 0 | 0 | RB118 |
| 414 | Terry Godwin | JAX | WR | 24 | 17 | 0 | 0 | 0 | 0 | 0 | 0 | 0 | 0 | 0 | 0 | 0 | 0 | 0 | 0 | 0 | 0 | 0 | 0 | 0 | WR182 |
| 415 | Jamal Agnew | JAX | WR | 26 | 17 | 0 | 0 | 0 | 0 | 0 | 0 | 0 | 0 | 0 | 0 | 0 | 0 | 0 | 0 | 0 | 0 | 0 | 0 | 0 | WR183 |
| 416 | Devin Asiasi | NWE | TE | 24 | 17 | 0 | 0 | 0 | 0 | 0 | 0 | 0 | 0 | 0 | 0 | 0 | 0 | 0 | 0 | 0 | 0 | 0 | 0 | 0 | TE80 |
| 417 | Kristian Wilkerson | NWE | WR | 24 | 17 | 0 | 0 | 0 | 0 | 0 | 0 | 0 | 0 | 0 | 0 | 0 | 0 | 0 | 0 | 0 | 0 | 0 | 0 | 0 | WR184 |
| 418 | Gunner Olszewski | NWE | WR | 25 | 17 | 0 | 0 | 0 | 0 | 0 | 0 | 0 | 0 | 0 | 0 | 0 | 0 | 0 | 0 | 0 | 0 | 0 | 0 | 0 | WR185 |
| 419 | River Cracraft | SFO | WR | 26 | 17 | 0 | 0 | 0 | 0 | 0 | 0 | 0 | 0 | 0 | 0 | 0 | 0 | 0 | 0 | 0 | 0 | 0 | 0 | 0 | WR186 |