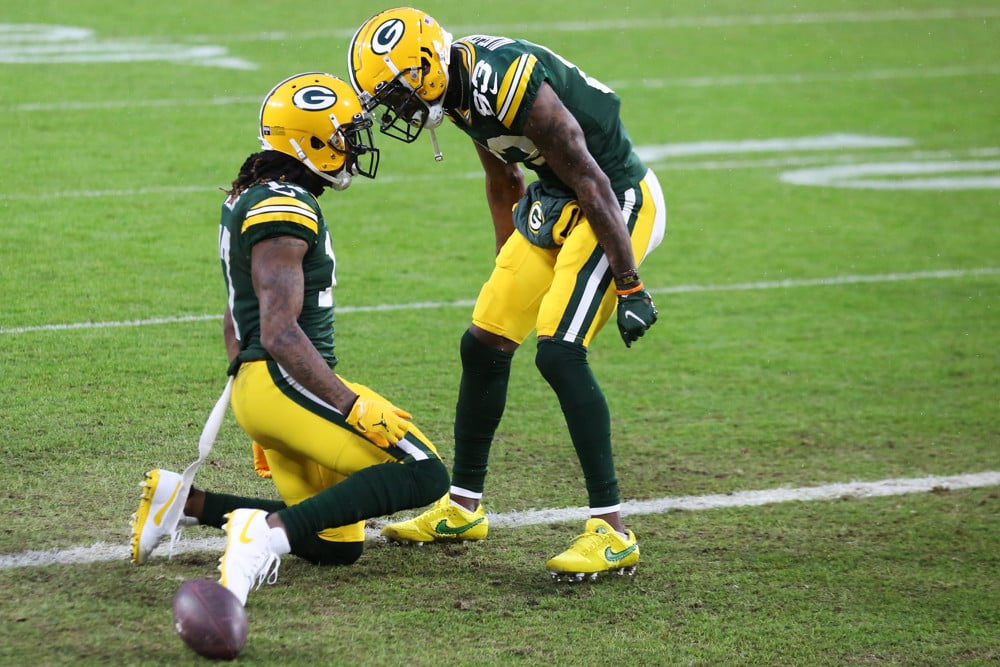 One thing is for certain in fantasy football. Following the crowd with your draft strategy will diminish your chances to win your league. The zero RB draft strategy is not normally a lot of fantasy footballers' go-to strategy. I love the zero RB strategy because I never feel like I need to go off my draft board. If the running backs are in a lower tier than the wide receivers that are left, then I have no problem punting on the position.
MORE EXCLUSIVE SGPN FANTASY CONTENT
SGPN Fantasy Football Projections
SGPN Fantasy Football Rankings
Fantasy Football Draft Cheat Sheets
The zero RB strategy is exactly how it sounds. You wait to draft running backs last in your draft. Focus on filling out the other parts of your roster in the early part of the draft then stockpile running backs late. I would only consider this strategy if I'm drafting from the seventh spot or later. The early running backs provide more value to me, but after that, I like the receivers going in that area a lot more. I am going to dissect some targets that I am looking for in each round.
Fantasy Football Draft Strategy: How to Draft with RB Zero
Round 1
It is key to remember that you will never win your league at the draft, but you can most certainly lose it. I am looking for solid receivers here that will have consistent yardage output and a high opportunity for touchdowns. Travis Kelce will begin to go in most drafts around the seventh spot. He is a living cheat code with the amount of production you get from him out of the TE spot. After Kelce, I am highest on Davante Adams. With Aaron Rodgers committed for another year, Adams should be in for another huge season. The Packers force him the ball and he always produces with his 29.8% target share. He is their best red-zone target, so look for them to make a statement and score plenty.
Other Options in Round 1
Tyreek Hill and Stefon Diggs are receivers that also are there for you in the first round. Hill finished as the WR2 behind Adams. We all know what that Kansas City offense can produce and with a revamped offensive line, the offense should be even better. This team is trying to get it back in blood and Hill is going to be one of the major contributors.
Diggs was a steal for where he was going in drafts last year. After finishing as the WR3, the community is putting respect on his name. As Josh Allen's primary option, Diggs is primed for a WR1 overall finish. He essentially plays the Adams role for the Bills and that is a recipe for a great season. Any of these guys can surpass the other to be the top WR in fantasy.
Round 2
In the second round, there will still be a heavy running back focus in most drafts. DeAndre Hopkins is my top target at this point of the draft. Kyler Murray will most certainly take another step forward this and Hopkins will continue to have a major role in that offense. Calvin Ridley is another receiver I love in the second round. He is due for a huge breakout season and with the departure of Julio Jones he is the clear-cut WR1 for the Falcons. In seven games without Jones in 2020, Ridley averaged seven catches, 109 yards, and 20.3 fantasy points.
Other Options in Round 2
I love the outlook for year three WRs in the NFL. They have adjusted and see a number of different looks in the league and begin to reach their maximum potential. For recent reference here are where some guys finished in their third year in the league:
Calvin Ridley WR5 (2020)
Chris Godwin WR2 (2019)
Cooper Kupp WR3 (2019)
Kenny Golladay WR9 (2019)
Tyreek Hill WR3 (2018)
Michael Thomas WR6 (2018)
DK Metcalf has all of the potential to finish in the top five of wide receivers. Through weeks 1-13, Metcalf was the WR3 in fantasy and averaged 18.9 fantasy points, also third-best in fantasy. The collapse of the Seahawks' offense, ultimately, was the reason his production dropped to WR7. With a new offensive coordinator coming in, this offense should be more consistent throughout the course of the entire season.
His brother at Ole Miss, A.J. Brown, is a freak of an athlete. His ability to create after the catch is where he really does his damage. He led the league in yards after the catch in his rookie year. The addition of Julio Jones should do nothing but aid Brown. I expect both to take pressure off the other and dominate targets in the offense. Brown still has top ten wide receiver upside.
Round 3
If you have not already grabbed Kelce, I would look at if either Darren Waller or George Kittle are available at this spot. They will give you a significant positional advantage over most tight ends every week. Waller has proven that he is a baller and will dominate the target share in the offense. He is a matchup nightmare for opposing defenses and is the guy Derek Carr trusts most in this offense. RB Zero does not mean that
Kittle's main issue is staying healthy. When he is, then he is one of the best tight ends in the game. He has the opportunity to challenge Travis Kelce for that TE1 spot because of his incredible efficiency. I anticipate that Jimmy Garoppolo starts the majority (if not all) of the season and Kittle is one of his most trusted targets.
Other Options in Round 3
If you are solidified on tight end with Kelce, then Keenan Allen is one of my top receivers that should be available. Justin Herbert is sure to take another leap this season and Allen has proved to be a target hog in this offense. Allen saw double-digit targets in 10 out of 12 games and was the WR2 in fantasy. RB Zero lets you secure a truly elite wide receiver corps and makes it hyper-appealing.
Allen Robinson II is never the big-name guy to draft in this area, but he is very reliable. He finished as the WR8 in 2019 and the WR9 in 2020. Despite the inconsistent quarterback play, he has been extremely valuable. Now he gets Justin Fields coming in who we should expect to probably see sooner rather than later. I love Robinson's target share in this offense and he should continue to put up WR1 numbers.
Terry McLaurin is another one of those year three receivers I am projecting to make another leap. Now, he has all of the talent and makes all of the plays, but he has been slowed down by the poor quarterback play of the Washington Football Team. Well, now he gets Ryan Fitzpatrick, who is a gunslinger at QB. He should press the football with McLaurin and allow him to make some big plays down the field. This could be his year to finally make that leap into WR1 status after finishing as WR20 in 2020.
Round 4
Coming back from the turn, a lot of people would be panicking, "hey I still do not have a running back in this draft!" R-E-L-A-X. It's going to be alright. There are two players I am extremely high on in the fourth round.
One is Kyle Pitts, who I believe is a wide receiver playing tight end. He is primed to be the second option to Ridley in Atlanta and will claim those vacated targets. The bar has been so low for tight ends for so long that it is not hard for Pitts to immediately come in and vault up in the rankings. With the absence of a clear-cut number two option for the Falcons, Pitts will have all the opportunity to be a top-five tight end in his rookie season.
Second, Lamar Jackson offers such a high floor with his rushing ability. He has the ability to make another leap as a passer with the additions of Sammy Watkins and Rashod Bateman to this receiving corps. After a slow start to the season and the emergence of JK Dobbins, Jackson finished from week 13 on as the QB2. I expect us to see that version of Jackson for the duration of the 2021 season. Going RB Zero gives you a nice chance to snag an elite quarterback without going crazy with overpayment.
Other Options in Round 4
Kyler Murray is receiving all types of QB1 overall buzz this offseason and it is rightly due. He narrowly finished behind Josh Allen last season after going down with an injury late. He fits the QB1 mold with his rushing and passing ability in this high-powered offense. 4,000 yards passing and 1,000 yards rushing is not outside the realm of possibility for him at all.
CeeDee Lamb started off with a good foundation in his rookie year to build off of. With Dak Prescott coming back, the offense should be way more efficient. He also is moving around the formation more in his second season which will open the door for him to leapfrog into WR1 discussion.
Round 5
Our wide receiver-heavy and RB zero approach can continue in to Round 5. However, if you still were patient on a tight end, then I love the upside of T.J. Hockenson in this spot. With Jared Goff, he should see a huge upside in targets. Without Kenny Golladay and Marvin Jones, Hockenson should lead the team in targets and touchdowns this season. I am expecting him to break out into a clear-cut top-five tight end this season.
Michael Thomas should also slide in drafts to the fifth round with him missing the start of the season. When Thomas is out on the field, he is one of the top fantasy wide receivers in the game. You make have to fill in for him until he returns, but when he does he should be a WR1 moving forward.
Other Options in Round 5
Brandon Aiyuk is another second-year receiver that should continue on an upward trend. He broke out towards the end of last year and has solidified a role in this offense. Even with Kittle and Deebo Samuel around, Aiyuk should get enough work to be in the WR2 conservation weekly.
I will never understand how Tyler Lockett is drafted so low. In his past three seasons, he has finished as the WR11, WR15, and WR11. I understand the issues with consistent fantasy production, but the same can be said about Metcalf. I believe the offense will be more consistent and Lockett will continue to be a value.
Kenny Golladay is getting the Daniel Jones treatment. Because Jones is his quarterback he is falling in drafts. The talent of the player is there and that is undeniable. He should help Jones be better with the enormous catch radius he has. Ultimately, he has to stay on the field to do so, but if he does he is a candidate to lead the NFL in receiving touchdowns.
Round 6
Now, I get to a point where I am starting to eye a few running backs on the board. The Broncos traded up to get Javonte Williams and they have specific plans for him. He will have weekly value and will instantly vault up the rankings should anything happen to Melvin Gordon. Williams could steal the job from Gordon and is the kind of back that RB Zero is built to get and capitalize on.
Mike Davis is also having a great camp for the Falcons. While I do not expect new head coach Arthur Smith to run him like Derrick Henry, Davis should still see a solid workload and his ability to catch the ball provides a solid floor for a running back. There does not seem to be any competition for Davis, so he should have all the opportunities in the world.
Other Options in Round 6
With the Achilles injury to Cam Akers, Darrell Henderson is the guy for the Rams. They believe he is a guy that can shoulder the majority of the workload and he has done it in short spurts before. In four games where he saw 15 or more touches, Henderson is averaging 17.6 fantasy points.
Tee Higgins is primed for a breakout in his second season. He flashed and showed why he was a second-round pick in his rookie year. I'm not worried about JeMarr Chase coming in because of the volume in this offense. Joe Burrow is going to throw the ball a lot and there are enough targets to go around.
Trey Sermon is the back in this area I have some high hopes for. He is the number two in that offense now. If anything should happen to Raheem Mostert he elevates to a top running back in fantasy those weeks. He can catch the ball and is excellent in yards after the catch. He also is showing up in pass protection which is going to keep him on the field.
Players to Target
Position
Player
Team
RB
Javonte Williams
DEN
RB
Mike Davis
ATL
RB
Trey Sermon
SF
WR
Tee Higgins
CIN
Rounds 7-8
The running back position for the Bills has been a bare wasteland. However, Zack Moss has the best opportunity to get some kind of fantasy production in that backfield. Now that he is healthy, Moss should continue to see a majority of the carries in the offense. If Allen concedes some of the goal-line carries to Moss, he should have no problem being a solid asset.
Damien Harris is a guy that fantasy managers are trying to avoid because of his lack of pass-catching. His ability to rack up a high yardage total makes him a nice option for me here. He has a solid floor with room for upside with more touchdowns.
Other Options in Round 7-8
David Johnson has also been labeled as a castaway for fantasy despite his RB21 finish last season. Yes, the Texans will be bad but somebody is going to still produce for fantasy and Johnson is one of their top options. This tier is where you can get some nice upside in an RB zero approach.
I wish I had a partner that is as committed to me as Bruce Arians is committed to Ronald Jones. RoJo is always going to have opportunities in that offense. Tom Brady loves to check it down to the running backs and RoJo has flashed enough in all his limitless opportunities. He has the potential to give you a number of RB1 weeks.
Michael Carter got drafted to the perfect team for his skill set. The Jets have committed to improving that offensive line and establishing the run. Their zone running scheme is exactly where Carter does his damage on the ground and he should not have issues adjusting to NFL speed. It should not be long before his play commands a majority of the work in that backfield.
Rounds 9-10
In these rounds, I am looking to keep adding to my depth at running back. James Conner and Kenyan Drake are both guys that are in timeshares but have the talent and ability to give me consistent production. Not to mention they are great handcuffs that if the other running back goes down in their backfields. They will dominate the touches from then on and outperform this draft cost.
The Green Bay Packers have said they are committed to carving out a role for AJ Dillon in this offense. They have also proven in the past that they are not willing to forgo all of the work to Aaron Jones. Since he does not profile as a pass-catching running back, I expect Dillon to get a few series per game as the lead back. They possibly will use his size and bring him in on goal-line situations.
As mentioned above, the Bills running backs have not been the best fantasy option as of late. However, Devin Singletary will not be giving up his role as an elusive back for Buffalo easily. He should stay involved in the passing game and could be a great RB zero value here in the later rounds.
Later Rounds
With the roster assembled, I feel comfortable going for the upside of a lot of players. There are a lot of flex-worthy handcuffs like Tony Pollard and Latavius Murray on the board. Or I can go for some high-volume pass-catching running backs like Nyheim Hines and J.D. McKissic. This will give me more options to plug in at running back in case one of my earlier picks folds.
Tony Pollard and Devontae Booker are great handcuffs to their superstar starters. Pollard should see slightly more work regularly than Booker, but they can both be solid starters in case of injury.
Gus Edwards is the 1B to Dobbins 1A. He has a solidified role in the offense and has weekly flex appeal in that run-heavy system.
These are not the sexier names like in the first three rounds, but I have valuable production around my running back. Be sure when using this strategy to watch the waiver wire for any early season breakouts. The next James Robinson could be out there and give you a league winner at the position. The key to RB Zero is sniping running back value late, and these guys will be available late in drafts and could win you your league.
RELATED CONTENT
Deep Sleeper Picks for all 32 NFL Teams – Fantasy Football
Most Underrated Fantasy Football Players On Each NFL Team
Most Overrated Fantasy Football Players on Each NFL Team
Training Camp Battles and Fantasy Football Impacts
Fantasy Football Draft Strategy: How to Draft in SuperFlex