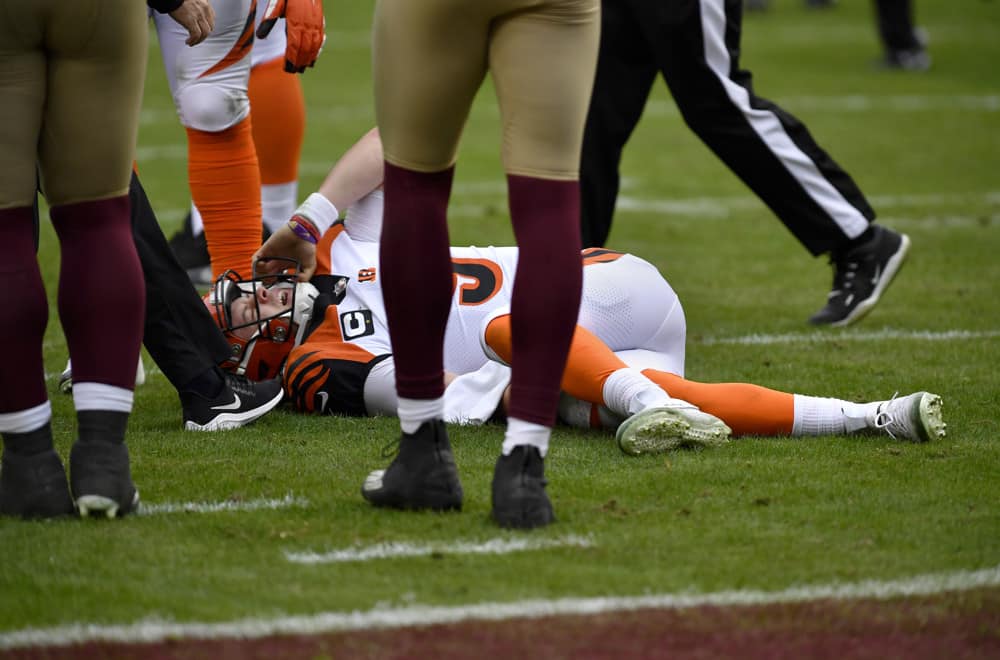 It's peak Fantasy Football Draft season and with a real offseason back, there has been a ton of injury news floating around. Not all injuries are made equal but value can be found with all injuries! SGPN has you covered with everything for your fantasy football draft. From Fantasy Football cheat sheets to injury analysis, we have it all. Guys like Joe Burrow, Kenny Golladay, Michael Thomas, and Rashod Bateman are banged up. Here are players I would advise you not to draft or rely on this fantasy season.
EXCLUSIVE SGPN FANTASY CONTENT
SGPN Fantasy Football Projections
SGPN Fantasy Football Rankings
Top 5 Fantasy Football Players To Avoid Drafting: Injury Analysis
Kenny Golladay (WR) New York Giants
Hamstring Strain
This is a mix of a bad injury and a terrible track record. Although a "hamstring strain" may seem harmless compared to the likes of an ACL tear or broken bone, hamstring strains have been found to be one of the most nagging injuries in the NFL. Essentially, this is a tear to one of the most important muscles in your leg. Hamstrings allow you to generate power (speed, jumping) and control your ability to slow down (cutting, pivoting). The reinjury rate for hamstring strains is staggeringly high. There is also an increased risk factor for reinjury being a prior hamstring injury. Kenny Golladay has missed seven games in the past three seasons due to hamstring issues, the odds are certainly stacked against him this year.
Even if Golladay were to miraculously play all 17 games this season, so much of what makes him a good receiver is dependent on his hamstring performance. In 2019, when Golladay was at his best he was a premier deep threat and excelled in his contested catch rate. He relied on his speed and jumping ability, both of which are seriously dampened with lingering hamstring issues.
Draft Value: I do not see Golladay as a reliable WR1 or WR2 Fantasy option this year. If he were to somehow fall and set up to be your WR3 option, I can see the risk being worth the reward. He may have some big games this year and is certainly capable. You just cannot rely on him to produce on a consistent basis.
Next Man Up: Darius Slayton– I think Slayton could be a great hedge to Golladay. He has shown his ability as a deep ball threat and will enjoy less attention from defenses with the addition of Golladay and a healthy Saquon Barkley this year.
Joe Burrow (QB) Cincinnati Bengals
ACL, MCL tear, and "other structural issues"
Joe Burrow suffered a nasty and severe knee injury last November. His knee injury is one of the most concerning fantasy football injuries out there. There are many people just assuming he's going to bounce back from this and be an elite QB this year. It is likely his first live-action will come on Week 1, only nine and a half months following his knee reconstruction surgery on Dec 2nd. This from a purely physical standpoint is on the early end of the normal rehab timeline. This type of structural damage to his knee also comes with fairly high rates of reinjury. And with the likelihood of long-term knee damage. The other HUGE part of this equation is the mental and psychological aspect of this injury.
Athletes coming back from severe knee injuries have well-documented mental hurdles to overcome. Additionally, Burrow himself has been quoted as "not feeling completely comfortable" in the pocket yet. Quarterback is by far the most mentally challenging position on the field. This injury is only going to increase that difficulty for the second-year QB. Joe Burrow isn't the only one to blame for this lack of trust and confidence in his knee as the Bengals have done him no favors. Yes, they went out and got him a luxury piece in Ja'Marr Chase but they neglected their glaring O-Line issues. It's going to be tough for Burrow to build confidence in his pocket when he's running for his life.
Fantasy Impact: With no real reliable or competent fantasy QB option backing up Burrow, I believe this affects his receiving core and RB. Bengals' RB Joe Mixon should see an uptick in carries this year in an effort to mitigate risk for Burrow's knee. In the event that Burrow does struggle to stay on the field this year, Mixon will almost certainly be the feature of the offense. My other concerns around Burrow are in taking his top WRsHiggins, Boyd, and Chase. This is a really talented receiving core and with the defense still projecting to be porous, the volume should still be there.
Michael Thomas (WR) New Orleans Saints
Ankle Surgery
What a bizarre situation this is. Michael Thomas was expected to receive ankle surgery at the end of last season to provide stability in an ankle that bothered him the entire 2020 season. Instead, it appears Thomas tried to rehab the ankle without surgery. This is against the team's advisory, and when that failed, he had surgery in June. By delaying the surgery, he pretty much guaranteed he would miss the start of the season. There is an expected four-month recovery timetable from the surgery.
Between Week 4 to 7 is a realistic timeline to expect his return. The injury alone already makes this a tough situation, and now throw in a new starting QB who has yet to be determined. Not only is it going to take time to trust his ankle enough to cut and run routes but it will take time to build chemistry with whoever is throwing passes in New Orleans. In addition, Thomas' history of ankle, groin, and hamstring issues is just another reason he is off my draft board.
Fantasy Impact: Although I think the Thomas situation hinders the Saints' offense overall, especially the Saints QB room, this does create an increase in the potential for other Saint's skill players. Alvin Kamara will be featured even more than usual. Besides Kamara and Latavius Murray, there are just question marks at the WR and TE positions. Tre'Quan Smith is the most experienced of the WR core behind Thomas, but to call him a reliable option would be a stretch.
Rashod Bateman (WR) Baltimore Ravens
Groin/Core Muscle Surgery
The hype train around rookie WR Rashod Bateman was off to a hot start this year. Despite his injury, there are some who are still making the mistake of drafting him in fantasy football drafts. Bateman suffered a groin injury and recently had core muscle surgery according to reports. The term groin is more of an umbrella term referring to various muscles attaching to your pelvic area. The surgery tells us specifically his lower abdominals were damaged, which is going to make stretching out for catches and sudden cutting movements painful. The timetable given is six to eight weeks, putting Bateman on the field around Week 3 to Week 5.
Let's remember, the Ravens just spent a 1st round pick on Bateman. Most likely this means they see him as part of their organization for a long time. The timetable could very easily be extended to promote his long-term health. Even when he does get back, he has little to no chemistry with QB Lamar Jackson due to the QB's latest COVID stint.
Fantasy Impact: Both Bateman and fellow WR Marquise Brown (hamstring) are dealing with fairly significant injuries. This opens up pass-catching opportunities for already favorite target TE Mark Andrews and newcomer WR Sammy Watkins. I also think this leads to the Ravens just leaning more on what they do best, RUNNING THE FOOTBALL.
Amari Cooper (WR) Dallas Cowboys
Ankle Surgery
Cooper suffered an injury in week 17 of last season and had a "clean-up procedure" ankle surgery on 1/7/21. The initial timeline was that Amari Cooper would fully recover before the 2021 offseason. Well, clearly that was wrong, as the Cowboys WR has just begun practicing. Cooper will most likely see little to no live-action before Week 1. He is still suffering from inflammation in his ankle bones and that has set him back, according to reports. This inflammation may have required a second surgery. What we know for sure is that this has gone from a simple procedure with no worries to the Cowboys wondering what their week 1 offense will look like.
To make matters worse for Cooper, he is no stranger to the injury report. In the past, he has battled ankle and knee injuries throughout his career. The biggest risk factor for future injury is previous injury and Cooper's track record only furthers this point. Beyond the injury, the Cowboys' WR corps is not short on talent. Cooper's partners Gallup and Lamb will be happy to eat at his target share if there are any more mishaps in his recovery process.
Fantasy Impact: Don't overpay for Cooper. Cooper should be falling down draft boards. He should fall behind CeeDee Lamb and potentially Michael Gallup. I am not as high on this Dallas passing attack as most. Mostly due to my concern with the health of both Prescott and Cooper. Both players dealt with injuries in the 2020 season and here we are at the start of 2021 wondering their availability.
Football is BACK BABY! Check me out over on Twitter @SGPNFootballDoc, I'll be providing fantasy football injury analysis and breakdown all season!
RELATED CONTENT
Funny Fantasy Football Names 2021
Fantasy Football Draft Strategy: How to Draft with RB Zero
Fantasy Football Draft Strategy: How to Draft in SuperFlex
Most Underrated Fantasy Football Players On Each NFL Team