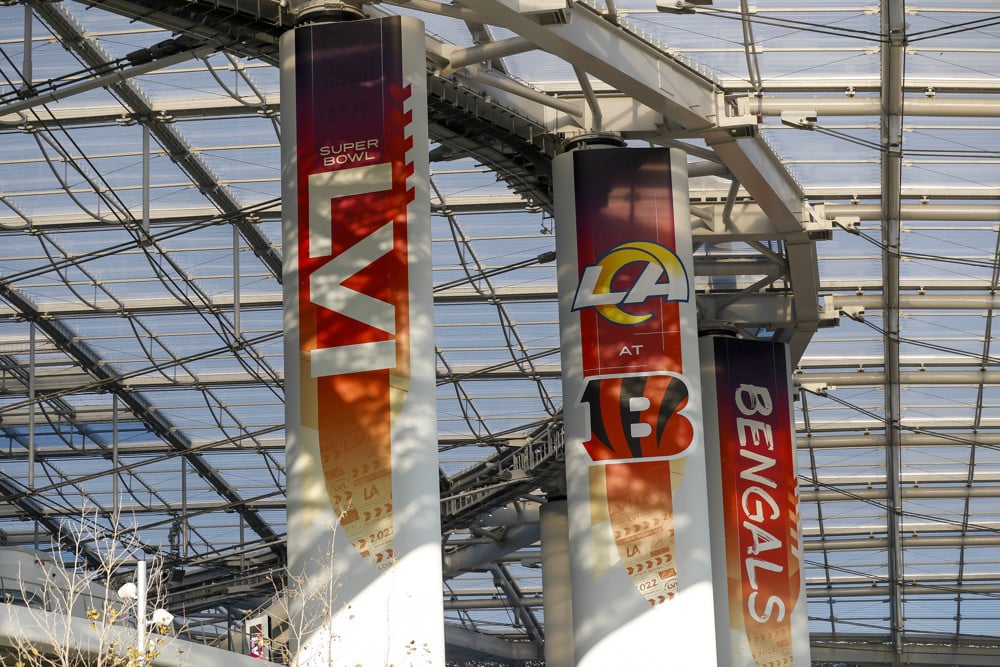 We here at the Sports Gambling Podcast Network are excited for Super Bowl LVI just like everyone else. In fact, we are so excited, that it's all hands on deck in the Super Bowl content division. Our staff has been cranking out our favorite bets, prop bets, fantasy plays, and even, a report on the referee for the big game. That is how dedicated we are to bringing you the most comprehensive Super Bowl coverage out there.
To that end, we have decided to collect all the links to our tireless research into one post. That way, you can bookmark this one page and check back every hour to make sure you don't miss a single SGPN Super Bowl LVI post. So here we have it, the collection of our big game coverage all under one roof. This post will be updated as new content is added to the site, so keep checking back for more.
SGPN Super Bowl LVI Content Megapost
The Fun And Games
Printable Super Bowl 56 Squares Grid – Cincinnati Bengals vs Los Angeles Rams
Printable Super Bowl LVI Party Prop Sheet 2022
BettorEdge Auction Squares delivers new Super Bowl Action
SGPN $100,000 Super Bowl Props Contest
The Articles
Super Bowl Referee Report: Ron Torbert Betting Stats & Trends
The 10 Best Super Bowl LVI Exotic Prop Bets, Odds and Picks
Best Super Bowl & Golf Cross Sport Props
Thrive Fantasy's Super Bowl Contest Preview and Picks
Best Super Bowl & Golf Cross Sport Props
Super Bowl 56 DraftKings DFS Showdown Lineup
Super Bowl Props Best Bets: Bengals vs. Rams
---
The Shows
Super Bowl Set And College Basketball Underdogs Picks! | Three Dog Thursday (Ep.96)
Derek Stevens Super Bowl + Winter Olympics (Ep. 1195)
Super Bowl Prop Bets w/ "Prop Queen" Ariel Epstein Part 1 | The Propcast (Ep. 87)
Super Bowl Betting Strategies + Pro Bowl Predictions (Ep. 1197)
$100,000 Super Bowl Prop Contest (Ep. 1198)
Super Bowl LVI Rams VS Bengals Pick And Props! | Three Dog Thursday (Ep.97)
Super Bowl Prop Bets Exotic Edition (Ep. 1199)
Cincinnati Bengals Super Bowl Prop Bets (Ep. 1200)
ThriveFantasy Super Bowl LVI Picks I SGPN Fantasy Football Podcast (Ep.67)
Los Angeles Rams Super Bowl Prop Bets + John Salley & Bill Romanowski (Ep. 1201)
Daytona 500 Early News and Super Bowl Crossover Bets I NASCAR Gambling Podcast (Ep.3)
Super Bowl Prop Bets Part II w/ MintyBets | The Propcast (Ep. 89)
Super Bowl 56 Predictions + Radio Row Interviews (Ep. 1202)
Super Bowl DFS + Joe Theismann (Ep. 1203)
NBA Best Bets Friday Night + Super Bowl Cross-Sport Props | NBA Gambling Podcast (Ep. 293)
Super Bowl Exotic Prop Bets Part III | The Propcast (Ep. 91)
Top Props For Super Bowl LVI | Golf Gambling Podcast (Ep. 120)
---

---
There you have it. Again, continue to check back on the regular so you can stay up to date on all the Super Bowl LVI content the SGPN has to offer! Good luck on your bets, your pools, or your lineups. And of course, LET. IT. RIDE!
RELATED CONTENT