Well, we've made it. The best and perhaps saddest day of the year for Football Fans everywhere, Super Bowl Sunday. Whether you'll be betting on the game or not, our Super Bowl LVI Party Prop Sheets are a great way to entertain even the most casual football fan at your Super Bowl Party.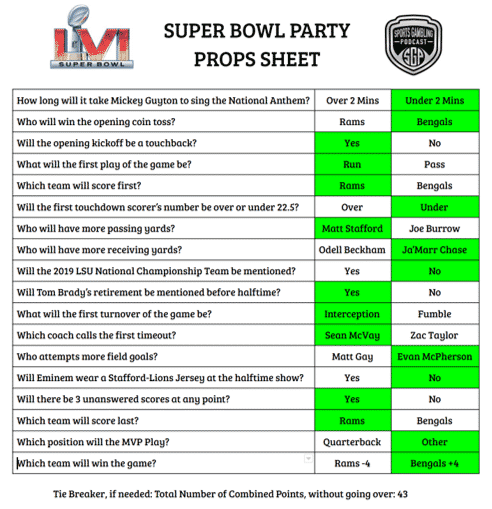 Printable PDF Super Bowl Party Props Sheet

Printable Super Bowl LVI Party Prop Sheet 2022
How to Run a Super Bowl Party Props Pool
Print out enough copies for everyone at your party to play.
Set an entry fee per submission and collect the money when you hand out the Super Bowl LV Props Sheet.
Make sure everyone understands they have to circle one choice for each answer, plus add the tiebreaker guess at the bottom.
Cut off the submissions BEFORE the National Anthem and collect all the sheets.
Follow @GamblingPodcast on Twitter for live updates during the game for results. That way, you can get drunk and not worry about paying attention to every moment of the game.
After the game ends, add up the correct answers and award the winners.
Download Your Sheets Below
Printable PDF Super Bowl Party Props Sheet
Need even more Super Bowl 56 Party action and fun? Check out our Printable Super Bowl 56 Squares!
RELATED CONTENT