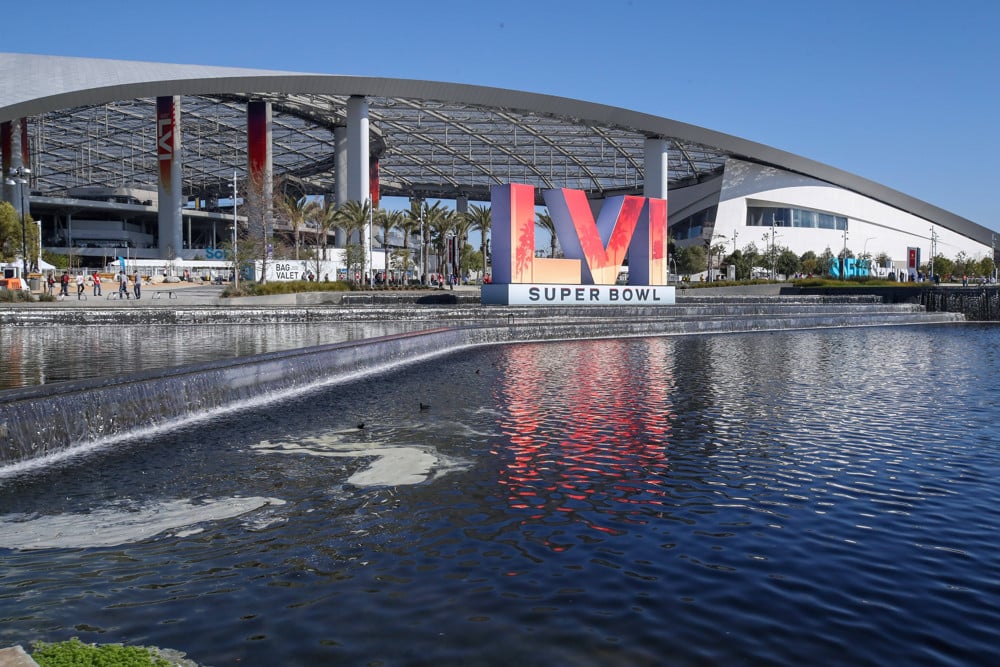 It is the most wonderful time of the year. No, I am not talking about the Christmas season. I am referencing Super Bowl Sunday, of course! Quite possibly the greatest part of Super Bowl Sunday is that hardcore NFL fans, casual NFL fans, and even those that are not quite sure what a "first down" means can all find common ground and enjoy the day. It is essentially an unofficial holiday at this point and just about everyone has plans for the big game.
Even those that do not love the game of football likely enjoy food, friends, games, and maybe some adult beverages. Those things are available at just about every Super Bowl Party and I would expect this year to be no different. What you also might find available at many Super Bowl gatherings is a pool or contest related to player prop bets or even exotic prop bets.
Not a Football Fan? No Problem. 
You may have previously worked in an office that hosted a contest related to the Super Bowl. Some examples may be a game squares pool or prop betting pool that included standard and exotic props. Hardcore and even casual football fans are more likely familiar with player prop bets. The Super Bowl is arguably the biggest sporting event of the year so of course, it has many player prop bets to choose from. For example, I am a big fan of Rams Wide Receiver Cooper Kupp's odds of scoring a touchdown and therefore am placing a wager on him to score. If you are not a football fan and are just here for a good time, I have great news. The Super Bowl is a fantastic place to get in on the fun and for beginners to enjoy some gambling.
Here to save the day are exotic prop bets. So even if you are not interested in the outcome of the game or how many passing yards Matthew Stafford will have (bet the under currently at 279.5 yards, the Rams are likely to jump out to a big lead and turn to the running game to protect the lead) you can have some fun. Exotic prop bets make it possible to bet on the outcome of the opening coin toss, what color Gatorade will be poured on the winning coach, or how long it will take to perform the National Anthem.
What Are Prop Bets?
For most professional football games you are able to place prop bets with varying odds on certain players gaining a certain amount of yards, having a certain number of catches, etc. I am a big fan of the Joe Burrow rushing yards prop which is currently sitting with an over/under of 12.5 yards. I am betting the over on this prop bet in Super Bowl LVI (meaning I think Joe Burrow is going to have 13 or more rushing yards) because the 2021 LA Rams boast an elite pass-rushing defense that ranked first in the league with a 53% pass rush win rate (according to ESPN.com's analytics powered by next-gen stats) while the CIN Bengals boast a subpar offensive line with a pass block win rate that ranked 30th in the league at 49%.
That is a very complex way of saying I think Joe Burrow is going to be scrambling and running for his life often. He might very well hit 13 yards on a single scramble. Standard prop bets during Super Bowl LVI are related to players and events that have a direct impact on the outcome of the game.
What Are Super Bowl Exotic Prop Bets?
Super Bowl exotic prop bets are extremely popular among fans. Unlike standard prop bets for the big game, exotic props are based on events that have no impact on the outcome of the game. In past years degenerates and causal fans alike have bet on things like the color of the Gatorade that will be poured on the coach (because nothing says victory like dumping freezing cold sugar water down the trousers of your boss), the result of the opening coin flip, if a word will be missed in the national anthem, the length of the national anthem, which artist will appear first during the halftime show, what song will be sung first during the halftime show, etc.
So even if you are not in it for the football game itself, you can root for heads during the coin toss, blue Gatorade to be poured over the winning coach, or the color of Eminem's hair during his first appearance (yes, that is really a prop).
When Does The Super Bowl LVI Take Place?
Where to watch: NBC, Peacock
When: February 13, 2022, at SoFi Stadium in Los Angeles
Pre-game live coverage: 12:00 PM ET
Kickoff: 6:30 PM ET, 3:30 PM PT
The 10 Best Super Bowl LVI Exotic Props, Odds, and My Picks
1. Coin Toss Result
Heads (-104)
Tails (-104)
My pick: I love starting with this one because this is truly left up to chance, a true 50/50 proposition no matter how you slice it. But if you are like me and want to overanalyze everything, then have no fear. There have been 55 Super Bowls prior to this one and therefore 55 coin tosses. The slight edges going to tails being the result 29 times (53%) as opposed to heads 26 times (47%). I am going with the slight edge that history gives me and betting tails. The coin toss has also been tails 6 of the past 8 years. Please do not bet your mortgage payment on this.
2. Coin Toss Winner
CIN Bengals (-105)
LA Rams (-105)
My pick: This one is for my real degenerates out there. The ones with a reckless abandon that want to double down on a 50/50 coin flip at the beginning of the game and not only bet on the result but on the team that wins. This season the Bengals were 9-8 on coin tosses during the regular season and 2-2 in the playoffs (including) OT making them 11-10 on coin tosses. The LA Rams were 8-9 during the regular season and 2-1 in the postseason on coin tosses making them an even 10-10.
The Bengals were more successful when their opponent called the coin toss this season and were 7-4 including the playoffs while the Rams were slightly more successful when they got to call the coin toss and were 6-4 when you include the playoffs. The Rams are the away team for this Super Bowl so they get to call the coin toss (the away team traditionally gets to call) and their records this season would indicate the Bengals have the slight edge. Give me the Bengals, give me tails, and let it ride.
3. Color of Gatorade Poured on the Winning Coach
Orange: (+200)
None: (+350)
Blue: (+400)
Clear/Water: (+450)
Yellow/Green: (+450)
Red/Pink: (+600)
Purple: (+1000)
My pick: This is my second favorite because pick not only is the prop bet silly but so is the tradition. Does anyone even know where this started? Apparently, it has been a tradition since Super Bowl XXXV in 2001. Anyway, it is pretty standard at this point that the winning coach is going to have a bucket of liquid dumped over their head as time expires (do they expect and wear swim trunks under their clothes at this point?). My choice is blue because I liked the odds, it is my favorite color, all of the best Gatorade flavors are blue, and oh, blue has won 2 out of the past 3 years.
4. First Performing Artist Shown at Halftime
Multiple Artists (+190)
Snoop Dogg (+300)
Dr. Dre (+350)
Eminem (+400)
Mary J. Blige (+550)
Kendrick Lamar (+550)
My pick: Snoop Dogg, Dr. Dre, and Kendrick Lamar all have strong ties to California. With the Super Bowl being played in LA it feels like a lock that the halftime performance will start with one of these artists. They also feel like the main attraction. To further narrow it down I give the slight edge to Snoop Dogg and Dr. Dre since they are legends of the rap/hip-hop genre and it really feels like the NFL is working hard to cater to some in the millennial generation that has been critical of the halftime show in recent years.
I give a slight edge to Dr. Dre (+350) because it just feels like the perfect opportunity for them the performance with a tribute to Tupac and get the stadium going wild with "California Love" (Dr. Dre is also featured on this song). A close second is Multiple Artists (+190) as I could also see them starting with "Streets of California" a song in which Snoop Dogg and Dr. Dre are featured artists.
5. How Long will Mickey Guyton take to sing the National Anthem?
Over 95 Seconds (-130)
Under 95 Seconds (+110)
My pick: Bet the over and move on. Artists love this spotlight and draw out the song as long as they can. Only 2 of the last 15 anthems have finished before the 95-second mark. You're welcome.

6. Jersey Number of First Touchdown Scorer
Under 23.5 (-140)
Over 23.5 (+110)
My pick: Cam Akers, Cooper Kupp, Odell Beckham Jr., Matthew Stafford, and Van Jefferson all have a Jersey Number less than 24. I think the Rams are going to jump out to a big lead. Do the math. Even if the Bengals score first, their most explosive player (Ja'Marr Chase) rocks number 1. Again, if you do not care about the players, stats or the game in general just bet the under and thank me later.
7. Will Snoop Dogg smoke during the halftime show?
No (-250)
Yes (+200)
My pick: This seems unlikely but man, this is Snoop Dogg we are talking about. If anyone would do this, it would be him. It can't be any worse than Janet Jackson's wardrobe malfunction. This may be the first real risk I am taking. Yes, it is. Just a reminder, this is SNOOP DOGG.
8. Will a new song be performed by any of the artists during the halftime show?
Yes (+350)
No (-600)
My pick: I actually have no idea how often this happens and have zero statistical reasons to choose either way. According to Google, there have been rumors that Kendrick Lamar may be dropping a new album and releasing a new single as early as Friday. It would be pretty cool for the California native to debut a new song during the halftime show. Yes (+350) is too much value to pass up with a rumor like that swirling around the internet.
9. Who will call the first timeout?
LA Rams (-125)
Bengals (-105)
My pick: So this is the first one that does have a sort of impact on the game and maybe is not quite exotic but felt like a fun novelty prop. The first timeout called in the game likely does not have a huge impact on the final outcome but may impact a scoring drive to end the first half if one of the teams is attempting to score before halftime and is left with a limited ability to stop the clock. Draftkings seems to think the Rams are more likely to call the first timeout. I am going against the grain here and picking the Bengals to call the first timeout. This feels like a game where they may need to call a timeout early in the game if their young QB gets rattled or confused by the stout Rams defense.
10. Will Any Player Propose To His Girlfriend On The Field After the Game?
Yes (+400)
No (-650)
My pick: This one seems like an obvious "no" without the context of the date on which the Super Bowl is being played this year (February 13th). Does anyone have any idea what holiday is the Monday after the Super Bowl this year? That's right, it's Valentine's Day. The holiday for lovers and romance. If there was ever a year it was more likely to happen it has to be this year. This is the first year of the 17 game schedule that pushed to Super Bowl back another week to the weekend before Valentine's Day. Take those insane (+400) odds and run. Someone is getting engaged on that field this Sunday.
RELATED CONTENT