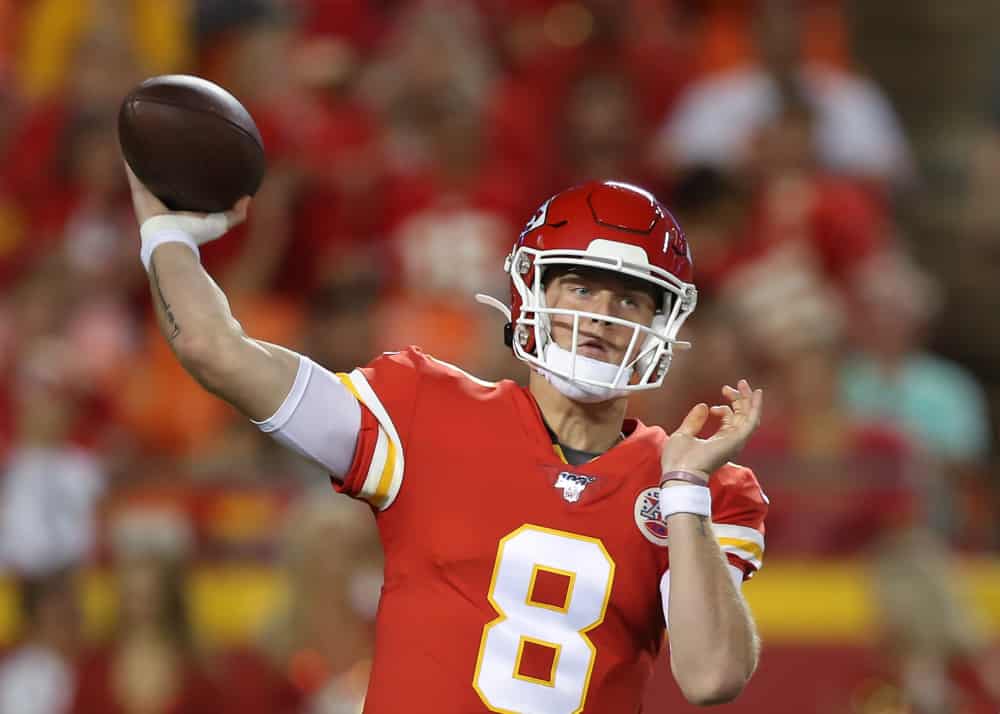 The 2022 USFL draft order is set and we're five days away. The first round will be all quarterbacks and Jeff Fischer and the Michigan Panthers will have to decide quickly who they want to give the first shot to at leading their offense. And while all the potential 2022 USFL Quarterback candidates in the UFSL draft haven't been released yet, let's take a look at the ones that we have heard about. I expect a lot of these guys will be mentioned on the USFL draft day, Tuesday, February 22nd.
EVEN MORE USFL DRAFT CONTENT
2022 USFL Top Ten Running Back Candidates
2022 USFL Top Ten Wide Receiver Candidates
2022 USFL Top 10 Defensive Line Draft Candidates
2022 USFL Top Ten Linebacker Candidates
2022 USFL Top Ten Defensive Back Candidates
2022 USFL Top 10 Offensive Line Candidates
USFL Draft Pool Trackers And Players
The Confirmed 2022 USFL Quarterback Draft Candidates
The USFL draft is a snake round draft where each round has a specific position that will be drafted by each team. Round 1 is all quarterbacks. The next quarterbacks won't be taken until round 12.  The USFL is keeping their full USFL draft candidates under wraps, therefore only a handful of people have been confirmed. Let's take a look at those that are confirmed so far.
1. Chase Litton
College: Marshall
Professional Experience: Chiefs (NFL), Jaguars (NFL), Ottawa Redblacks (CFL), Vipers (XFL), Dragons (XFL)
Measurements: 6-5, 230 pounds
Last College Stats: 266/443, 3115 yards, 25 touchdowns, 14 interceptions
One of the USFL quarterback potentials that have bounced around professional leagues is Chase Litton. Litton played for three years at Marshall throwing for over 2,600 yards each season, including 3,115 his last season. As an undrafted free agent, Litton signed with the Chiefs. He was then cut and brought onto the Jaguars. Litton has also spent time in the CFL and the XFL. Litton is a big-bodied quarterback who makes smart decisions. He's a true pocket passer and a precision pro-style quarterback. Being around the NFL quarterbacks and coaches he has is one of the huge benefits Litton has. It will be interesting if a former NFL coach like Jeff Fischer will go after a player who has also been around the NFL. Litton is an intriguing USFL quarterback prospect in the USFL draft. He seems like a good bet to be in Phase 1.
2. David Moore
College: Central Michigan
Professional Experience: N/A
Measurements: 6-2, 190 pounds
Last College Stats: 94/164, 1143 yards, 5 touchdowns, 4 interceptions
Another player in the USFL draft who has had some controversy is David Moore. Moore started his college career at Memphis before transferring to Central Michigan. However, in 2019 he was suspended after testing positive for a banned substance. He was only allowed to play a handful of games before the suspension, however, Moore showed play-making abilities in those games. Moore has a big arm and good touch on the long ball. He also has the ability to move outside the pocket to buy time. Moore has a lot of untapped potential and could flourish as a 2022 USFL Quarterback. Look for him to get an opportunity in the USFL draft. Personally, I think Moore goes in the 2nd round of USFL quarterbacks.
3. Ben Holmes
College: Tarleton State
Professional Experience: Arizona Rattlers (IFL), Sea Lions (TSL)
Measurements: 6-0, 200 LBS
Last College Stats: 196/333, 3,338 yards, 34 touchdowns, 3 interceptions
Playing college ball at Tarleton State, Ben Holmes is looking to make a name for himself and get noticed in the USFL. In 2019, Holmes threw for 3,338 yards and 34 touchdowns. In his 333 attempts, he only threw 3 interceptions. Holmes has a quick release and good ball placement. He pushes the ball downfield and isn't afraid to throw it thirty times a game. Furthermore, Holmes is unafraid of running the ball if he has to and makes contact with defenders. He'll look to have a better completion percentage than his 59% in college, but with the right coaches, he can lead a team. It will be interesting to see where Holmes goes in the USFL draft.
4. Montell Cozart
College: Kansas, Boise St
Professional Experience: Calgary Stampeders (CFL)
Measurements: 6-2, 196
Last College Stats: 61/97, 754 yards, 7 touchdowns, 86 carries for 361 yards 4 touchdowns
A name I was familiar with from his time at Boise State, Montell Cozart is an excellent 2o22 USFL Quarterback candidate who will look to prove himself on USFL draft day. Cozart played college ball at Kansas before transferring to Boise. He's an extremely versatile player and in 2017 he had a passing, rushing, and receiving touchdown. Cozart is a dual-threat quarterback who has tremendous speed. He also possesses the ability to throw a good deep ball. Being used as a quarterback, running back, and wide receiver at Boise St, he should be able to learn any offense quickly and help lead a team. I expect this USFL quarterback candidate to be one you hear go in Round 1 of the 2022 USFL draft.
5. AJ Bush
College: Nebraska, Iowa Western, Virginia Tech, Illinois
Professional Experience: N/A
Measurements: 6-4, 225 Pounds
Last College Stats: 117/217, 1413 Yards, 6 Touchdowns, 10 Interceptions. 138 rushes for 733 yards and 8 touchdowns.
Another USFL quarterback candidate to watch for is AJ Bush Jr. Bush started his career at Nebraska, before transferring to Iowa Western community college, Virginia Tech, and finally at Illinois. Bush has great speed and a big arm, making him a dual-threat quarterback. He was often utilized in designed quarterback runs and he isn't afraid of contact. In his last year at Illinois Bush actually ran for more touchdowns than he threw for. Hoping for a chance to compete, Bush will look to be added to a team in the USFL draft in Phase 1 or Phase 2.
6. DeAndre Johnson
College: Florida State, Florida Atlantic, Texas Southern
Professional Experience: Sea Lions (TSL)
Measurements: 6-2, 205 pounds
Last College Stats: 153/254, 1927 yards, 10 touchdowns, 5 interceptions
The next 2022 USFL Quarterback to be considered for the USFL draft is DeAndre Johnson. Expected to take over the starting reins from Jameis Winston at Florida State, Johnson never got to showcase his skills there, after a bar incident led him to leave the team. After a year at EMCC, Johnson didn't get the opportunity he wanted at Florida Atlantic. It was once he got to Texas Southern that he got the opportunity to blossom. While he had the lowest passing yards in The Spring League in 2021, he has excellent speed and a strong arm. With the right coaching, Johnson could be a star USFL quarterback.
7. Patrick O'Brien
College: UNC Pembroke, UNC Charlotte, Catawba
Professional Experience: Atlanta Legends (AAF) Philadelphia Soul (AFL) Orlando Predators (NAL)
Measurements: 6-4, 230 Pounds
Last College Stats: N/A
A USFL quarterback candidate that most haven't heard of is Patrick O'Brien. O'Brien played musical colleges transferring from UNC Pembroke to UNC Charlotte.  Then back to UNC Pembroke and then to Catawba. Catawba was small enough their historical statistics are nearly impossible to find. The last game he played in against VMI he threw for 261 yards, with a 13.7 yard per attempt average. O'Brien has also dabbled in the AAF, AFL, and NAL.  He feels he is a great leader and he wants to be a coach someday. O'Brien has a strong arm and throws with good pace and velocity. He'll want to work on his footwork and getting his hips set right to have success. However, even though he isn't well known, O'Brien might be an excellent 2022 USFL quarterback.
Potential USFL Quarterback Candidates
These guys aren't currently confirmed. In fact, they may not be eying the USFL Draft and visa versa. However, these are some USFL quarterback candidates that would definitely be able to jump in and make an impact.
8. Anthony Gordon
College: Washington State
Professional Experience: Seahawks, Chiefs, Broncos (NFL)
Measurements: 6-3, 210 Pounds
Last College Stats: 493/687, 5579 yards, 48 touchdowns, 16 interceptions.
One of the names that makes a lot of sense to me is Anthony Gordon. After having an electrifying final season at Washington State, Gordon has bounced around the NFL practice squads. Tasked with taking over for Gardner Minshew, Gordon threw for 5,579 yards and 48 touchdowns.  Gordon has a strong arm and is a gun-slinger who regularly hits his receivers in stride. He could benefit from being selected in the 2022 USFL draft and refining and showcasing his skills there. He is an intriguing USFL candidate.
9. Johnny Manziel
College: Texas A&M
Professional Experience: Cleveland Browns (NFL), Montreal Alouettes (CFL), Hamilton Tiger-Cats (CFL)
Measurements: 6-0, 209 pounds
Last College Stats: 300/429, 4114 yards, 63 touchdowns, 13 interceptions.
It is crazy to think that Johnny Manziel may be name-dropped in the USFL draft. Or is it? Manziel most recently played for the Fan Controlled Football League, showing he still wants to remain active in the game. Furthermore, he was making around $1600 to $3000 a month from the FCF, where he could make up to $75,750 with the USFL. A college star, Manziel had a very rough NFL career and has now bounced around between the CFL and now FCF. It would make complete sense for him to get involved and try to turn his career around again, even at the age of 29. Manziel might be a surprise the USFL draft has in store, but he makes complete sense as a 2022 USFL Quarterback candidate.
10. Ryan Willis
College: Kansas, Virginia Tech
Professional Experience: Linemen (TSL)
Measurements: 6-4, 211 pounds
Last College Stats: 72/117, 906 yards, 9 touchdowns, 5 interceptions.
Not far removed from a 24-touchdown season, Ryan Willis has been performing well in The Spring League. At Virginia Tech in 2018, he threw for 2,716 yards and 24 touchdowns. Willis also led The Spring League in passing in 2021, with 1,139 yards averaging 6.6 yards an attempt. He had the highest completion percentage with 64.5%. Willis has raw talent and while he was signed to a reserves contract, he may opt to instead showcase his skills as a USFL candidate to try and garner more attention. Whether he officially enters the USFL draft is yet to be determined, but he's the type of player that would benefit from time in the USFL.
The Rest of The Field
There are many other names that could come up during the UFSL draft. Several players have had brief stints on practice squads or in training camps in the NFL like Delvin Hodges and Jordan Ta'amu. Both would be good USFL quarterback candidates given their experience in college and professional levels. Other TSL players such as Kevin Anderson, Luis Perez, Ryan Mallet, and Brian Lewerke are also good USFL quarterback candidates. Last, Aaron Ellis, who played college ball at the University of St. Francis has looked to professional leagues to try and develop his career further. In 2017 Ellis threw for 1821 yards on 189 attempts. He had 21 touchdowns and 4 interceptions.
The USFL draft begins on Tuesday, February 22nd. Make sure to check back to the Sports Gambling Podcast for all the USFL coverage.

Related Content