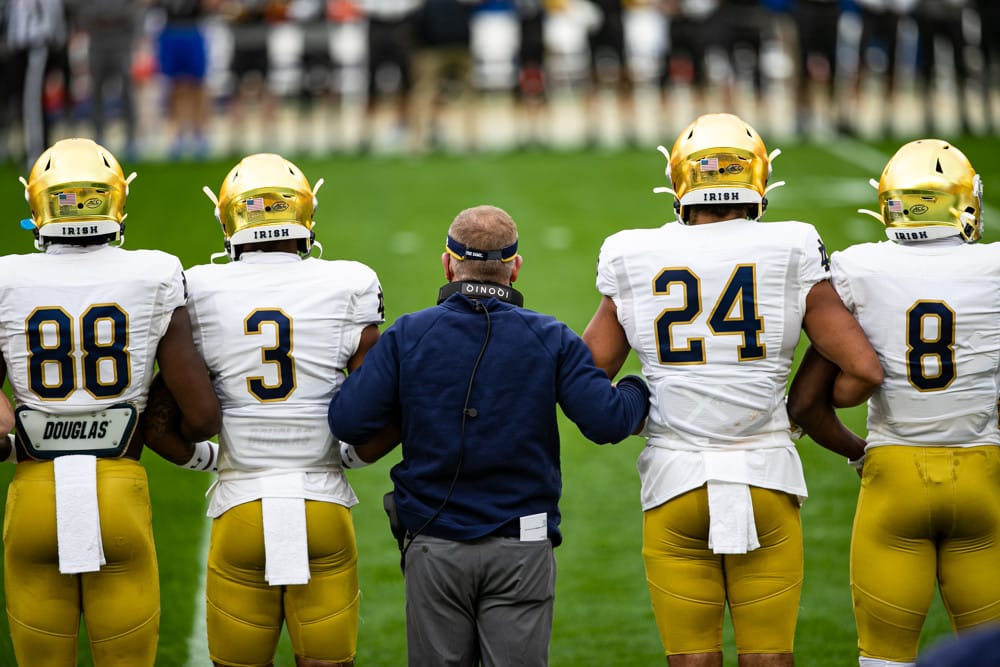 We're just days away from the start of the college football season and the only teams we have left are the Independents. That's right, I've advised either Over or Under on every team in every conference in the FBS.
In case you missed it, check out my columns on the MAC Win Totals, Sunbelt Win Totals, Mountain West Win Totals, Conference USA East and West Win Totals, AAC Win Totals , ACC Atlantic and Coastal Win Totals, Big 12 Win Totals, PAC 12 North and South Win Totals, and the SEC East and West Win Totals, and Big Ten East and West Win Totals.
Without further ado, here's the last few teams that don't have a conference to call home.

Independents Favorite Plays:
Notre Dame: 8.5 Wins (-125/+105)
Notre Dame Fighting Irish Season Preview | The College Football Experience (Ep. 747)
For four straight years, Brian Kelly and Notre Dame have easily cleared 8.5 regular-season wins. While the Irish haven't had much postseason success, how does a 41-5 regular-season record over that stretch sound? There's going to be some holes to fill this coming season, but expect the Fighting Irish to be excellent again.
QB Ian Book is now in the NFL but Wisconsin-transfer Jack Coan should step in quite nicely. As dangerous as Book was with his legs, downfield passing was never his forte. Counter-balancing a strong running game, Coan should be able to open up the offensive even more with his arm.
Kyren Williams is an excellent RB but blocking for him will be an O Line that has to replace four starters. Notre Dame always reloads in the trenches but it may take time to build cohesiveness. Additionally, the Irish need playmakers on the outside to step up. There's question marks on this side of the ball but eventually the O will come around and be effective.
https://twitter.com/ndfootball/status/1429845964781674496?s=21
The superior Notre Dame D from a year ago led the ACC in Scoring Defense only giving up 20 points per game. While they lost some guys to the NFL, most of the talent and experience returns. Specifically, keep an eye on potential All-American Kyle Hamilton at safety. Additionally, the well-respected Marcus Freeman comes over from Cincy as the new DC. This is a top defense in the country.
Looking at the schedule, the Week 1 game at FSU may be tricky with the recent passing of Bobby Bowden. Even with the Seminoles trying to win one for their old ball coach, the Irish should be victorious and on their way to a 3-0 start.
From that point, things get tougher. There's a brutal three-game stretch vs Wisconsin, Cincy and at Virginia Tech. Then, after a bye week, ND hosts USC and UNC in back to back matchups. It's a touch schedule, but I have faith that Brian Kelly and that defense can at least get to 9. I'm on the OVER.
My Prediction: OVER
---
Liberty: 9 Wins (-120/+100)
Liberty's rise to college football prominence over a short period of time has been impressive. Turner Gill laid the foundation and shepherded the program into the FBS before passing the baton to Hugh Freeze.
The 8-5 squad in 2019 was a nice story that ended with a bowl win but the 2020 team was legit. Last year, the Flames beat Syracuse, Virginia Tech and Coastal Carolina with the only blemish on the schedule being a 1 pt loss to NC State.
Looking to build on last year's success, Freeze has an offense led by one of the best QBs in the country, Malik Willis. Additionally, all five offensive lineman return as does RB Joshua Mack and nearly every pass catcher. This offense is about to explode in 2021 and it's going to be a lot of fun to watch.
On the other side of the ball, the D was solid but not spectacular last year. While dominating the overmatched opponents, the unit was generally not as stout against better competition. While the same can be said about most defenses across the country, there's a real chance for improvement in Lynchburg. With basically everyone returning, look for this year's defense to become a force to be reckoned with.
Reviewing the schedule, I'd say the floor for this Liberty squad is 8 wins. The games in question are road matchups at UAB and Ole Miss and home games vs Louisiana and Army. With such a solid all-around team, a star in Willis, and a proven coach in Freeze, Liberty will split those four games and hit a double digit win total. I'm on the OVER.
My Prediction: OVER
---

Independents Solid Plays:
Army: 7.5 Wins (-115/-105)
We're talking service academy football, so it doesn't really matter who the players are – you probably haven't heard of them anyways. What's important is that HC Jeff Monken has this Army program in a very solid place. It took him a couple of years to right the ship but over the last five seasons the Black Knights have a sterling 43-21 record.
As with most service academies, Army usually incurs high roster turnover on a yearly basis. Getting seven offensive starters back from last season is unusually high. Monken isn't quite as fortunate on the defensive side of the ball, but their 2020 D only gave up 275 yards and 14 points per game. Regardless of the new faces, expect the Army D to be excellent again.
The gang from West Point has an interesting schedule. First off, games vs UConn, UMass, and Bucknell should serve as a nice 3-0 base. Then there are the two neutral-site matchups vs Air Force and Navy. Let's count that as a split and say 4-1 thus far.
Chances are the Black Knights beat both MAC schools (Miami OH and Ball State) and let's say they split the first two games at Georgia State and home vs Western Kentucky. That leaves one more win needed in games vs Wisconsin, Wake Forest and Liberty. This line is in the right spot but I'll lean Over.
My Prediction: OVER
---
BYU: 7 Wins (-120/+100)
After a few mediocre seasons, everything came together for Kalani Sitake and BYU in 2020. Just a hair shy of an undefeated season with a bowl victory over UCF might go down as the best BYU season since LaVell Edwards led the Cougars to a 14-1 record in 1996. Of course, usually after an outstanding season there's some rebuilding to do.
We all know that Zach Wilson is on the Jets but BYU also loses it's top pass catcher in Dax Milne and three starting offensive lineman. I'm not overly concerned about the skill positions but QB and OL play are huge question marks.
It's more of the same on the defensive side of the ball as seven starters are goners. In a year where it seems the majority of teams have more starters returning than ever before, BYU has been hit unusually hard.
BYU has released its 2021 football schedule featuring seven matchups against Power 5 conference opponents and teams from nine different states.

⏩ https://t.co/aMwhg9AM4k#BYUFootball #GoCougs pic.twitter.com/N2fa7bzUJt

— BYU Cougars PR (@BYUCougarsPR) February 27, 2021
Looking at the schedule, apparently BYU didn't take it easy just cause it's a rebuilding year. There's five games vs the Pac 12 with two other Power 5 games at Baylor and vs UVA. Then, there's in-state rivalries vs Boise and Utah State and a tough trip vs the triple-option Georgia Southern squad.
The only sure-fire victories appear to be Idaho State and probably South Florida. The Cougars will have to scratch and claw their way to victories in every other game. With that said, hitting 8 wins seems highly unlikely. I'm on the Under.
My Prediction: UNDER
---
UConn: 2.5 Wins (-150/+130)
Football is back in Storrs, Connecticut. After punting on the 2020 season due to COVID concerns, the Huskies return to the gridiron. HC Randy Edsall is entering his fourth season in his second stint at the University. It's hard to predict how this team will perform after the layoff, but Edsall led UConn to a 9-3 record in his fourth year during his first go-around.
Your guess is as good as mine as to which QB will start. Jack Zergiotis and Steven Krajewski return while Micah Leon transfers in from NC State. The offensive line that was awful in 2019 returns the majority of the unit and there's solid playmakers in RB Kevin Mensah and WR Cameron Ross. For a team that couldn't get over 10 points in four games back in 2019, the only way to go is up.
Defensively, 2019 was also a rough year for the Huskies who gave up over 40 points per game. The transfer portal was active in the off-season with several players coming and going. The unit was very young two seasons ago so I assume with some experience and time to bulk up, slight improvement may be on the horizon.
Trying to break down and handicap a team that didn't play a season ago is almost impossible but we do know two things: Edsall has proven himself at UConn before and the schedule this year offers some possible victories. UConn will probably be favored against Holy Cross, Yale and UMass. There's your Over right there. Maybe they'll also upset another team along the way and clear the bar with ease.
My Prediction: OVER
---
Independents Least Favorite Plays:
UMass: 1.5 Wins (-160/+140)
UMass got outscored 161 to 12 a season ago. The Minutemen only played four games and only crossed the goal line once. In two seasons in Amherst, Walt Bell has a 1-15 record. Looking at the win total, he'll have to double the amount of victories he's had in his coaching career this season to hit the Over.
It's difficult to look at the offensive roster and expect much improvement. Several players transferred out but UMass did bring in guys from Power 5 schools. At least on the defensive side of the ball, nine starters return. They weren't very good a season ago, allowing over 40 points per game, but the fact that most of the unit is back has to be promising. Perhaps the D can lead the team while the offense finds their way.
When looking at such a low win total for such a bad team, the only thing we can do is highlight potential wins. For the Minuteman, that includes two FCS schools in Rhode Island and Maine plus a game at New Mexico State. I actually think UMass can win two of those but there's no way in hell I'd lay -160 juice on this team. I'm certainly not betting this but chances are they win two games.
My Prediction: OVER
---
New Mexico State: 1.5 Wins (-125/+105)
I don't know what's going on with this program and their straddling of the FBS/FCS line but NM St is one of the worst teams in the country. The Aggies didn't play in the fall a season ago. Instead, they played two FCS games in the Spring of 2021: getting beat 43-17 by Tarleton and knocking off Dixie State 36-29.
Jonah Johnson should win the starting QB job after adequate play in the Spring. The offensive line only has one guy back from 2019 and there's turnover at the RB and WR positions as well. I have no idea how this offense will look playing FBS teams, but don't expect much.
The same goes for a D that gave up too many points to teams named Tarleton and Dixie State. Just wait for that Alabama game on November 13th. The scheduling of that game is an actual travesty and I almost feel sorry for the New Mexico State players. Saban and the Tide should feel ashamed.
Looking at the schedule, I suppose there's three winnable games: Utep, South Carolina State, and UMass. While all three games are at home, the Aggies will be fortunate to win one. I suppose I have to make a stand regarding the worst of the Independent programs and at this point, I'll say UMass is better than NM St. Gimme the Under.
My Prediction: UNDER