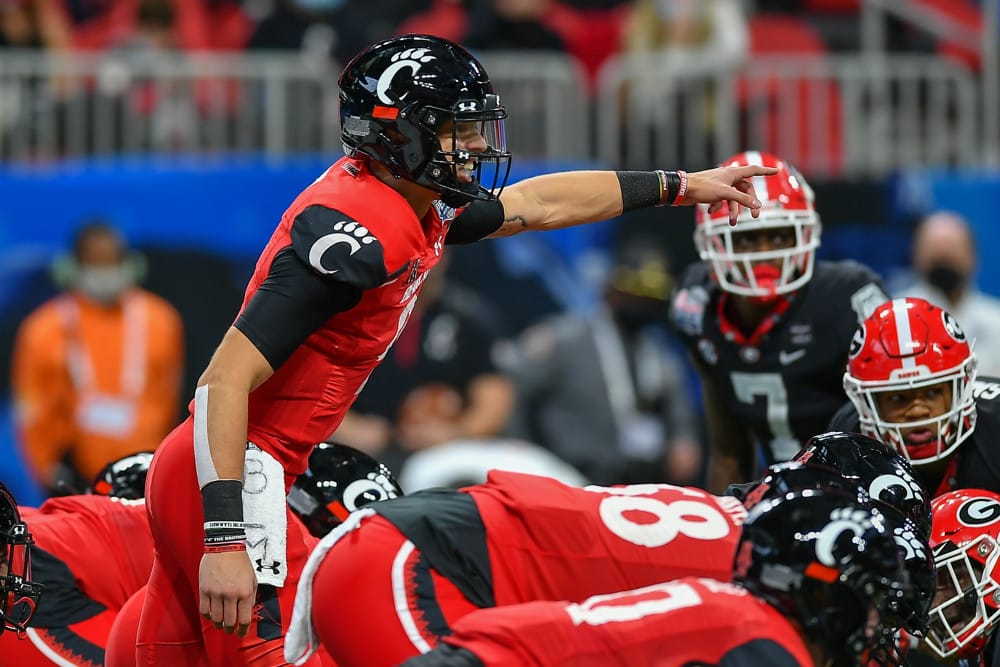 In case you missed it, check out my column on the MAC Win Totals, Sunbelt Win Totals, Mountain West Win Totals and Conference USA East and West Win Totals.

We're going conference by conference looking at each team's win total for the upcoming college football season and it's time for the American Athletic Conference (AAC). With the UConn departure, the AAC is down to 11 teams and has dissolved the previous divisional separation. Let's do this!
AAC Win Total Favorite Plays
Cincinnati: 10 Wins
The job that HC Luke Fickell is doing at Cincinnati has been nothing short of amazing. His first year in 2017 was a struggle and the team only went 4-8. Since then the Bearcats finished seasons with records of 11-2, 11-3, and 9-1. Last year, Cincy had an undefeated regular season and beat Tulsa in the AAC Championship game before losing a heartbreaker to Georgia in the Peach Bowl.
Last year was no fluke either. The Bearcats finally put it all together and played excellent football on both sides of the ball. Offensively, QB Desmond Ridder led a unit that put up more than 37 points per game while leading the AAC in yards per play. Ridder has always been an athlete but last year he was able to fine-tune his passing abilities which opened up the offense. No longer could defenses just key in on the run.
Defensively, we have a new coordinator coming into town and the Bearcats lost players to the NFL. Regardless, Fickell has his fingerprints all over this defense and they'll be strong again. Be on the lookout for pass rusher-extraordinaire, Myjai Sanders, and shut-down cornerback, Sauce Gardner, who will both be playing on Sundays next year.
Looking at the schedule, it might come down to two road matchups at Indiana on 9/18 and at Notre Dame on 10/2. In conference, the best teams on the schedule (UCF, Tulsa, and SMU) travel to Ohio. This team is not losing three regular season games. It might be chalky but pick the Over and the worst that will happen is a push.
My Prediction: OVER
Tulsa: 6.5 Wins
Apparently, I was a big fan of the AAC West because I'm high on several of the former division's teams, Tulsa included. First off, the Golden Hurricane return all five offensive linemen. The receivers and running back positions are loaded with talent but the team will be breaking in a new QB. Personally, I wasn't a Zach Smith fan last year and his carelessness with the ball led to too many turnovers. Expect an upgrade from any of the three QBs vying for the job.
While the offense will be solid, this defense has a chance to be excellent. Zaven Collins may have been a first-round selection in the NFL draft, but the unit still returns 9 starters. Other than the Cincinnati D, this may be the second-best unit in the conference.
Tulsa finished the 2020 season with a 6-3 record but the team's three losses were by a combined 14 points.  That included a 16-7 loss at Oklahoma St, a 27-24 loss at Cincinnati, and a 28-26 loss in the brawl-filled bowl game vs Miss St. The schedule isn't easy this year but the Golden Hurricane will hit at least 7 wins – lock it up.
My Prediction: OVER

AAC Win Total Solid Bets
Central Florida: 9.5 Wins
It might sound strange, but UCF's season might come down to its Week 1 game vs Boise State. I give Boise the slight edge and I also have UCF losing at Cincinnati. While they might be favorites in the remaining 10 games, it doesn't leave much margin for error in order to hit the Over.
New HC Gus Malzahn had some successful years at Auburn but after eight seasons, the program decided to go in a different direction. Personally, I think he's an upgrade over Josh Huepel who left for Tennessee. UCF progressively got worse during Huepel's three years, going from 12-1 to 10-3 to 6-4 last year.
Malzahn inherits an offense bringing back eight starters including star QB Dillon Gabriel. At WR, Jaylon Robinson returns and a boatload of transfers, including Nate Craig-Myers (played under Malzahn at Auburn), come into Orlando. UCF loses two RB's from the three-headed monster a season ago which means Bentavious Thompson should be the main back running behind an offensive line that returns everyone.
https://youtu.be/vnIomY0PF38
Defensively, UCF just wasn't very good last year. They allowed 33 points and almost 500 yards per game. Eight starters return and there are some transfers coming in. Specifically, Big Kat Bryant and Ricky Barber should help bolster the front four. The Golden Knights don't require an amazing defense to succeed, but they need to force more turnovers and get after the QB with more regularity.
As I mentioned before, I have UCF losing to Boise and Cincinnati. Along the way, they'll drop at least one more. Perhaps at Louisville or at SMU. Go with the Under.
My Prediction: UNDER
SMU: 6.5 Wins
I'm high on SMU football this fall. In the shortened COVID season, the Mustangs went 7-3 under veteran HC Sonny Dykes. So they lose a couple of starters on the OL and QB Shane Buechele. They'll replenish upfront and watch out for Oklahoma transfer, Tanner Mordecai, who might have the inside track on winning the QB job.
On defense, the best addition was Jim Leavitt as the new defensive coordinator.  Just follow his career and you'll be impressed. Additionally, nine starters return and some transfers from Power 5 schools join the program. This unit is going to make big strides under Leavitt which will make SMU a complete football team.
At first glance, I'd be all about the Over but the AAC is loaded and the schedule is rough. Out of conference, Abilene Christian and North Texas should be W's but at La Tech and TCU won't be easy. It's challenging but 3-1 should be the goal. Within the league, it doesn't get much tougher than at Navy, Houston, Memphis, and Cincy but I believe the Mustangs are good enough to go 2-2. That leaves a 2-2 record of home conference games in order to hit the Over. Sign me up.
My Prediction: OVER
Memphis: 8 Wins
I'm not sure what to make of Memphis's 2020 campaign. On the surface, they went 8-3 with a bowl victory under a first-year head coach during the pandemic. While that's certainly noteworthy, I never came away impressed when watching the Tigers. Half of the team's wins were by a combined eight points.  Are they due for some regression?
Brady White, who seemed to play QB for Memphis for the last eight years, has finally graduated. There are a few transfers coming in that will battle for the QB spot but White will be missed. Whoever wins the QB job will have some solid playmakers around him but only three starters from the OL return. It appears the O might take a step back in 2021.
Memphis misses out not having to face Cincinnati but the rest of the schedule is tricky.  The Tigers will probably be a dog at home vs Mississippi St and don't sleep on games at Arkansas St and vs UTSA either. With the high quality of play within the league, Memphis will have to go at least 3-1 if they're thinking Over. I'm not a believer yet – give me the Under.
My Prediction:  UNDER
Temple: 2.5 Wins
Let's just forget about last year. After recent success, the Owls could only win a single game in 2020. The program went 8-4 in 2018 and 2019 and won 10 games in 2016. This is a better program than what was on the field last year, right?
As with most disastrous seasons, a roster overhaul ensued. Two QB's transferred out as did leading rusher Re'Man Davis. Temple has a bunch of guys from Power 5 teams coming in to fill these holes but cohesiveness could be an issue. Returning four starting offensive linemen and four of the top five pass catchers from last year will help.
This is the first team where you really don't know what to expect. The roster turnover is too great. I suppose things can't be worse than last year so maybe there's some optimism in Philly. Right off the bat, Temple should beat Akron and Wagner. They'll be dogs in every other game but are you telling me they can't win one more? I'm on the Over.
My Prediction: OVER
South Florida: 3 Wins
What happened to this South Florida program? Last year, the Bulls went 1-8 with the sole victory being over The Citadel of the FCS level. In their defense, it was new HC Jeff Scott's first season and all first-year coaches should get a pass for 2020.
Fortunately for Scott, the former OC at Clemson, there's a ton of returning experience. Ten starters come back on offense which includes all five offensive linemen and four of the top five pass catchers from 2020. They'll miss RB Johnny Ford who transferred to FAU but the real need is better QB play. The Bulls have Cade Fortin coming in from UNC and Jarren Williams from Miami.
The defense also gets most of its playmakers back but they were god awful last season, allowing 40 points and over 440 yards per game. It sounds like a broken record with a lot of these teams, but if this D can improve, the Bulls have a chance to be solid this year.
Looking at the schedule, USF must be gluttons for punishment opening up at NC State and vs the Florida Gators. The five other road games on the slate are also likely losses which leaves five games remaining. Those home games are vs FAMU, Tulsa, Temple, Houston, and Cincinnati. The Bulls are in for another long year.
My Prediction: UNDER
AAC Win Total Least Favorite Plays
East Carolina:  4.5 Wins
After a good amount of success at JMU, Mike Houston seemed like a sure-fire hire for ECU before the 2019 season. It's only been two seasons, and one was COVID, but he's just 4-14 overall and 4-12 in conference. It's imperative that ECU starts to show signs of improvement.
The offense should be loaded this year. All five offensive linemen return as does rock-solid QB Holton Ahlers. I'm excited to watch WR CJ Johnson this year who is dripping with talent but hasn't been able to put it all together on a consistent basis yet. Perhaps this is his year to shine.
Over the last couple of seasons, the issue in Greenville has been the complete lack of defense. ECU only went 3-6 last year giving up over 42 points a game in their defeats. In 2019, in their eight losses opposing teams also put up an average of 42 points a game. The Pirates aren't going to hit an Over or go bowling until the D can at least be average. The good news is that 14 of ECU's 15 leading tacklers return for the 2021 season.
In typical ECU fashion, the out-of-conference schedule is brutal. The Pirates open up against App State in Charlotte before hosting South Carolina and then traveling to Marshall. While this may result in an 0-3 start to the year, I got ECU upsetting someone and going 2-2 outside the AAC. In conference, road trips to UCF, Houston, Memphis, and Navy are all tough but ECU should be able to handle USF and Temple at home. One more W and that'll hit the Over.
My Prediction: OVER
Houston: 8 Wins
Most experts generally applauded Houston for landing Head Coach Dana Holgorsen from West Virginia a few seasons ago. However, success has been a bit elusive down in the Lone Star state.  Consecutive losing seasons, going 4-8 and 3-5 won't cut it. There were some solid wins over Tulane, Navy, and South Florida last year, but Houston wasn't competitive vs UCF, Cincy, and BYU. Holgorsen is entering a critical 3rd year and the team needs to make a giant leap.
Helping that cause will be the return of QB Clayton Tune and 7 other offensive starters. Get a glimpse of Tune from the highlights below. The offensive also brings in several key transfers to reload at WR and 4 of 5 OL are back. The Cougars' offense will be just fine but can the team play a lick of defense? A ton of experience returns but it's the same guys that gave up 43 to BYU, 44 to UCF, and 38 to Cincinnati.
Although I'm not very high on Holgorsen as a coach in general, Houston took it easy on him this year with a very soft schedule. Out of conference, the Cougars should get three wins vs Rice, Grambling, and UConn while the 4th is a toss-up game vs Texas Tech at a neutral site. Houston also benefits from not playing Cincinnati in conference. I was all ready to fade Houston this year but the schedule makes it tough. I'll still side on the Under but I'm not betting it.
My Prediction: UNDER
Navy: 3.5 Wins
2020 was a strange year for Navy football.  Uncharacteristically, the Midshipmen went 3-7 and lost the last five games of the season.  That's not going to happen again under the watch of HC Ken Niumatalolo.  Sure, we could go through the roster and make note of the amount of returning players and highlight the strongest positions, but this is service academy football. The "Jimmy's and the Joe's" don't matter as much.  Navy will be better in 2021.
However, as you can see from the graphic below, the schedule is ridiculous. Out of conference, Navy gets Marshall and Air Force at home and Notre Dame and Army at neutral sites. There's a high likelihood that the Midshipmen are underdogs in all four contests. Within the conference, Navy will also be underdogs in at least three of the games at Houston, Memphis, Tulsa, and Temple. That leaves home games vs UCF, SMU, Cincy, and ECU where they might be a favorite in just one.
Navy might only be the favorite in two games this year. While that may point some towards taking the Under, this is Navy football. I have confidence that they will not allow two straight miserable seasons to take place in Annapolis. Give me the Over.
My Prediction: OVER
Tulane: 5 Wins
I swear Tulane's Over/Under sits right around this number every year yet HC Willie Fritz has hit at least 6 wins and a bowl games for three straight seasons. Bet the Over for the last three years and you are cashing tickets. Why should it be any different this go around?
The Green Wave return QB Michael Pratt who started as a true freshman along with four starting linemen. While there were times when Pratt struggled, as you might expect from a true freshman, he proved he's a gamer and someone the offensive can rally around. Look for a big second-year jump especially when it comes to throwing the ball down the field.
Tulane didn't do itself any favors scheduling Oklahoma, Ole Miss, and UAB out of conference but there's still a path to six wins and a bowl berth. Bet the Under at your own peril.
My Prediction: OVER
---
Top 10 College Football Preseason Storylines | The College Football Experience (Ep. 718)