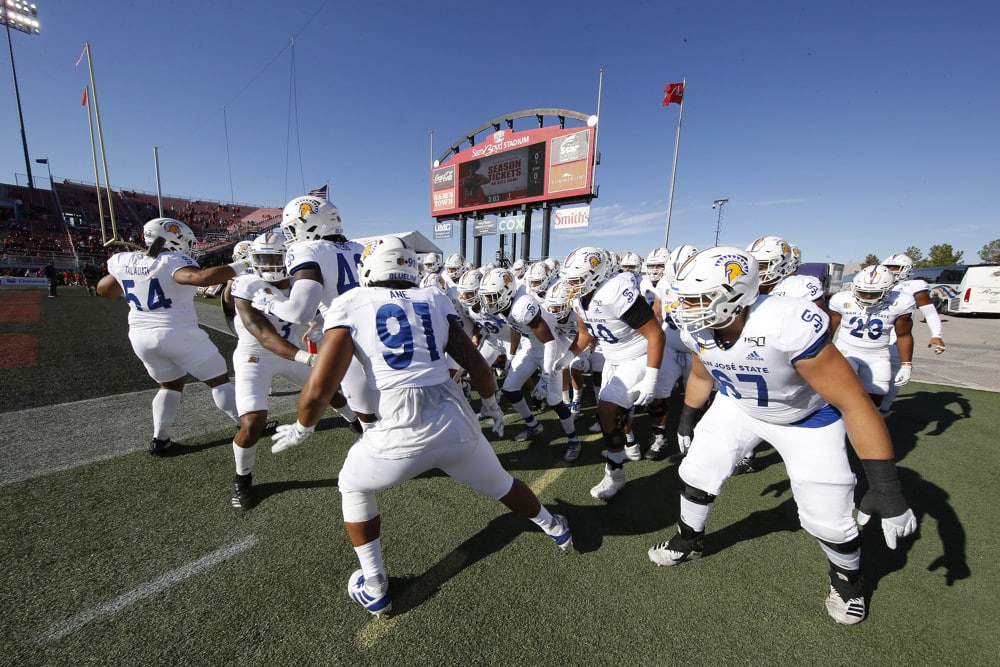 We're going conference by conference looking at each team's win total for the upcoming college football season. Check out my column on the MAC or the Sunbelt if you missed them. Now it's time to take you out to the Mountain West Conference.

From Hawaii to the Rocky Mountains to Northern Cali, the MWC is always a strong football conference. It won't be any different in 2021. There are several teams looking to make splashes on the national stage. Here are my predictions for each team's win total.
Mountain West Conference – Favorite Plays:
San Jose State: 7.5 Wins
After going 7-0 in the 2020 regular season, I was surprised to find a relatively low win total for this coming year. HC Brent Brennan is doing a bang up job with the Spartans and 5th YR QB Nick Starkel is returning. They lose both starting receivers from a year ago which is a concern but this offense will be just fine. The defense will be even better with 10 starters returning from a unit that excelled a season ago. Throw out the COVID-ridden bowl game and 24 was the most points given up in a game (at Hawaii in a 35-24 win).
The schedule this year is very manageable to boot. USC better watch out Week 2 but even if the Trojans get the W, SJ St should be the favorite in every remaining game. An away game at Nevada will be tough and SD ST always has a good squad, but this team can win 10 games. It should also be noted that they don't have Boise on the schedule. I'm running over to my book and placing an Over ticket immediately.
My Prediction: OVER
Colorado State: 4.5 Wins
I know we're giving first year HCs a pass for the 2020 season, but Steve Addazio could never get his Rams to play decent football for a sustained amount of time. They looked solid in a 34-24 home win over Wyoming but dropped the other three games on the schedule. Perhaps even more troubling is the fact that each loss was by double digits (38-17 to Fresno, 52-21 to Boise, and 29-17 to SDSU).
Furthermore, Addazio never really impressed in his seven seasons as the head man at Boston College. When his stint in Chestnut Hill was over, he left with a 44-44 overall record but just 22-34 in conference. If you are picking up what I am laying down then you probably understand I'm not his biggest fan.
Looking at this year, Colorado State has a very challenging schedule. Out of conference, CSU has road trips to Toledo and Iowa and home games vs South Dakota State and Vanderbilt. None of these games are gimmies. In conference, the Rams aren't fortunate enough to see UNLV on their schedule and the other comparable teams (Utah State and New Mexico) are road games. All signs are pointing me to an Under.
My Prediction: UNDER

Mountain West Conference – Solid Bets:
Wyoming: 8 Wins
Coming off of a 2-5 season, your knee-jerk reaction to seeing eight wins next to Wyoming's name would probably be to take the Under and run. Well now let's wait a minute. First, Wyoming's starting QB last season, Sean Chambers, completed one pass in the opening game before going down with a season ending injury. He's back as are nine other starters on offense including all five offensive lineman and star RB Xazavian Valladay.
The Cowboy defense finished 16th best in the country last year and the bulk of it is returning. Even in losing efforts a season ago, the Cowboys limited Boise and New Mexico to just 17 points. With an improved offense this year, the D should be even better.  Expectations are high in Laramie.
Laugh now, but I have Wyoming at 7-0 entering a big October 30th matchup at San Jose State. Even if they lose to the Spartans and drop the game at Boise, this team can finish 10-2. While 9-3 is more realistic, that still cashes my Over ticket.
My Prediction: OVER
Boise State: 9 Wins
The Broncos had all kinds of injury and COVID issues last year but still managed a decent 5-2 season. HC Bryan Harsin left for greener pastures at Auburn and while he kept the program afloat, he could never reach the previous levels of success under Chris Petersen.
The new head man is former Boise linebacker, Andy Avalos, who recently served as the Oregon DC. Making his inaugural season a bit easier will be returning QB's Hank Bachmeier and Jack Sears along with 84% of the roster (30th best in the country). There's no reason why Boise shouldn't have another outstanding season.
Standing in their way of a double digit win total is a very tough schedule that includes out-of-conference games vs Oklahoma St, at UCF, and at BYU. I have Boise going 2-1 in those games which places them on a path to hit the Over. Even a 1-2 record in those games, and a push should be the end result.
My Prediction: OVER
San Diego State: 6.5 Wins
I'm concerned about the trajectory of this Aztec football program. After only a 4-4 2020 campaign, can Brady Hoke lead this team back towards the top of the conference? The answer to that question may depend on SDSU getting better QB play than it did a year ago. Currently there's a three way race to start under center with no clear cut leader. See Brady Hoke's thoughts here:
The defense, as usual, should be rock solid and keep games within reach. If the offense can improve, the Aztecs can be a sleeper team in the conference. However, don't forget they have one more season playing their "home games" over 100 miles away before a spanking new on-campus stadium is ready in 2022.
If they can split the two Pac 12 games in the non-con (at Arizona, vs Utah) Brady Hoke's crew should be 4-1 entering a huge game at San Jose State. Even if they drop the game to the Spartans, there's enough winnable games to get to seven. I'm leaning OVER
My Prediction: OVER
Hawaii: 6 Wins
Here's a trick to hitting an Over. First, play 13 regular season games while everyone else only plays 12. Second, play New Mexico State twice in the same season. Yes, surprisingly, Hawaii and New Mexico State play the home-and-home this year with Hawaii visiting the Aggies on 9/25 and New Mexico State returning the favor on 10/23. In case you weren't aware, NMSU might be the worst team in the country.
Throw in a home game vs Portland State and a road trip to UNLV (0-6 last year) and the Rainbow Warriors have a solid base of four easy wins. Also, with 89% of the roster returning (16th best in the country) this Hawaii team will be battle-tested and experienced. Keep your eye QB Chevan Cordeiro who should be primed for a big year.  Here's just a glimpse of what he can do.
Hawaii is destined for another promising season of over .500 football.  Gimme that Over.
My Prediction: OVER
Fresno State: 6 Wins
I'm not sure what to make of this Fresno State squad. They finished 2020 with a 3-3 record but couldn't beat anybody of note. It was Kalen DeBoer's inaugural season as HC and all first year coaches got a free COVID pass from me last year. It will be more interesting to see what kind of strides the program can make in year two.
On the bright side, the new man in charge quickly turned the offense into something to be reckoned with. Fresno led the Mountain West in passing yards and finished 5th in the country. Washington-transfer, Jake Haener, is back at QB as is just about all of his weapons. If a revamped OL can be adequate, this is a very dangerous offense.
The defense wasn't great last year and limped to the finish line, allowing Nevada to put up 37 and New Mexico to score 49 in the final two games. Most of the defense is returning but if the Bulldogs want to go bowling, the unit has to perform better.
If Fresno can exact revenge on New Mexico, they should be able to reach four wins with barely breaking a sweat. Things get much tougher after that. In order to hit the Over, Fresno will have to surprise Nevada or Boise at home or pull off two wins at Hawaii and at Wyoming. Fresno might get to six, but they're not reaching seven. The likelihood of a five win season is much higher than an above .500 year.
My Prediction: UNDER
Mountain West Conference – Least Favorite Plays:
Nevada: 7.5 Wins
If you've been listening to our spring podcasts I've been hinting at how much I like Nevada in the Mountain West coming into the season. First, they bring back the 5th most returning players in the country which includes all 11 offensive starters. QB Carson Strong is a budding star and Romeo Doubs is arguably the best receiver in the conference. You know we are suckers for the Air Raid offense at SGPN.  Jay Norvell has learned from the best and is really building up this program.
With all that said – the schedule is a bear. Three of the first four games are road trips to Cal, Kansas State, and Boise. It's very possible that the Wolfpack are 1-3 out of the gates. The schedule eases up from there so Nevada should close out the year strong. I don't love it but I think Nevada goes 8-4 and cashes the Over.
My Prediction: OVER
Air Force: 6.5 Wins
Troy Calhoun is entering his 15th season as Head Coach for the Air Force Falcons. Throw out a 2-10 season in 2013, and this football program has been a model of consistency. 5-7 records in 2017 and 2018 are the only below .500 regular season blemishes which are counterbalanced by three double-digit winning seasons since 2014.
Air Force is always solid but the Falcons have to replace 8 starters from last year's squad. They split with Army and Navy last year and will probably do so again. The one gimme game is vs Lafayette and AF will be favored in at least three others (New Mexico, Utah State, and UNLV). After that, things get a bit dicey but Fla Atl and Colorado State are very winnable. I have the Falcons edging out the OVER.
My Prediction: OVER
New Mexico: 4.5 Wins
The Lobos started the 2020 season as losers of five straight. Then, in a surprising turn-around, they knocked off Wyoming and Fresno to close out the year and give its fans hope for 2021 in the Mountain West. Remember, New Mexico was just 2-10 in 2019 and 3-9 in 2018 and 2017. Perhaps the hire of former defensive coordinator, Danny Gonzales, as Head Coach is starting to pay off.
Looking at the upcoming schedule, there's two easy games the Lobos should win (Houston Baptist and NM St) and three 50/50 matchups (Utep, UNLV, Utah State). I'd say 4-1 is a best case scenario which leaves the Lobos a bit short of hitting their expected win total.
My Prediction: UNDER
Utah State: 3 Wins
It was just two seasons ago when Utah State and Jordan Love went to the Mountain West Championship game en route to an 11-2 season. Without their star QB, the Aggies could only muster a 7-6 record in 2019 before the wheels fell off in 2020. After an 0-3 start, HC Gary Andersen was fired and in the offseason, the University brought in Blake Anderson from Arkansas State.
Along with the new HC, came a new QB in Logan Bonner, also transferring in from Arkansas State. A broken foot will most likely force a delayed start to the season for the QB, but he should be under center soon (below is a quick reel of what Aggies fans can expect).  With the O-line returning all five starters, this offense should be much improved. As you might expect, the D wasn't very good in 2020 either but they do have nine starters coming back.
Overall, the schedule is manageable. North Dakota was very good on the FCS level this Spring, but if the Aggies can take care of business in that game, they have an easy path towards 3 wins and at least a push. With both New Mexico schools on the slate and UNLV, Utah State should at least get to 4.
My Prediction: Over
UNLV: 1.5 Wins
The football program in Vegas just can't get any kind of traction in the Mountain West. In fact, UNLV has just made a single bowl game over the last 20 years and that was in 2014. After being OC at Oregon the last few seasons, Marcus Arroyo was hired before the 2020 season as the new head coach. In his first year at the helm, the Running Rebs went 0-6 which each loss by double digits.
As an offensive coach, Arroyo had to be disappointed with only averaging 17 points a game. However, he has incoming talent to bolster his roster and some experience coming back.  With spring ball and the usual amount of practice time before the season begins, the offense should be much more cohesive.
It's pretty simple breaking down the UNLV schedule this year. There are arguably four winnable games: vs Eastern Washington, at UTSA, at New Mexico, and vs Utah State. Can the Rebels win half of those? I'm leaning towards no and just a 1-11 season.
My Prediction: Under