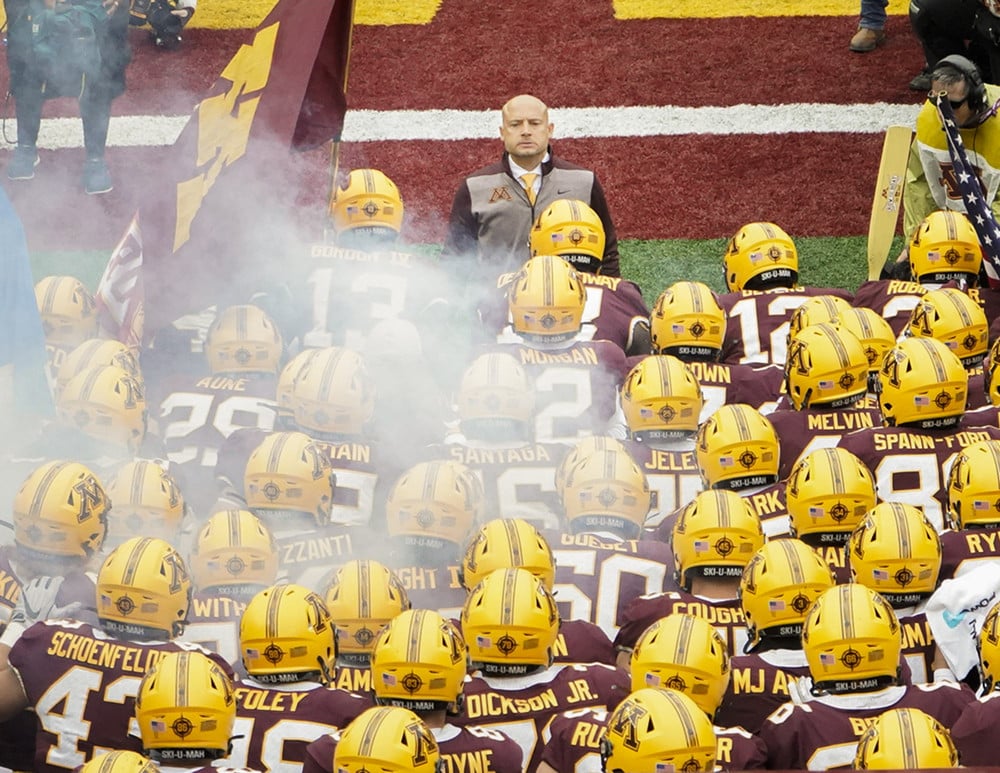 In case you missed it, check out my columns on the MAC Win Totals, Sunbelt Win Totals, Mountain West Win Totals, Conference USA East and West Win Totals, AAC Win Totals , ACC Atlantic and Coastal Win Totals, Big 12 Win Totals, PAC 12 North and South Win Totals, and the SEC East and West Win Totals.
We're less than two weeks away from the start of College Football! We've gone through every conference in the nation and have saved the Big Ten for last. So without further ado, here's my breakdown of each team's win total for the Big Ten West.

Big Ten (West) Favorite Play:
Minnesota: 6.5 Wins (O-125 / U+105)
Minnesota Golden Gophers Season Preview | The College Football Experience (Ep. 732)
Did people forget that Minnesota went 11-2 in 2019? Disregard last year. The Golden Gophers were one of teams that COVID hit the hardest in the country and they still put up a respectable 3-4 record with two of the losses in OT. PJ Fleck is a heckuva head coach and his team is primed for a bounce-back season.
QB Tanner Morgan is a veteran that's set to begin his 4th year as the starter in Minneapolis. Good luck finding another QB in the conference, or in the country, with as much experience as Morgan. Expect a stellar season from one of the best QBs in the Big Ten.
Mohamed Ibrahim also returns and is one of the top RBs in the nation. The junior from Baltimore ran for over 1,000 yards and 15 TDs in just seven games a season ago. Check the highlights and see for yourself.
Additionally, Minnesota has a dynamic group of pass catchers, led by Chris Autman-Bell. The offensive line also returns four starters and might be the best unit Fleck has had while at Minnesota. There's a lot to like about this Golden Gopher offense.
The defense struggled last season but almost everyone returns and there's a Clemson-transfer coming in at DT to fortify the interior. Minnesota was decimated by COVID so the final defensive stats aren't a true representation of the talent and experience returning. This unit will at least be a middle-of-the-pack defense within the league which should be good enough to win a lot of games.
The schedule starts with Ohio State coming into Huntington Bank Stadium Week 1. While I'm not saying Minnesota will win, I expect this to be a tight game. In addition to OSU, Minnesota gets Maryland and Indiana from the East which is manageable. PJ Fleck will have this squad winning at least 8 games. I'm all about the Over.
My Prediction: OVER
Big Ten (West) Solid Bets:
Wisconsin: 9.5 Wins (O-105 / U-115)
Excluding 2020, Wisconsin has hit at least 10 regular season wins in three of the last five years. HC Paul Chryst has done an excellent job in Madison and always has the Badgers towards the top of the division. However, while there's a lot of promise entering this year, I tend to lean Under when I see a double digit win total. This especially rings true in the tough Big Ten West
The Badgers immediately jump into a difficult schedule with games vs Penn State, Notre Dame, and Michigan in three of the season's first four weeks. It helps that PSU and Michigan are at home and the Notre Dame game is at Soldier Field, but it's a brutal stretch. As good as Wisconsin might be, they are going to drop at least one of these games.
After that, the schedule lightens up. Other than the season finale at Minnesota, the other in-conference road trips (at Illinois, Rutgers, and Purdue) should be W's. Getting Iowa, Northwestern, and Nebraska all in Camp Randall is another break. With only four true road games, the schedule is challenging but not overwhelming.
If this squad is going to win the Big Ten West, they'll need a spike in offensive production. Returning QB Graham Mertz is back and he'll lead an offense that only put up 22.3 points per game last year. There's questions marks at the skill positions and the OL only returns three starters from last year. Mertz has impressed but his supporting cast may be lacking.
I got 5 on it 🔥

☑ @GrahamMertz5 pic.twitter.com/RUmcGFb8OB

— Wisconsin Football (@BadgerFootball) August 5, 2021
While the O struggled, the Badger D was best in the Big Ten and it returns eight starters. The front seven, especially the linebackers, will be fantastic but the secondary has to replace some key parts. Led by DC Jim Leonard, expect Wisconsin to plug those holes and have one of the best defenses in the conference again.
Look, the Big Ten West is all about parity this season. I expect Iowa and Minnesota to be right there with Wisconsin and you shouldn't discredit Northwestern, Nebraska, and others. I don't see any team from this division reaching a double digit win total, Wisconsin included. Gimme the Under.
My Prediction: UNDER

---
Iowa: 8.5 Wins (O-105 / U-115)
Iowa Hawkeyes Season Preview | The College Football Experience (Ep. 711)
Iowa could be in store for a special 2021. Last year, they lost their first two games before ripping off six in a row to end the season. What's most impressive about the winning streak is the fact that the Hawkeyes averaged over 35 points per game in that stretch. For a program that usually relies on tough defense and a ball-controlled offense, this level of scoring output was a breakthrough.
QB Spencer Petras, leading rusher Tyler Goodson, and TE Sam LaPorta are back but there's a lot of other holes to fill. Only two starters return on the OL and Iowa is replacing it's top two pass catchers from last year. It's Iowa so I wouldn't be too concerned about the line, but playmakers on the outside need to step up. A slight decline in offensive production might be on the horizon.
Defensively, this Hawkeye unit only gave up 16 points a game last year and eight starters return. There will be some shuffling up front but the back seven will be strong. Watch out for S's Jack Koerner and Dane Belton who lead one of the best secondaries in the conference. It'll be another strong year for the Iowa D.
Here's the revised 2021 Iowa football schedule

• Nebraska is back on Black Friday after it was originally scheduled for Nov. 6

• Maryland, Purdue, Wisconsin and Northwestern games also have new dates pic.twitter.com/snZzv63FS3

— On Iowa Sports (@GazetteOnIowa) February 5, 2021
Entering his 23rd year as HC, Kirk Ferentz has had an excellent career in Iowa City but he's only registered nine or more regular-season wins six times. Looking at the schedule, immediately circle the week 2 matchup vs Iowa State. While Iowa will most likely be a slight dog playing in Ames, it will be a fantastic in-state showdown of two potential top 10 teams.
Overall, it's a challenging but manageable slate of games. I have faith in the coach, the program, and the QB to reach 9 W's this season and edge out an Over. Look out for Iowa to contend for the Big Ten West Title.
My Prediction: OVER
---
Nebraska: 6.5 Wins (O+110 / U-130)
Entering his 4th year as head coach, is this the season Scott Frost and the Cornhuskers put it all together? Success in Lincoln has been much more elusive for Frost than it was at UCF where he went 19-7 over two seasons. So far, his records at Nebraska have been 4-8, 5-7, and 3-5. He's a legend in Lincoln, but he better start winning soon.
While there's a new Offensive Coordinator in town, we know Adrian Martinez will be the QB. He's shown flashes but needs to work on consistency and limiting turnovers. He'll also need to get better production from the skill positions and an offensive line that only returns three starters. There's some transfers coming in but a lot of question marks on this side of the ball remain.
High praise for QB1#thegoodlife /// #B1GMediaDays pic.twitter.com/4lAAHZxnWr

— Nebraska Football (@HuskerFBNation) July 22, 2021
The defense was fairly average last year but the Cornhuskers are bringing back nine starters which should offer hope for 2021. They may not wow you with next-level talent, but it's an experienced group that plays rock-solid football. For a D that finished 7th in Points Allowed in 2020, the realistic expectation should be to crack the top 5 this season.
Looking at the schedule, road trips to Oklahoma, Minnesota, and Wisconsin are rough. Plus, Nebraska isn't ready to knock off Ohio State even if it's at home. That's four losses before mentioning other challenging games vs the likes of Iowa, Michigan, and Northwestern. This Nebraska squad hasn't shown me enough to expect 7 wins. Six and a bowl game is attainable, but I'm on the Under.
My Prediction: UNDER
---
Northwestern: 6.5 Wins (O-105 / U-115)
Pat Fitzgerald and company had a fantastic 2020. The Wildcats went 6-1 in the regular season, made the Big Ten Champ game (lost to Ohio State) and beat Auburn in the Citrus Bowl. Fitzgerald is one of the best coaches in America and continually gets the most out of his rosters. However, there will be some challenges to overcome this season.
First off, QB Peyton Ramsey and the Wildcats top four pass catchers from last year have all departed. It sounds like Clemson-transfer Hunter Johnson is the front runner to win the QB job and there's some transfers coming in at wideout. The OL will also have to replace a couple starters from last year but the RB position should be locked up with Cam Porter back in Evansville.
Defensively, Northwestern had one of the top units in the conference last year but only five starters return. Additionally, long-time DC Mike Hankwitz has retired. You'd expect Pat Fitzgerald to figure things out on this side of the ball but there's a talent deficiency. Expect some regression.
2018: ✅
2019: ✖️
2020: ✅
2021: ❔

Will @NUFBFamily make it three B1G West titles in four seasons? pic.twitter.com/Tl6R8PRA0W

— Big Ten Network (@BigTenNetwork) July 28, 2021
While this may be a rebuilding year, the relatively easy schedule will make things interesting. First, the Wildcats will be favored in all three non-con games vs Indiana State, Ohio and Duke. NW has a history of dropping games to inferior opponents, so these aren't gimmies but they should be 3-0 outside the league.
Second, getting the Michigan schools and Rutgers from the East is a blessing. This isn't going to be a double-digit win team that plays in the Big Ten Champ game but it also shouldn't be the 3-9 team from 2019 either. In general, Fitzgerald has brought in enough talent via the transfer portal to offset some of the losses. The win total is in the right spot but much like Iowa, I tend to have faith in this program. I'm a lean on the Over.
My Prediction: OVER
---
Illinois: 3.5 Wins (O-125 / U+105)
While Bret Bielema could never get things going at Arkansas, don't forget about his 68-24 record in seven seasons at Wisconsin. He's familiar with the Big Ten West and should be a slam dunk hire for an Illinois program that has hit rock bottom. The only question is how long it will take to right the ship.
As with most coaching changes, there was a sizeable roster overhaul in the offseason. One familiar face will be returning QB, Brandon Peters. He'll lead an offense that also returns four starting offensive lineman, two solid RBs and WR Brian Hightower. A couple veterans return on defense and that's where the experience stops. There are fresh faces from the transfer portal everywhere else.
While it would be nice to have a couple cupcakes to start the season, Illinois jumps right into the fray with a home game vs Nebraska. Also, don't chalk up the Week 2 game vs UTSA as an easy win. Then, there's a road trip to UVA in Week 3. That's a rough start for a roster that needs to build cohesiveness.
If you are thinking of taking the Over, the Illini need to beat UTSA, Charlotte, Maryland and register another upset within the league. While brighter days may be ahead, I don't see it happening in 2021. I'm on the UNDER.
My Prediction: UNDER
---
Big Ten (West) Least Favorite Play:
Purdue: 5 Wins (O-125 / U+105)
This Boilermaker program has seemingly been stuck in mediocrity or worse since Joe Tiller was head coach. The last time they won more than 7 regular season games was 2006 when Curtis Painter was the QB. Current HC, Jeff Brohm, had back to back 6-6 regular seasons in 2017 and 2018 but those campaigns were followed by losing seasons. Entering his 5th year, it's safe to say that Purdue better make a bowl game or Brohm may be a goner.
Offensively, eight starters return from the conference's best passing attack from a season ago. Rondale Moore is now in the NFL, but both Jack Plummer and Aidan O'Connell are capable QBs who will often look in the direction of leading WR, David Bell.
The offensive line will be solid and there's some decent options at RB led by Zander Horvath and King Doerue. While a more balanced offensive approach may pay dividends, Purdue might opt to sling to rock all over the field again.
The Boilermaker D was about average last year, finishing 8th best in the Big Ten. There are some holes to fill but there's also a solid amount of talent and experience returning. The biggest addition might be new defensive coordinator, Brad Lambert. Under his guidance, look for this unit to make strides this season.
Looking at the schedule, the week 1 game at home vs Oregon State is huge. Win that, and Purdue should start 3-1 before the meat of the conference schedule picks up. Games against Notre Dame, Minnesota, Iowa, Wisconsin, and Ohio State are probable losses which means there isn't much room left for error in the other 50/50 matchups.
There's a high chance Purdue hits 5 right on the number which leaves us with the question: is it more probable this group wins six games or four? Sorry Boilermakers, but there's a narrative where this train completely falls off the tracks and Brohm is bounced in the process. I'm on the Under.
My Prediction: UNDER, using research I found at W88 Gambling