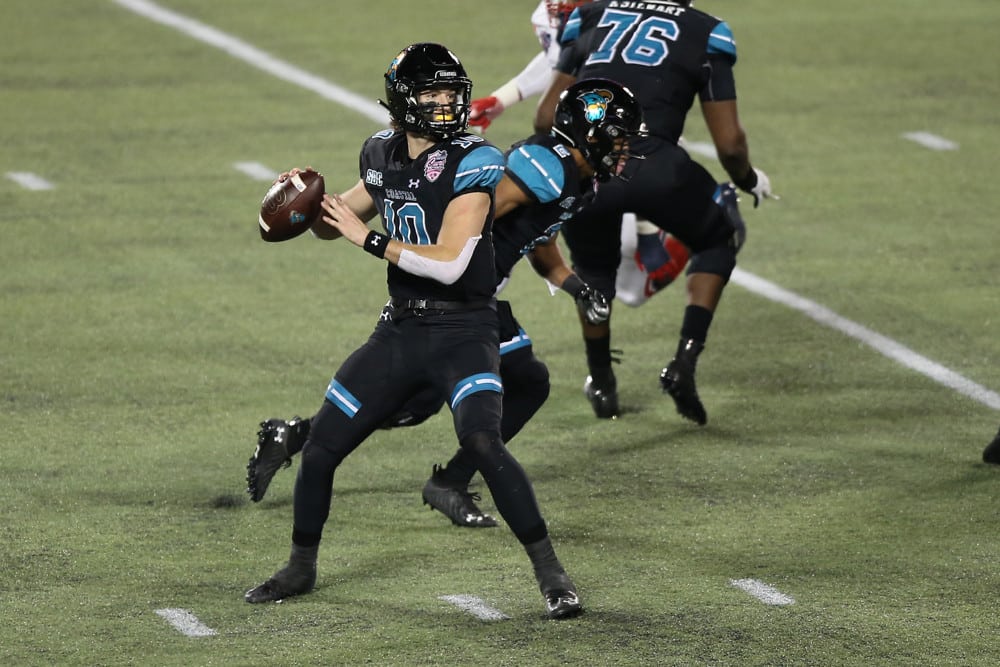 We're going conference by conference looking at each team's win total for the upcoming college football season. If you missed my column on the MAC Conference, check it out here. Now it's time for the Sun Belt Conference.

Over the last couple of seasons, the quality of football being played in the Sun Belt Conference has improved dramatically. The Funbelt used to be fun now is just plain good. Here's my predictions for each team's win total.
Coastal Carolina: 10 Wins
The Chanticleers put it all together a year ago going 11-0 overall in the regular season before dropping the bowl game to Liberty. The program had been making baby steps since joining the FBS in 2017 before putting themselves on the national map in 2020. Somehow in the offseason, nobody hired HC Jamey Chadwell away from Conway, SC which means Coastal is about to run it back.
QB Grayson McCall returns after a stellar freshman season as does his favorite two targets in WR Jaivon Heiligh and TE Isaiah Likely. If things go as expected, they should be 6-0 going to Boone for a big matchup vs App State. Other potential landmines might include trips to Georgia Southern and Buffalo. When it comes down to it, 11-1 is much more likely than 9-3. Expect another big season at the beach and take the Over.
My Prediction:  OVER
Louisiana: 9.5 wins
Over the last two seasons, the Ragin' Cajuns have gone 21-4 including a nice win at Iowa State last year. HC Billy Napier will soon be leading a Group of 5 program so enjoy him while you can Louisiana fans. The 2021 version will be absolutely loaded with almost everyone returning including 5th yr QB Levi Lewis.
If the Cajuns don't get to double digit regular season wins, this season will be a disappointment. That's the level of success they've reached in Lafayette. The Texas Longhorns better be very careful Week One as I wouldn't be at all shocked to see an upset. In general, the West Division of the Sun Belt Conference is not as good as the East and Louisiana gets lucky not drawing Coastal Carolina in a cross-division game. Give me the Over.
My Prediction:  OVER
App State: 9 wins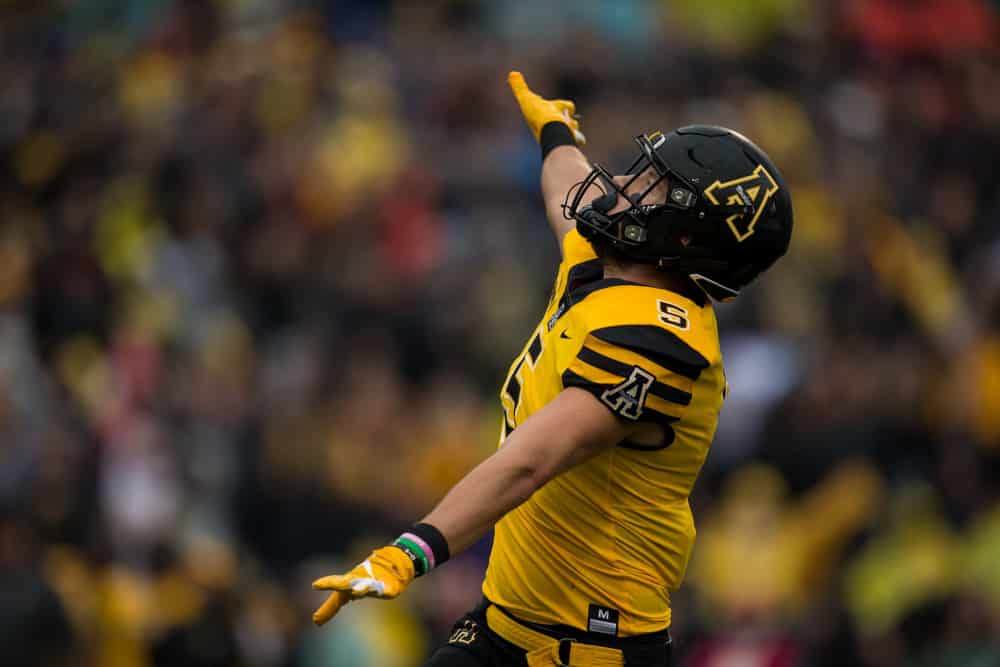 The Mountaineers had a solid 2020 going 9-3 including a win over North Texas in the Myrtle Beach Bowl. With that said, with the amount of talent returning, you could argue the season was a let down. They beat the teams they were supposed to beat, but lost all of the bigger matchups vs Marshall, Coastal Carolina, and Louisiana.
Two excellent RB's in Camerun Peoples and Nate Noel return as does star wideout Thomas Hennigan, but App will be breaking in a new QB. This is a big year for Head Coach, Shawn Clark, who's still in the process of proving he's the right man for the job . At this point, Coastal Carolina and Louisiana are a notch above App State and the Mountaineers may drop both.
In conference road trips at Georgia State and at Troy could also be roadblocks to reaching double digit wins. Lastly, out of conference matchups at Miami, at a neutral site vs ECU and at home vs Marshall round out a very challenging schedule. I'm on the Under.
My Prediction:  UNDER

Georgia State: 5.5 wins
Shawn Elliott is entering his 5th year as HC down in Hotlanta. After a 2-10 2018 season, Georgia State rebounded with two straight bowl berths including a win over Western Kentucky in the LendingTree Bowl last year. Keep your eye on QB Cornelious Brown IV. Starting as a redshirt freshman a season ago, he improved as the season progressed and finished the season averaging over 300 yards passing over the last three games. Take a look for yourself.
The Panthers also return 92% of their roster which is 10th highest in the nation. All signs are pointing to a successful 2021 but the schedule is brutal. Chalk up road trips at UNC, Auburn, Louisiana, and Coastal Carolina as L's right off the bat which doesn't leave much margin for error against other solid teams such as Army, App State, Troy, and others. The Panthers will scratch and claw their way to .500 and a bowl berth but it won't be easy.
My Prediction – OVER
Georgia Southern: 4.5 wins
The Eagles had a nice 2020 going 8-5 with a convincing bowl victory over La Tech, 38-3. That makes 3 consecutive trips to bowl games which is a giant step from where they were in 2017 when the Eagles finished 2-10. However, with a new QB at the helm and several key players on defense graduating, 2021 looks like a rebuilding year.
Much like their rivals Ga State, Ga Southern has a tough schedule to navigate this year. Even in a successful 2020 campaign, they couldnt knock off any of the better teams (Louisiana, CC, App, Army, and Ga State) on their schedule. I fear the 2021 edition will meet the same fate but they'll be able to squeeze out that 5th win.
My Prediction:  OVER
Troy: 7 wins
I expect this Troy team to be much improved over the last couple of five win seasons. Almost every starter on both sides of the ball are back and the Trojans have brought in several key transfers. This will be the best Troy team we've seen since the 10 win squad of 2018.
The main impedance to hitting the Over is that the Sun Belt Conference is much better than it was a few seasons ago. Out-of-conference games vs Liberty and South Carolina will be tough and there's in-conference road trips to Coastal and Georgia State. On the bright side, Louisiana and App St have to travel down to the Yellowhammer state. Either way Troy ain't getting to eight W's.
My Prediction:  UNDER
South Alabama: 4.5 wins
The Jaguars have a new head man in Kane Wommack (formerly DC at Indiana), a new QB in South Carolina transfer Jake Bentley, and will be looking to improve on a 4-7 season from a year ago. See Bentley's highlights below from his days in the SEC.  He should fit in quite nicely.  There's three very winnable games vs Alcorn State, Bowling Green and ULM. Getting two more W's shouldn't be an issue, right?
Well, not so fast. They're just plain and simple not beating Louisiana, Troy, App St, Tennessee, or Coastal Carolina. At this point, I'd say at Texas State and Georgia Southern are longshots as well. That leaves home games vs Arkansas State and Southern Miss. Look, it'll take some time for the new coach to build up the program. Best case scenario is a split of those games and a 4-8 final record.
My Prediction:  UNDER
Texas State: 4.5 wins
There's been a lot of offense at Texas State the last couple of years but that hasn't exactly resulted in a lot of wins. Under Jake Spavital, the Bobcats have gone 3-9 and 2-10. While he's not setting the world of fire yet, there's some growing optimism heading into this season.
QB Brady McBride is legit as is his favorite target Marcell Barbee and the O-line returns four starters. However, the offense was never the issue. Giving up over 35 points a game to opponents isn't a recipe for covering an Over. Until I see improvement from the Texas State defense, I'll fade the Bobcats.
My Prediction:  UNDER
Arkansas State: 3.5 wins
A new era begins this year in Jonesboro, as Butch Jones takes over as head coach. He may have flamed out at Tennessee but he was very effective at Cincinnati and Central Michigan before the Vols came calling. Perhaps back in the Group of 5 is where he belongs.
It was only a couple of years ago when Arkansas State was making bowl games on a consistent basis. This year's team lost a lot from a season ago but Jones has hit the transfer portal hard. How quickly he can get this team to gel will determine if he can improve on the 4-7 record from last year. The schedule is tough and there's a high likelihood the Red Wolves may start 1-6. They'll have to win every 50-50 game to think about hitting the over. Not this year guys.
My Prediction:  UNDER
UL Monroe: 1.5 wins
After a three year hiatus from coaching, Terry Bowden takes over at ULM in hopes to build up a once proud program. The Warhawks went winless in 2020, losing by a combined point differential of 420-163.  Bowden did a solid job at Auburn and had an excellent three years at North Alabama but could only muster a 35-52 record at Akron.  It'll be interesting to see how he does in Monroe.
As for this coming season, you would think the one sure-fire victory would be against the only FCS school on the schedule. However, Jackson State is coached by Deon Sanders who has been bringing in talent like never before seen on the FCS level. If Arkansas State can knock off Primetime, there's a chance they'll win one more and hit the Over but that's too many "Ifs" for me.
My Prediction:  UNDER
---