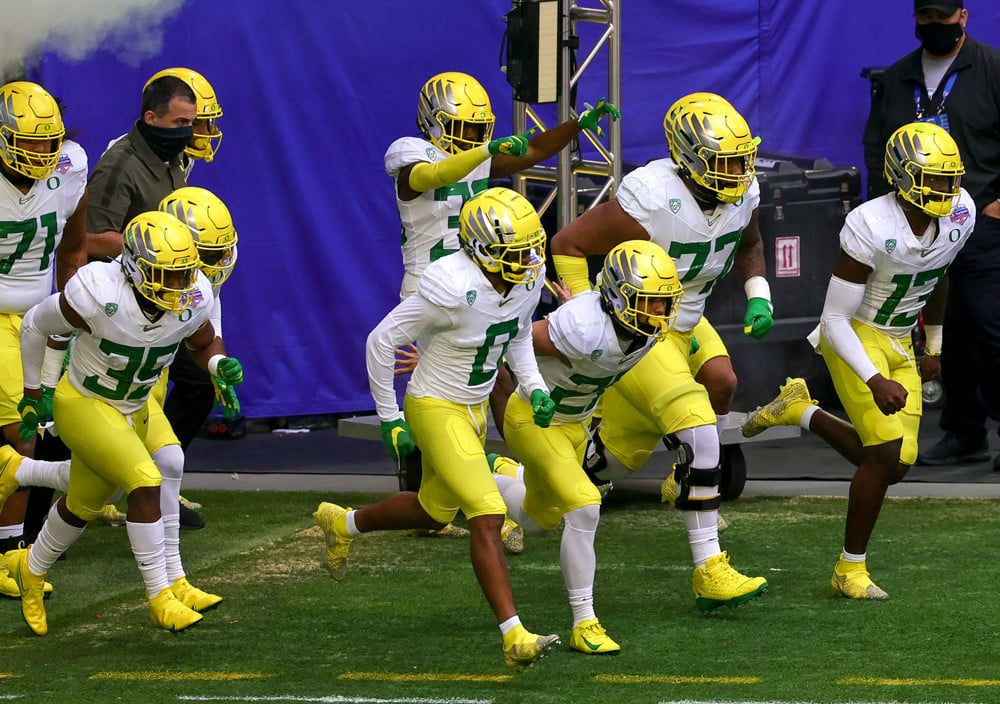 In case you missed it, check out my columns on the MAC Win Totals, Sunbelt Win Totals, Mountain West Win Totals, Conference USA East and West Win Totals, AAC Win Totals , ACC Atlantic and Coastal Win Totals, and Big 12 Win Totals.

We're going conference by conference looking at each team's win total for the upcoming college football season and its PAC 12 time. While the conference may not have any elite teams, it's a very deep league filled with quality football programs. Both the South and North divisional races are wide open so expect carnage along the way. See my prediction for the South here and let's talk PAC 12 North.
PAC 12 (North) Favorite Plays:
Oregon: 9 Wins (O-115 / U -105)
Oregon Ducks Season Preview | The College Football Experience (Ep. 756)
With the high amount of parity between football programs in the PAC 12, it will be difficult for teams, like Oregon, to separate themselves from the pack. Based on that philosophy alone, when I see a win total at nine, I'm immediately thinking Under. Especially, if you consider there's also a road trip to Ohio State on the Ducks' non-conference schedule.
I have the Buckeyes winning at home in Week 2 which means Oregon can only lose one conference game in order to hit the Over. It will be difficult for any team in the league to go 8-1 in PAC 12 play this season. Oregon is good but not head-and-shoulders above Washington and others.
When looking at the roster, there's a ton of experience and talent returning on both sides of the ball. Anthony Brown is the frontrunner to win the QB job but he'll need to play with more consistency this season. The offensive lineman returns all five starters and the WR and RB units are some of the best in the league. The success of this offense really hinges on better QB play. All of the other pieces are in place for an excellent season.
DRIVEN.

10 Ducks have received preseason all-Pac-12 recognition by the league's media.

More ➡️ https://t.co/naL85HuHko#GoDucks pic.twitter.com/KWAD0jUJ2Y

— Oregon Football (@oregonfootball) July 27, 2021
As for the defense, the unit underperformed a year ago. For example, there's no excuse for giving up 41 points to Oregon State. While Mario Cristobal has done a great job recruiting, I'm not sure if I trust the coaching staff to get the most out of the talent on this side of the ball.
As I alluded to earlier, I don't believe Oregon goes 10-2 this season. This is basically the same squad that lost to Oregon State and Cal last year. The Ducks should have a fine season and could once again win the North, but if so, it will be with a 9-3 or 8-4 record. Sure, it might be a push but I'm not losing money on an Under ticket.
My Prediction: UNDER
Cal: 6.5 Wins (O+125 / U-145)
California Golden Bears Season Preview | The College Football Experience (Ep. 683)
Even with a disappointing 1-3 COVID season a year ago, Justin Wilcox has the Cal football program in a solid place. The question is if the Bears can go up another level and compete for a PAC 12 North title. During Wilcox's four years in Berkeley, the defense has been strong while the offense has sputtered too often. If Cal is going to make a push this season, the O needs to shoulder more of the load.
Helping that cause will be senior QB Chase Garbers who leads an offense that returns four of five linemen and almost every skill position player. Leading WR Kekoa Crawford has built up a great rapport with Garbers and a three-headed monster at RB with Damien Moore, Marcel Dancy, and Christopher Brown will spearhead the run game.
While there still might be uncertainty regarding the offense, there are no question marks about this Cal defense. With 11 of the top 12 tacklers returning from a season ago, we could be looking at the best unit in the PAC 12. Specifically, get familiar with LB Kuony Deng as he'll be playing on Sundays soon.
https://twitter.com/calfootball/status/1404933569265364994?s=21
Looking at the schedule, out-of-conference games vs Nevada and at TCU will be tough. While Cal could win both, I'll go with a split and a 2-1 record entering league play. With so many quality programs within the conference, the PAC 12 slate will be a grind. Fortunately, getting Colorado and Arizona from the South is a bonus that counterbalances having to travel to both Oregon and Washington.
Overall, the Cal offense will improve this year and better compliment the D. While they still may not take down Oregon or Washington to win the North, a 7-5 or 8-4 season seems within reach. I'm all about the Over and will take the +125 juice to boot.
My Prediction: OVER
PAC 12 (North) Solid Bets:
Washington: 8.5 Wins (O-130 / U+110)
The Huskies were very good under Chris Peterson, winning double-digit games for three consecutive years (2016-2018). However, even with a playoff berth in 2016, it still felt like Washington couldn't quite completely break through and become an elite team on a national scale. They were very close, and most programs in the nation would kill for that kind of success, but they fell a tad short.
Jimmy Lake took over before the 2020 season and went 3-1 in his first year at the helm. While it's difficult to extract a lot of takeaways from last year, they beat Oregon State, Arizona, and Utah while losing to Stanford. Washington will be an interesting team to follow with Jimmy Lake looking to prove himself over the course of his first full season.
Offensively, nine starters are back including all five from the O Line which could be the best in the conference. At QB, Dylan Morris started as a true freshman and is expected to lead the offense again. His stats from last year won't wow you (225 YPG with 4TDs and 3 INTs) but he gained valuable experience and should be much improved this season.
8⃣ DAWGS receive preseason All-Pac-12 honors.

» https://t.co/2onFqNPMu7#BowDown x #PurpleReign pic.twitter.com/RAcOXbIssW

— Washington Football (@UW_Football) July 27, 2021
Surprisingly, UW's top two wideouts from last year transferred and the running back by committee approach lacks top-notch talent. If you are a Huskies fan, you love the returning experience upfront and at QB, but the offense could lack difference makers at the skill positions.
While the offense might just be average, Washington's D will terrorize opponents. The Huskies allowed the fewest yards per game a season ago and return the bulk of the talent and experience. CB Elijah Molden might be on the Titans now, but the secondary will reload and the front seven will be nasty.
Out of conference, there's a big-time matchup against Michigan in Ann Arbor. Even with the game being at The Big House, I slightly favor the Huskies and have them 3-0 entering league play. Within the Pac 12, they favorably miss USC and Utah from the South and the game vs Oregon is in Seattle. If everything breaks right, Washington wins the North and hits the Over in the process.
My Prediction: OVER
Oregon St: 5 Wins (O+105 / U-125)
Oregon State Beavers Season Preview | The College Football Experience (Ep. 757)
Entering year four in Corvallis, Jonathan Smith has been slowly improving the Oregon State football program. A bowl game, which would be Oregon State's first since 2013, should be the 2021 goal. While it won't be easy in a difficult PAC 12, expect the Beavers to surprise some teams this year.
In order to make a bowl, the passing attack needs to improve. Tristan Gebbia started the season at QB and played solid, but an injury forced him to miss the last few games. In those games, Chance Nolan took over and actually led the team in TD passes on the year. Additionally, Sam Noyer transfers in from Colorado and will push for playing time. It will be interesting to see who gets the nod at QB.
Oregon State will miss RB Jermar Jefferson who is gone to the NFL. While his departure leaves a massive hole at tailback, at least all five offensive linemen are back. As is leading WR Trevon Bradford for his senior season. With some stability at QB, this unit has a chance to be better than expected.
While the O should be fine, Oregon State's D was one of the worst in the Pac 12 and only brings back seven starters. Most of the D Line returns but it's a smallish unit that gets pushed around too often by physical offensive lines. There's also too much turnover at LB and in the secondary to feel confident about the defense as a whole. The offense better be ready to crank out some points and outscore teams.
2021 Oregon State Beavers Football Schedulehttps://t.co/0tZeW6oS0K pic.twitter.com/uZ2kLjZB1B

— FBSchedules.com (@FBSchedules) March 2, 2021
Looking at the schedule, the Week 1 matchup at Purdue is huge. It's a tough road trip vs a similarly talented team that may be the difference in making a bowl or not. Given that it's in West Lafayette, I have to favor the Boilermakers which means OSU is probably 2-1 going into league play.
If the Beavers are 2-1 out of conference, they need to go 4-5 within a very tough and balanced PAC 12 to hit the Over. That's a bit much to ask in a league that doesn't offer up any sure-fire wins. I have the Beavers hitting the line at 5-7 but 4-6 seems more likely than a .500 season. I'll take the Under.
My Prediction: UNDER
Washington St: 6 Wins (O+100 / U-120)
After a successful four-year run at Hawaii, Nick Rolovich came to Wazzu last year and led the Cougars to a 1-3 record. They knocked off Oregon State in the opener before losing to Oregon, USC, and Utah. Considering how crazy of a year it was, 2020 should serve as a foundation on which this program can grow.
You'd assume the passing attack under Rolovich will roll, but a starting QB needs to be named first. Jayden De Laura (last year's starter) and Cameron Cooper return and Jarrett Guarantano transfers in from Tennessee. Although a couple of wideouts left the program, Travis Harris and Renard Bell are back as is the backfield consisting of Deon McIntosh and Max Borghi. Also returning are four of five offensive linemen. Expect this offense in year two to make a big jump up in production.
The offense better light up the scoreboard because the D gave up 38.5 points per game last season. On the bright side, almost everyone returns so perhaps improvement can be made. However, there's not a lot of future NFL players on the roster, so I have my doubts.
Looking at the schedule, there's a solid base of four potential home wins (Utah State, Portland State, BYU, and Arizona). I expect the Cougars to be favored in those games plus there are 50/50 home matchups against Oregon State and Stanford. I have Wazzu bowling this season and while they might hit the number and push, a 7-5 season is not that crazy.
My Prediction: OVER
PAC 12 (North) Least Favorite Plays:
Stanford: 4 Wins (O-120 / U+100)
Very quietly, Stanford won their last four games of 2020 which, due to COVID issues, were all on the road. Granted all four victories were only by a total of 10 points (crazy!) but they toppled the likes of Washington, Cal, and UCLA in that stretch.
Unfortunately for the Cardinal, QB Davis Mills is now a Houston Texan and WR Simi Fehoko is a Dallas Cowboy. Additionally, only three offensive linemen return. It appears Jack West or Tanner McKee will win the QB job, but this offense may not be as effective as it was a season ago.
While the offense was better than expected, the defense wasn't as good as what we've come to expect in Palo Alto. Stanford ended in the bottom ⅓ of the league in Yards Allowed and Points Allowed. If the eight returning starters can force more turnovers and get to the QB more often, this unit can make strides in 2021. There's some NFL talent and enough experience to be optimistic.
Right off the bat, I feel like 4 wins is a bit disrespectful for a program with Stanford's track record. However, the schedule is brutal and the Cardinal might have to scratch and claw to reach .500. Out of conference, the games vs Notre Dame, Kansas State, and Vandy are rough. While 2-1, or even 3-0, is possible, I have Stanford at 1-2 outside the league.
In conference, David Shaw's gang misses out on Arizona and Colorado (the projected two worst teams) from the South and have tough road trips at every turn. The game vs K St is huge. Win that, and the Over looks attainable. Lose and Stanford could be in trouble.
My Prediction: UNDER