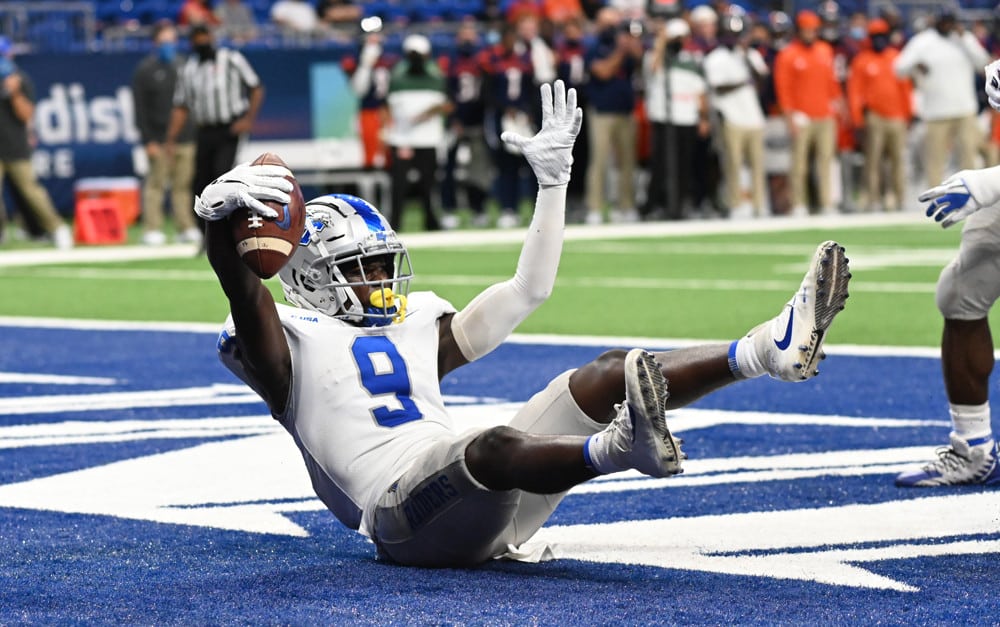 In case you missed it, check out my column on the MAC Win Totals, Sunbelt Win Totals, and Mountain West Win Totals.

Conference USA has hit on hard times. In terms of prestige and quality play on the field, it was surpassed by the Sunbelt a few seasons ago. Currently, it's just them and the MAC doing battle to not be the worst conference in the FBS.
That isn't saying there aren't some quality programs that are playing a good brand of football. So allow me to assist you in breaking down this conference. It's a large one (14 teams) so we'll split it into the two divisions. Here's the East.
Conference USA (East) Favorite Plays:
Middle Tenn State: 5 Wins
Rick Stockstill is entering his 16th season as the Head Coach for the Blue Raiders. He had this program cranking a few years ago, going without a losing season from 2012-2018. Recently, harder times have hit, going 4-8 in 2019 and just 3-6 in 2020. The program's momentum has come to a screeching halt which means Stockstill's seat may be warming up.
Entering 2021, we have a new defensive coordinator, a bunch of incoming Power 5 transfers, and a decent amount of experience returning. Bailey Hockman (NC State transfer) should be the starter at QB and he was solid for the Wolfpack. The defense returns almost the entire two-deep but this unit finished 117th in the country a season ago. Returning experience is nice but only if they can play.
To make matters worse, the schedule isn't a breeze. They should beat Monmouth of the FCS (they were a playoff team in the Spring) but be careful before three straight road games vs Virginia Tech, UTSA, and Charlotte. It doesn't get easier yet, the next two games are at home vs Marshall and at Liberty. There's a decent chance the Blue Raiders start 1-5.
Sure, the second half of the season is easier but it still contains road trips to Western Kentucky and Florida Atlantic. There's a decent amount of 50/50 games on the schedule but MTSU might have to win them all to hit the Over. That's not going to happen.
My Prediction: UNDER
Make sure to check out The College Football Experience 130 college football previews.
Charlotte: 4.5 Wins
The University of Charlotte was absolutely decimated by COVID last year and only finished the season with a 2-4 record. Throw that out of the window. The 2021 edition will more closely resemble the team from 2019 who finished the regular season winning five straight conference games to get to a 7-5 record and a bowl berth.
Head Coach, Will Healy, is entering his third year at the helm and is generally regarded as one of the bright young minds in the Group of 5 level. His QB for the last couple of seasons, Chris Reynolds, returns and the program welcomes Texas A&M transfer James Foster. A little competition at QB might be good for the offense. Four out of five OL return and look out for another transfer at RB, Shadrick Byrd, who comes in from Iowa.
The defense struggled a year ago and needs to be much improved if the 49ers have dreams of bowling. Let's face it, Duke had no business putting up 53 on Charlotte and Western Kentucky shouldn't score 37. Those were below-average offenses who had their best outings vs Charlotte. A slew of defensive transfers from quality programs (Notre Dame, Iowa St, Kansas St, etc) come into town but the defense still remains this team's biggest question mark.
The out-of-conference schedule is challenging with home matchups vs Duke and Gardner Webb and road tilts at Georgia State and Illinois. Barring a surprise upset, 1-3 is the likely record. Conference road games at La Tech and at WK will be tough but the rest is fairly manageable and not drawing UAB or UTSA from the West is helpful. Charlotte is at least getting to 5 with a chance of 6 and a trip to a bowl game.
My Prediction: OVER

Conference USA (East) Solid Bets:
Florida Atlantic: 7 Wins
Lately, the Owls have made some very interesting coaching hires. Lane Kiffin put in 3 years in Boca Raton before being hired at Ole Miss. After his departure, FAU scooped up Willie Taggart who was most recently HC at Oregon and Florida State. While he may have been over his head at those programs, Taggart was an excellent coach at South Florida and at Western Kentucky. Additionally, his first season at Fla Atl has to be viewed as a success, going 5-4 with a bowl berth.
Coming into 2021, things are looking up. As a team, 93% of the roster returns which is the 4th highest in the country. Ten offensive starters return including all five offensive linemen. N'Kosi Perry transfers in from Miami at QB (check the highlights from his days in the ACC) and look out for USF transfer, Johnny Ford, at running back. The offense sputtered far too often last season, but it should be improved in 2021.
Last year, the FAU defense was the shining star. They held three teams to less than 10 points, and four other teams to less than 3 TDs. With a little help from the offense, the D could be even better but they did lose last year's DC (Jim Leavitt) who got hired for the same position at SMU.
The biggest obstacle this year could be the brutal schedule. Road games at Florida, at Air Force, at UAB, at Charlotte, at Old Dominion, and at WK is a gauntlet. An even 3-3 split for the Owls would mean a 5-1 home record would be required for the Over and that's exactly how it'll go down.
My Prediction: Over
Old Dominion: 3.5 Wins
After punting on the 2020 season due to COVID concerns, new head coach, Ricky Rahne, finally gets to make his debut. Most recently, Rahne served as the QB coach under James Franklin at Penn State. It's difficult to predict how the Monarchs will look this season. They went 1-11 in 2019 and their new head honcho has never been a head coach before.
While we're not sure of Rahne as a coach, the guy can recruit. First, he kept most of the 2019 team, only losing a handful of guys to the transfer portal. Then, he inked impressive 2020 and 2021 recruiting classes. The team will be very young and inexperienced but they will be talented.
Rahne was also successful in luring UCF transfer Darriel Mack to come in and play QB which should give the offense immediate credibility.  Mack has an impressive highlight reel considering he didn't play much at Central Florida.  Check it out for yourself.
Looking at the schedule, it should be assumed ODU goes 1-3 out of conference. They'll beat Hampton but lose to Wake, Liberty, and Buffalo. Losing efforts to Marshall, WKU, La Tech and FAU should also be expected. That leaves potential toss up games at Utep, at FIU, at MTSU, and vs Charlotte. A split would probably be best case scenario which means the Under hits.
My Prediction: UNDER
Western Kentucky: 5.5 Wins
The Hilltoppers had a disappointing season, only going 5-7 in 2020. HC Tyson Helton enters his 3rd year looking for a repeat performance to his first season, when WKU went 9-4 with a bowl victory over Western Michigan. The defense has been a rock but the offense was putrid last year.
In order to bolster the offensive production, Helton looked towards Houston Baptist, bringing in their offensive coordinator, QB, and top three WRs. Houston Baptist is the same team last fall that put up over 30 against three FBS schools in Texas Tech, North Texas, and La Tech. It's a bump up in competition but these guys are legit. WKU always has a strong defense, they just need the O to be adequate.
Reviewing the schedule, it's never a plus to see two Big 10 schools (IU, MSU) on the slate but at least WK gets Indiana at home. The Hoosiers shouldn't sleep on this road game as it has got real upset potential. At Army and at Michigan State will be tough but there's a chance WKU can pull off one of these upsets and go 2-2 before league play starts.
In conference, getting UTSA and Rice from the West is a positive. Plus, other than a road game at Marshall, the away games are all winnable. This team is going bowling this year.
My Prediction: OVER
Conference USA (East) Leans:
Marshall: 8 Wins
In a very surprising move, Marshall fired head coach Doc Holliday after a 7-3 season. It's an interesting story where even the Governor of West Virginia may have been involved. After 11 seasons (eight of them were over .500 football) under Holliday, the team will now be led by Charles Huff who was recently the RB coach at Alabama.
We may not know much about Huff, but he walks into a pretty nice situation. On offense, Marshall welcomes almost everyone back except RB Brendan Knox. As a redshirt freshman last season, QB Grant Wells took his share of bumps along the way but he should be much improved entering his second year as a starter.
Much like the O, the Defense returns the majority of a unit that only allowed 13 points a game in 2020. It should come as no surprise that Marshall is again favored to win the East regardless of who the head coach is.
The Thundering herd have an interesting schedule this year. Right off the bat, the first game as head coach for Charles Huff is at Navy vs the triple option. They'll easily win the FCS game in week 2 before two tough matchups vs ECU and at App State. Marshall is good enough to go 4-0 but the slate is tricky enough where 1-3 is also a possibility.
Within the conference, home games vs UAB and Western Kentucky are tough as is a road trip to FAU. Looking at the schedule as a whole, Vegas has the line right where it should be. While I think an 8-4 is likely, I can't put money on such an unknown commodity at Head Coach. Usually, when a successful HC is unfairly shown the door, the team struggles the next season.
My Prediction: UNDER
Florida International: 4.5 Wins
Well, that was a forgetful year. Butch Davis has been coaching football for a long time, with a lot of successful seasons under his belt, but even the veteran HC had no answers for the debacle that was 2020. A common theme among teams that struggled last year, FIU was hit extremely hard by COVID. However, this past season came on the heels of a 6-7 record in 2019. Is the program slipping a bit?
A main reason the Golden Panthers struggled was a complete lack of a passing game. Davis shuffled in three different QBs under center but none were effective. Max Bortenschlager and Kaylan Wiggins return while a couple of freshmen come into the program. Someone has to step up and lead this offense that is returning four starting offensive linemen and two solid RBs.
Defensively, the unit should be much improved this year. They have one of the best secondaries in the conference and are loaded with upperclassmen throughout the starting 11. Butch Davis has always been able to bring in defensive talent and deserves the benefit of the doubt coming into the season.
https://twitter.com/fiufootball/status/1399818225135857665?s=21
Looking at the schedule, getting North Texas and Southern Miss from the West is favorable. FIU should at least split those games and they have a gimmie vs Long Island. Out of conference, chalk up Texas Tech as a likely loss with a potential split in the Texas State and Central Michigan games. That leaves us needing two wins from the six divisional games to hit the Over and that will happen.
My Prediction: OVER