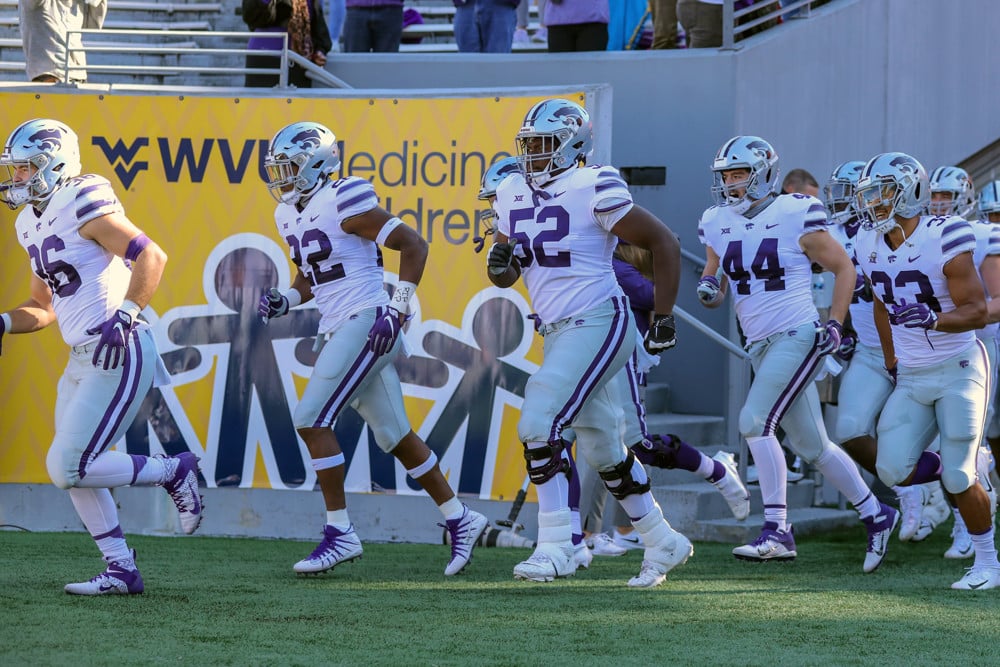 In case you missed it, check out my columns on the MAC Win Totals, Sunbelt Win Totals, Mountain West Win Totals, Conference USA East and West Win Totals, AAC Win Totals and ACC Atlantic and Coastal Win Totals.

We're going conference by conference looking at each team's win total for the upcoming college football season and it's Big 12 time. With the recent news of Texas and Oklahoma leaving the conference, who knows what the league will look like in a few years. However, that discussion is for another time. There will be Big 12 football in 2021 so let's break down the win totals for each team.
College Football Win Total Predictions: Big 12
Big 12 Favorite Plays:
Kansas State:  5.5 Wins
Before Head Coach Chris Klieman came to K State, he led the North Dakota State program to a 69-6 record in five seasons. That's not a typo – they went 69-6. In his first year in Manhattan, KS, he led the Wildcats to a surprising 8-4 regular-season record that included wins over two top 25 schools (Oklahoma and Iowa St).  Then, 2020 happened.
Decimated by COVID and injury issues, Kansas St lost their last five games of the season en route to a 4-6 overall record. It wasn't all bad – they did beat Oklahoma for the second straight year.  Other than COVID, the main issue was Skylar Thompson getting injured in Week 3. Without their starting QB, the offense completely stalled out and was painful to watch.
Entering 2021, Thompson is back at the helm of an offense that returns all five linemen and electric running back, Deuce Vaughn (see highlights). They'll need more consistent play at wideout but as long as the offense can stay healthy, they'll be much improved from a season ago.
With the offense struggling mightily, the defense eventually broke down as the season progressed. Through the first 5 games, the Wildcat D was holding teams to 23.8 points per game. Over the last five games, opposing offenses exploded, scoring 40.6 points a game. While K St doesn't have a ton of experience returning, they do have some transfers coming into the program and I trust the coaching staff to get it right. Additionally, an improved offense will put the defense in a much better position to succeed.
Before looking at the schedule, I would blindly have Kansas State hitting the Over and making a bowl. However, not very many teams in the country face a first half of the season vs the likes of Oklahoma, Oklahoma St, Iowa St, Stanford, and Nevada.  That's potentially five top 25 programs and two top 10 programs.  Fortunately, only one out of the first six games is a true road trip (at Okla St). Going 3-3 in this stretch would be a win.
The slate lightens up a bit in the second half of the season which will give K St a chance. At the end of the day, let's throw last year out the window. Chris Klieman has a tremendous track record and all I need is a .500 season to hit the Over. Sign me up.
My Prediction:  OVER
Kansas:  1 Win
Lance Leipold has been a winner at every stop in his 14-year college head coaching career. He won several D2 championships at Wisconsin-Whitewater before resurrecting the Buffalo program and leading them to a 24-10 record over the last three seasons. The Kansas Jayhawks have been absolutely awful of late but they now have the right man for the job. 
I expect North Texas transfer, Jason Bean, to win the job at QB. Sharing the QB duties for the Mean Green last year, Bean threw for over 1,100 yards and 14 TDs to just 5 INTs. He can also burn a defense with his feet, rushing for 169 yards and 3 TDs vs MTSU last year.    
In addition to Bean, there's a big roster overhaul that's expected when you have a coaching change. Sure, the Jayhawks lost some key players but Leipold has been active in the transfer market including bringing in what seems like half his team from Buffalo. It'll be a step up in competition for a lot of these transfers, but familiarity with the system will help.
I'm a Leipold guy but the rebuild process is going to take some time. With that said, there are some winnable games on the schedule this year. That starts Week 1 vs South Dakota but don't be surprised if the games vs Duke, Baylor, Texas Tech, and a few others don't go down to the wire. KU is going to win more than one game this year – lock it up.  
My Prediction:  OVER 

Big 12 Solid Bets:
Texas Tech:  5 Wins
After two 10 win seasons at Utah State, Matt Wells enters year three down in Lubbock. Under his watch, the Red Raiders have only been able to post back to back 4 win seasons. Usually, by year 3, a coach's system and players are in place and results are expected. Needless to say, it's a big year for Texas Tech.
If the program is going to realize its potential, a big year will be needed by Oregon transfer Tyler Shough, at QB. He'll quickly become good friends with top wideout Eric Uzekanma and dynamic RB, SaRodorick Thompson. Perhaps more importantly, the offensive line returns four starters (most are super seniors) and brings in a transfer from TCU with starting experience. 
The problem in Lubbock hasn't usually been with the O. Last year, the Red Raider defense finished second to last in the conference, giving up 36.4 points a game. There wasn't much of a pass rush and the unit struggled to create turnovers. A ton of experience is back and some transfers are coming in but question marks still surround the Texas Tech D and whether or not improvement is possible.  
Looking at the schedule, the opening week matchup vs Houston is huge. It's a 50/50 game at a neutral site. If Wells can get it done, the Red Raiders should be 3-0 entering conference play. Within the conference, road games at Texas, WVU, Oklahoma, and Baylor are absolutely brutal. However, that leaves winnable home games against the rest of the conference.  
Once again, Vegas might be right on the line here. However, the Big 12 is just too deep this season to expect Texas Tech to get to 500.  I'm on the Under.
My Prediction:  Under 
TCU:  7.5 Wins
Gary Patterson has been the head man for the Horned Frog program for 20 years. While he's won double digit games in 11 of those 20 seasons, TCU has just gone 7-6, 5-7, and 6-4 over the last three years. With perhaps his best roster in years, maybe this is the year TCU bubbles back up.  
If so, that all starts at ends with the QB, Max Duggan. Entering his 3rd year as a starter, Duggan is in firm control of this offense and can beat you with his arm and his legs. Eight other starters are back including Quentin Johnson and Taye Barber at receiver and Zach Evans at RB. After splitting time last year, the former 5 star recruit might be ready to make a splash this year. 
It's been a bit of a reshuffle upfront with players coming and going via the transfer portal. Overall, the OL needs to step up this year and play better than a season ago. If the unit can make a jump, this offense could be special.
Overall, the defense last year was a solid unit that only allowed three teams to crack 30 (Texas, Iowa St, and Oklahoma). Eight starters are back including two great pass rushers in Khari Coleman and Ochuan Mathis. The defensive line is one of the best in the Big 12 and will make up for the youth at linebacker and in the secondary. Like usual, TCU should have one of the best defenses in the conference.
The out-of-conference schedule may consist of three home games but tilts with Cal and SMU will be challenging. Also, facing the projected top two teams in the Big 12 (Okla, ISU) on the road is a stroke of bad luck. Even with a difficult schedule, I like TCU to bounce back this year. An 8-4 record sounds about right so give me the Over.
My Prediction:  OVER
Baylor:  5.5 Wins
In his first season as a head coach ever, Dave Aranda could only get Baylor to a 2-7 record in 2020. However, if you have been reading my columns this offseason, then you know I'm giving all new head coaches a pass for 2020. 
The two wins were over both Kansas schools, but there was also a handful of near-misses that could have gone either way. They lost at WVU in OT and lost back-to-back road trips at Iowa State and Texas Tech by a combined 8 points. This team was not as bad as their record might suggest. 
Offensively, Baylor will have to rely on one of the best wide receiver units in the conference as there's a good amount of turnover at other positions. Last year's starting QB, Charlie Brewer, transferred to Utah and three starters on the O-line need to be replaced. The whole offense will benefit from a second year in the new system, but there's an overall talent deficiency.
Since Baylor isn't going to outscore teams on a weekly basis, a strong defense will be a requisite if this team has dreams of bowling. They allowed the second-fewest yards in the Big 12 in 2020 and have 10 starters returning to go along with several transfers new to Waco. One player to keep an eye on is Terrel Bernard who is one of the best linebackers in the country.  
Looking at the schedule, the Bears have a favorable out-of-conference slate and a manageable group of in-conference road games. There's a decent chance Baylor goes 3-0 outside of the league and could go 2-2 in those aforementioned road games. With so many questions on the offensive side of the ball, this team won't contend for a conference title, but they will squeak into a bowl game.  
My Prediction:  OVER    
Texas:  8 Wins
With all the noise about Texas leaving the Big 12, coupled with the arrival of a new head coach in Steve Sarkisian, the Longhorns will be one of the more interesting teams to watch this year. Along with a new coach, we'll also have a new QB as Sam Ehlinger has moved on to the NFL.
Casey Thompson and Hudson Card are the front runners to win the QB job and will have the luxury of handing the ball off to one of the best running backs in the country, Bijan Robinson. Additionally, four starters return on the offensive line and most of the pass catchers are back. It's always difficult to pick up a new system but don't expect a steep drop off in production.
Last year, the defense was too inconsistent and finished around the middle of the pack within the league. The Longhorns lost a couple of guys to the NFL but have some big names from Power 5 teams transferring in. With great recruiting classes stacked on top of each other, there's always talent but the coaches have to harness it better. Let's see what the new staff can do.  
When analyzing the schedule, Texas's out-of-conference slate may be trickier than you'd think. Sure, they'll be favorites in all three games, but do not sleep on Louisiana and the trip to Arkansas could also be tough. I'll say it now – Texas drops one of those games and goes into league play 2-1.
Within the conference, it's a rivalry game but Oklahoma is currently on another level and the Iowa State game is in Ames. There's also a tough road trip to Morgantown to face a dangerous WVU squad. Overall, I don't have enough confidence in a new coach and a new QB to predict this team will go 9-3. There's a good chance Texas will land right on the number and have an 8-4 season but I'm a slight lean on the Under. 
My Prediction:  UNDER    
Oklahoma St:  8 Wins
The Cowboys suffered a setback in the opening week when QB Spencer Sanders went down with an injury forcing him to miss the next few games. Even with the injury, Gundy's boys persevered and ended up 8-3 only losing to Oklahoma, TCU, and Texas in OT.  
Looking at the schedule this year, OSU should be 4-1 heading into back-to-back road games at Texas and Iowa State. Another road trip at WVU in November will be tough as will the season finale against Oklahoma (who they haven't beat since 2014). It's a challenging schedule littered with too many potential land mines to expect a nine-win season.
Spencer Sanders returns but the Cowboys lose their top three WRs and star RB Chuba Hubbard.  While I'm not concerned about the RB position with LD Brown and others ready to step in, the WR unit could be a liability. Plus, the OL has to replace a couple of starters. Additionally, only seven starters return on defense in a season where close to double digits returnees seem like the norm. 
Overall, I'm concerned about the amount of talent that left Stillwater. Gundy has done a great job at Oklahoma State and this team will be a tough out, but this isn't a 9-3 squad.  I'm on the Under.
My Prediction:  UNDER
Iowa State:  9 Wins
Iowa State had been building up to this point since Matt Campbell took over in 2016. In his 5th year at the helm, ISU went 8-1 in conference, made it to the Big 12 Championship game, and beat Oregon in the Fiesta Bowl. Yes, it was a special year, but the Cyclones could be even better in 2021.
Last year, they surprisingly lost the opening game to Louisiana 31-14, dropped a close one on the road at Oklahoma St, and lost the rematch game to Oklahoma (ISU won 37-30 earlier in the year) in the conference championship. Ten offensive starters from that squad return including QB Brock Purdy and one of the best tailbacks in the nation, Breece Hall.
The offensive line is excellent and the pass catchers with Charlie Kolar at TE and Xavier Hutchinson at WR, are rock solid. It's about time this O goes from good to great.
There's not a drop-off on the other side of the ball either. Iowa St gave up the second-fewest points (21.4/game) and yards (340.4/game) within the conference last season and the majority of the unit returns. If they aren't household names yet, you should be hearing about LB Mike Rose and S Greg Eisworth soon. There's no reason why Iowa State shouldn't have the best defense in the conference this season.
With the level of talent and experience returning, an 8-4 season would be viewed as a disappointment. However, the schedule isn't easy. Out of conference, the rivalry game vs Iowa will be tough but at least it's at home. I give a slight lean to the Cyclones. Once again, a 9 win season is right on the number but the chances of going 10-2 is higher than only 8-4. I'm on the Over.
My Prediction:  OVER
Big 12 Least Favorites:
Oklahoma:  11 Wins
What's more likely:  12-0 or a 10-2?  Oklahoma is going to be very good this year, and I've already stated multiple times that I expect them to be in the Playoffs. For once, they actually have a solid defense this season and Spencer Rattler is the odds on favorite to win the Heisman.
Other than Rattler, expect a big season from RB Kennedy Brooks who opted out a season ago. While the group of pass catchers might not have a bona fide star, they're exceptionally deep. It's hard to find holes on this roster.
On top of having the most talent in the league, the Sooners also get one of the most favorable schedules. First, at Tulane, and Western Carolina and Nebraska at home shouldn't pose any problems. Within the Big 12, the road games are at the Kansas schools, Baylor, and Oklahoma St. Everyone else (except Texas) comes to Norman.   
As good as I expect Oklahoma to be this year, they still probably drop one game somewhere. However, they aren't losing twice. There's a greater chance this team goes undefeated than losing twice so gimme the Over.
My Prediction:  OVER 
West Virginia:  7 Wins
WVU had one of the top defenses in the country a year ago which propelled the Mountaineers to a 6-4 record and a win over Army in the Liberty Bowl. HC Neal Brown did an excellent job at Troy and appears to have the West Virginia program pointed in the right direction. There will be some hurdles to jump over this season if the program plans to be a player in the Big 12 but there's a lot of optimism. 
First, the defense that was outstanding a year ago only returns six starters. Graduation, players leaving early for the NFL, and guys transferring to bigger schools have left holes. There's some quality depth, and guys will step up, but we shouldn't expect this group to be a top 5 unit in the country like last year.  
While the defense might regress, the offense has a chance to improve. QB Jarrett Doege returns as does most of the skill position guys. There will be some reshuffling upfront, but the Mountaineers have at least three lineman who could compete for All-Conference honors. If the coaching staff can open up the offense and get more big plays down the field, this unit has a chance to return the favor from last year and carry the defense this season.
It's a fascinating schedule this season. Out of conference, the Mountaineers play two geographical rivals at Maryland and vs Virginia Tech. Chances are that's a split and WVU will head into conference play 2-1. West Virginia is always tough at home and with the exception of Oklahoma, most of the top tier Big 12 schools (Texas, Iowa St, and Oklahoma St) have to make the long journey to Morgantown.  
For a team that went winless away from Milan Puskar Stadium in 2020, this year's road schedule is more forgiving. In order to hit eight wins, they'll need to win some of away games this season. WVU is a quality program but the defensive losses will be too much for this team to overcome. A 6-6 or 7-5 record appears to be in the cards.
My Prediction:  UNDER