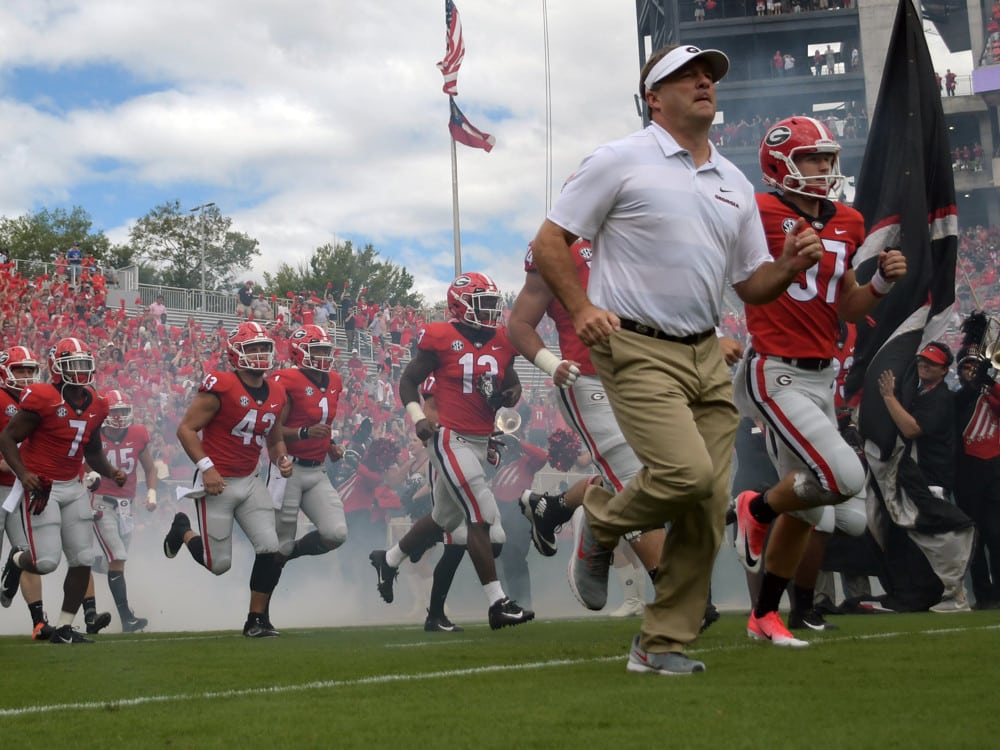 In case you missed it, check out my columns on the MAC Win Totals, Sunbelt Win Totals, Mountain West Win Totals, Conference USA East and West Win Totals, AAC Win Totals , ACC Atlantic and Coastal Win Totals, Big 12 Win Totals, and PAC 12 North and South Win Totals.
With all due respect to other conferences, it's now SEC time and you may have heard, it just means more. So let's put our big boy pants on and pick some winners. We've already done the West. Here's my team win total predictions for the SEC East.

SEC (East) Favorite Plays:
Tennessee: 6 Wins (O+100 / U-120)
Tennessee Volunteers Season Preview | The College Football Experience (Ep. 776)
Look, the Vols should get at least three wins this season without breaking a sweat. Games vs Bowling Green, Tenn Tech, and South Alabama at home are easy victories. After that it gets a bit dicey. They get South Carolina and Vandy at home but all three programs are basically in the same situation, starting over entering 2021. Even if we are generous and give them both games, that's 5 wins.
While home games vs Pitt and Ole Miss are winnable, I have the Vols dropping both. Away trips to Mizzou and Kentucky aren't sure-fire losses, but do you trust Rocky Top on the road in those? I just don't see seven wins on this schedule.
One thing that will be interesting is the QB battle between Harrison Bailey, Michigan-transfer Joe Milton, and VT-transfer Hendon Hooker. Looking at the offense as a whole, the Vols lost a ton to the transfer portal. Every position on this team will look drastically different than a year ago. The O struggled in 2020 and there's no guarantee they're any better entering this season, especially in Year One of a new system.
Joe Milton III is glad new #Vols coach Josh Heupel's offense doesn't want 'robots' at QB.

"Quarterback-friendly, everything is based off us. … Once they give us the play, we make our decisions on how it's supposed to be read."

➡️ https://t.co/JrAu9L3NeZ via @pbrown247 pic.twitter.com/D4xrhU74Z9

— GoVols247 (@GoVols247) August 10, 2021
Defensively, the Vols were 5th in the conference vs the rush and just 11th vs the pass a season ago. Much like the O, the transfer portal went wild with a slew of players coming and going. In general, it appears Tennessee lost more than it gained. With such roster and coaching staff turnover, it's hard to predict how the D will perform but expecting dramatic improvement would not be wise.
Overall, I don't have much faith in new HC Josh Huepel to turn the Vols around this quickly. In three years at UCF, he took a program on autopilot and went from 12-1, to 10-3, to 6-4. I have questions about the hire and I plan to fade Tennessee this year.
My Prediction: UNDER
SEC (East) Solid Bets:
Georgia: 10.5 Wins (O-130 / U+110)
Georgia Bulldogs Season Preview | The College Football Experience (Ep. 701)
This is Georgia's year. If not 2021, then when? The QB, the defense, and the schedule is in place for a special season. Anything less than an SEC Championship and a berth in the CFB Playoffs will be a major disappointment. No pressure, right?
Kirby Smart has done a fine job at Georgia and has a 52-14 record and an appearance in a National Championship game to prove it. Yet still, his winning percentage is roughly the same as Mark Richt's and neither were ever able to win it all. Dawg fans are tired of hearing from other SEC fanbases (Bama, LSU, Auburn, Florida) who can brag about more recent trophy case additions.
QB JT Daniels stepped in for the ineffective Stetson Bennett and took the offense to new heights last year. He's back along with four returning offensive lineman and possibly the best stable of RBs in America. They'll miss George Pickens who went down with an offseason injury, but they still have talent at WR and LSU-transfer Arik Gilbert comes in at TE. This unit has the potential to be the best UGA offense in a long time.
While the offense will be improved, the defense should be great from the start. Sure, they lost a couple guys to the NFL but there's some big name transfers coming in and there's talent all over the place. Even with down games last year vs the high-powered Bama and Florida offenses, UGA still finished with the second best Scoring Defense in the SEC. Expect them to be even better in 2021.
🅿︎🆁🅴🆂🅴🅰︎🆂🅾︎🅽 🅰︎🅻🅻-🆂🅴🅲

ғɪʀsᴛ ᴛᴇᴀᴍ@jordanxdavis99@jakecamarda

sᴇᴄᴏɴᴅ ᴛᴇᴀᴍ@jtdaniels06@zeus1_34@geo_Thagoat@jamareesalyer69

ᴛʜɪʀᴅ ᴛᴇᴀᴍ@44Ytw@NakobeDean@LewisCine@king_kearis #ATD #GoDawgs pic.twitter.com/r7u4B87ZOI

— Georgia Football (@GeorgiaFootball) July 23, 2021
The schedule is basically a three game slate. The only tough road game is at Auburn on 10/9 and there's always the rivalry game vs Florida in Jacksonville. Of course, there's also the huge matchup vs Clemson in Atlanta opening weekend. With the O/U sitting at 10.5, the question is if the Dawgs can go at least 2-1 in these games. I like those odds and I like the Over even at -130. Georgia will win the SEC East. What happens from there, we shall find out.
My Prediction: OVER
---
Missouri: 7 Wins (O-115 / U-105)
Missouri may be one of the more interesting teams in the SEC to follow this season. Eli Drinkwitz enters his second year as head coach after going 5-5 a season ago. Considering he was a first year HC during a pandemic, registering five SEC wins has to be deemed a success.
Sophomore QB, Conor Bazelak, returns to lead an offense that put up the 7th most points in the SEC last year. Again, considering this was basically his first year as a starter and in a brand system, that's not too shabby. They'll have to replace a couple wideouts and some offensive lineman, but that should be manageable. Another year in Drinkwitz's offense should greatly benefit this unit.
Defensively, Mizzou loses a couple of guys to graduation and to the transfer portal but there's talent and experience returning. Plus, they also get a couple transfers coming in, like LB Blaze Alldredge from Rice. Overall, don't expect Missouri to have one of the better D's in the league. As long as they aren't a liability, the offense should be able to carry the team.
#WallpaperWednesday#MIZ 🐯🏈 pic.twitter.com/4PzgPf98dr

— Mizzou Football (@MizzouFootball) August 11, 2021
Now with a typical SEC schedule that's loaded up with out-of-conference cream puffs like Central Michigan, SE Miss St, and North Texas, the Tigers could have an impressive 2021 win total. There's two tricky road games (at BC and at Kentucky) in the first half of the year but even with a split, Mizzou should be 5-1 before a big home matchup vs Texas A&M.
The second half of the year is more challenging, but there's still very winnable games at home vs South Carolina and on the road vs Vandy and Arkansas. I expect Mizzou to hit at least eight wins with a chance at pushing Florida to finish second in the East. Gimme the Over.
My Prediction: OVER

---
South Carolina: 4 Wins (O+110 / U-130)
Honestly, the hiring of Shane Beamer as Head Coach came out of left field. I have no qualms with the guy but just because his dad was a legendary coach, doesn't mean Shane will. It's a ballsy call. I understand that he was born in the Palmetto State and was a Gamecock assistant from 2007-2010, but he's never been a head coach nor an OC or DC. It will be fascinating to see if he can breathe life into this program.
Offensively, the QB position is the biggest question mark. At this point, you would have to assume Luke Doty gets the nod after playing in three games a season ago. The pass catchers are also a bit of a mystery but the O Line has four returning and RB Kevin Harris is back after an outstanding 2020. As good as the rushing attack will be, the passing game could be a liability.
On the other side of the ball, the SC defense was supposed to carry the team last year. While there were a couple decent outings, the unit faded down the stretch and never lived up to their potential. The returning roster has been hit hard by graduation and players transferring out. The Gamecocks will need DL Kingsley Enagbare and Jordan Strachan to keep applying pressure to opposing QBs, if this D is going to have a chance. Don't expect too much.
Looking at the out of conference schedule, SC always has the misfortune of playing Clemson on an annual basis. We'll know the outcome of that, but don't sleep on games at ECU and vs Troy. South Carolina will be favored but both matchups could have live dogs. The Gamecocks will need to win both if they have any hope of hitting an Over.
Within the league, SC will probably only be favored in just one game (vs Vandy). There's way too many question marks surrounding the team to expect 5 wins or more. I'm on the Under and I'll lay the juice.
My Prediction: UNDER
---
Vanderbilt: 3.5 Wins (O+105 / U-125)
Vandy's 6-6 regular season and bowl berth in 2018 seems so long ago. Unfortunately for then head coach Derek Mason, that year was followed with 3-9 and 0-8 campaigns and he was relieved of his duties. In comes former Notre Dame defensive coordinator, Clark Lea, for his first crack at a head coaching position.
It's tough being the SEC's fodder program but at least Lea has a returning QB in Ken Seals and some playmakers at the skill positions. The biggest question mark will be the offensive line that was one of the weakest in the conference and only returns three starters. It'll be a struggle in the trenches, but for a Vandy offense that finished 13th in the conference in 2020, there's a slight chance for improvement.
Defensively, the Commodores also struggled, finishing 12th in the conference. As with most programs that go through a coaching change, there's been an abundance of players transferring and it's hit the defensive side the hardest. It will take Lea some time to get his guys and his scheme in place. Expect the Vandy D to struggle again.
Looking at the schedule, home games vs East Tenn State and Uconn are must wins. The rest of the out of conference schedules includes a home game vs Stanford and a trip to Colorado State. 3-1 should be the goal but who knows what to expect – after all, Vandy lost at home to UNLV in 2019.
Within the league, even with other new coaches starting from scratch in the East, do you have faith in Vandy beating South Carolina or Tennessee on the road? Not me. I'm on the Under.
My Prediction: UNDER
---
SEC (East) Least Favorite Plays:
Florida: 9 Wins (O+105 / U-125)
The Gators lost a TON of production from an offense that finished 1st in Passing and 2nd in Scoring in the SEC last year. However, it may not be wise to expect a sharp decline. Dan Mullen has the Florida program cranking, especially on offense. Don't worry about that side of the ball. If the Florida defense can improve, they could surprise some folks this year.
It all comes down to new QB Emory Jones. He was a prized recruit and has all the tools to be outstanding. Nonetheless, he's inexperienced and at least a little learning curve should be expected. Florida has two tune-ups before Alabama comes to the Swamp on Sept 18th. It will be fascinating to see how Jones performs in that matchup.
A bunch of pass catchers are also gone but Jacob Copeland, Xzavier Henderson, Kemore Gamble and Keon Zipperer should come together as a formidable force. While the passing game flourished last year, perhaps the Gators will balance it out more this season. RBs Dameon Pierce, Malik Davis, and Nay'Quan Wright all saw action last year and will have three returning lineman leading the way.
Since we should expect some drop in offensive production, the D will have to pick up the slack. That could be troublesome since we just saw Bama put up 52 in the SEC Title game and Oklahoma score 55 in the bowl game. With that said, there is talent and experience returning. The linebackers and corners should be fine while the DL and safety positions figure things out.
4️⃣ Gators named to the Preseason All-SEC Team. #GoGators pic.twitter.com/vNCriPj1pp

— Florida Gators Football (@GatorsFB) July 23, 2021
Looking at the Florida schedule, there are seven games where UF's opponents don't stand much of a chance. That leaves two SEC East road trips at Kentucky and Mizzou (Florida will be favored in both), the annual game vs Georgia, and the misfortune of getting Bama and LSU from the West. I don't see a double digit win season with this schedule – I'm on the Under.
My Prediction: UNDER
---
Kentucky: 7 Wins (O-125 / U+105)
Here's the only team in the SEC where Vegas hit the number right on the head. Before 2020, Kentucky finished with exactly seven regular season wins in three of the last four years. Mark Stoops has the Wildcat program in a solid place and another bowl berth should be expected but the Wildcats have a ceiling.
With the bottom of the SEC East in rebuilding mode, a solid base of three conference wins over Tennessee, South Carolina, and Vandy should be expected. Outside of the league, games vs ULM, Chattanooga, and New Mexico State are laughably easy. Those six games might be the smoothest slate to get to a bowl game in all the Power 5.
Five Wildcats are on the Preseason Media Days All-@SEC Team

First Team: @Darian_70
Second Team: @JPaschalx
Third Team: @YCorker, @CROD_JR, @LukeNV77
#ForTheTeam x #BBN 😼 https://t.co/EtAIsILz3P

— Kentucky Football (@UKFootball) July 23, 2021
Just win one more and at least we'll have a push. That could come at Louisville where the Wildcats have recently owned their in-state rivals. Or, perhaps there's an upset at home vs Florida, LSU, or Missouri. This team is at least getting to 7 so you might as well go with the Over.
My Prediction: OVER