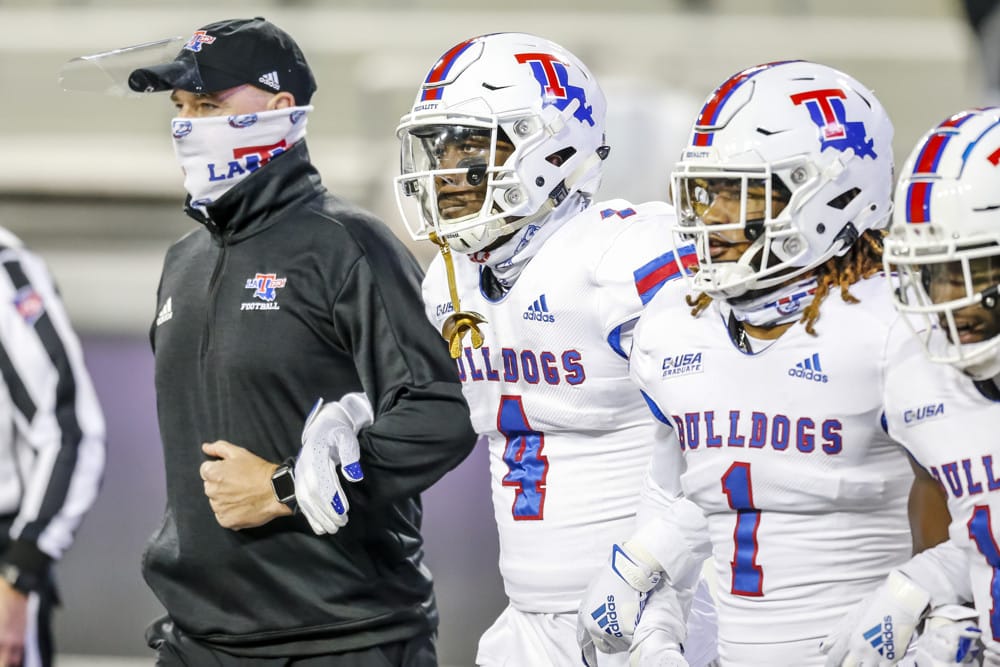 In case you missed it, check out my column on the MAC Win Totals, Sunbelt Win Totals, and Mountain West Win Totals.

We're going conference by conference looking at each team's win total for the upcoming college football season. Last week, we tackled the Conference USA East. This week will finish up the conference by delving into the Conference USA West.  Let's do this!
Conference USA (West) Favorite Play:
LA Tech: 4 Wins
Skip Holtz has the Louisiana Tech program in a nice place in Conference USA. Entering his ninth season in Ruston, the Bulldogs have been .500 or better every year except Holtz's first season in 2013. In 2019, Holtz hit his first 10 win season, capping off the campaign with a win over the Miami Hurricanes in the Independence Bowl.
Last year was a bit of a struggle. Due to COVID, La Tech didn't play any football in the month of November, having four straight games cancelled. They finished the season going 5-5 and got pounded 38-3 by Georgia Southern in the bowl game. Holtz will attempt to forget 2020 and get things back on track this year.
It should be assumed that Senior Luke Anthony will return and get the nod at QB. The Bulldogs also bring in App State transfer, Marcus Williams, at RB and this guy can play. On the outside, the dangerous Smoke Harris will be looking to make plays all over the field. The Bulldogs also return four starting offensive linemen. Given the talent and experience on this squad, there's no reason why the offense shouldn't be much improved.
While the offense should be explosive, the defense was horrendous a season ago. They bring back 10 starters but the unit gave up over 425 yards and 35 points a game.  A stingy D is usually a staple of a Skip Holtz coached team so improvement will be paramount.
As far as the schedule, it will be a challenging journey. Out of conference, La Tech has road games at Mississippi State and at NC State and home games vs SMU and SE Louisiana. Most people might expect a 1-3 record here, but I have the Bulldogs pulling off an upset and going .500.
In conference, they draw Old Dominion and Charlotte from the East which is a blessing. Chalk up at UAB as a loss but the other road trips are winnable. Vegas may not have faith in Holtz, but I do. No way this team only wins three games. Look for at least a 6-6 season.
My Prediction: OVER

Conference USA (West) Solid Plays:
UAB: 7.5 Wins
At first glance, the line sitting at 7.5 feels a little disrespectful to what HC Bill Clark has been doing at UAB. Since the football program was reinstated in 2017, the Blazers have regular-season records of 8-4, 9-3, 9-3, and 5-3. In other words, they've been over 7.5 three straight years and would have had a good chance in 2020 if it was a full season.
The offense was adequate last year, I suppose, but it could be better in 2021. First, all five offensive lineman return as do the two QB's (Tyler Johnstone and Bryson Lucero) who took snaps in 2020. Granted, lead RB Spencer Brown and the top two WRs Austin Watkins and Myron Mitchell have departed, but the Blazers have guys ready to step in. Specifically, be on the lookout for DeWayne McBride in the backfield and Trea Shropshire at wideout.
Defensively, 9 to 10 starters return from a unit that ranked 7th in the nation. The secondary is one of the best in the conference and LSU transfer, Justin Thomas, will be a difference-maker at LB. As good as the unit was a year ago, they may be better in 2021.
So what's stopping me from smashing the Over? Well, the schedule is a bear. Out of conference, UAB plays Jacksonville St and Liberty at home while traveling to Georgia and Tulane. The Blazers are good enough to go 3-1 but the slate is tricky enough to also go 1-3. Let's split the difference and go with a 2-2 out of conference record.
Within the conference, UAB unluckily draws both Florida Atlantic and Marshall from the East. If we chalk those games up as another even split, that leaves the Blazers needing a 5-1 record in the other six games to hit the Over. It won't be easy but that's exactly what Bill Clark's boys will do.
My Prediction: OVER
Rice: 5.5 Wins
Very quietly, the Rice Owls put together an impressive 2020 even if their end record was just 2-3. They easily beat Southern Miss on the road and shocked Marshall (20-0) in Huntington. Even in the season finale, Rice lost a close one to UAB, 21-16.
Maybe this should not have come as a surprise. In 2019, the Owls started the season 0-9, but they won their last three games. Head Coach, Mike Bloomgren, is slowly turning this program around. Additionally, former Nebraska QB (and Christian's bro) Luke McCaffrey transfers in to play QB. The defense was legit last year. If McCaffrey can improve the offense, this team could be rock-solid.
Standing in the Owls' way of making a bowl game is a brutal schedule. Away games at Arkansas and at Texas are paycheck games and sure-fire losses. However, circle Week 2 on your calendars as there's a decent chance of an upset vs Houston at home. Road games vs the top two schools from the West last year in UAB and UTSA will be grueling but the second half of the season opens up.  There's a real path to at least a .500 season and a bowl berth. This is a Conference USA team to watch.
My Prediction: OVER
Southern Miss: 5.5 Wins
The Golden Eagles salvaged a disappointing 2020 by routing Fla Atl 45-31 in the season finale. On the whole, a 3-7 season is not what fans of Southern Miss have come to expect. With that said, you can't really blame the players. After losing to South Alabama in the opener, Head Coach Jay Hopson resigned, leaving the team with an interim head coach while in the midst of a pandemic.  Not an ideal environment for winning football games.
After the season ended, the University hired Will Hall to lead the program. Hall had previously been head coach at two DII schools and was most recently the OC at Tulane. He inherits a very experienced roster on both sides of the ball, led by RB Frank Gore, JR (perhaps you have heard of his Pops).
The biggest question marks surround the QB position and a shaky defense. At QB, former WVU transfer, Trey Lowe, returns but he only saw limited action last year. Competing for the job will be Louisville transfer, Tee Webb. On defense, almost everyone comes back but the unit was dreadful a season ago.
Other than a Week 4 matchup at Alabama, the schedule isn't all that daunting. The other out of conference games include two matchups vs Sunbelt teams and an easy win vs Grambling. Plus, getting MTSU and Fla Int'l from the East is a positive. However, it still seems like everything would have to go right to hit 6 wins and the Over. I'm not familiar enough with this new coach to put my money behind that.
My Prediction: UNDER
Conference USA (West) Least Favorite Plays:
North Texas: 4 Wins
Seth Littrell is entering his 6th season as head man for North Texas and the offense has really flourished under his watch. Unfortunately, as good as the offense has been, the D has been that much worse. 2020 was a prime example: The Mean Green went 4-6 giving up an average of over 50 points a game in the six losses.
Looking at the upcoming season, it's the same old story. The offense that led CUSA in both rushing and passing yards is bringing back a ton of experience including QB Austin Aune. North Texas will again put up some of the gaudiest offensive stats in the country, but will it result in more victories?
As for the defense, the well-respected Phil Bennett arrives in Denton as the new DC. He was previously in the same position at Pitt and Baylor, most notably. They have experience and talent returning and just need someone to help put it all together. Perhaps Bennett is the right man for the job.
Out of conference, games vs Missouri, SMU, and Liberty probably leaves North Texas at 1-3. Within the league, home games vs Marshall and UAB will be very difficult and are also likely losses. That means the Mean Green will need to go 4-2 in the remaining six coin-flip games. The line is exactly where it should be but I believe 5-7 is more likely than 3-9.
My Prediction: OVER
UTSA: 8 Wins
The Roadrunners came out of nowhere last season, with a first-year Head Coach in Jeff Traylor, going 7-5 with a good showing in a bowl loss to Louisiana. Both the offense and defense made great strides from the 2019 squad that could only muster 4 wins. With 93% of the roster returning (13th best in the country) and 10+ super seniors back in the fold, there's no reason why UTSA can't impress again.
If you haven't heard of Sincere McCormick, shame on you. In a shortened season, the RB from Converse, Texas ran for 1,467 yards and 11 TD's. He's back as is his entire offensive line. The ground game this year will be outstanding, especially if they can get more consistent QB play. Additionally, the defense that gave up less than 400 yards and only 26 points per game last year, returns 10 starters.
Looking at the out-of-conference schedule, UTSA should have no problem with Lamar and UNLV and they'll have a chance of upsetting either Memphis or Illinois. Within the conference, there's some land mines but it's fairly manageable overall. This team is going bowling again but 9 wins and the Over might be a bit much to ask. As impressive as they were a season ago, they still didn't beat anyone with a winning record.
My Prediction: UNDER
UTEP: 3 Wins
Utep hasn't had an above 500 record since 2014. The Miners went winless in 2017 and only recorded one victory in both 2018 and 2019. Miraculously, the team won three games last year but those wins were against two FCS schools and ULM (maybe the worst team in FBS). On top of that, Utep was just placed on probation due to football and softball violations. Apparently, they can't even cheat well.
All jokes aside, HC Dana Dimel, has been making small baby steps with the program. Along with an influx of talent, the schedule is one of the easiest in the conference. The Miners should start off 2-0 with wins over New Mexico State and Bethune-Cookman. There's a handful of other winnable games on the slate (like home matchups vs New Mexico and Old Dominion) but I can't put my money on the Miners reaching four wins. When it comes down to it, the line is right where it should be. I'd have to lean under.
My Prediction: UNDER