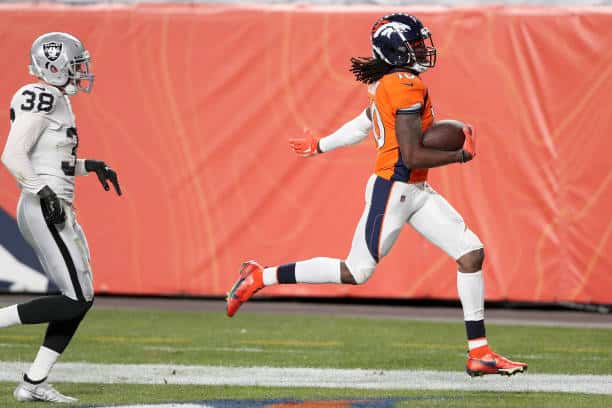 Fantasy Football Draft Strategy: WR2 Theory in Action
Last year WR2 Theory was forged in the fires of fantasy football analysis with a little help from JJ Zachariason and John Daigle. Accurately predicting the ascension of Calvin Ridley, D.K.Metcalf, Robert Woods, Diontae Johnson, CeeDee Lamb, Brandin Cooks, and Justin Jefferson was a nice start. This year I am back for more with a whole new set of wideouts for the 2021 WR2 Theory. But what does WR2 Theory look like in action, when the draft bullets are flying in the heat of life and death fantasy drafting?  
EXCLUSIVE SGPN FANTASY CONTENT
SGPN Fantasy Football Projections
2021 SGPN Fantasy Football Draft Kit
This article will walk you through a12 Team PPR draft using WR2 Theory to practically show you how to successfully build a winning roster that is loaded with upside at the wide receiver position. We will be drafting from the 6th spot and using 4for4.com ADP as our guide. WR2 Theory works from any position on the draft board, but drafting from the 6th position provides more flexibility to react to your draft as it unfolds. 
Drafting WR2 Theory
 Rounds 1-3 
Most undervalued wide receivers aren't typically found in the first few rounds of drafts, so we will use these rounds to load up on running backs and premium tight-ends. Targeting specific PPR backs with upside is helpful given your limited overall exposure to the running back position. 
Round 1 – 1.06 – Travis Kelce – Kansas City Chiefs – TE1
Knowing that I will be smashing wide receiver in the middle rounds frees me up to shot my shoot and snag the best tight end in the game in Travis Kelce. His floor is 8 touchdowns, 90 catches, and 1,100 yards, as a freaking tight end!! 
Kelce's quarterback, Pat Mahomes has thrown 114 touchdowns and close to 14,000 yards in the last three years. Kelce is as rock-solid a first-round pick as one could ask for, don't be afraid to pay up for guaranteed volume and WR1 like production. 
Round 2 – 2.07 – Antonio Gibson – Washington Football Team – RB12
Is Antonio Gibson the next CMC? There's scuttlebutt in Washington that the Football Team will be increasing Antonio Gibson's role in the passing game this season. Last year J.D. Mickissic led all NFL running backs in targets with 110. The WFT led the NFL in targeting running backs, dishing out 161, or close to 10 per game. Gibson saw 44 of those targets last year, which was only 27% of the running back total. 
I'm also contractually obligated to mention Gibson's natural position at Memphis was wide receiver. Look for Gibson to have close to 70 targets and over 50 receptions this season. Antonio Gibson is a perfect running back to pair with WR2 Theory because he offers RB1 upside in the middle of the second round. If Gibson is gone when you are drafting, I would also take Najee Harris from the Pittsburgh Steelers.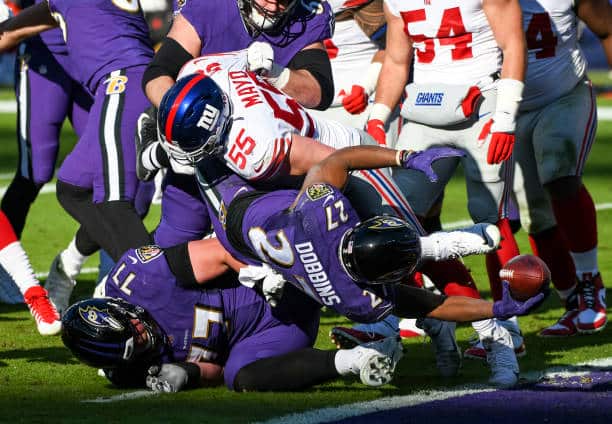 BALTIMORE, MD – DECEMBER 27: Baltimore Ravens running back J.K. Dobbins (27) runs for a 2 yard touchdown in the second quarter during the New York Giants game versus the Baltimore Ravens on December 27, 2020 at M&T Bank Stadium in Baltimore, MD. (Photo by Mark Goldman/Icon Sportswire via Getty Images)
Round 3 – 3.06 – J.K. Dobbins – Baltimore Ravens – RB15
The Baltimore Ravens run the football, a lot. Last year they ran the football 555 times. Sure, Lamar Jackson accounted for 125 of those attempts, but that still leaves 430 attempts to be split between J.K. Dobbins and Gus Edwards. Look for Dobbins to shoulder between 225-250 of those carries, including goal-line work. Dobbins's one downside is that he wasn't featured in the passing game last season. But consider his increased snap share, he will naturally get more targets, probably close to 45, which gives him a solid RB2 floor. 
Another advantage for Dobbins is that he faces one of the easier run defense schedules according to Warren Sharp over at Sharpfootballstats.com. The Ravens have 12 matches against the 14 worst run defenses in the NFL, including Raiders, Chiefs, Lions, and Broncos to start the season. Look for Dobbins to pay off in solid WR2 Theory performances throughout the season.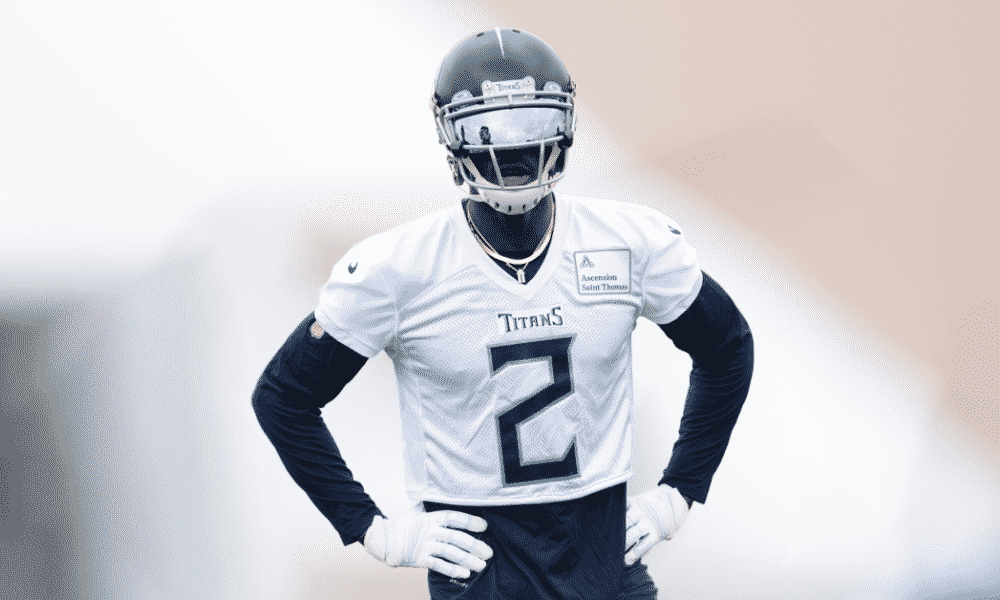 Round 4 – 4.07 – Julio Jones – Tennessee Titans – WR16
Last season Julio Jones was being drafted as the consensus WR3 in 12 Team PPR leagues. He woefully underperformed due to injury and finished as WR52. Ouch. Fast forward a year and Jones is apparently healthy and has been traded to the Tennessee Titans.  A Titans team that finished fourth in yards per game with 396, all the while scoring over 30 points per game. Adding Julio Jones to the Titans' offense is like lighting fireworks with dynamite, there's going to be a hell of an explosion this year in Tennessee! 
Enough with the sensationalism, Julio Jones from the numbers looks primed to outproduce his ADP. Last season Corey Davis turned 65 catches into 984 yards and 5 touchdowns, good for WR30 and 191 fantasy points. Jones averages 1,289 receiving yards per season, and 1,200 yards is within reach if he can stay healthy for a full season.  
Round 5 – 5.06 – Darrell Henderson – Los Angeles Rams – RB22
Darrell Henderson is another running back that is a perfect fit for the WR2 Theory Lifestyle. He's going to get the lion's share of the carries and targets in an offense that rushed for 125 yards per game in 2020. Sean McVay is going to utilize Henderson close to 20 times a game, including in the red zone. 
I'm in on Darrell Henderson this year pic.twitter.com/NeRo3Ou5ON

— Matthew Berry (@MatthewBerryTMR) August 2, 2021
Henderson is primed to be a solid RB2 all season and provides you with an immediate flex starter. Matthew Berry loves Darrell Henderson in the Ram's Matthew Stafford-led offense this year and I agree. He's a tremendous value at RB22. If someone snipes him from you, I'm also comfortable drafting Javonte Williams or Kareem Hunt in that order. 
Round 6 – 6.07 – Chase Claypool – Pittsburg Steelers – WR25
Chase Claypool is a monster! Last season he started 6 games and turned 62 receptions into WR22. Matt Harmon of Reception Perception charted Claypool and found he had a 75.4% success rate vs. press (80th percentile). Look for the Steelers to maximize his size and strength mismatch primarily down by the goal-line like they did last season. 
Last season Pittsburgh's offense featured three top 25 fantasy pass catches. Claypool was targeted 75 times the last eight weeks of the regular season  I expect the Steelers to run the football more often in 2021, but still heavily lean on their wide receivers in the red zone and to move the chains. Claypool is currently coming off the board as a backend WR2 and is worth the 6th round draft capital.  
Round 7 – 7.06 – Jerry Jeudy – Denver Broncos – WR32
Jerry Jeudy's 116 rookie targets were second best to only Justin Jefferson's 125 in 2020. Unfortunately, Jeudy only converted 52 of those targets for a 46% reception percentage, unlike the 70% Jefferson finished with. Jeudy is a natural play-maker with the ball in his hands. The only problem has been getting the ball to his hands and then keeping it there. Jeudy has flashed tremendous upside. Often leaving the whole fantasy community imagining "what if he had a real quarterback throwing him the football?" 
Time for @PSchrags' Top 10 Breakout Players of 2021.

We've already unveiled 10-5.

Today, we give you #4 and #3 —

4. Antoine Winfield, Jr. , S, @Buccaneers
3. Jerry Jeudy, WR, @Broncos pic.twitter.com/KG37rPdQz4

— Good Morning Football (@gmfb) August 19, 2021
The Broncos hope to have at least one serviceable play-caller under center this season. Teddy Bridgewater was brought over in the off-season to challenge Drew Lock for the starting quarterback job. Last season Bridgewater supported three top 25 wide receivers, Robby Anderson WR17, Curtis Samuel, WR23, and D.J. Moore WR25. If Bridgewater wins the job, it should give Jeudy a bump over the less accurate Lock. 
"Good Morning Football's" Peter Schrager is predicting a Jerry Jeudy break out in for 2021. I'm buying part of the hype Peter is selling and have Jeudy finishing as the WR1 on the Denver Broncos in 2021.  I'm completely comfortable targeting him as my WR3 in the 7th round of PPR drafts. 
Round 8 – 8.07 – Antonio Brown – Tampa Bay Buccaneers – WR39
Antonio Brown is back! More precisely, has been back and will continue to be back for the foreseeable future with Tom Brady in Tampa Bay. Brown was a difference-maker for the Bucs during the playoff push, continuing on into the playoffs and Super Bowl, catching six touchdowns from week 15 to on. 
Brown is poised to see over 100 targets in an offense that threw for over 4,600 yards and averaged 30.8 points per game in 2020. I'm all in on Brown at his current WR39 ADP. He has 10 touchdown and 1,000-yard receiving upside. It's hard to find that in the 8th round of PPR drafts. If you have to reach into the early 8th or late 7th to snag him, do it and put the WR2 Theory in action.
Round 9 – 9.06 – Michael Gallup – Dallas Cowboys – WR44
Last season Michael Gallup was being drafted as the WR32 with Dak Prescott. He finished the season as the WR38 without Dak playing most of the season. Now he is being drafted as the WR44 with Dak Prescott returning. I'll let you do the math on that one.  
Gallup scored 212 fantasy points in 2019 with a healthy Dak, amassing over 1,100 yards on 66 receptions. I'm not predicting that Gallup will finish ahead of Amari Cooper and CeeDee Lamb, but he's currently being drafted 32 spots behind Lamb and 29 spots behind Cooper. This disparity oozes value for those who don't want to pay up for their fantasy points. 
You are not going to find another wide receiver with his ADP who has the potential to finish as a top 30 wide receiver. I am comfortable targeting Gallup as my WR4, even reaching into the late 8th round to snag him. He's currently being drafted at the 9.11 in 12 Team PPR leagues. 
Round 10 – 10.07 – Darnell Mooney – Chicago Bears – WR49
Darnell Mooney had 98 targets in 2020. Let me say that again. Darnell Mooney
had 98 targets in 2020. And the Chicago Bears just traded away Anthony Miller to the Houston Texans. Mooney is practically the only other pass catcher in Chi-Town not named Allen Robinson.
The Bears have 107 vacated wide receiver targets from last season. It's not unreasonable to project 25-30 of those targets being thrown Mooney's way, bringing his target total for 2021 closer to 130. A wide receiver in the 10th round with weekly WR3 upside with a dynamic new quarterback gives me the chills. Mooney or bust for me!!  
Round 11 – 11.06 – Matt Ryan – Atlanta Falcons – QB15
Over the course of Matt Ryan's 13-year career, he has averaged roughly 274 fantasy points per game. Last year he scored 280 points without a healthy Julio Jones. This year with Jones trades to the Titans, the focus of the passing attack shifts to Calvin Ridley and rookie first-round pick tight end, Kyle Pitts. 
Ridley is more than capable, finishing the 2020 season as the WR05 with 281 points last season. Pitts on the other hand is the wild card. Can he stay healthy? Will he actually play tight end or primarily run route out of the slot? My guy @Bo_McBigTime on Twitter, writer for NimblewNumbers.com, and RumBoyz.com thinks that Kyle Pitts will deliver over 1,000 yards and 12 touchdowns in 2021. 
If Kyle Pitts delivers a historic rookie tight end season, then Matty "Ice" will be nice at the price….OK, you get the point. Ryan is a sneaky late-round quarterback to pair with Russell Gage for a value stack attack. If you aren't comfortable taking Ryan as your stand-alone QB1, pairing him with Kirk "You Like That" Cousins or Ryan "Fitzmagic" Fitzpatrick, and rotate based on weekly matchup.
Round 12 – 12.07 – Russell Gage – Atlanta Falcons – WR57
Speaking of Russell Gage, last season he finished the season with 110 targets, filling in for an oft-injured Julio Jones. Jones's departure opens up 93 wide receiver targets that will need to find a new home. Sure, Kyle Pitts will garner a chunk of vacated targets, but so will Gage. 
It's extremely hard to find another wide receiver who is going in the 12th round who has an open road to close to 125 targets. The Falcons defense is still not very good. Bad news for them, great news for PPR drafters who love targets for days. Gage is a steal at his ADP and a player that I will be leaving my home league draft this Saturday night.  
Round 13 – 13.06 – Lavatvius Murray – New Orleans Saints – RB46
The New Orleans Saints 2021 are a team in transition, moving away from a once rock-solid, Drew Brees. I mean, when he wasn't getting his ribs smashed into the ground and missing half the season, he was reliable. Now Sean Payton is left to choose between Jameis "Crab Legs" Winston and the human Swiss Army Knife, Taysom Hill.
The good news is that whoever they choose will be handing the ball off to the Saint's one-two punch of Alvin Kamara and Latavius Murray. Murray has averaged 146 carries the last two seasons since joining the Saints from Minnesota. His 10 fantasy points per game aren't going to blow anyone away, but his consistency over the last 3 years should give managers confidence in his point floor, making him a flex play depending on favorable matchups and Kamara's health.
Round 14 – 14.07 – James White – New England – RB50
The Patriots' James White looks to bounce back in 2021 after a difficult 2020 season. According to Erik Scalavino of Patriots.com, "White appears to have overcome a slow start to this year's camp and looks very much like the reliable pass-catching back he's been throughout most of his Patriots career." 
This is good news for drafters who are looking to maximize wide receiver upside and now need to find PPR running backs with weekly flex upside. White is a perfect running back to use as a bye-week filler or flex when the juicy matchups come around. Targeting him in the 14th round means that you are squeezing every drop of value out of your WR2 Theory picks. 

Round 15 – 15.06 – Elijah Moore – New York Jets – WR65
Elijah Moore is back from an early training camp quadricep injury and is once again making plays, burning defenders, and linking up with Zach Wilson for deep touchdowns. I'm all in on the Ole Miss speedster this year and think that his WR65 ADP is primarily because most of the fantasy community is sleeping on Wilson and the Jets in general. 
Moore's PlayerProlfier comp is Tyler Lockett, which is good, I guess. Both have blazing 4.40 speed and operate out of the slot. Moore's the playmaker the Jet's need to take the top off the defense and Wilson has the arm to deliver the ball downfield for big plays. I'm leaving all my drafts with Moore or Corey Davis, as both will return value at their depressed ADPs.
Round 16 – 16.07 – Miami Dolphins Defense – DEF11
To be completely honest with you, I don't ever draft defenses or kickers unless the draft requires it (Make sure to check with your commissioner and know what the league settings require). The Dolphins are a defense that played well last season, turning their opponents over 29 times, which was good for 3rd best in the NFL. You could do worse with your last pick in the draft. 
Here's the completed WR2 Theory roster, including 8 WR2 Theory candidates. This roster has weekly winning upside, as well as season-long staying power given the strength at running back, wide receiver, and tight end. Matt Ryan is a serviceable quarterback but given the COVID-19 pandemic, it makes sense to grab another quarterback off of waivers to supplement production throughout the season. 
Round/

Pick 

  Player 
Team
POS Rank
1.06

Travis Kecle 

Kansas City Chiefs 

TE1

2.07

Antonio Gibson  

Washington Football Team

RB12

3.06

J.K. Dobbins  

Baltimore Ravens 

RB15

4.07

Julio Jones 

Tennessee Titans 

WR16

5.06

Darrell Henderson

Los Angeles Rams

RB22

6.07

Chase Claypool

Pittsburgh Steelers 

WR25

7.06

Jerry Jeudy 

Denver Broncos 

WR32

8.07

Antonio Brown

Tampa Bay Buccaneers 

WR39

9.06

Michael Gallup

Dallas Cowboys 

WR44

10.07

Darnell Mooney 

Chicago Bears 

WR49

11.06

Matt Ryan

Atlanta Falcons 

QB15

12.07

Russell Gage 

Atlanta Falcons 

WR57

13.06

Lavatvius Murray 

New Orleans Saints

RB46

14.07

James White

New England 

RB50

15.06

Elijah Moore 

New York Jets

WR65

16.07

Miami Dolphins Defense  

Miami Dolphins 

DEF11
MORE FANTASY CONTENT
Fantasy Football Value Picks: Mid-Round Value Picks and Targets
SGPN Fantasy Football Cheat Sheets [PRINTABLE TIERS] – August 24 Update
Fantasy Defensive Outlook and One IDP Fantasy Player for all 32 Teams
Fantasy Football Injury Analysis: 5 Players to Avoid Drafting
10 Late Round Fantasy Targets: Fantasy Football Sleepers
Funny Fantasy Football Names 2021
Last Year's Fantasy Football Busts and their 2021 Outlook
Fantasy Football Draft Strategy: How to Draft with RB Zero
Fantasy Football Draft Strategy: How to Draft in SuperFlex