My heater continued unabated at UFC 268 last weekend, pushing my hit rate up to my goal of 60%. While it doesn't look like I'll break into the black for 2021 (betting $100 on every fight on every UFC fight card isn't a profitable strategy, apparently), I'm still aiming at making this weekend's UFC card a moneymaking exercise. Here are my UFC Vegas 42 predictions.
RELATED
The 10 Commandments of MMA Betting
8 UFC Stats That Will Win You Money
UFC Vegas 42 Predictions
All odds courtesy of PointsBet
Max Holloway (-700) vs Yair Rodriguez
Former long-time featherweight champion Max Holloway is my pick here, taking on the returning Yair Rodriguez, but I'm going nowhere near a -700 line (oops – forgot I have to bet $100 on every fight – damn). Rodriguez is a feared striker, but Holloway is just plain better in that realm, plus Rodriguez has been on the shelf for over two years. Holloway is the pick, but as mentioned I'm not liking that line.
Ben Rothwell (-155) vs Marcos Rogerio de Lima
I normally would be fading a 40-year-old fighter with 52 pro fights under his belt, but Ben Rothwell has been proving his doubters wrong as of late. He's won three of his last four, one via TKO and his last via submission. And this week's opponent, Marcos Rogerio de Lima, is only four years his junior, is widely inconsistent (he's swapped wins and losses back and forth over his last 10 fights, which I guess technically is consistent), and is susceptible to submissions.
Felicia Spencer (-325) vs Leah Letson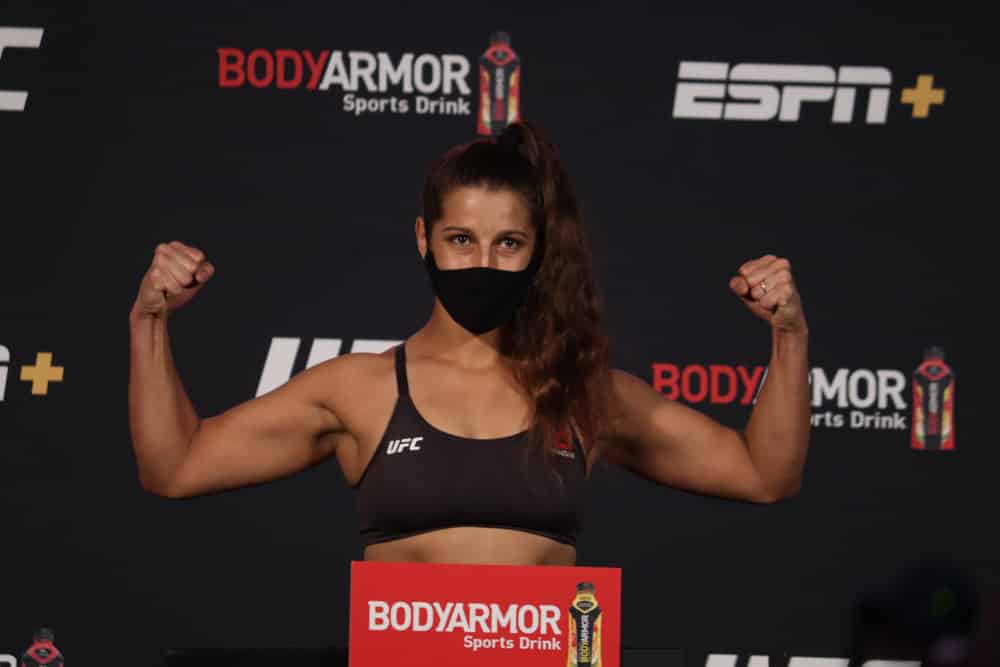 My fellow Canadian Felicia Spencer has dropped two-straight fights, but one was to women's GOAT Amanda Nunes, in which she survived a full 25-minute fight. She should be able to grapple her way to a victory over Leah Letson this week, who has been on the shelf for over three years. If not, it could be Bye, Felicia.
Song Yadong (-140) vs Julio Arce
You've got to bet on a guy named 'The Kung Fu Monkey', right?! Other than the moniker, Yadong is also the much younger fighter in this matchup with Julio Arce, plus the more active striker. And I like the level of competition he has fought – and beat – in the UFC on the way to his 6-1-1 record.
Miguel Baeza (-145) vs Khaos Williams
Speaking of nicknames, we've got 'Caramel Thunder' going up against 'Khaos the Ox Fighter' in the main card opener. Both men are exciting, explosive strikers, which hopefully results in a Fight of the Night-worthy scrap. Baeza has the striking, active striking, and grappling stats all in his favor, so he gets my nod.

Joel Alvarez (+200) vs Thiago Moises
On to the prelims, and a nice sizeable dog in Joel Alvarez. He's much younger (six years), much longer (seven inches of reach), and the better and more active striker in this matchup with Thiago Moises. He's also a submission specialist, which should bode him well against the grapple-heavy Moises.
Andrea Lee (+108) vs Cynthia Calvillo
Let's keep the live dog action going by backing Andrea Lee in her women's flyweight bout against Cynthia Calvillo. First off, Calvillo is taking this on short notice, which the stats say doesn't bode well for her chances of winning. Plus Lee is younger, much longer, and the better striker. Let's get some plus money.
Sean Woodson (-325) vs Collin Anglin
Ok, back to the chalk. The 6'2″ Sean Woodson somehow competes in the 145-pound featherweight division, so he'll be five inches taller and have seven inches of reach over Collin Anglin. And he's the better striker of the two, so he'll be putting that length to good use.
Liana Jojua (+180) vs Cortney Casey
Back to the dogs, baby! Cortney Casey is slumping big-time and has struggled to get her grappling going at flyweight. Liana Jojua just so happens to be a very good grappler. Plus she's much younger – eight years, to be exact. More plus money for us!
Marc Diakiese (-195) vs Rafael Alves
The exciting Marc 'Bonecrusher' Diakiese finally makes his return after over a year out of the cage. He's bigger, younger, a more active striker, and a better grappler.
Da Un Jung (-125) vs Kennedy Nzechukwu
In our light heavyweight opener, I'll take the better striker and grappler and undefeated in the UFC (3-0-1) Da Un Jung to start things out right for us.
Overall Record: 571-431
2021
Record: 262-173
Earnings:  -($1868.08)
Return on Investment:   -(4.3)%
Related Content