On a recent episode of the MMA Gambling Podcast, Jeff Fox and I broke down our 10 Commandments for MMA betting. There are trends we all follow and stats we like, but those are steadfast rules. And while we gave you these already if you're a subscriber to the show (by the way, you should be), we figure there might be some who like the written version as well. So here they are!
Thou shalt not waste money chasing crazy underdogs – Jeff Fox
MMA is a sport where anything can happen, but underdogs that are over +300 tend to be a money pit. There are only 50 or so that have happened in all of UFC history. So even if you feel like you got the hot tip, you probably don't.
Thou shalt not ignore strength of competition – Gumby Vreeland
When you're looking at an up-and-comer arriving in the UFC, it is so tempting to look at their results and be wowed. The UFC must have been as well for the person to be signed. They likely have a stellar record and a whole bunch of quick finishes. However, if we don't look at what those opponents looked like, we can often run into trouble. A great example of this is Jordan Wright, who a lot of people were on, but take a peek at his opponents.
Thou shalt not invest in glass jaws – Jeff Fox
In the world of MMA betting, it is always tempting to write off a big KO loss when it was to a big puncher. But if somebody gets knocked silly by Francis Ngannou, it doesn't make it less likely that somebody else will knock him silly next time out. It actually makes it more likely. Once that chin starts to go, especially in the upper weight classes, try to stay away from that moneyline, no matter how tempting.

Though shalt not drop a bet without at least watching one recent fight – Gumby Vreeland
We're living in a golden age of MMA coverage. Not only does UFC Fight Pass exist, but there is YouTube, FloCombat, and a slew of other places to catch regional-level action. So there's really no reason not to take a peek at a fighter before you lay a wager. Some people like to read analysis from their favorites (or maybe listen to our show?), but taking five minutes to watch a round of an old fight is so valuable.
Thou shalt not expect an old dog to learn new tricks – Jeff Fox
Every fighter says the words, this is the best camp of my life. Every fighter thinks they might have one more run to the top of the division. However, you'll find once those former champions and title challengers have slipped way down the rankings, there isn't much that will bring them way back up. Andrei Arlovski made a great comeback – but he isn't knocking on the door of a title shot. So how do we apply this to MMA betting? When a guy is stepping back into his old world, we need to remember the more recent, not the former glory.
Thou shalt not believe in MMA math – Gumby Vreeland
This person beat the person that beat the person he's fighting next – famous last words. Styles make fights in MMA. So sometimes your opponent, who lost to someone you beat, is really your worst nightmare. Don't spend time using people's fights that way, it's lazy analysis.
Thou shalt not believe the hype – Jeff Fox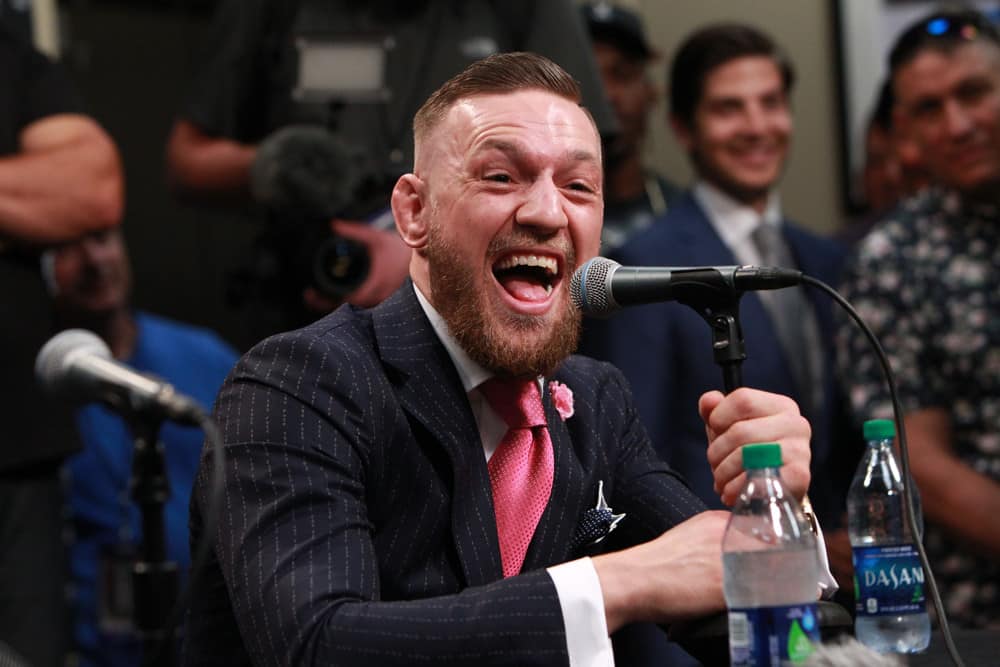 You can believe hype when it comes to whether or not you think the fighter will win, but also recognize that it is going to mess up their line badly. When Conor McGregor steps into the cage, his number will rarely have any value on it. The casuals love a bet on the big boys, so keep your money smart and stay away from them.
Thou shall weigh the losses as much as the wins in a prop bet – Gumby Vreeland
When we're looking at a prop bet, we love to look at our picks wins. We say he's got 10 submissions in 13 fights and that's awesome. However, we rarely look at the fact that his opponent never gets taken down and never been submitted. That information is just as important when compiling your MMA bets.
Thou shall listen to Gumby when it comes to UFC newcomers – Jeff Fox
Which you can, of course, do on the MMA Gambling Podcast. But seriously, MMA betting on newcomers is not an easy gig, so combine what we said about watching a round of their work with some more expert analysis. See what somebody who has seen them fight half a dozen times already has said. If your first opinions match, it can put a mind and wallet at ease.
Thou shall not double down on prop bets – Gumby Vreeland
From a mathematical standpoint, this has never made sense to me. If you like the fighter to win by stoppage and you bet them at +400 in the first round and +550 in the second, you actually cut both of those odds in half. You bet twice as much money as you would with just one bet, which means you're only getting +200 value on the first one, and you can't cash both tickets. Just seems silly to me.