Do you want to make more money? Sure, we all do. Then what would you say if I told you I have eight factors that will help make you a more successful UFC bettor, whether you know a lick about the sport or not? Too good to be true? It's not, my friend.
Enough of the television informercial opening pitch. I have actually done a ton of research into which statistics most contribute to picking a winning UFC fighter. And I'll break them down for you right here. I've studied every UFC fight in 2020 – 323 fights in total – and determined what matters and what doesn't.
Here are eight factors, ranked in order of importance.
Read Also
UFC Fight Night Picks Full Card: UFC Fight Island 5 Odds

UFC Gambling for Dummies
1. Superior Striking Stats – 72% Win Rate
The numero uno factor for a UFC fighter winning a fight inside the cage in 2020 is superior striking stats. The fighter with the better career striking stats than his/her opponent heading into a fight wins 72% of the time, a pretty high percentage of the time. These stats are very easy to get, thanks to UFCStats.com, where you can get a head-to-head statistical previews of every upcoming UFC fight. Check which fighter has the advantage in more striking categories than their opponent, and you've got yourself a winner (usually).
2. Go With the Chalk – 67% Win Rate
As boring as it seems, going with the betting favorite is your best bet for winning a bet. The favorite on the books have won exactly two thirds of their fights this year (207 wins for the favs, 106 wins for the dogs). While it is exciting to go for the plus-money of underdogs, you have to do so wisely.
On a typical UFC fight card, about three or four dogs hit. The key is figuring out who they are. Of the 106 upset wins this year, only 37 of those were +200 or higher on the board. So going with slight underdogs is your best bet for success. Which is where the other factors I'm breaking down – like striking stats – come into play.
3. Pick Against Overweight Fighters – 67% Win Rate
The most brutal – and dangerous – aspect of mixed martial arts isn't necessarily the action inside the cage. It is what occurs a few days before it. That is when competitors partake in the archaic practice of weight cutting. That means eliminating all excess water and weight from their bodies in order to step on the scale before the fight at their contracted weight limit. Then they pack the pounds back on in the hours leading up to the fight.
The prevailing thought is "bigger is better" in regards to size when they step into the cage. For gambling purposes, you should steer clear of any fighter coming in overweight on weigh-in day (which happens the day before the actual fight happens). Fighters "missing weight" this year have only won 33% of the time, so if you see someone come in heavy, bet their opponent.
4. Avoid Late Replacements – 63% Win Rate
One constant – especially in these crazy pandemic times – is that scheduled fights fall through last minute. However, the UFC is great at scrambling and finding replacement fighters to fill the shoes of any fighter that backs out. Steer clear of these fighters. Any fighter taking a fight with less than a month's notice this year have lost 63% of the time.
Read Also
UFC Fight Night Picks Full Card: UFC Fight Island 5 Odds
5. Copy My Picks – 62% Win Rate
My super hot streak may be over, but I had a money-making week again last week at UFC 253. Since I started picking every fight on every UFC card this year, I'm enjoying a 62% hit rate (142-86). So be a buddy and check out my picks every week.
6. Superior Grappling Stats – 61% Win Rate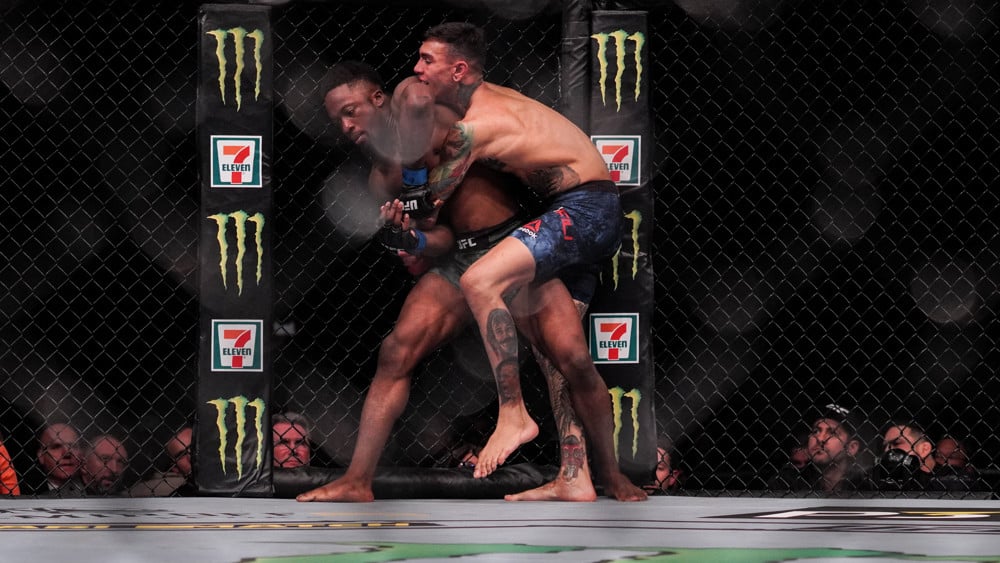 Back to UFCStats.com for this one, but this time we're checking out a fighter's grappling stats. It appears that striking is far more important than grappling when it comes to winning. The fighter with superior grappling stats heading into a fight has an advantage, but it's much less than the striking one – they win 61% of the time. Still, if it's a toss-up who to pick – all other things being equal – go with the better grappler.
7. Youth Trumps Experience – 59%
It's better to be younger in a fight, simple as that. The younger fighter has won 59% of their fights this year. While experience obviously plays a factor in a fight, going with the younger fighter is normally your best bet, especially if the age gap is significant.
8. Size Matters…But Not That Much – 54%
With fighters slotted into fights with similar sized opponents (at least in terms of weight on weigh-in day), there, theoretically, shouldn't be size differences in the cage. This, obviously, isn't true in the real world – just turn on any fight card and you'll see fighters clearly bigger than their opponents. The fighter with the longer reach has won 54% of their fights this year – not a huge number, but still an edge you can use when picking fights.
Read Also
UFC Fight Night Picks Full Card: UFC Fight Island 5 Odds