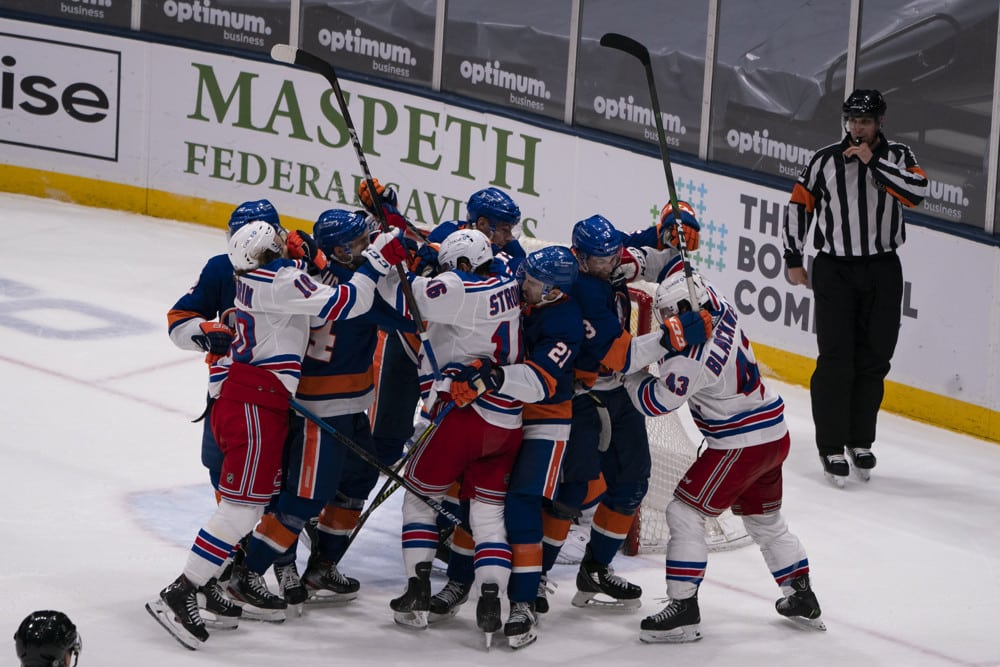 Hockey season is here! Leading up to NHL Opening Night on Tuesday, October 12th, we'll be previewing each division. Rather than skim through all eight teams per division in one article, we're going to break it up into each division's contenders and pretenders. Last, but certainly not least, is the Metropolitan Division.
The Metropolitan Division is completely up for grabs with seven of the eight teams' point totals set between 90 and 100. Yet, no team has shorter odds than +1500 to win the Stanley Cup.
We're starting our Metropolitan Division Preview with the top four: New York Islanders, New York Rangers, Carolina Hurricanes, and Pittsburgh Penguins.
Let's get into our Metropolitan Division Contenders Preview and Betting Guide for the 2021-22 NHL Season!
Metropolitan Division Betting Preview & Predictions
New York Islanders 2021-22 Preview
The Islanders have made themselves a thorn in the side of the rest of the Metropolitan Division. Since hiring Barry Trotz in 2018, the Islanders have been a defensive force in the East. They've made the playoffs –– and won a round –– in each of the last three seasons after missing them both years prior. They were one of the final four teams standing in each of the last two seasons.
The Isles lost Jordan Eberle to the Kraken and traded Nick Leddy, but replaced them with Zach Parise, Richard Panik, and Zdeno Chara. Mathew Barzal is the Isles' superstar with Anders Lee on the top line. As always, goaltending will be important for Trotz's Isles with Semyon Varlamov and Ilya Sorokin between the pipes.
New York Islanders 2021-22 Odds
Points O/U: 99.5
Make Playoffs: -350 Yes / +270 No
Win Division: +275
Win Conference: +700
To Win Stanley Cup: +1500
New York Islanders Best Bets & Predictions
To Win Eastern Conference +700
A line of 99.5 points seems pretty fair for the Islanders. They had 103 points in the 2018-19 season and 80 points in 68 games (an 82-game pace of 96 points) the following year. Last season, they had 71 points in 56 games. That's an 82-game pace of 104 points, but it was also in a shortened season while playing the same teams over and over. I would lean to the over, but that's all.
After that, I don't want to lay the -350 in case the Islanders go south. The +275 line for the division doesn't provide enough value, but the +700 one does. If the Islanders win the division, they're going to be in a great spot to win the East. Even if they don't, they can grind their way in the playoffs as they've shown the past two years. That +700 will be hedge-able at the very least.
---
New York Rangers 2021-22 Preview
The oddsmakers surprisingly have the Rangers as the second-best team in the Metropolitan Division. But having guys like Mika Zibanejad, Artemi Panarin, and Norris Trophy winner Adam Fox will help. They're an up-and-coming team and the books think it's their year to shine.
Yet, the Rangers haven't made the playoffs in four seasons. They finished with 77 and 78 points in the last two full seasons, and 79 points in 70 games (92.5-point pace) & 60 points in 56 games (87.8-point pace) the last two seasons.
New York Rangers 2021-22 Odds
Points O/U: 97.5
Make Playoffs: -190 Yes / +160 No
Win Division: +425
Win Conference: +1200
To Win Stanley Cup: +2200
New York Rangers Best Bets & Predictions
Under 97.5 Points / To Miss The Playoffs +160
As mentioned above, the Rangers haven't reached this mark in the last four seasons. They only came close in the COVID-shortened season, and even with how hot they were, 98 points would've been a stretch. This is going to be a grind-it-out type of season up-and-down the Metropolitan Division.
Only a handful of teams have made the playoffs with less than 98 points in the last few full seasons. In 2018-19, Carolina and Columbus snuck in with 99 and 98 points (Montreal just missed with 96). The year prior, The Flyers (98), Blue Jackets (97), and Devils (97.) were the last three in. Going back one more year, the Senators (98), Bruins (95), and Maple Leafs (95) snuck in in a weak Atlantic Division.
If you're confident enough in the under 97.5 points, which I am, take the +160 instead.

---
Pittsburgh Penguins 2021-22 Preview
The Penguins are still marching, but not as strongly.
Sidney Crosby is here, but his status for opening night is in question after wrist surgery. Evgeni Malkin is still around, too, but he'll miss at least the first two months after knee surgery.
Luckily for Pittsburgh, Jake Guentzel and Bryan Rust have Jeff Carter to help out up front, while Kris Letang holds down the blue line. The Penguins are counting on a bounceback season from Tristan Jarry in goal.
Pittsburgh Penguins 2021-22 Odds
Points O/U: 96.5
Make Playoffs: -215 Yes / +175 No
Win Division: +475
Win Conference: +1300
To Win Stanley Cup: +2500
Pittsburgh Penguins Best Bets & Predictions
Over 96.5 Points
The Penguins had 100-point seasons in 2017-18 and 2018-19. They piled up 86 points in 69 games before COVID ended the 2019-20 season –– an 82-game pace of 102 points. In last season's 56 games, they went 37-16-3 for 77 points –– a 112.75-point pace.
Even with their injuries, the Penguins aren't dead yet. Crosby will be back before a few games into the season and they'll be able to hold their own until Malkin is healthy. After that, they'll be ready to go for the second half.
However, they haven't won a playoff series since beating the Flyers in 2018. Over 96.5 points is the only bet I'd make here.
---
Carolina Hurricanes 2021-22 Preview
The Hurricanes have sneakily become one of the best teams in the division –– if not conference or league. They were meddling around .500 in the mid-2010s before breaking out in the 2019 playoffs.
Carolina had 99 points to make the playoffs for the first time since 2009. They upended the reigning champion Capitals in the first round and swept the Islanders in the second round before getting swept by Boston in the Eastern Conference Final.
Since then, they've only gotten better and it looks like they might be ready to storm through.
Carolina Hurricanes 2021-22 Odds
Points O/U: 96.5
Make Playoffs: -180 Yes / +155 No
Win Division: +475
Win Conference: +1300
To Win Stanley Cup: +2500
Carolina Hurricanes Best Bets & Predictions
To Win Metropolitan Division +475 / To Make Playoffs -180
The Hurricanes won the Central Division last season for their first division title since 2006. While they're back in the tough Metropolitan this year, last season wasn't easy. They beat out the Florida Panthers and back-to-back Cup champion Tampa Bay Lightning in the Central. Only two teams had more points than the Hurricanes (80) last season, the Avalanche and Golden Knights.
This might be the year the Hurricanes take the league by storm. Sebastian Aho is becoming a household name, Vincent Trocheck is still solid, and Andrei Svechnikov is on the up-and-up. They have two new goalies, but both (Frederik Andersen and Antti Raanta) have been proven to be capable. Mind you, they used three goalies rather evenly (23-21-12 starts) last season and all were pretty solid (.932-.906-.923 SV%).
I also like the Hurricanes to make the playoffs at -180. They're going to be a contender for years to come.
---
RELATED HOCKEY CONTENT
Atlantic Division Preview & Betting Guide: Maple Leafs, Lightning, Bruins, Panthers
Atlantic Division Preview & Betting Guide: Canadiens, Red Wings, Senators, Sabres
Central Division Preview & Betting Guide: Avalanche, Wild, Stars, Jets
Central Division Preview & Betting Guide: Blues, Blackhawks, Predators, Coyotes
Pacific Division Preview & Betting Guide: Golden Knights, Oilers, Kraken, Flames
Pacific Division Preview & Betting Guide: Canucks, Kings, Sharks, Ducks
Metropolitan Division Preview & Betting Guide: Islanders, Rangers, Penguins, Hurricanes
Fantasy Hockey Rankings 2021-22 – Custom Printable Cheat Sheet for Drafts
2021-22 Fantasy Hockey Sleepers: Forwards, Defensemen, & Goalies