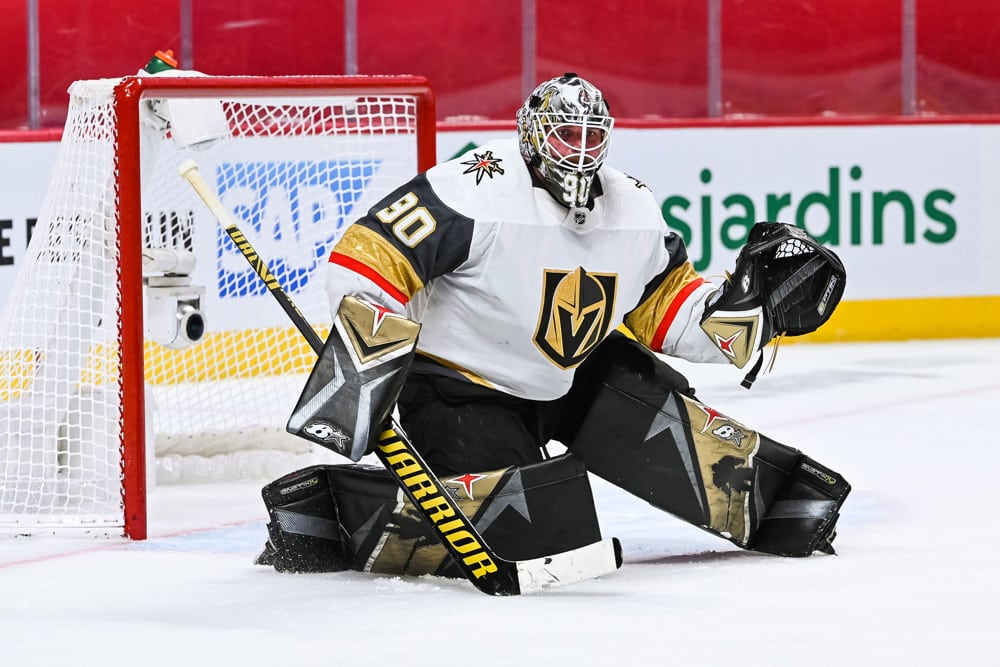 You know a division is bad when three of its top four teams odds-wise are the Flames, Oilers, and an expansion team out of Seattle. Whereas every other division has several teams capable of contending for the Stanley Cup, the Pacific Division has the Vegas Golden Knights and seven other teams with serious question marks. It is unlikely that the Pacific Division will produce either Wild Card team in the West. However, with so many unknowns about a lot of these clubs, there will be plenty of opportunities for them to surprise the rest of the league. And that means opportunities for us bettors to capitalise on its randomness.
Pacific Division Betting Preview & Predictions
Vegas Golden Knights 2021-22 Preview
The 2021 Golden Knights were the victims of a war of attrition that led to their demise at the hands of what many would call a significantly inferior team in the Montreal Canadiens. After staving off the feisty Minnesota Wild in a seven-game series, and after a heroic four-game winning streak against the Cup favourites of Colorado, one may understand why the minnows of Montreal were able to upset the Knights in a bit of a 'let-down spot' (not that an NHL semifinal should ever be considered as such).
The Vegas brass are not looking back, however, and as usual, they are unafraid to make sudden, sometimes surprising changes to get back to the Stanley Cup Finals. This started with trading Marc-Andre Fleury to Chicago for virtually nothing, opening the door for Robin Lehner to take the lead, a solid goalie in his own right. Their next move involved sending centre Cody Glass, the franchise's first-ever draft pick, to Nashville in a 3-team trade that resulted in Philadelphia's Nolan Patrick going to Vegas. The glaring weakness of this team is their lack of quality at the centre position; William Karlsson and Chandler Stephenson have both improved since joining the team, but neither are a bonafide #1 centre, which is crucial for any Cup-winning team. It is hoped that the injury-ridden Patrick can break out and meet his pre-draft expectations in a place desperate for a dominant centreman.
It is suspected, of course, that Vegas has been looking to acquire Jack Eichel to fulfil that #1 centre role, but the drama between him and the Sabres has yet to resolve itself. Based on the history of this management group, however, one may expect this team to busy themselves around the trade deadline.
Vegas Golden Knights 2021-22 Odds
Points O/U: 106.5
Make Playoffs: -4000 Yes / +1700 No
Win Pacific Division: -160
Win Conference: +300
To Win Stanley Cup: +700
Vegas Golden Knights Best Bet & Predictions
To Win Pacific Division (-160)
As we have already stated, this is the only great team in the division, so to offer us odds that suggest they only have a 61% chance of winning the division is to make this an easy best bet. We realise their weakness in the middle of the ice is unlikely to be fixed by the Nolan Patrick acquisition, but strong centre play is more important in the playoffs than the regular season, and the Knights are loaded at every other position – especially when you compare their roster to their divisional counterparts.
One trend that we were able to regularly cash in on last season was to bet the Golden Knights when they were down a goal, or even multiple goals. For whatever reason this was a team that were often slow out of the gate, but they are armed with a winning mentality and enough firepower that they were capable of storming back to win games they should not have. In addition to a bet on them winning the division, we recommend monitoring Vegas games to see if this trend continues and to capitalise on it.
---
Edmonton Oilers 2021-22 Preview
There is no bigger top-heavy team in the league than the Edmonton Oilers. When you look past Connor McDavid, Leon Draisaitl, and Darnell Nurse, there are slim pickings on this roster, which is possibly why they found themselves swept by a much deeper, much heavier Jets team in last year's playoffs. While the Oilers did make a few decent (if expensive) investments in players such as Zach Hyman, Warren Foegele, and veteran D-man Duncan Keith, this team will go as far as McDavid and Draisaitl take them.
Edmonton Oilers 2021-22 Odds
Points O/U: 99.5
Make Playoffs: -400 / +310
Win Pacific Division: +380
Win Conference: +900
To Win Stanley Cup: +2000
Edmonton Oilers Best Bet & Predictions
Over 99.5 Points
Given their leaky blue line, a questionable bottom six, and an ageing goalie who is the definition of inconsistent, we are loathe to go to war with this team into the playoffs. We can, however, make use of the Oilers by betting them to exceed their projected win total. Scoring at a 27.6% clip, the Oilers had by far the best power-play percentage of the last regular season, which is especially important because there are few players as good at drawing penalties as Connor McDavid (though he will argue otherwise after that series with the Jets in which he did not get a single call to go his way).
Somewhat like our case for the Knights, perhaps the best argument for this bet is not so much the strength of the Oilers, but the weakness of the teams around them. Edmonton gets to play the likes of Anaheim, San Jose, Calgary, Los Angeles, Vancouver, and an expansion team we find to be a bit overhyped three or four times each. As long as their two superstar centremen remain healthy, these Oilers have the weaponry to attack and defeat any of these lesser teams multiple times, giving us a nice buffer in getting to 100 points and beyond.

---
Seattle Kraken 2021-22 Preview
Speaking of the new kids on the block, Ron Francis has put together an interesting team to begin the Seattle Kraken franchise. Wisely skipping a lot of the exposed big names and cap dumps, the Penguin/Whaler legend elected to build a team around a solid defensive corps, strong two-way forwards, and safe, competent goaltending. The Kraken are not a team that will be involved in many shootouts, but will likely try to grind games out on the back of their defensive structure, which aligns with the history of coach Dave Hakstol, whose Flyers teams were always offensively conservative.
Seattle Kraken 2021-22 Odds
Points O/U: 92.5
Make Playoffs: -130 Yes / +115 No
Win Pacific Division: +750
Win Conference: +1500
To Win Stanley Cup: +4000
Seattle Kraken Best Bet & Predictions
Under 92.5 Points / To Miss Playoffs (+115)
A lot of analysts, experts, and various other opinion-havers are high on the Kraken. We have to respect the experience and leadership qualities of the team, and we certainly cannot overestimate what good goaltending can do for a team, but we fail to see anything decisively superior about this team that elevates them into the playoffs. If they do make the postseason, it will, again, be more be due to the rest of the division failing to keep pace than this team winning a lot of games, which is why we are more comfortable taking the under on their points total than anything else.
These are not the Vegas Golden Knights; they will take nobody by surprise. This is a middling team with veterans who will work for their place on the team and in the league, and opponents will respect that. Instead of chasing some of the big free agents this past offseason, the Kraken have retained a lot of salary cap space to work with, so we may speculate whether Francis is building this team up slowly rather than the aggressive approach adopted by the previous expansion team. All of this suggests to us that this is a team which will be around the playoff bubble but will not break through it.
---
Calgary Flames 2021-22 Preview
For years the Calgary fanbase has called for the dissolution of its core players: Monahan, Lindholm, even Gaudreau, none were safe from being labelled 'soft,' chokers,' unable to perform when things get tough. Management's response, though, was not to destroy and rebuild but to hire Darryl Sutter, a coach nobody would dare apply any of those labels to.
The Flames enjoyed a decent offseason, too, paying up to get the seasoned Blake Coleman and acquiring the big Russian D-man Nikita Zadorov, whom Flames fans will remember for shutting down their pest extraordinaire Matthew Tkachuk in the series with the Avalanche two years ago. Longtime captain Mark Giordano was snatched by the Kraken, however, so Sutter and the Flames will need Noah Hanifin to step into a bigger role in addition to Chris Tanev maintaining last season's great form.
Calgary Flames 2021-22 Odds
Points O/U: 92.5
Make Playoffs: -125 Yes / +105 No
Win Pacific Division: +1000
Win Conference: +1800
To Win Stanley Cup: +4500
Calgary Flames Best Bet & Predictions
No Bet
The Flames are a team that can go in a variety of different directions. On the one hand, their rugged defensive coach may stunt the offensive firepower of the top 6 while Markstrom's form continues to tail off in net, and they miss the playoffs by fifteen points. On the other hand, players like Tkachuk and Coleman and Backlund thrive in Sutter's physical, structured style and they not only make the playoffs, but win a round or two.
Futures / Unders
Almost everything is open for this team. We would even go so far as to recommend grabbing a ticket on the Flames to win the Cup or the conference since we know the qualities of this coach are particularly suitable for the playoffs. We are stopped, however, because unlike the Stars, for instance, the Flames just do not have the high-end talent required to match up with a Colorado or a Vegas for a seven-game series. For now, simply look out for some game unders with this team – except in the Battle of Alberta, which will all be 7-6 thrillers… hopefully.
---
RELATED HOCKEY CONTENT
Atlantic Division Preview & Betting Guide: Maple Leafs, Lightning, Bruins, Panthers
Atlantic Division Preview & Betting Guide: Canadiens, Red Wings, Senators, Sabres
Central Division Preview & Betting Guide: Avalanche, Wild, Stars, Jets
Central Division Preview & Betting Guide: Blues, Blackhawks, Predators, Coyotes
Fantasy Hockey Rankings 2021-22 – Custom Printable Cheat Sheet for Drafts
2021-22 Fantasy Hockey Sleepers: Forwards, Defensemen, & Goalies