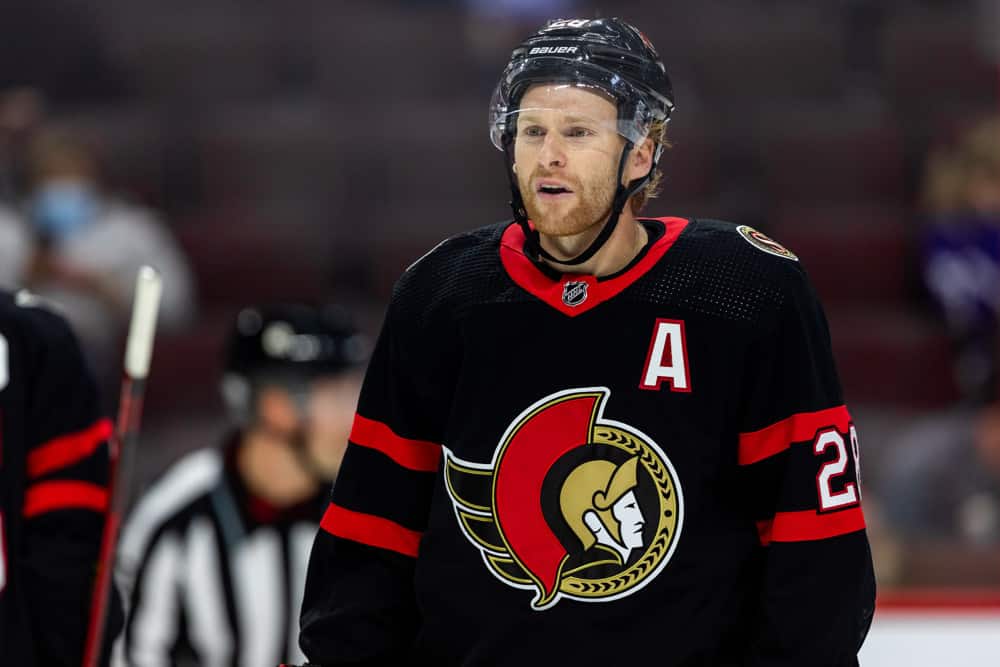 With the 2021-22 NHL regular season right around the corner, it's time to start prepping for your Fantasy Hockey Leagues. Let's face it, with the number of superstars tearing up the league, Fantasy Hockey isn't won in the first five rounds of the draft.  The real contenders get their edge from the success of their late round picks.  With that in mind, let's jump into the top Fantasy Hockey "Sleeper Picks" that'll give your team the boost it needs.
2021-22 Fantasy Hockey Sleepers
Forwards:
#5: Yanni Gourde, C/RW, Seattle Kraken
The Kraken were wise to scoop up Yanni from Tampa in this year's expansion draft.  The pesky 29-year-old forward turned heads playing on the third line for the Lightning last year and had his hands all over the team's successful 2020-21 campaign.  It's almost certain that Gourde will play a more prominent role in the top 6 for the Squid's this year.
I see a lot of people sleeping on Seattle, and no one in their right mind is expecting the Kraken to have the same success as Vegas in their inaugural season.  But with a weak Pacific Division, there's no reason to expect Yanni Gourde not to hit the 20-goal marker this year.
Gourde is currently recovering from off-season shoulder surgery but is said to be ahead of his expected recovery schedule.  Even if he starts the year on your IR, you'll be kicking yourself for not taking a flyer on the Canadian stud.
#4: Vasili Podkolzin, RW, Vancouver Canucks
This one is a gamble… but I doubt you'd be reading this article on the SGPN if you were averse to gambling.  Vasili Podkolzin is a breakout candidate for the Calder Trophy this year.  The 20-year-old Russian is coming off a strong KHL season with SKA St. Petersburg, and an even stronger playoff performance registering 6 goals & 5 assists in 16 playoff games.
The left-handed shot has been praised for his smooth skating, high hockey IQ, and ability to put the puck in the net.  What interest me most about Vasili is the team he plays for.  The kid will most likely be starting on the 3rd line for the Canucks, but don't be surprised to see him playing with Horvat or Pettersson by the end of the season.
This is a perfect example of a player that you could snag with your last-round pick and look like a genius. He's also an absolute steal for any Keeper Pools.
#3: Connor Brown, LW/RW, Ottawa Senators
If you're looking for a sure 25-goal scorer in the later rounds, look no further than the talented 27-year-old playing in the Canadian Capital.  Most Fantasy Managers tend to be hesitant when it comes to drafting players from Ottawa, but Connor Brown is worth keeping on your radar.
Brown registered 21 goals & 14 assists in 56 games during last year's shortened season.  Ottawa as a team is still expected to be near the bottom of the league, but it's no secret their trending in the right direction.  Brown also owns the half wall a talented Ottawa power-play unit. Keep the Winger in the back of your mind when you hit the later rounds of your draft.
Michael Bunting jumped on the scene for a poor Arizona Coyotes squad last year registering 10 goals and 3 assists in 21 games.  You can expect those numbers to increase drastically this season.  Bunting is expected to play along side John Tavares & William Nylander on the Leafs 2nd line.  With linemates like that, a 40 point season isn't out of the question for the late bloomer.
Bunting has the speed and scoring ability to impress the Leafs origination.  Keeping in mind the fact that management is looking for someone to step up and claim one of the two top Left-Wing positions.  Bunting will have every opportunity to be a top 6 forward on one of the top scoring teams in the league.
Let's face is… the Balckhawks captain normally has ZERO reason to be on a fantasy sleepers list.  But this year is different.  After missing the entire season last year, Toews is the definition of "out of sight, out of mind".  His current Yahoo Fantasy ranking is listing the veteran centreman at 179th in the league.  Keep in mind he might have a slow start getting re-accustomed to the NHL pace of pay, but I think we all know what he brings to the table.
It's worth noting that Chicago as a team has the potential to turn a lot of heads this year.  They've secured their goaltending position with Fleury & Lankinen, as well as bolstering their D-core by adding an elite defenseman in Seth Jones.  Chicago could turn back the clock, and Jonathan Toews would be a major part of their success.

Defensemen:
The Montreal faithful had high hopes for their Russian right-handed d-man, and after what we saw in the 2020/21 pre-season, they were justified.  Unfortunately, the 21-year-old found himself out of the line-up come playoff time, only playing 4 games on the Habs trip to the Cup Finals.
With that in mind, this could be the breakout year Romanov needs to establish himself as an impact NHL Defenceman.  It's no secret that with Shea Weber's 2021/22 status up in the air, there's plenty of room for Romanov to not only snag some more ice time and scoring opportunities.
#2: Noah Dobson, D, New York Islanders
Islanders fans have been ecstatic for Noah Dobson since they drafted him 12th overall in the 2018 NHL Entry Draft.  With two Covid Seasons under his belt, it'll be extremely interesting to see just how productive the 21-year-old right-handed d-man can be in his first full 82 game season.
What intrigues me most about Dobson is his ability to quarter back a powerplay unit.  Noah has found himself on the first powerplay unit for a strong Islanders team looking to do some damage in the Metropolitan Division.  This could be a solid late-round addition to any fantasy team.
Josh Morrissey is no stranger to the NHL, but the 26-year-old is set up to have one of the strongest seasons in his Career.  Morrissey fell off most Fantasy GM's radar the past 3 years.  This can be chalked up to the two previous covid-seasons, as well as an injury in 2018/19 forcing him to miss 23 games.
The Winnipeg Jets are extremely confident in the young d-man, and as a team, they're looking to bounce back hard after being swept by the Habs in the 2nd round last year.  If Josh Morrissey can stay healthy, you can expect him to blow past his career high of 31 points in 59 games in 2018-19 season.
---
Goalies:
For the first time in 9 years, the Bruins will be without elite goaltender Tuukka Rask.  To add insult to injury, they also lost their stud 1-B goalie Jaroslav Halak in free-agency to the Canucks.  Enter Jeremy Swayman.
Swayman has been deemed to #1 guy by Bruins managment.  He'll get every opportunity to earn the net from Linus Ullmark.  Even with uncertainty in net, the Bruins as a team are still expected to be a contender.  This alone can lead to an abundance of fantasy points for whoever's in goal for the B's.
Much like the Bruins, there seems to be a changing of the guard in between the pipes in L.A this year.  Although Jonathan Quick will still be a King, the 3 year, $5 Million contract that Petersen inked this offseason indicates who the Kings expect to be their number 1 netminder going forwards.
Over the past 3 years, Los Angeles GM Rob Blake has done an excellent job drafting & developing young stars for his team.  2021/22 has the potential to be the breakout year that L.A. fans have been waiting for.  If this is the case, you can expect Cal Petersen's fantasy numbers to reflect their success.
---
Honorable Mentions:
Viktor Arvidsson, LW/RW, Los Angeles Kings
Kirby Dach, C, Chicago Blackhawks
Evgenii Dadonov, LW/RW, Vegas Golden Knights
Christian Dvorak, C/LW, Montreal Canadians
Yegor Sharangovich, LW/RW, New Jersey Devils
Eeli Tolvanen, LW/RW, Nashville Predators
Rasmus Sandin, D, Toronto Maple Leafs
Jamie Drysdale, D, Los Angeles Kings
Bowen Byram, D, Colorado Avalanche
Spencer Knight, G, Florida Panthers
Kaapo Kahkonen, G, Minnesota Wild
To round things up, every player on this list is worth keeping on your watch list throughout your draft.  Fantasy Leagues are won and lost by the production off your bench.  You can be confident with these players, you'll have the depth you need to put your team over the top.
---
RELATED
Atlantic Division Preview & Betting Guide: Maple Leafs, Lightning, Bruins, Panthers
Atlantic Division Preview & Betting Guide: Canadiens, Red Wings, Senators, Sabres
Central Division Preview & Betting Guide: Blues, Blackhawks, Predators, Coyotes
Central Division Preview & Betting Guide: Avalanche, Wild, Stars, Jets
Fantasy Hockey Rankings 2021-22 – Custom Printable Cheat Sheet for Drafts