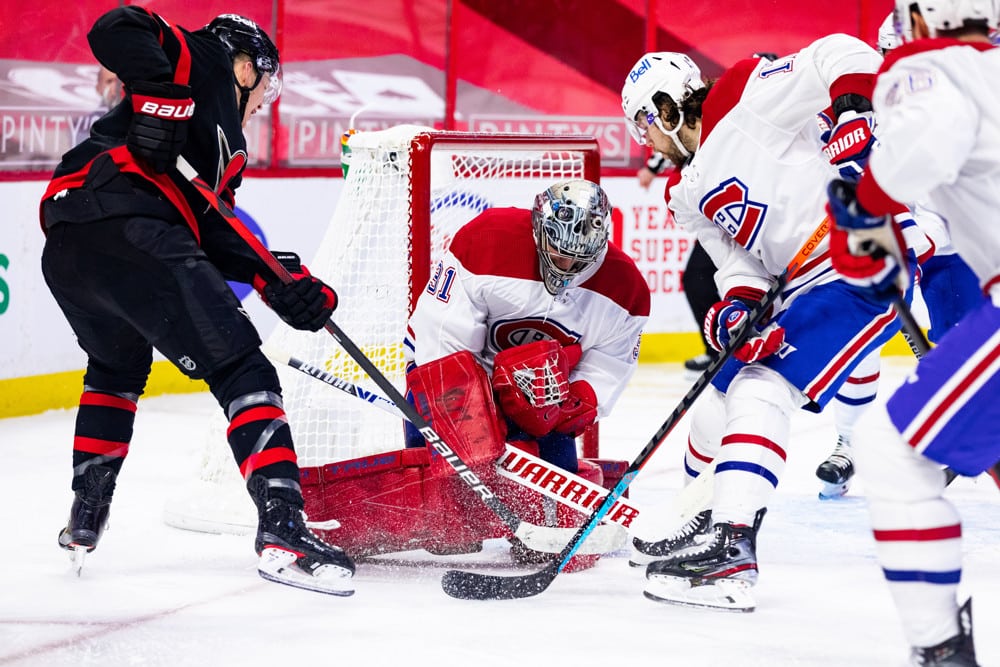 Hockey season is here! Leading up to NHL Opening Night on Tuesday, October 12th, we'll be previewing each division. Rather than skim through all eight teams per division in one article, we're going to break it up into each division's contenders and pretenders. We've already looked at the Atlantic Division Contenders. Now, let's take a look at the bottom half: Montreal Canadiens, Detroit Red Wings, Ottawa Senators, Buffalo Sabres.
The Atlantic Division has a clear top four and bottom four. The Toronto Maple Leafs, Tampa Bay Lightning, Boston Bruins, and Florida Panthers all have point totals over 100. The Canadiens are the best in this group at 89.5 with the rest below 80 (or 70).
Let's get into our second Atlantic Division Preview and Betting Guide for the 2021-22 NHL Season!
Atlantic Division Betting Preview & Predictions
Montreal Canadiens 2021-22 Preview
The Montreal Canadiens made it all the way to the Stanley Cup Final last season. Their Cinderella season came to an end in five games, though, at the hands of the Tampa Bay Lightning. Montreal wasn't expected to make any noise last season, but Carey Price put the team on his back. A goalie can get hot and carry his team, and that's exactly what Price did last season. Unfortunately, Price has taken a leave of absence and entered the NHL player assistance program. All the best to him.
For the 2021-22 season, the Canadiens have an uphill battle. They're back in the Atlantic Division with four superior teams and the Metropolitan is deep enough to take the other Wild Card.
Montreal Canadiens 2021-22 Odds
Points O/U: 89.5
Make Playoffs: +160 Yes / -190 No
Win Atlantic Division: +3500
Win Conference: +2200
To Win Stanley Cup: +5000
Montreal Canadiens Best Bets & Predictions
Under 89.5 Points / To Miss The Playoffs -190
I just don't see this happening. They squeaked into the playoffs with a 24-21-11 record for 59 points in 56 games last season. That's prorated to 86.39 points in a full 82-game season. The year prior, they just barely made the playoffs again –– thanks to a qualifying round –– after a 31-31-9 record (71 points) in 71 games. That's not promising.
I was tempted to simply take the Canadiens to miss the playoffs at -190, which I recommend if you feel comfortable laying the juice. It'd be shocking if any of the top four teams in the division miss the playoffs and the Metropolitan is full of teams that, on paper, are better than the Canadiens.
Cole Caufield to win Calder Trophy (+300)
Cole Caufield is the favorite to win the Calder Trophy and for good reason.
The 20-year-old forward burst onto the scene last year with 5 points (4 goals) in his first 10 NHL games after his NCAA season ended. That NCAA season wasn't too shabby with Caufield scoring 30 goals and adding 22 assists for 52 points in 31 games with Wisconsin. In his first taste of the Stanley Cup Playoffs, Caufield had 12 points (four goals, eight assists) in 20 games.
Caufield knows how to score and he can help you score big with this bet.
---
Detroit Red Wings 2021-22 Preview
The Detroit Red Wings are in the midst of a long rebuild. They haven't made the playoffs in five seasons and haven't won a playoff series since 2013. In fact, the Wings haven't won more than 33 games since the 2015-16 (41-30-11).
Over the past five seasons, the Red Wings have been irrelevant in the postseason conversation, or really in any conversation. They haven't hit on any of their top draft picks yet and are waiting to take that step back into relevance
Detroit Red Wings 2021-22 Odds
Points O/U: 77.5
Make Playoffs: +800 Yes / -1400 No
Win Atlantic Division: +10000
Win Conference: +10000
To Win Stanley Cup: +15000
Detroit Red Wings Best Bets & Predictions
Under 77.5 Points
This is a no-brainer for me. Starting with the 2016-17 season, Detroit had 79, 73, 74, 39 (in 71 games — 45-point pace), and 48 (in 56 games — 70-point pace) points. They haven't done anything this offseason to make me believe that they'll get back up to that 79-point level, especially in this division.
Moritz Seider (+1200) / Lucas Raymond (+2000) to win Calder Trophy
Where the Red Wings have hope is in their young prospects. While they haven't made an impact just yet, this might be the year. I don't love either of these bets, but if you're a Red Wings fan wanting a positive bet to root for, why not check out the young guns?
Moritz Seider, 20, was the sixth overall pick in 2019. He is touted as a top-tier two-way defenseman. He had 28 points in 41 SHL games last season and is ready for the NHL.
Lucas Raymond, 19, was the fourth overall pick in the 2020 NHL Draft. He put up 18 points in 34 SHL games last season and is looking to secure a spot in Detroit's top-six this year.

---
Ottawa Senators 2021-22 Preview
The Ottawa Senators are kind of a mess. Okay, not kind of. They are a mess. Sorry for the bluntness, but the Senators have been spiraling downward since being one win –– one goal! –– away from the Stanley Cup Final in 2017. They followed up their 98-point season with back-to-back seasons under 70 points (67, 64). In the last two shortened seasons, they had 62 points in 71 games and 51 points in 56 games.
Ottawa Senators 2021-22 Odds
Points O/U: 77.5
Make Playoffs: +1200 Yes / -2500 No
Win Atlantic Division: +15000
Win Conference: +10000
To Win Stanley Cup: +20000
Ottawa Senators Best Bets & Predictions
Over 77.5 Points
You may be surprised at this pick based on what I said above. Yes, the Senators have been a mess, but they got better in the second half last season. They started out extremely poorly, going just 2-12-1 in their first 15 games. However, they finished with a bang. Ottawa won more games than they lost from February 21st onward with a 19-14-4 record. In the final month of the season, they rattled off a 10-3-1 stretch to end the season on a high note.
Brady Tkachuk has turned into one of the best pests in the game up front and Tim Stutzle stepped right into an NHL role. Thomas Chabot is underrated on the back end and Matt Murray may be able to find his game. Murray was a big reason the team had a poor first month. After that, he went 8-4-0 with a .901 SV% and two shutouts. Both of those shutouts came in the midst of a 3-0-0 stretch with 92 saves on 95 saves to close out the season.
I expect Ottawa to be around a .500 team, giving them a point total in the low 80s.
---
Buffalo Sabres 2021-22 Preview
Last, and quite possibly least, is the Buffalo Sabres. The Jack Eichel drama has enveloped the Sabres organization. Between the injury, trade requests, and unconfirmed reports, there is a lot going on in Buffalo. Oh yeah, they also traded top-pair defenseman Rasmus Ristolainen to the Philadelphia Flyers.
Let's get to their performance on the ice, though: it's not great either. In a division like this one, each of these four teams are going to get beaten up on by the top four teams. The Sabres, perhaps, more than the rest.
Buffalo Sabres 2021-22 Odds
Points O/U: 68.5
Make Playoffs: +1700 Yes / -4000 No
Win Atlantic Division: +30000
Win Conference: +10000
To Win Stanley Cup: +20000
Buffalo Sabres Best Bets & Predictions
Under 68.5 Points
This is not going to be a nice season to be a Buffalo Sabres fan. They managed just 37 points in 56 games last season, an 82-game pace of 54 points. That included an 18-game winless stretch from February 25th to March 29th — and they recorded points in just three of those games.
With Jack Eichel injured (or perhaps traded), the Sabres lack any sort of offensive punch. Maybe Jeff Skinner comes out from hibernation, but that's not likely. Victor Olofsson is a solid player, but after the top line of him, Skinner, and Casey Mittelstadt, there's not much. It's a similar story on defense with Rasmus Dahlin as the only decent defenseman.
The Sabres are going to be in the basement of the league yet again this season.
---
RELATED HOCKEY CONTENT
Atlantic Division Preview & Betting Guide: Maple Leafs, Lightning, Bruins, Panthers
Central Division Preview & Betting Guide: Avalanche, Wild, Stars, Jets
Central Division Preview & Betting Guide: Blues, Blackhawks, Predators, Coyotes
Fantasy Hockey Rankings 2021-22 – Custom Printable Cheat Sheet for Drafts
2021-22 Fantasy Hockey Sleepers: Forwards, Defensemen, & Goalies