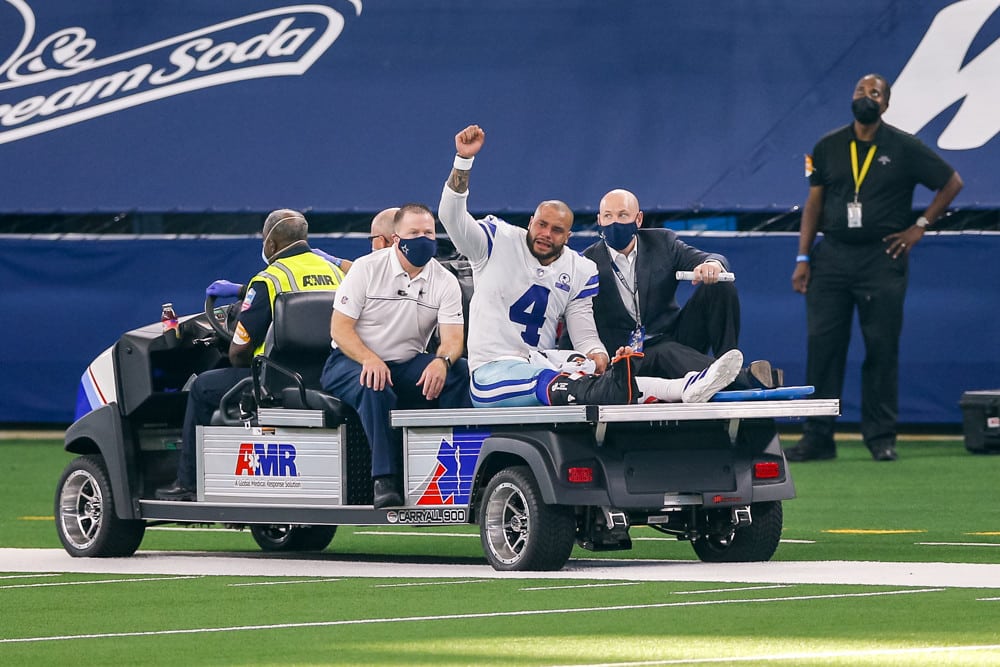 Most of us are at the point of the year where expectations are sky high and we're all just hoping our teams can make it to Week 1 healthy and ready to produce. Unfortunately, the injury bug and the preseason go together like Mike Tomlin and finishing above .500. The following is a current fantasy football injury report. We're breaking down fantasy-relevant offensive players who are carrying an injury designation next to their name. The players are separated by my level of concern for their injury. The last section is dedicated to injuries that simply need more information to provide a true breakdown.
EXCLUSIVE SGPN FANTASY CONTENT
SGPN Fantasy Football Projections
2021 SGPN Fantasy Football Draft Kit
High Concern
Kenny Golladay (WR) New York Giants
Hamstring Strain, Initial Injury: 8/3/21
The Giants took an expensive chance signing top free-agent WR Kenny Golladay this offseason despite his well-recorded injury history. Golladay has shown his ability to be a dynamic and efficient top receiving option for an offense. The concerns have been about his on-field availability due to injuries. It seems these concerns are valid. Golladay has been out of practice and rehabbing with team trainers, due to a hamstring strain since August 3rd. A hamstring strain means that there has been damage to the muscle in the back of one's upper leg. Not only do these injuries come with a high reinjury risk, but this reinjury risk increases when a player has had previous hamstring injuries, such as the case with Golladay.
Evan Engram is participating after working on side Thurs. Rodarius Williams & Gary Brightwell out here. Today's injured group: Aaron Robinson, Kadarius Toney, Austin Mack, Danny Shelton, Shane Lemieux, Elerson Smith, Josh Jackson, Adoree Jackson, Kenny Golladay, John Ross #Giants

— Pat Leonard (@PLeonardNYDN) August 27, 2021
Injured hamstrings severely limit a player's ability to sprint and jump, as they are responsible for producing the majority of power in your legs. At his best in 2019, Golladay was a deep play threat who excelled at contested catches on jump balls. This aspect of his game is in danger if this injury lingers into the season. The one silver lining is that Golladay has almost six weeks to rehab this injury before Week 1 of the regular season. Only time will tell if it is enough.
Joe Burrow (QB) Cincinnati Bengals
ACL, MCL, and likely Meniscus Surgical Repair, Initial Injury: 11/22/20, Surgery: 12/2/20
The last time we saw Joe Burrow in a game he was on the ground in severe pain, wondering what he did wrong in his life to be drafted behind arguably the worst offensive line in the league. Fast forward nine months later. Burrow has had a major surgery to repair multiple key structures in his knee. He still has to play behind this same offensive line. Rehabilitation from a major knee injury is difficult enough, as you have to build back trust in your body and strengthen your knee to become stable again.
Reinjury rates are increased after a major knee injury. The potential for long term knee damage is increased and it can take up to two years after surgery to have your mechanics and movement back to normal. Burrow has to deal with all of these physical and mental struggles. To top it all off, the Bengal's have done next to NOTHING to improve his protection on the field. Sure, reuniting him with his old college buddy Ja'Marr Chase is great. Although, it's not going to save him from worrying about how many defenders he has to run away from every play.
Michael Thomas (WR) New Orleans Saints
Ankle Surgery, Initial Injury: 8/13/20, Surgery: June 2021
Next up is one of the more bizarre situations on this fantasy football injury report. Michael Thomas was injured in Week 1 of the 2020 season and was not the same since the injury. He was in and out of the lineup all season and was not producing at the rate we have grown accustomed to as NFL fans. After a disappointing season, the general consensus was that Thomas was going to have ankle surgery after the season and there would be no lingering effects going into the 2021 season. Did you forget we are talking about Michael Thomas? Of course, things didn't go as planned and he had the surgery done in June, basically guaranteeing he would miss the start of the 2021 season. The timetable right now is he is expected to return sometime between Week 4 and Week 7.
On the injury front, the surgery should improve his route running and run after catch ability. However, he will have little to no chemistry built with whoever the Saints QB1 is. He also still has a history of not only ankle but also groin and hamstring injuries. Michael Thomas is not a WR you are going to be able to depend on to get you to your fantasy playoffs this year. He may though, help you win in the playoffs IF things go according to plan this time.
Rashod Bateman (WR) Baltimore Ravens
Core Muscle Surgery, Initial Injury: 8/10/21, Surgery: 8/13/21
Rookie WR Rashod Bateman's career got off to a rough start. He was injured in training camp while attempting to make a cut during a route. The injury was deemed severe as he underwent core muscle surgery three days later. The timeline given after surgery was a six to eight week expected recovery range. This would have Bateman's return sometime between Week 3 and Week 5. This injury was caused by quick sudden movements, AKA running routes.
Rashod Bateman is back on his feet, running go routes.

(via IG/rashodbateman) pic.twitter.com/yYe9fH7Agg

— Jonas Shaffer (@jonas_shaffer) August 20, 2021
It will take a significant amount of time for Bateman to feel comfortable running routes at full speed. Bateman's catch radius will also be affected. His abdominals will be stretched and tested every time he reaches out for a ball thrown away from his body. Let's also remember that the Ravens just spent a first round pick on Bateman. I wouldn't expect them to rush him back before he is 100% ready.
Moderate Concern
Dak Prescott (QB) Dallas Cowboys
Latissimus Strain, Initial Injury: 7/28/21
Dak Prescott pulled himself out of practice early on in training camp due to shoulder discomfort. An MRI revealed a strain or damage to his latissimus muscle in his throwing shoulder. This muscle runs from your hips, up the back, and to the front of your shoulder. It's a more common injury in the MLB than in the NFL. Damage to this muscle affects a QB's throwing ability, specifically throwing velocity and power. The Cowboys appear happy to slowly ramp Dak back into things, which is good to lower re-injury risk.
However, my concern comes in the fact that it appears his first live action will come against the defending champion Tampa Bay Buccaneers defense. Dak's throwing shoulder, previously shattered ankle, and ability to adjust to regular season game speed will all be tested on September 9th.
D'Andre Swift (RB) Detroit Lions
Groin Injury/Adductor Strain, Initial Injury: 8/5/21
This is just one of those times you're thankful you don't live in and/or root for the Detroit Lions. Also, for those of you who are still repping the Silver and Honolulu blue, I am sorry and your prayers will be answered one day. The promising young running back has been dealing with a groin injury that was suffered earlier this month. He has not played at all in the preseason, with very limited work in practices. A groin injury is an umbrella term that most often refers to damage of the muscle of the inner thigh connected to your pelvis.
Groin injuries are concerning as they tend to linger if not rehabbed properly and should not be rushed. This injury most affects a RB's ability to make cuts as a ball carrier and run crisp routes out of the backfield. Fellow Lions RB Jamaal Williams is certainly looking more appealing the longer Swift is held out of full practice.
Amari Cooper (WR) Dallas Cowboys
Ankle Surgery, Initial Injury: Throughout 2020 season, Surgery: 1/7/21
After a productive year in 2020 despite questionable QB play, many fans were surprised when Amari Cooper revealed he had surgery on his ankle after last season to remove a piece of bone in his ankle. With so much time before the 2021 season no one was under the impression that this surgery or previous injury would be relevant come preseason. However, there were setbacks in his rehab and Cooper has just recently began working back into practice. These setbacks are concerning, especially in a crowded WR room. Cooper would be battling for his target share if 100% healthy. I'm not convinced he will be able to be a reliable WR1 or 2 at the start of the season. It also doesn't help that his Cowboy buddy and QB joins him on this fantasy football injury report.
Saquon Barkley (RB) New York Giants
ACL, MCL, Meniscus Surgical Repair, Initial Injury: 9/20/20, Surgery: 10/30/20
During a Week 2 matchup against the Chicago Bears the entire city of New York took a massive blow. Saquon Barkley suffered a major knee injury, tearing his ACL, MCL, and meniscus. This is the same injury Joe Burrow (see above) suffered, but in this case the injury occurred two months before. This is still a serious knee injury that is both physically and mentally difficult for a player to come back from. However, I am less concerned in this case. Barkley was able to have two more months of rehab and a much more conservative approach is being taken by the Giants. I expect Saquon to have a GOOD year, NOT a GREAT year, with better performances as the year progresses.
Marquise Brown (WR) Baltimore Ravens
Hamstring Strain, Initial Injury: 7/29/21
The Ravens WR room took another hit this offseason. Speedy WR Marquise "Hollywood" Brown suffered a hamstring injury at the start of training camp. As discussed above in the Kenny Golladay section, hamstring injuries are brutal to deal with especially for players who rely on their speed like Brown. Brown has dealt with injuries his first two years in the league. That trend seems likely to continue this year as he has still not returned to full practice. As a flier and deep threat, Brown is usually drafted as a high risk, high reward player. This hamstring injury he is dealing with only increases the risk.
Tarik Cohen (RB) Chicago Bears
ACL Surgical Repair, Initial Injury: 9/27/20, Surgery: 10/6/20
During a Week 3 matchup with the Atlanta Falcons, Bears RB Tarik Cohen suffered a torn ACL on a punt return. He had surgery to repair his knee a short time after. The former Pro Bowl RB began the offseason on the Physically Unable to Perform (PUP) list. There is currently no timetable for his return. This is not a good sign for an RB whose role in the offense was already fading due to newfound stud and teammate David Montgomery.
This is a severe knee injury that is difficult to come back from, especially for a shifty RB who relies on his quickness and change of direction so much. In order for Cohen to produce at a high level he needs to 100% trust the stability of his knee. He is clearly not there yet. I would not expect much production out of Cohen in the beginning half of the year. Although, he may be able to find a role in the offense again in the second half of the season.
Anthony Miller (WR) Houston Texans
R Shoulder Dislocation, Initial Injury: 8/14/21
Luck has not been on Anthony Miller's side to start his young career. The now Houston Texans WR has suffered his third shoulder injury in three years, with the new injury coming to his R shoulder and the previous two being to his L shoulder. Miller dislocated his R shoulder during the Texan's preseason game against Green Bay. On the positive side, an MRI revealed no structural damage to his shoulder and he will not require surgery. A return timetable of Week 1 to Week 2 was given, but this is an injury that can linger throughout the season and limit his catch radius due to pain.
Miller has already dislocated his left shoulder in 2018 and then reinjured the shoulder the next year in 2019. Miller was in a position battle with teammate Keke Coutee for the starting slot WR position, and this injury helps Coutee's chances of winning the job.  On the bright side of what looks like a gloomy year for Texans fans, Miller is the only Houston fantasy football player to make the injury report.
Mild to No Concern
DeVonta Smith (WR) Philadelphia Eagles
MCL Sprain, Initial Injury: 7/31/21
The rookie WR injured his inner knee earlier this offseason. The injury appears to have been mild as he made his preseason debut in the Eagles Week 2 matchup against the Patriots, where they got carved up like a Thanksgiving turkey. Despite the team's comical effort, DeVonta Smith actually seems to be progressing well and looked on his way to getting back to 100%. Barring any setbacks, I have little concerns for Smith to be ready for Week 1 of the regular season and due to the extended amount of rehab time available, there are little to no concerns for a reinjury.
Julio Jones (WR) Tennessee Titans
Unknown leg injury, Initial Injury: 8/2/21
Julio Jones landed awkwardly from a catch earlier this offseason and suffered a minor leg injury. The Titans are taking a conservative approach with the veteran WR and want to preserve him for the regular season due to his injury history and importance to the team. The concern is more on his chemistry with his new QB than any health concerns at this point. His stay on the fantasy football injury report should be brief.
Kyle Rudolph (TE) New York Giants
Foot Surgery, Initial Injury: 12/6/20, Surgery: Late March 2021
After signing with his new team, Kyle Rudolph had an unhealed foot injury discovered during a team physical. The injury was a Jones fracture, a crack in his pinky toe bone, and required surgery which Rudolph underwent in late March of 2021. This injury can have high reinjury rates if rushed back too soon but the Giants have taken a conservative approach as Rudolph was just taken off the PUP list this week (8/25/21). Rudolph may take a couple weeks to adjust to his new team and game speed but with more than enough rehab time, I have little health concerns for the new Giants TE.
Carson Wentz (QB) Indianapolis Colts
Foot Surgery, Initial Injury: 7/29/21 , Surgery: 8/2/21
The new Colts QB began his stint with his new team in a familiar place, the injury report. Carson Wentz injured his foot early in training camp and it was found that there was a piece of bone that was loose and needed to be removed with surgery. Luckily (no pun intended Colts fans), it seems to be the best-case scenario as the bone was removed with no complications and Wentz has made his return to practice in a limited fashion. No muscle or ligament was attached to the bone being removed which makes for a much quicker rehab and there is little to no increased reinjury risk.
https://twitter.com/PFF/status/1429857909274464258
It is still to be determined if the Colts will feel comfortable sending Wentz out as there Week 1 starter. It's definitely a possibility and he should miss little to no regular season time. Keep an eye on the news to see if he stays on the fantasy football injury report.
Clyde Edwards-Helaire (RB) Kansas City Chiefs
Mild Ankle Sprain, Initial Injury: 8/20/20
The second year RB gave fans a scare last Friday as he went down with an ankle injury in the Chiefs second preseason game. The initial fear was that he suffered a dreaded high ankle sprain which caused Clyde Edwards-Helaire to miss games last season and requires a longer rehab. However, it appears it was just a mild low ankle sprain as the Chiefs starting RB has already returned to practice this week and should be in no danger to miss the start of the season.
D.J. Chark (WR) Jacksonville Jaguars
Finger Surgery, Initial Injury: 8/6/21, Surgery: 8/9/21
DJ Chark suffered a minor injury to one of his fingers early in training camp and had surgery to repair the minor crack in the bone. Chark is fully expected to be ready to go for Week 1 with little to no increased injury risk from the surgery. Surgery was likely done to speed up the healing time.
A.J. Brown (WR) Tennessee Titans
Knee Injury, Initial Injury: 9/20/20, Surgery: 1/19/21
After the 2020 season it was revealed that star Titans WR A.J. Brown had surgery on both of his knees. The clean-up surgeries were likely to remove some structures causing pain in Brown's knees. Brown has missed some practices this offseason and this is likely a precautionary measure for the season. Brown will likely be a guy who finds himself on the injury report throughout the season, due to missed practice time, but unless there's a new development, should be a reliable fantasy football WR1.  Although this is not a great sign for his long-term knee health, he should to be all set to have a very productive 2021 season.
Need More information – Monitor Situation
Marvin Jones Jr. (WR) Jacksonville Jaguars
AC Sprain, Initial injury: 8/23/21
Marvin Jones Jr. suffered an injury to his shoulder in the Jaguars recent preseason game against the Saints. He was injured while diving for a ball during the game which is common for how this injury occurs. More testing and information are needed as depending on severity these injuries can take between two to six weeks for fully heal. This shoulder injury reduces a WR's catch radius and lowers their desire to dive for catches.
Hunter Henry (TE) New England Patriots
Shoulder Injury, initial Injury: 8/10/21
In typical Belichick fashion, there is not much information regarding new TE Hunter Henry's shoulder injury. He suffered the injury earlier in camp and had an MRI on the shoulder which produced no talks of surgery, which is a good sign. He has been a very limited participant in practice and recently was wearing a red non-contact jersey to jog through some routes. Henry has never played a full season due to a decent injury history, so the situation requires monitoring. Belichick clearly isn't looking out for the fantasy football community, with his hush-hush injury report style.
Adam Trautman (TE) New Orleans Saints 
L Foot Injury, Initial Injury: 8/23/21
Adam Trautman was injured in the Saints recent preseason game against the Jaguars but not much information is available on this injury yet. X-rays came back negative at the stadium so a major injury is unlikely, however, this was the case with Jaguars RB Travis Etienne and he is now out for the season. More information should be available soon as he will likely see a foot specialist and more testing will be done.
Find injury breakdown and analysis all season on Twitter @SGPNFootballDoc!
MORE FANTASY CONTENT
Fantasy Football Value Picks: Mid-Round Value Picks and Targets
SGPN Fantasy Football Cheat Sheets [PRINTABLE TIERS] – August 24 Update
Fantasy Defensive Outlook and One IDP Fantasy Player for all 32 Teams
Fantasy Football Injury Analysis: 5 Players to Avoid Drafting
10 Late Round Fantasy Targets: Fantasy Football Sleepers
Funny Fantasy Football Names 2021
Last Year's Fantasy Football Busts and their 2021 Outlook
Fantasy Football Draft Strategy: How to Draft with RB Zero
Fantasy Football Draft Strategy: How to Draft in SuperFlex