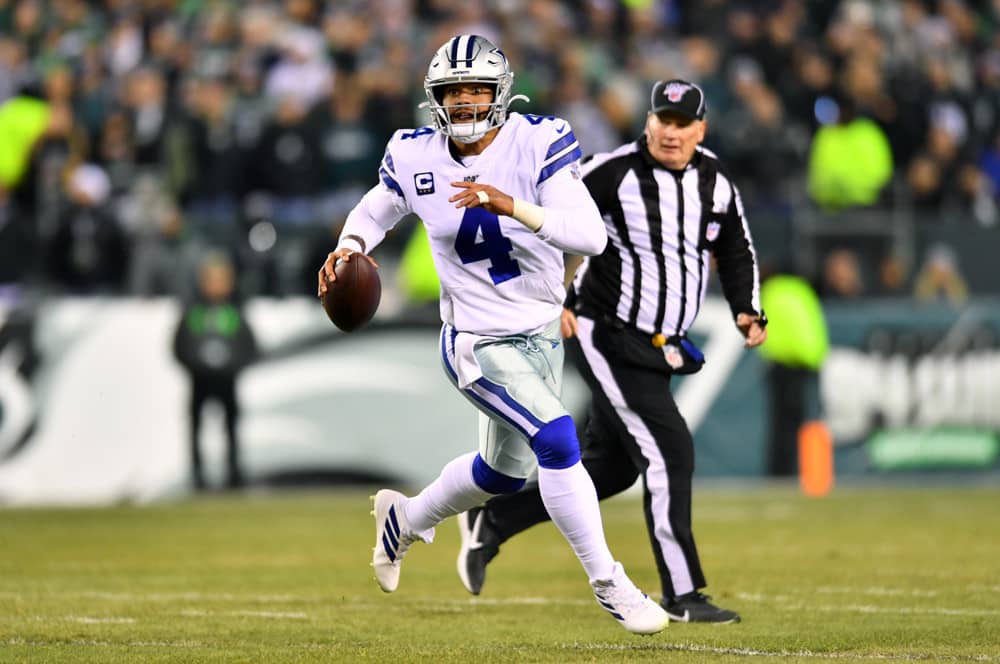 Although we've hit somewhat of a dead period in the betting world, there's good news. There are tons of NFL props available for the upcoming season if you're willing to tie some money up for an extended period. It is several different markets available for NFL props, but none are more lucrative than win totals. Today, we're going to take a look at the 2021 NFC East win totals and give a play on the over or under for each team. All lines in this article are courtesy of DraftKings Sportsbook, so slide over there and get down on these win totals today!

NFC East Win Totals 2021 Picks
(click on team name for gambling & fantasy preview for that team)
Dallas Cowboys
Win Total: 9 (o-140/u+115)
Turn your heads, Sean and Kramer, you won't like what's coming up. The Cowboys are currently favored to win the division, and it's understandable why. They finished last year at 6-10 with Andy Dalton under center after Dak Prescott had a season-ending injury. Things will now be back in Dak's hands as he should be healthy this year. Dallas features a talented offense, and they didn't make many changes.
Their defense is a little spotty, but on paper, I like what I see from the defensive side of things for the Cowboys. Dallas has an offense that can dominate this division if the cards fall right, and they have one of the easiest schedules in the NFL. The only thing that stops the Cowboys from winning this division in my eyes is injuries. Don't load up on this win total because the number feels about right, but I lean with the juice and the over.
Pick: Over 9 (-140)

Win Total: 7 (o-130/u+110)
This year appears to be now or never for Daniel Jones and the Giants. They went out and picked up Kenny Golladay which surrounds Danny Dimes with a ton of talented receivers as well as a talented backfield. New York had a disappointing 6-10 season last year, but I do feel as though they've improved some. Their offense has certainly improved, and their defense looks decent to me as a whole as well.
For a team who picked up another super talented receiver, only one win more than they had last year certainly feels like it's in their wheelhouse. The Giants also had a much tougher schedule last year, and their path should be easier this year. It feels like we may be looking for a late win to grab a push if Danny Dimes struggles. However, I am playing the over here as I am high on New York for the 2021 season.
Pick: Over 7 (-130)

Think you know who's going to win it all this year? Check out the lastest Super Bowl odds.

Win Total: 6.5 (o-130/u+110)
The 2021 season officially marks the beginning of the Jalen Hurts era of the Eagles. The future is bright for Philadelphia, but it may take another year of prep. Hurts did look pretty good under center last year in limited action, and his offense will be very similar to last year's. The Eagles will once again be stout on the defensive side of the ball although they don't have a ton of depth so injuries could play a factor.
Philadelphia found themselves in the cellar of the NFC East last year with a 4-11-1 record last year. However, I believe things will improve. Hurts has had more time to build chemistry with his team, and players seem to like him a lot more than his predecessor. This is another chalky play, but this is my favorite of the NFC East win totals to bet this year. I believe the Eagles will win seven games with relative ease this year.
Pick: Over 6.5 (-130)

Win Total: 8.5 (o-115/u-105)
Last year's feel-good story of the year Alex Smith has now retired, and it's time for a new era for the Washington Football Team. They brought in journeyman veteran quarterback Ryan Fitzpatrick to carry the team for at least a season. Although I like the addition, this is certainly a move down from Smith. There is a ton of question marks on the WFT offense, and I believe they are being overvalued.
The defensive side of the ball should be very stout for WFT though. They have a ton of talent on the defensive side of things which will give them a chance in most games. However, as a whole, I believe Washington has the weakest roster of all the NFC East teams. Defense can only take you so far, and I don't think it will carry the Football Team very far. I am playing the under here as I don't trust Fitzpatrick to win nine games in any uniform.
Pick: Under 8.5 (-105)

---
NFL Win Totals: