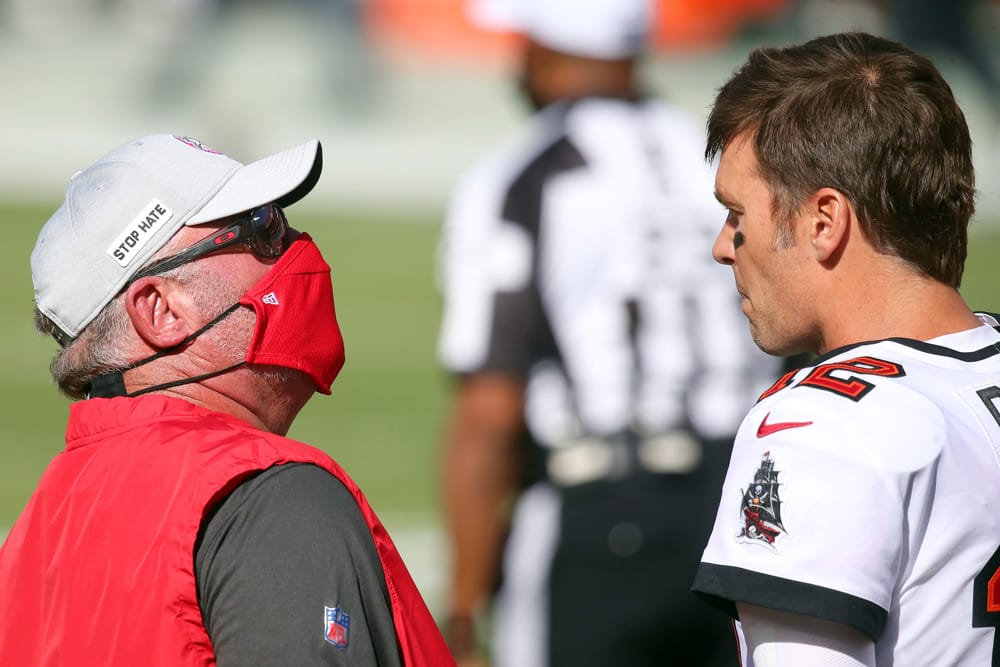 Although we've hit somewhat of a dead period in the betting world, there's good news. There are tons of NFL props available for the upcoming season if you're willing to tie some money up for an extended period. It is several different markets available for NFL props, but none are more lucrative than win totals. Today, we're going to take a look at the 2021 NFC South win totals and give a play on the over or under for each team. All lines in this article are courtesy of DraftKings Sportsbook, so slide over there and get down on these win totals today!

NFC South Win Totals 2021 Picks
(click on team name for gambling & fantasy preview for that team)
Win Total: 7.5 (o-130/u+110)
If you are holding out faith that Atlanta will have a bounce-back season, then it's probably time to hang those hopes up. The Falcons turned in a horrible 4-12 season last year, and there is very little to suggest that things will improve that much. Their offense looks even worse now that Julio Jones is no longer with the team, and their defense doesn't look very good on paper either which concerns me some.
There is only one thing that helps Atlanta's case and should give fans some hope. The entire division, the Falcons included, will have an easier schedule ahead of themselves. However, I don't think this easier schedule will change things much. Atlanta was horrid last year, and I believe they will struggle once again. Matt Ryan doesn't appear to have much more left in the tank, and I don't picture this year's Falcons team reaching eight wins.
Pick: Under 7.5 (+110)

Win Total: 7.5 (o-105/u-115)
The 2021 season will mark the beginning of a new era for the Panthers. Sam Darnold is now in town and he will be the team's starting quarterback for week one. Carolina finished the 2020 season at 5-11 which was better than many expected but still isn't very impressive. It is worth noting that the Panthers do have a great running back in Christian McCaffrey and they have a pretty decent receiving group.
However, Carolina's defense doesn't appear as though it will be very good. A weaker schedule may help the team some. I don't think this will help all that much though given how this defense looks on paper and the fact that I simply don't trust Darnold as a quarterback. I feel as though the Panthers will be lucky to squeeze eight wins out of this season, and I don't believe they have much luck in the tank this season and I am on the under here.
Pick: Under 7.5 (-115)


New Orleans Saints
Win Total: 9 (o-115/u-105)
Moving along, we now dive into the defending AFC South champions New Orleans. This is another team in this division moving into a new era as Drew Brees has retired. It's uncertain whether Jameis Winston or Taysom Hill will be the starting quarterback going into the season, but one has to assume Hill will be used in some form. The Saints went 12-4 last year, but there is certain to be regression post-Brees.
No matter who is under center for New Orleans's offense, the team has plenty of weapons in their backfield and receivers. The biggest question mark to me will be the defensive side of things. They have some solid players, but there are also a few questionable players in the mix. A weaker schedule will benefit a team in transition, but this win total feels about right. For the sake of this article, I am taking the under but there are better win totals out there to bet on.
Pick: Under 9 (-105)

Tampa Bay Buccaneers
Win Total: 12 (o-110/u-110)
We are wrapping things up with a bang here. Tampa Bay is the defending Super Bowl champions after finishing last season 11-5 and in the playoffs via a wild card. The Buccaneers are the favorites to win the AFC South, and rightfully so. The 2021 offense for Tampa Bay will be very similar to last year's team, and their defense will be just as strong as it was a year ago which is scary for other teams in the division.
Not only did the Buccaneers return pretty much everyone from their championship run last year, but they have something else working in their favor. The entire division, Tampa Bay included, will face some of the easiest schedules in the NFL. Mix the easy schedule with a talented team as well as a down division, and you have a recipe for success. The Buccaneers should have no problems at all topping this win total on their way to winning this division.
Pick: Over 12 (-110)

---
AFC West Win Totals 2021 NFL Betting Picks
AFC North Win Totals 2021 NFL Betting Picks
AFC South Win Totals 2021 NFL Betting Picks
AFC East Win Totals 2021 NFL Betting Picks
NFC West Win Totals 2021 NFL Betting Picks