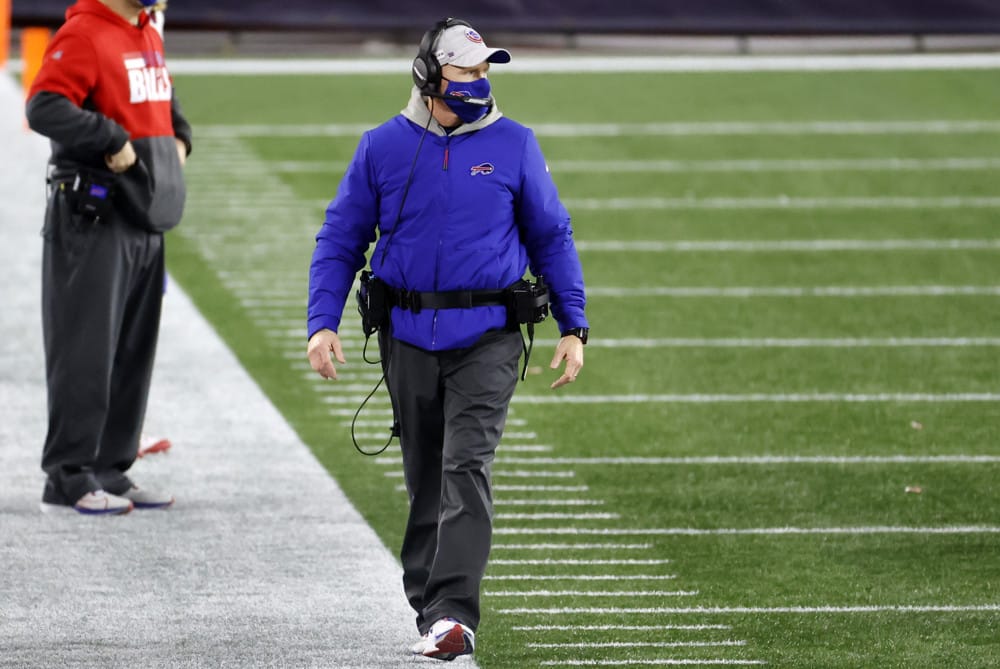 Although we've hit somewhat of a dead period in the betting world, there's good news. There are tons of NFL props available for the upcoming season if you're willing to tie some money up for an extended period. It is several different markets available for NFL props, but none are more lucrative than win totals. Today, we're going to take a look at the 2021 AFC East win totals and give a play on the over or under for each team. All lines in this article are courtesy of DraftKings Sportsbook, so slide over there and get down on these win totals today!

AFC East Win Totals 2021 Picks
(click on team name for gambling & fantasy preview for that team)
Buffalo Bills
Win Total: 11 (o-110/u-110)
Let's kick things off our 2021 AFC East win totals picks with what feels like an easy cash. Buffalo is coming into this season off a 13-3 campaign last year. There are very few signs that they won't be just as successful this year. The Bills offense will look almost identical to last year's offense. Their defense will also be equally as stout as their defense was last season. Sean McDermott has a recipe for success on his hands.
Josh Allen had an absolutely incredible season last year, and there's little to believe he can't repeat his success. Buffalo also has Mitch Trubisky in the quarterback room on wait just in case the team has an unfortunate case of the injury bug. This year's Bills team is very good on either side of the ball, and they will also have a pretty easy schedule ahead of them. You can lock this play up and load up on it because Buffalo will go over this win total.
Pick: Over 11 (-110)

Win Total: 9.5 (o+105/u-125)
Now we're onto the wild card in the AFC East in the Dolphins. Miami went 10-6 last year on their way to 2nd place in the division. Much of this success came on the shoulders of their defense who was absolutely lights out last year. Looking at this team as a whole, they resemble last year's counterparts pretty well. I expect very much the same as what we saw from the Dolphins last year once again this season.
Miami's offense looks decent although they also don't look like they will blow anyone out of the water on paper. Their defense will feature a nice mix of young players and veterans, and could potentially be the driving force behind success for this team again. The Dolphins are another team that could benefit from an easy schedule. However, many of their wins last year felt lucky and I believe their luck has run out. I am on the under for Miami but be careful as they could be a sneaky team if their offense clicks.
Pick: Under 9.5 (-125)


Win Total: 9.5 (o+110/u-130)
Last year was certainly a season to forget for Patriots fans everywhere. The team went a disappointing 7-9 (well at least disappointing for New England's standards). The Pats went out and drafted Alabama quarterback Mac Jones during the draft. It feels like Cam Newton's time under center may be limited, which has to make the team's fans pretty happy as Newton simply doesn't look to be that good of a quarterback.
I am high on New England this year and it very much feels like a bounce-back year for them. Things feel to me like its more of a matter of when instead of if Jones takes the starting job over. I believe Newton will have a short leash and will be ousted for the better throwing quarterback fairly soon in the season. That being said, the Patriots notched seven wins last year with a quarterback who couldn't throw, so I believe they can win 10 with Jones who can throw the ball.
Pick: Over 9.5 (+110)

Win Total: 6 (o+100/u-120)
The 2021 season will mark the beginning of a new era for the Jets. Sam Darnold is out, and now the key to the offense will be handed over to the rookie quarterback from BYU Zach Wilson. Needless to say, he isn't inheriting a very good team around him. He does have some decent receivers and a good running back. However, the offensive line doesn't look to be very improved and they were horrendous last year.
Things don't get much prettier for New York on the defensive side of the ball either. Their defense was terrible last year and it doesn't show many signs of improvement. The Jets had a horrible 2-14 season last year, and although their offense has a few more weapons, I don't think this will be enough to change much. I have a very hard time picturing this year's Jets squad winning at least six games, so I am all over the under on this win total.
Pick: Under 6 (-120)

---
AFC West Win Totals 2021 NFL Betting Picks
AFC North Win Totals 2021 NFL Betting Picks