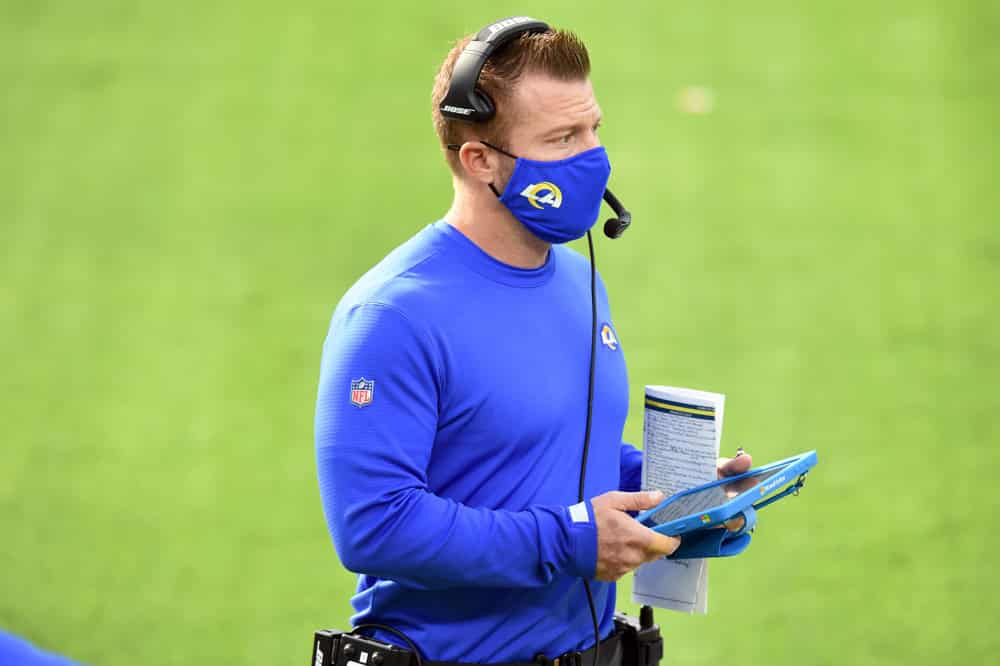 Although we've hit somewhat of a dead period in the betting world, there's good news. There are tons of NFL props available for the upcoming season if you're willing to tie some money up for an extended period. It is several different markets available for NFL props, but none are more lucrative than win totals. Today, we're going to take a look at the 2021 NFC West win totals and give a play on the over or under for each team. All lines in this article are courtesy of DraftKings Sportsbook, so slide over there and get down on these win totals today!

NFC West Win Totals 2021 Picks
(click on team name for gambling & fantasy preview for that team)
Win Total: 8.5 (o+100/u-120)
Let's kick-start this super-tough division with the Cardinals. This year's team is very similar to last year's underperforming team that finished 8-8. Their offense should be even more electric with the addition of A.J. Green to an already super-talented group of receivers. There is only one thing that should hurt Arizona's offense some, and that is that their offensive line isn't exactly the strongest.
However, the Cardinals have enough weapons on offense to endure this tough division. Their defense has some holes as many around the league do, but all-around I believe Arizona has a pretty good defensive unit. Their schedule isn't the most favorable, but a team with this much talent across the board is hard to ignore. I could picture the Cardinals improving on last year's effort, so I am siding with the over here.
Pick: Over 8.5 (+100)

Win Total: 10.5 (o+105/u-125)
The Rams are co-favorites to win the division this year. However, this is going to be one of my favorite NFC West win totals to bet. Los Angeles went 10-6 last year. Now it's time for a new era in the franchise as veteran quarterback Matt Stafford will be under center. He is inheriting one of the most talented offenses he's ever had, so the 2021 season will really be the telling sign of Stafford as a quarterback.
There are a few things working against the Rams this year though. Their defense doesn't look very strong on paper which is first and foremost. Secondly, they are in a tough division and will also face a tough schedule this year. The final thing that turns me away from Los Angeles is that Stafford is a good quarterback in my eyes, but he isn't great. Even with talent on offense, I don't believe it will be enough to get the Rams to the over on this win total.
Pick: Under 10.5 (-125)


Win Total: 10.5 (o+105/u-125)
Our next stop is here with the other co-favorite to win the NFC West. The addition of Trey Lance to the quarterback room is a telling sign that it is starting to become now or never for Jimmy Garoppolo. He will be the starting quarterback, but there's a chance that Lance takes over the offense if Jimmy G continues to struggle. However, there's also a path to the playoffs here for the 49ers if the cards fall right.
San Francisco has a pretty good defense on paper and their offense has plenty of weapons. A lot is going to fall on how well Jimmy G plays at quarterback this year. Although the 49ers have arguably the easiest schedule in their division, I don't think it will do them much good. I don't have much faith in Jimmy G or Lance at quarterback. That being said, I am on the under for San Francisco's win total as they will have to prove me wrong.
Pick: Under 10.5 (-125)

Win Total: 10 (o-120/u+100)
Let's wrap this article up by diving into the defending NFC West champions Seattle. Not a lot has changed during the offseason for Pete Carroll and company. Their offense was absolutely electric last year, and it was almost solely the reason for the team's 12-4 record. The defense of the Seahawks doesn't appear to be much improved either which is somewhat of a red flag for long-term backers of this team.
It appears as though much of the weight will once again fall on Russell Wilson's shoulders to get the job done. Normally, this would scare me away from betting the over on a win total for a team like this. However, it's a little different in this case. Wilson has shown us time and time again that he can carry the team to wins. I believe that there's a good chance Seattle repeats as division champions and they should hit the over on this win total relatively easily as well.
Pick: Over 10 (-120)
---
AFC West Win Totals 2021 NFL Betting Picks
AFC North Win Totals 2021 NFL Betting Picks
AFC South Win Totals 2021 NFL Betting Picks