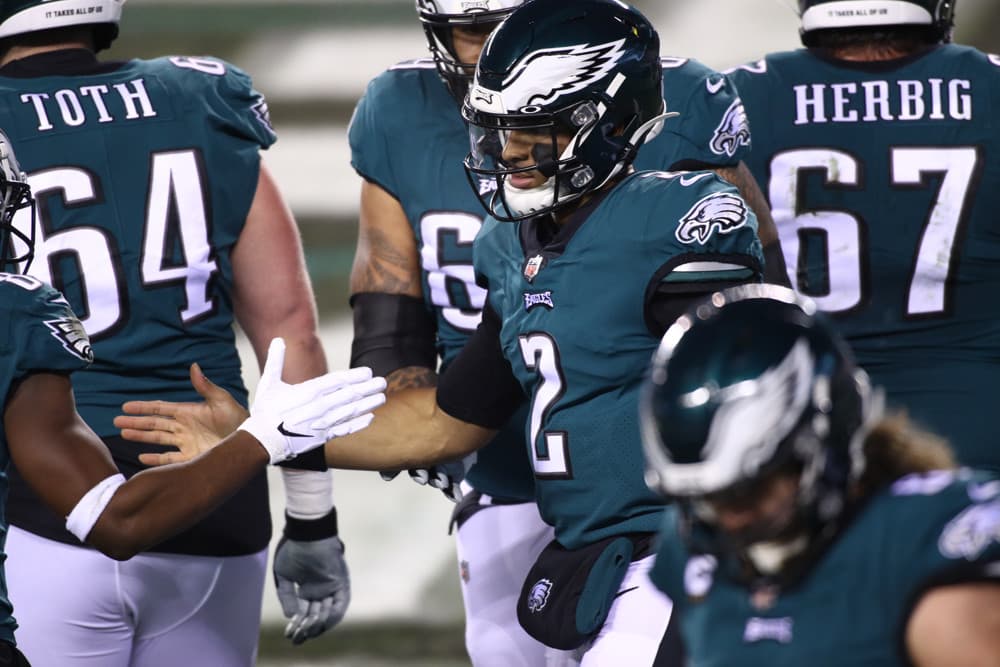 Philadelphia Eagles – Best Bets 2021
2020 Philadelphia Eagles Review
The 2020 Philadelphia Eagles entered the season with high hopes, led by their Super Bowl-winning head coach in Doug Pederson and an MVP hopeful quarterback in Carson Wentz. Flash forward four months and just about everything that could have gone wrong, did go wrong. A combination of injuries, poor play calling, and horrendous quarterback play left the franchise with a 4-10-1 record and a long list of question marks.
What's New for 2021/2022
The 2021 offseason brought about a complete upheaval of the franchise: starting with the firing of Head Coach Doug Pederson and retirement of defensive coordinator Jim Schwartz, as well as the opening of the previously vacant offensive coordinator position. In steps the youngest coaching staff in the entire NFL, led by 39-year-old rookie head coach, Nick Sirianni, the former Offensive Coordinator of the Indianapolis Colts. Along with Sirianni comes former Los Angeles Chargers offensive coordinator, Shane Steichen, and defensive coordinator, Jonathan Gannon, the former Colts cornerbacks coach.
These drastic changes were not limited to the coaching staff, as the offseason also saw the trading of former franchise QB Carson Wentz to the Indianapolis Colts, leaving second-year quarterback Jalen Hurts to take over the reins. The former college standout enters this season with four career starts in which he threw for 1,061 yards, six touchdowns, and four interceptions. While the sample size was small, Hurts seemed to show enough to prove to the team that he was ready to guide them through what could be a potential rebuilding phase.
While many around the league expect the team to be entering a full-on rebuild, it cannot be ignored that the Eagles surely made some upgrades over the offseason. They selected former Heisman Trophy winner DeVonta Smith with the 10th pick in this year's draft, who is sure to upgrade what was one of the NFL's worst receiver rooms last year. Additionally, they brought in safety Anthony Harris from Minnesota and cornerback Steven Nelson from Pittsburgh in hopes to bolster what was a weak secondary last year.

Strength of Schedule
While the improved roster still has a lot of holes, the Eagles were able to catch a big break when it comes to scheduling, as they have the easiest strength of schedule in the entire NFL this season at .430. Only four of the teams on their schedule this year made the playoffs last year and thanks to a horrendous NFC East, only three of those teams finished above .500 (Chiefs, Buccaneers, Saints). Additionally, all three of those games will be played at home for the Eagles this year. This is surely good news for a team that enters the season with so many uncertainties. (Click for full schedule)
Season Odds

Super Bowl: +10000
NFC: +5000
NFC East: +550
To Make Playoffs: +275
Win Total o/u: 6.5 (-130 / +115)
(Odds via DraftKings)
I can pretty confidently say betting this team to win either the Super Bowl or the NFC might as well be a donation. However, given the fact that they play in what is one of the worst divisions in NFL history, +550 could be worth a look here for those who aren't scared of a little risk. Personally, I think this number holds a lot of value as compared to the +275, as I once again expect the NFC East to be the worst division in football. So first place is likely the Eagles' only path to the playoffs.
This leads me to their win total set at 6.5, which given their strength of schedule, I think is pretty doable. The Eagles open up the season +3.5 as they head down to Atlanta to face a team led by a fellow rookie head coach in Arthur Smith. I personally think this game is a coin flip and 3.5 points are just far too many to put into the Atlanta Falcons, give me the Eagles to get right here and start with a win. In addition to this win, I think the Eagles manage to pull out at the least two wins in their division putting them at three. Couple that with wins over the Lions, Panthers, Jets, and Broncos, and you've got seven wins with hopes to steal another from the Raiders, Chargers, or Saints to give yourself some breathing room.
Record Prediction 8-9 Tied For 2nd in the NFC East
The Pick: Eagles O6.5 Wins -130

Philadelphia Eagles Prop Bets:
Jalen Hurts Passing Touchdowns o/u 20.5 (-105 / -115)
Last year in four games as a starter we saw Hurts throw for six passing touchdowns, putting him at 1.5 passing touchdowns per game. I know the sample size is small, but to hit this over Hurts would only need to throw for 1.2 TDs per game, with the season one game longer this year. Additionally, this year we can expect the Eagles to stick with their 12 personnel, which will allow Hurts to get the ball to tight ends Zach Ertz and Dallas Goedert down in the red zone. Furthermore, with the addition of electric factory, that is DeVonta Smith, and the return of Pro Bowl offensive linemen Lane Johnson and Brandon Brooks, I think we can expect Hurts to have far more opportunities to succeed than he did last year. Take the over and watch him go to work.
The Play: Jalen Hurts o20.5 Passing Touchdowns -105
Fletcher Cox Sacks o/u 6 -115
When looking at this Eagles defensive line, it is surely one of the bright spots on the roster, perhaps even top ten in the NFL. Additionally, the new defensive coordinator, Jonathan Gannon, has a long history with Vikings Head Coach Mike Zimmer as he worked under him for years. This leads many to speculate that the defense will feature some of those staples, like double Gap-A-Blitzes. Personally, I think the signing of linebacker Eric Wilson indicates this answer to be a yes. If Wilson is used to disrupt some of these Cox double teams I think we see a vintage version of Cox and he is able to get somewhere near 7 or 7.5 sacks.
The Play: Fletcher Cox Sacks o6 -115
Fantasy
As I stated earlier in this article I think Hurts will shine behind a healthy offensive line and utilize his former college teammate DeVonta Smith to put up some pretty big numbers in the passing game. Additionally, the ability of Hurts to run for close to 50 yards per game will elevate him into a top-ten quarterback rather easily. When it comes to players I look to fade, look no further than Miles Sanders. While Sanders has put up decent numbers in the past, I just don't think the opportunity is there for him to justify an ADP of 32 in a very crowded backfield.
Draft: Jalen Hurts and DeVonta Smith
Fade: Miles Sanders
Good Luck!
---
---
Jacksonville Jaguars Predictions for 2021
New York Jets Predictions for 2021
Houston Texans Predictions for 2021
Atlanta Falcons Predictions for 2021