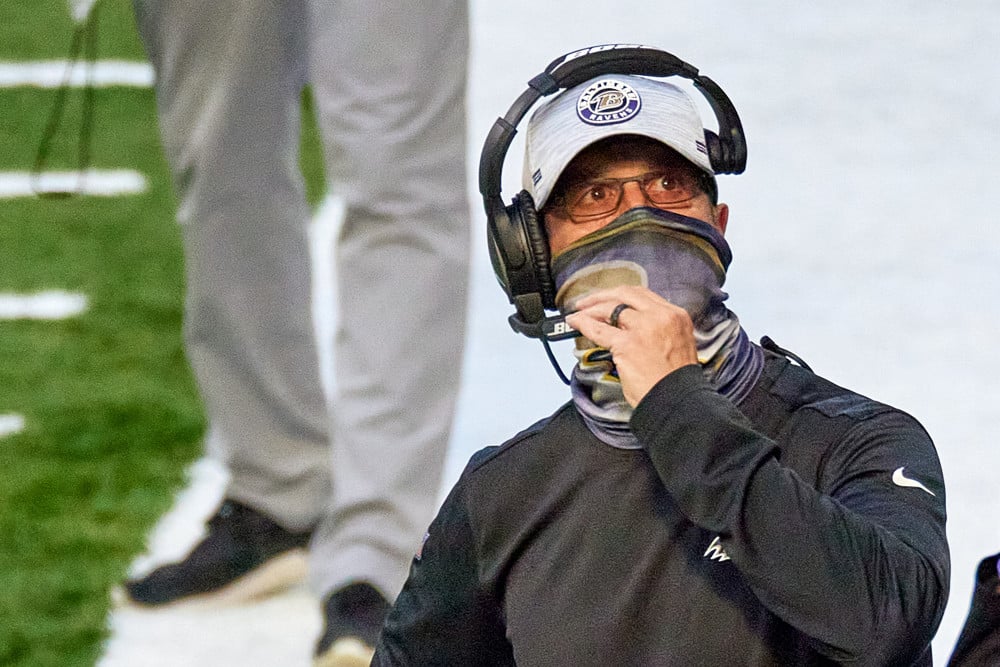 Although we've hit somewhat of a dead period in the betting world, there's good news. There are tons of NFL props available for the upcoming season if you're willing to tie some money up for an extended period. It is several different markets available for NFL props, but none are more lucrative than win totals. Today, we're going to take a look at the 2021 AFC North win totals and give a play on the over or under for each team. All lines in this article are courtesy of DraftKings Sportsbook, so slide over there and get down on these win totals today!

AFC North Win Totals 2021 Picks
(click on team name for gambling & fantasy preview for that team)
Win Total: 11 (o+100/u-120)
Although the AFC North as a whole has the toughest schedules this year, Baltimore is a team that you have to keep an eye on. They are fresh off a nice 11-5 season last year. This year, we can expect them to look very similar to last year's team. The Ravens will once again be a team that is somewhat dependent on their defense but will feature an offense that has the potential to boom with some big plays here and there.
That being said, I still don't have faith in Lamar Jackson. I believe that he is a decent quarterback, but his throwing arm isn't the best by any means. The AFC North is a tough division and any of these teams can beat each other on any given night. Baltimore could still get lucky and win the right games and take this division. However, the toughness of this division and my non-faith in Jackson make me lean to the under on this win total.
Pick: Under 11 (-120)

Win Total: 6.5 (o+110/u-130)
Here we have one of my favorite AFC North win totals. Cincinnati went 4-11 last year in what was a season to forget. Joe Burrow looked good at quarterback, but an injury ended his season early and the rest is history. Burrow will be back under center this year for an offense that showed explosiveness last year. He now has his former teammate and favorite target at LSU in Ja'Marr Chase to throw to as well.
You're going to hear this phrase a lot in this article, but the AFC North is the toughest division in the NFL this year. However, of the four teams in the division, the Bengals do have a slightly easier schedule. Their defense isn't going to be spectacular, but when you have an offense that can move the ball such as this one you will win ball games. I am all over the over here as I believe Cincinnati will top this win total with ease and could even win the division.
Pick: Over 6.5 (+110)


Win Total: 10.5 (o-120/u+100)
Cleveland once again has a ton of hype around the team coming into this season. The talent has been there for a few years now, but they continually come up short. Their win total is indicative that oddsmakers believe the Browns have a very good chance of taking the division title. That being said, I have to disagree. Although they went 11-5 last year, I have a strong feeling that Cleveland will find a way to screw it up.
A tough schedule mixed with a strong division will equal trouble for Baker Mayfield and his Browns team. Until Cleveland takes home a division title and shows me something, they will be on my instant fade list. I don't trust Mayfield to get the job done, and I don't trust this defense enough to carry them to 11 wins either. I wouldn't go heavy on this because I'm not super confident in it, but I am leaning to the under on the Browns win total.
Pick: Under 10.5 (+100)

Win Total: 8.5 (o+115/u-135)
Onto the last but certainly not least team in the AFC North. The defending division champions Pittsburgh are being massively undervalued in the preseason markets. Their offense will look very similar to last year's. Although their front seven isn't the strongest on paper, they have a very strong secondary and I'm not going to count out the coaching staff making the most of this defense as a whole.
The Steelers pieced together a very good 12-4 campaign last year, and I believe they are capable of repeating this effort. It is worth noting that Pittsburgh has one of the toughest schedules this year. However, a veteran quarterback such as Big Ben can navigate through troubles. You're getting massive value on the over of this win total as long as Roethlisberger has even a third of his normal self in him, and I believe he does.
Pick: Over 8.5 (+115)

---
LISTEN ALSO: Jim McMahon (Ep. 1055)