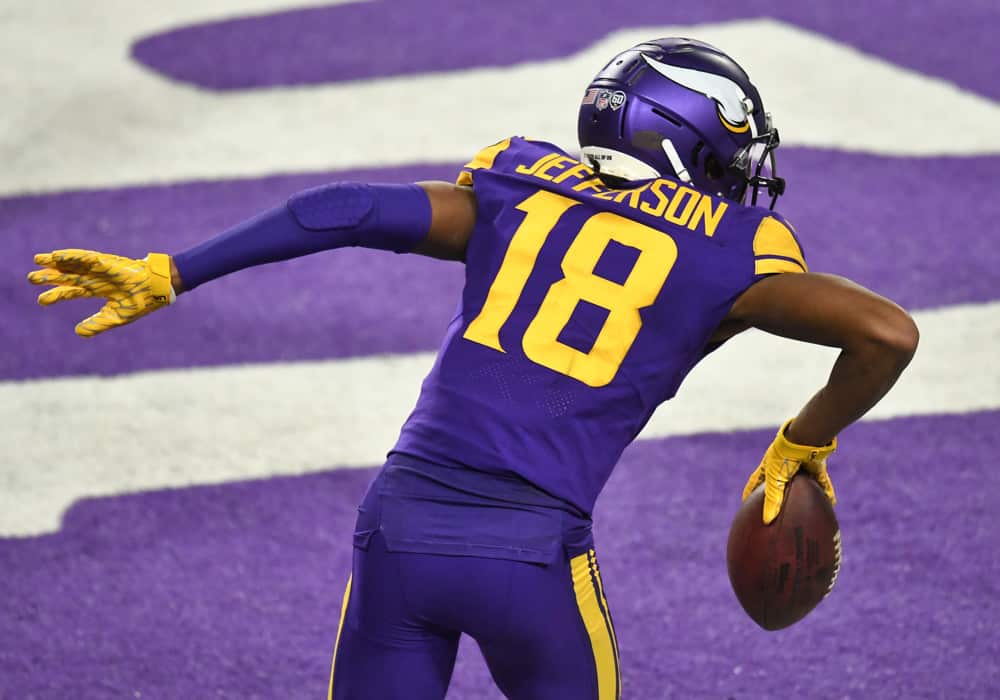 It's NFC North time. We're going division by division to answer the biggest fantasy football questions for each team.  Check out the column on the NFC East right here if you missed it. Also, see my NFC North column from last year to see how my predictions fared.

Fantasy Football Questions For Every NFC North Team
Minnesota Vikings
Question: What is Justin Jefferson's ceiling and where should he be drafted?
It takes a big man to admit he was wrong, and I was wrong about Justin Jefferson last year.  I knew the guy had talent but I wasn't expecting a rookie season like that.  Not only was it one of the best rookie seasons for a wide receiver ever, Jefferson also finished as a top 10 WR in most scoring formats.  88 catches on 125 targets for 1,400 yards and 7 TDs.  Not too shabby.  Take a look for yourself.
It should also be mentioned that Jefferson didn't start the first two games of the season.  The rookie burst onto the scene in Week 3 going for 175 yards and a TD.  He quickly overtook Adam Thielen as Kirk Cousins's favorite target and the offense enters 2021 basically unchanged from at least a personnel perspective.  There's a new O.C. at the helm, in Klint Kubiak (son of Gary), but he's been promoted from within so don't expect drastic changes.
Diving a bit deeper into the stats, we can see that Jefferson averaged 11 targets per game over the last six games of the season.  If he averaged that amount of targets for the entire season, he would have led the league.  It's common sense to assume that the relationship between Jefferson and Cousins will only continue to improve.
The Answer: The Moon.  Grab him early.
If you want to poke holes at Jefferson's rookie season, perhaps you point a finger at his lack of touchdowns scored.  Seven TDs on 88 catches isn't ideal but give the guy a break.  He finished top 15 in catches and top 5 in yards.  Expect the yardage to be there again along with an uptick in targets, catches, and TD's.  Perhaps the only concern with Jefferson is the fact that Kirk Cousins is not an elite-level QB.   
Currently, I'm seeing Jefferson ranked between the 5th and 10th WR and a mid-to-late second-round pick.  Well, I'm here to tell you that Jefferson will be a top 5 wideout in 2021 with a chance at finishing first. This is one of the easier questions to answer for this fantasy football season.  I'll gladly take him at any point in the second round and you aren't crazy to snatch him up late in the first.
Green Bay Packers
Question: If Aaron Rodgers doesn't return, how does it affect other Packers?
If you live in Wisconsin, you may have noticed a dark cloud over the city of Green Bay.  The Aaron Rodgers saga has reached new heights.  In case you reside under a rock, here's an article that explains the drama and shows the odds of where he might land.
At this point, I'd bet on Rodgers returning but contingency plans must be in place.  It goes without saying that the Packers offense and its fantasy production will suffer if Jordan Love or Blake Bortles is the QB for 2021.  Last year, no other Packer QB threw a pass.  In 2019, some guy named Tim Boyle tossed 4 passes while the rest were thrown by Rodgers.  As a matter of fact, you have to go all the way back to 2017 to find a game where Rodgers didn't start.  In that season, Brett Hundley could only muster about 166 passing yards per game and 9 TDs to 12 INTs.  
Answer: Stocks will plummet 
Of course, if Rodgers departs, the biggest loser would be Davante Adams.  Even right now with the uncertainty, I'm seeing most experts have Adams being drafted between 10-15 overall and one of the first wideouts off the board.  If Rodgers leaves, I'd drop Adams out of the top 10 WR's and move him to a third-round target.  
The other wideouts will take a similar hit.  Marquez Valdes Scantling, Allen Lazard, and Amari Rodgers should drop at least 10 spots on your WR big board.  Those guys had limited value, to begin with, and may be fantasy irrelevant without Rodgers.  
The backfield wouldn't be immune to a decrease in production either.  If Aaron Jones is an RB1 with Rodgers, he's an RB2 without his QB.  I'd move him into the third round or later as well. AJ Dillon and Kylin Hill should also be bumped down accordingly. 
Now, Robert Tonyan could be a different story. There's a belief that Love or Bortles may look towards the security blanket TE more so than Rodgers.  Well, I'm not buying it.  Last year, the Packers' 509 total points were top in the NFL and their 6,224 total yards were 5th most.  Without #12, I'd expect about a 20-30% drop in production.  Sorry, but I want my tight end playing for a team with an elite offense that provides ample scoring opportunities.  Drop Tonyan out of the top 15 TEs too. This may be one of the top fantasy football questions to watch.
Chicago Bears
Question: Is Justin Fields fantasy relevant in 2021?
The local Chicago paper recently ran an article posing the question of when Justin Fields will get his first action of the year.  As of now, Andy Dalton is expected to start opening week and Nick Foles is still on the roster.  Baring an injury to Dalton, I wouldn't expect the rookie from Ohio State to see the field early.
The Bears have a fairly tough schedule this year and a late bye week (Week 10).  Before the week off, they have road trips vs the Rams, Browns, Raiders, Bucs, and Steelers. Yep, four out of those five were playoff teams a year ago and the super bowl champion is in the mix.  The home games are less brutal, but maybe week 11 would be the right time to break in the QB of the future. The fantasy football questions surrounding Fields will only grow as we approach this season.
Answer: Only in deeper leagues and dynasty leagues
There's a solid chance that we only see Justin Fields holding a clipboard for the first several weeks of the season.  Obviously, that limits his fantasy value.  However, in deeper leagues, he's an interesting stash.  There's a chance he could be a difference-maker during the playoff stretch run.  
I like Fields as a top target in keeper leagues.  By now, we have all heard that Ohio State QB's don't make it in the NFL, right?  Well, I say Fields breaks the mold and has a long and prosperous career.  We all like his legs but during his college career, I saw the accuracy and the arm needed to make it.  Just check the highlights,
Detroit Lions
Question: What should we expect from the Detroit passing game?
There's not another team that has had as much turnover on the offensive side of the ball as the Detroit Lions. Gone are Matt Stafford, Kenny Golladay, and Marvin Jones.  New to the team are Jared Goff, Breshard Perriman, Tyrell Williams, and Amon-Ra St. Brown.  It doesn't take an NFL insider to come to the conclusion that the 2021 talent level is worse than a season ago.  
On top of the personnel changes, Dan Campbell comes in as head coach and Anthony Lynn (recently fired as HC of the Chargers) arrives as offensive coordinator.  While Campbell figures to be more of a ground-and-pound than an air-it-out type guy, Anthony Lynn oversaw a top 10 offense last year where rookie QB Justin Herbert flourished.  The Chargers passing stats with Lynn as head coach are actually pretty impressive.
| | | | | |
| --- | --- | --- | --- | --- |
| Year | Passing Yardage | League Rank | Passing TD's | League Rank |
| 2017 | 4,431 | 1st | 28 | 6th |
| 2018 | 4,089 | 10th | 32 | 9th |
| 2019 | 4,426 | 6th | 24 | 17th |
| 2020 | 4,329 | 6th | 31 | 10th |
Answer: Better than Expected
Look, I realize that Jared Goff is not as good as Herbert or Phillip Rivers and there's no Mike Williams or Keenan Allen on the roster, but you can draft Lions' dirt cheap and they just may pay dividends.  This is going to be a bad team which usually equates to more passing opportunities and garbage time points.  
I'm not a Jared Goff guy but he still finished top 15 in passing yards a season ago which came on the heels of the 3rd most in 2019 and 10th most in 2018.  Tyrell Williams was a 1,000-yard receiver back in 2016 and Breshard Perriman has shown flashes with the Bucs in 2019 and with the Jets last year.  Additionally, TJ Hockenson is a threat at tight end and both D'Andre Swift and Jamaal Williams are RB's capable of contributing to the passing game.  
You heard it here first:  there's fantasy value in the Lions' WRs this year plus Jared Goff will be a solid backup QB. (It's not like they are going to pull him for Tim Boyle or David Blough).  Call me crazy but I plan on targeting some of the Lions in the later rounds of the draft.

RELATED CONTENT
Late Round Wide Receivers Preview | SGPN Fantasy Football Podcast (Ep. 6)
Fantasy Football Best Ball Draft 9.0 (Ep. 1020)
Fantasy Football Questions For Every NFC East Team
Fantasy Football Dynasty Trade Value Chart – March 2021 Update