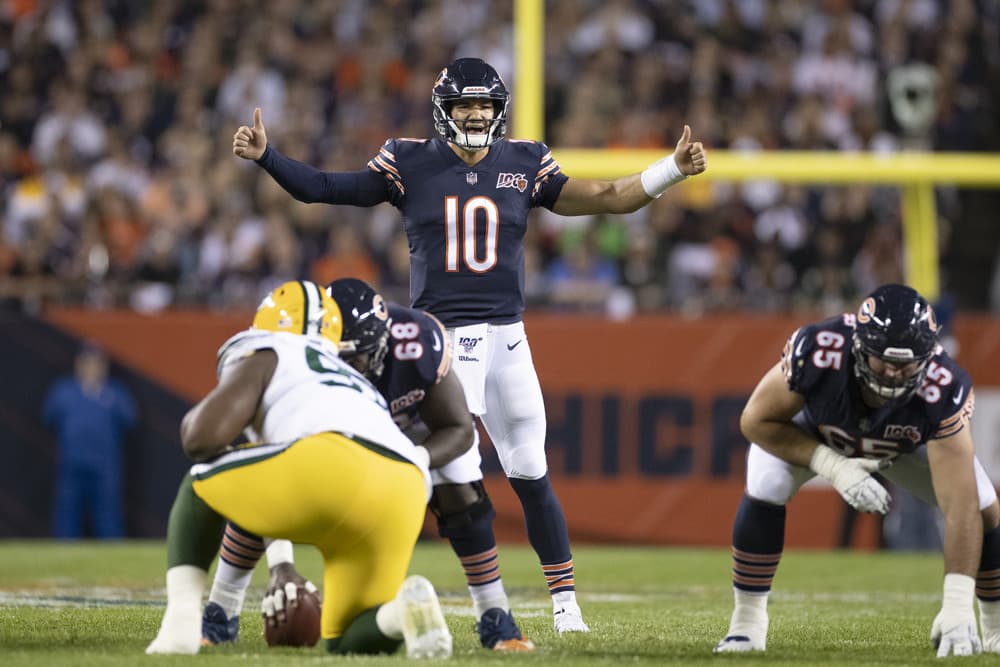 With the NFC East complete, it's NFC North time!
Team: Chicago Bears
Question: Who's going to get the majority of snaps at QB?
Back in March, the Bears traded a 4th round pick to the Jaguars for Nick Foles. The move was just about the opposite of a vote of confidence in Mitch Trubisky. Given Trubisky's erratic first 3 years in the league, it certainly wasn't unjustified. The former Tarheel started 15 games last year and threw for 3,138 yards (21st in the league), 17 touchdowns (28th in the league) and 10 INT's with a 63.2% percentage completion (18th in the league) and a 83.0 QB rating (28th in the league). If it doesn't click by year three, will it ever? Perhaps even more troubling is that Trubisky seemed to regress in Year 3 compared to Year 2.
Foles, the former pro bowler and Super Bowl MVP, is entering his ninth year in league after an injury riddled season with Jacksonville in 2019. In Chicago, he is reunited with offensive coordinator, Bill Lazor, and QB coach, John DeFillipo, whom he worked with both during his most productive days in Philly.
With one of the best defenses in the league, Chicago realizes they need to win now and better QB play is a requisite to do so. WR's Allen Robinson and Anthony Miller form a solid 1-2 punch on the outside and the running back combo of David Montgomery and Tarik Cohen is formidable. Jimmy Graham was brought in this year at tight end, but we'll see how much he has left in the tank. Overall, the Bears just need their offense to be average and not a liability.
At this point, most depth charts still have Trubisky starting over Foles. However, for fantasy purposes, Nick Foles is the QB to own. If Trubisky gets the initial nod, it's really a matter of when, not if, he screws it up and they turn to Foles. Especially given his familiarity with the offensive coaching staff, Foles can be productive. Keep him on your radar. In leagues with deep rosters, he may be worth a stash.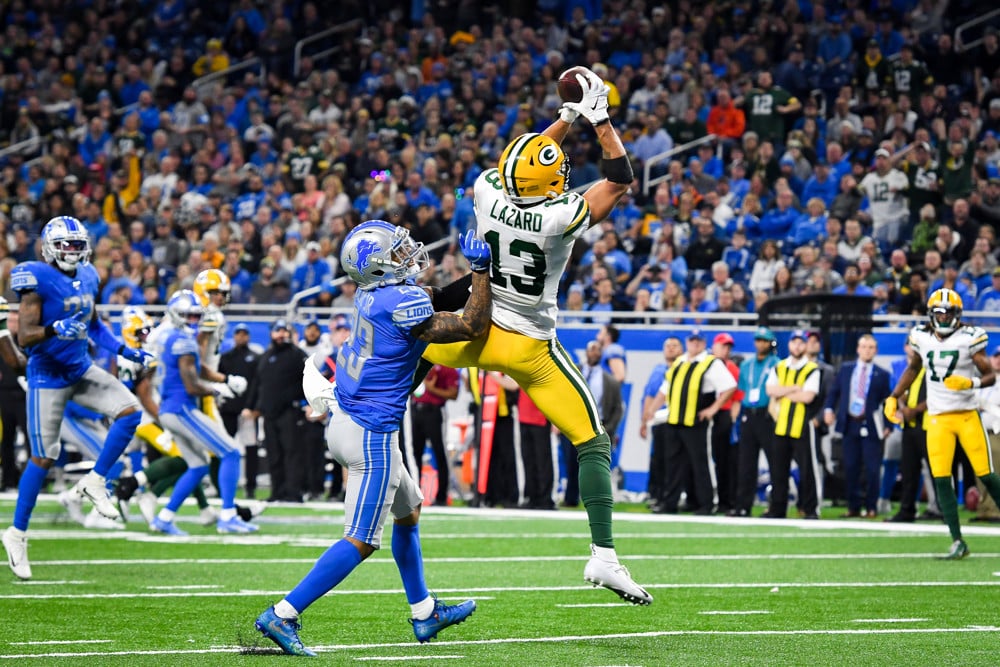 Team: Green Bay Packers
Question: Other than DeVante Adams, who's going to catch some passes?
DeVante Adams is one of the best receivers in the NFL. He missed a good chuck of 2019 with injuries but closed out the regular season and the playoffs on fire (5 straight games with over 11 targets, between 7 and 13 catches per game within that span, and 4 TD's). We know what to expect from Adams, but will any other Packers pass catcher be fantasy relevant?
In 2019, either Geronimo Allison or Marquez Valdez-Scantling was supposed to emerge as a legitimate threat opposite Adams. I had stock in both as no one was sure which of the two would bubble up. As it turned out, neither did: Allison only caught 34 balls for 287 yards and 2 TD's while MVS only pulled in 26 grabs for 452 yards and 2 TD's. It was off-the-radar Allen Lazard who finished with the second most receptions from the WR position, grabbing 35 for 477 yards at 3TD's.
Lazard and MVS are back while Allison is gone. The Pack also brought in Devin Funchess, who spent a year (mostly injured) in Indy after four in Carolina. Funchess had a couple solid years for the Panthers (his best in 2017 when he caught 63 balls for 840 yards and 8 TD's) but isn't really moving the needle in terms of exciting fantasy owners. Allen Lazard is really the only other Packer wide out worth a draft pick.
While worth drafting, what can we expect from Lazard? First, the Packers offense in 2019 did not resemble the air-it-out approach of previous seasons under Mike McCarthy. As illustrated by the chart below that shows rushing attempts per year, the Packers were one of the more pass-happy teams in the league from 2016-18.  In 2019, new coach Matt LaFleur put more of an emphasis on a balanced attack and ran the ball more. If the 2020 offense resembles the one from a year ago, it cannot support the usual three fantasy relevant receivers we used to expect from GB.

With another year under his belt, and with the expectation that Lazard is firmly entrenched as the #2 behind Adams, I'd expect him to increase his catches by 15 balls which would result in another 225 yards and a couple more touchdowns. I'd say a final stat line of 50 catches for 700 yards and 5 TD's is in play. Not much to get excited about but he's on my radar in the later rounds of deeper leagues.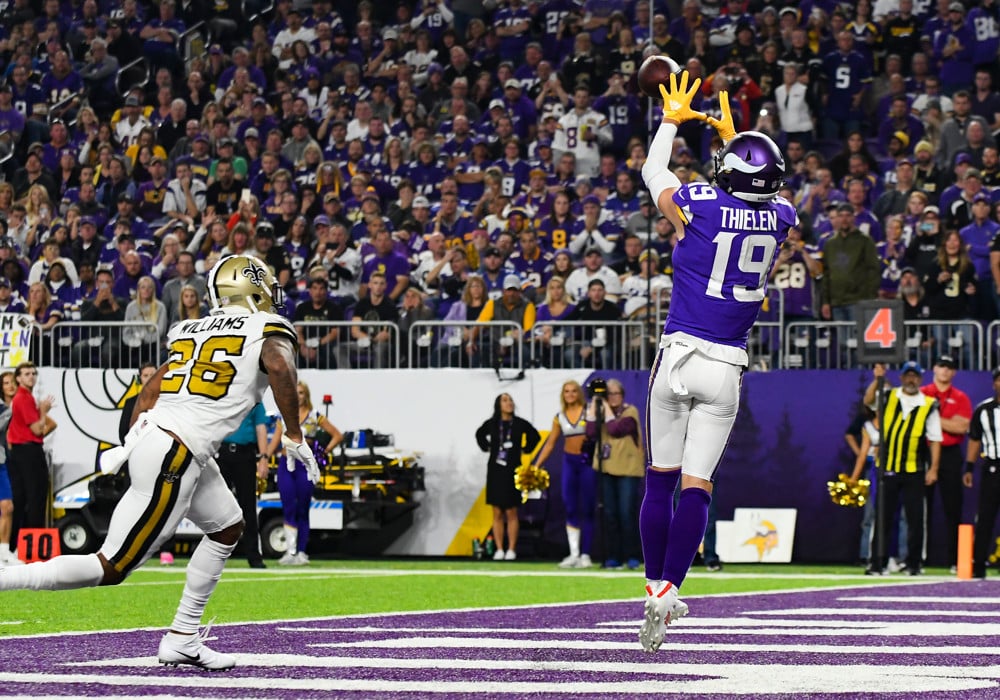 Team: Minnesota Vikings
Question: How bad will Stefon Diggs be missed?
For the last couple of years in Minnesota, the WR combo of Stefon Diggs and Adam Thielen was one of the best in the league. This past year with Thielen missing six games due to injury, Diggs took the reigns catching 63 balls for 1,130 yards and six TD's. He's an explosive playmaker and a threat to take it to house every time he touches the rock. There's only so many of these caliber players in the league, so yea – he'll be missed.
With their first pick in this year's draft, the Vikings selected LSU WR Justin Jefferson. The 6-1, 202 lbs wide out had a monster junior year, catching 111 balls for 1,540 yards and 18 touchdowns in route to a national championship. While having great hands and route running ability, he primarily lined up in the slot while Diggs is a wide out. It will be interesting to see how the Vikings plan on using Jefferson.
In addition to Jefferson, the Vikings bring back Bisi Johnson (31 rec. for 294 yds and 3TD's) and signed Tajae Sharpe from the Titans (25 rec. for 329 yards and 4TD's) on a one year deal. Johnson and Sharpe provide depth but are fantasy irrelevant. The questions are if Jefferson can step in and be productive and how losing Diggs affects Thielen and Kirk Cousins.
Theoretically, Thielen will see more targets but he'll also get more attention from defenses. Jefferson has a bright future but he's not going to step in his rookie year and draw the same amount of coverage as Diggs did. Thielen's last fully healthy year was 2018 where he saw 153 targets (Diggs saw 149) . I'd expect an all-time high for Thielen this year (somewhere around 170 targets) and I think he has a chance to put up 1,200-1,300 yards and 8-9 touchdowns. This will put the 7th year wide out back in the top 10 fantasy WR's.
While Thielen may benefit from Diggs' departure, it has to hurt the overall passing attack and Kirk Cousins' fantasy potential. In 2018, Cousins threw for 4,298 yards (10th most in the NFL) but only 3,603 yards in 2019 (16th most). I expect his yardage to stay stagnant this year while his touchdowns drop slightly and interceptions increase. This moves Cousins down from around the 15th ranked QB closer to the 20th.
As far as Justin Jefferson and his fantasy prospects in 2020, I expect a solid year with middle of the road WR#2 stats. See Allen Lazard's predicted stat line above.  Although, Jefferson is the receiver with a higher ceiling.
Team: Detroit Lions
Question: Who will emerge from this crowded backfield?
In 2018, the Detroit Lions used their second round pick on Auburn RB Kerryon Johnson. While he has shown flashes during his short 2 year career, he's been injured too often. Last year, other than the game against KC where he accumulated 125 yards on the ground and another 32 in the air, he was largely ineffective. In his defense, after Matthew Stafford went down, the entire team was ineffective. He had a better year in 2018 when he ran for 641 yards and 3TD's while averaging 5.4 per carry. He actually had the 3rd highest average per attempt in the entire NFL that season. Either way, apparently the Lions felt they needed someone a bit more electric in the backfield to bolster the running game.
Enter D'Andre Swift. In the second round of this year's draft, the Lions snagged to 5-8, 212lb RB out of Georgia. Swift is a dangerous runner who is projected to be a better pass catcher than Johnson. It will be interesting to watch the preseason to see how the time share may be split. Johnson is a bruiser who should get goal line and short yardage work while Swift should get the first down work and be on the field in passing situations (as long as he can quickly pick up the blocking schemes).
If Matthew Stafford can stay healthy, the Lions could have a pretty darn good offense. Kenny Golladay, Marvin Jones, and Danny Amendola form a nice WR unit and TJ Hockenson is a legitimate threat at TE. If Swift plays as well as expected, joining Johnson in the backfield provides a nice combo.
So what fantasy value can we expect from both backs? First, it appears Swift is, at least initially, on top of the depth chart. The split could be 60/40 in his favor with the possibility of potentially 70/30. In other words, he's the running back to own. Last year, Detroit RB's rushed for a combined 1,385 yards. That # should increase this year to 1,500-1,600 yards. The projected stat line for these two backs could look something like this: