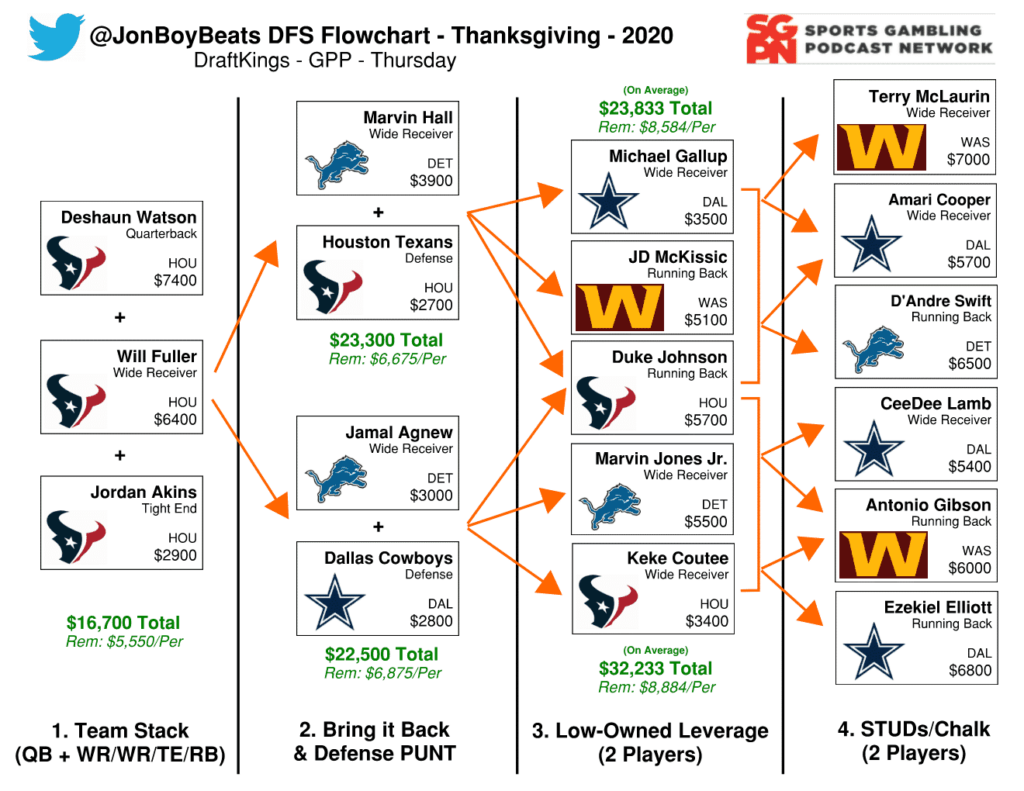 I was just getting ready to hit submit on a beautiful work of art called the Thanksgiving flowchart, and then the Baltimore/Pittsburgh game got pushed to Sunday and the slate completely changed. I have still included parts of my write-up as well as my now redacted flowchart down at the bottom of the post for all you DFS psychopaths who want to see where my head was at from a strategy standpoint. Alright enough of me sulking about the primetime game getting cancelled, let's get into the details of this new two-game Thanksgiving slate.
The Thanksgiving football slate has always been one of my favorite days of the year, because not only do we get almost 12 straight hours of NFL action (now only 6), but the way that the games are spread out through the day provides us some very unique late swap options. The flowchart is coming off the third straight week of success, and I have loved seeing the winning lineups screenshots that people have been sending after using this tool and analysis. From a GPP player's standpoint this has been somewhat of a hot streak, so if you find yourself in the positive, just remember to practice good bankroll management because one of those weeks where all the chalk hits is surely around the corner.
Before I breakdown the flowchart, I want to make sure that people are aware of some of the prize pools and contest structures that have changed for this slate on DraftKings. It's easy to get caught up in the high dollar top prize contests, but there are a few that I want to highlight which should provide some better options to spread out your capital.
The 3-Max "Triple Option" contest with a $3 entry fee typically pays out 25.4% of the field and a Top 10% lineup gets 1.7X their entry fee ($5). For Thanksgiving, the Triple Option is paying out 27.4% of the field and a Top 10% lineup doubles their money ($6). The 20-Max "Front Four" contest with a $4 entry fee is similar as it is paying out 25.4% of lineups compared to the typical 23.8%. On the flip side, the 150-Max "Milly Maker" contests with a $20 entry fee is not so encouraging from a contest structure standpoint. Typically paying out 23% of lineups with Top 10% lineups doubling their money, on Thanksgiving they are only paying out 20.7% and a Top 10% lineup still min cashes (1.5X payout). On top of that, a Top 0.5% lineups (Ranked #735) only gets paid 4X their entry fee. Looking at the 3-Max "Screen Pass" contest with a similar $15 entry fee, a Top 0.5% lineup will get paid out 16.7X their entry fee. These deltas may seem minor to some, but in the cutthroat DFS industry it's important to always try and find an edge where you can.
NFL DFS Flowchart Week 12 Thanksgiving – DraftKings GPP
Team Stack
Prior to the news this morning, I was all over a Lamar Jackson "skinny" stack with Mark Andrews and paired with two Pittsburgh Steelers as a bring back. That is out the window now, so I am going with the Quarterback who has the highest ceiling left on the slate. Deshaun Watson will no doubt be the most owned guy, so that is something that we need to be very cognizant of in GPPs. To pair with Watson, I like plugging in Will Fuller and Jordan Akins for the team stack. Brandin Cooks will most likely be the most owned wide receiver on Houston, so I wanted to lean towards excluding him altogether. In addition, I always like pairing a tight end with the quarterback especially when the position is extremely thin like it is tomorrow. We have seen Akins have a couple of big weeks, and if he can find the end zone tomorrow the flowchart will be off to a great start.
Bring It Back Stack
Since we are going with a very popular Texans stack, I want to make sure we plug in a punt play as a bring back in these GPP contests. Kenny Golladay and Danny Amendola have already been ruled out for Thursday, so I am plugging in two of the Lions cheapest receivers. Marvin Hall played on 68% of snaps and saw 3 targets in last weeks shutout against the Panthers while Jamal Agnew only played 50% of snaps but did see 6 targets. I know that both of these are thin plays, however I believe they are necessary in order to differentiate ourselves from the rest of the Watson stacks.
Low-Owned Leverage Plays
I want to step out to a macro level again before we dive into the leverage spots. As I am sure you've figured out, the pricing is now extremely loose on Thursday and it's not going to be too hard to load up on lineups that include many of the stud players that are still available. We still have some injury news that we are waiting on which could shake things up, but I will make sure to provide updates on Twitter Wednesday night and Thursday morning if anything of importance comes up. With that being said, I think it is going to be extremely important to find a couple cheap or low-owned guys to include in your lineups to help differentiate you from the field. As you all know by now, I much prefer to include low owned leverage options rather than pure punt/contrarian plays.
The opportunity that Duke Johnson has seen since David Johnson went on IR is not refutable. Duke has seen 93% of the running back carries since David left the Week 9 game early with a concussion. What has been frustrating is his 11% target share, however Houston will be without Randall Cobb and Kenny Stills when they travel to Detroit this week, so there should be some more passes funneled Johnson's way.
Another running back I love for leverage this week is J.D. McKissic. Both Terry McLaurin and Antonio Gibson are projecting to be over 30% owned, but it's been McKissic who has led the team in Target Share (33%) and receptions (19) since Alex Smith took over as the starter in Week 9. It's going to be hard to fully fade McLaurin and Gibson against this Cowboys defense, which is why I still have them as options in Column 4, but I want to make sure my exposure to McKissic is higher than both of the Washington studs.
None of the three receivers that I have included in this leverage column are currently projecting to be inside the Top 5 for ownership and that's really all the differentiation we need on a 2-game slate. I think the ceiling for Marvin Jones and Michael Gallup really stands out, while the floor for Keke Coutee at $3400 should provide some great value. I will most likely be trying to have as many combinations of one running back and one receiver from this column to help level out my exposures.
Studs and Chalk Plays
At this point of your lineup construction, it's really plug in whoever you want. Mostly everyone should be able to fit from a salary standpoint, so I will offer some angles to consider in this 2-game slate that you maybe wouldn't think about on the normal Sunday Main Slate. First of all, I am not worried at all about including players in my lineup against the defense that I roster. I probably wouldn't include the defense that your quarterback is facing, but other than that with such a high-variance position don't feel like you need to make sure your defense is a one-off. Secondly, feel free to fully load up on team or game onslaughts. I don't usually like playing more than 2 skill position players from the same team or 4 skill position players from the same game but that mindset goes out the window on this small slate. Lastly, feel free to leave salary on the table. Typically I do not like to submit GPP lineups below $49,900 in salary on the main slate, but it is perfectly viable to leave thousands of dollars on the table on Thanksgiving. Most people will be trying to jam in the studs and eat up salary and I feel like this will lead to a higher chance of duplication.
The last thing I want to touch on is late swap. This is extremely important on this slate where the Houston/Detroit game should be over before the Dallas/Washington game kicks off. If you have a lineup that included a couple of cheap punt plays that hit in the morning game, then you will probably want to swap to more of the chalkier players in the afternoon game to block some of the people who will be trying to pass you on the leaderboards. The exact opposite can be said if your morning players dud out, in that case make sure to try and target more of the leverage players on Washington and Dallas. To be honest, I am still bummed out that we won't get to see this Baltimore and Pittsburgh game tomorrow night, in what was sure to be an awesome primetime game. There is still plenty of money to be made out there, so let's go get it! Happy Thanksgiving everyone and good luck!
Past NFL DFS Flowchart Results
Week 1 – Optimal Lineup 157 DKPts, min cash in GPPs (top 20%)
Week 2 – Optimal Lineup 175.4 DKPts, 3X-4X cash in GPPs (top 4-5%)
Week 3 – Optimal Lineup 122.3 DKPts, no cash
Week 4 – Optimal Lineup 171.3 DKPts, 2X cash in GPPs (top 7-10%)
Week 5 – Optimal Lineup 178.92, 3X cash in GPPs (top 3-4%)
Week 6 – Optimal Lineup 180.2, 2X-3X cash in GPPs (top 5-6%) (ALL LINEUP COMBOS CASHED)
Week 7 – Optimal Lineup 153.34, no cash
Week 8 – Optimal Lineup 140.12, no cash
Week 9 – Optimal Lineup 174.26, 3X-4X cash in GPPs (top 4-5%)
Week 10 – Optimal Lineup 178.92, 10X-15X cash in GPPs (TOP 1%)
Week 11 – Optimal Lineup 168.12, 2X-3X cash in GPPs (top 4-5%)
REDACTED VERSION (Prior to Baltimore/Pittburgh postponement)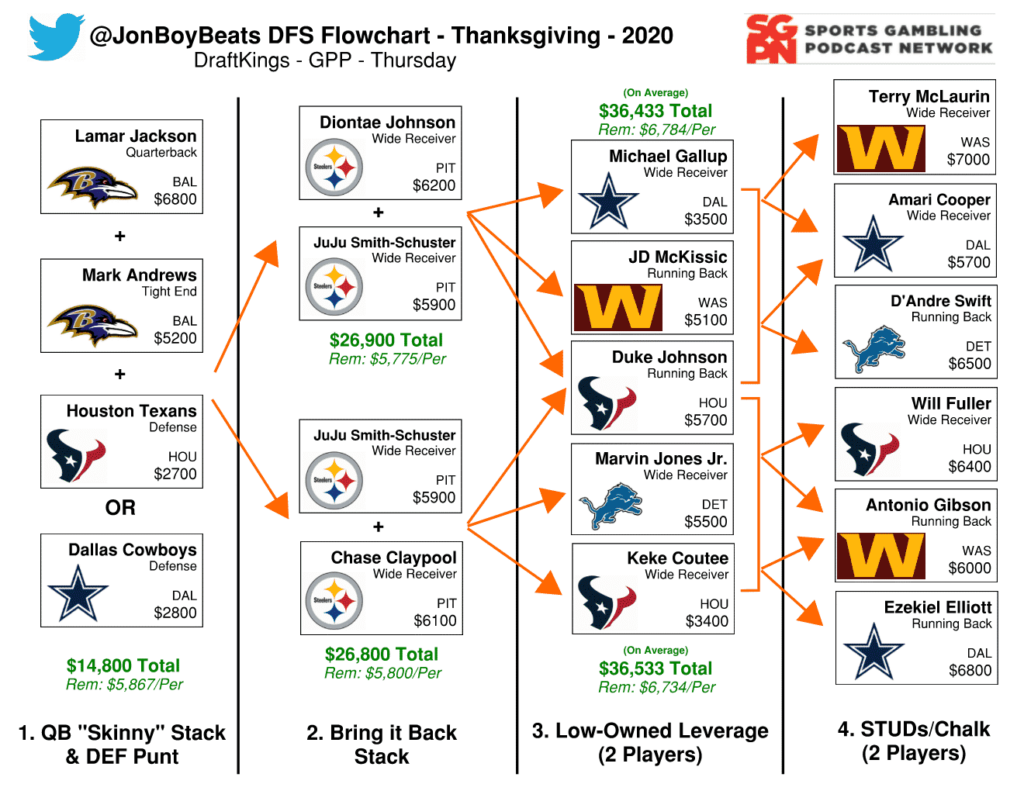 REDACTED ANALYSIS (Prior to Baltimore/Pittsburgh postponement)
QB "Skinny" Stack
There is nothing better than settling down in front of the TV with a stomach full of turkey, stuffing, and gravy and knowing that you still have life during the primetime Thursday night game. That's exactly what this Lamar Jackson and mark Andrews pairing is going to give you. I expect that the afternoon Washington/Dallas game will go overlooked from a game-stack standpoint as both quarterbacks are not projecting as great values, and I think there will be a psychological pull towards the early game where players will want to jump out to a hot start and get some early action with Deshaun Watson and/or Matthew Stafford stacks. This should naturally make Lamar Jackson less owned than he should be on this slate and I am all aboard for it. As much as it pains me to say, Hollywood Brown has been a no-show all season, and I have lost too much money on him to confidently include him in the flowchart.
By only including Mark Andrews from the Ravens in this stack, we get to correlate the tight end position that has been a challenge this season to say the least, and we leave plenty of options to load up on the talented Steelers receiving corps. With both JK Dobbins and Mark Ingram popping up on the COVID list, I am hoping that we get to see some of that vintage 2019 Lamar Jackson on the field this weekend. I think the 100 yard rushing bonus is firmly in play for the dual-threat quarterback on Baltimore.
Bring-It-Back Stack
I don't need to tell anyone how good this Pittsburgh Steelers wide receiver room has been this season. Chase Claypool has 10 touchdowns through 10 games as a rookie, Diontae Johnson has seen double-digit targets in almost every game that he has healthy for the whole day, and JuJu Smith-Schuster has had plenty of short passes turn into long gains due to his breakaway speed. I want JuJu to be locked in here for both flowchart pathways because he is projecting to have the lowest ownership of the group and is also the lowest priced. Typically the lower priced option on a group of receivers with similar range of outcomes sees the highest ownership because people want to save salary, but people are clearly chasing the recency bias with the Steelers. After that, feel free to take your pick between Claypool and Johnson. I will be trying to equally spread out my exposure between the two.