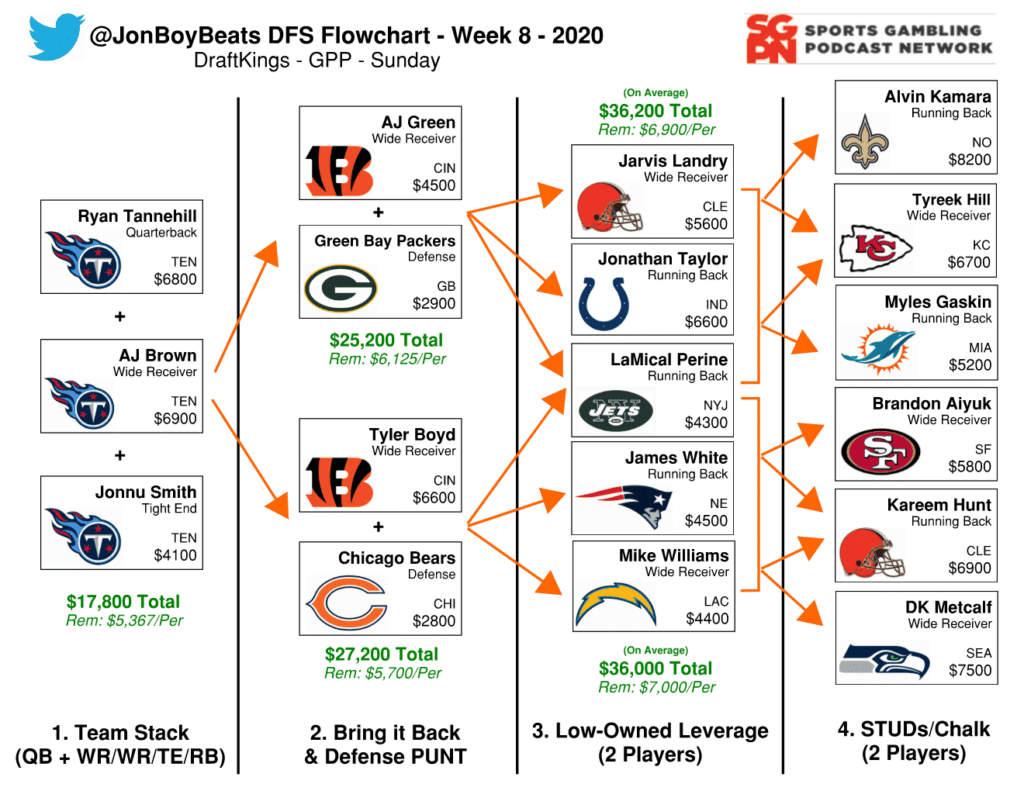 Week 7 was a tough one for the flowchart. Almost all of the chalk plays hit last week, which led to some really high scores in the GPPs. Our Chiefs stack did not have the firepower to keep up, and I said this on Twitter earlier in the week, but I'll repeat it here in this space. The flowchart will flat out not do well when all the chalk hits. I can almost guarantee it. Don't be discouraged though, because remember as a GPP player, the goal isn't to put together an optimal lineup every week that will score the most points. The goal is to build lineups that will score a lot of points, when the rest of the field does not score well. Over time entering contests with this goal in mind will lead to success because in weeks when we do well, we will do really really well! In the long term view, you will do better as a GPP player if you wipe your brain of the Week 7 chalk eruption, and continue down the path of finding leverage and keeping your lineups well correlated.
Before we jump into Week 8, I do want to spend some time breaking down the Chiefs play from last week. I don't have a way to quantify this but I would assume that in most weeks, if you looked at the final score and saw that the Chiefs scored 43 points, and you looked at your lineup and saw that Mahomes was 6% owned and Hill was 9% owned, you would be looking at a pretty nice finish in the green. Unfortunately for us, the Chiefs D/ST scored 2 touchdowns and Mahomes sat for the last few series of the game due to the blowout, and our lineups completely fizzled out. Remember, the public thought this game was going to be a dud because of the snowy weather conditions, so I will still say that Mahomes in a 43 point outing for the Chiefs was a "directionally correct" leverage play even though it didn't pan out for us on the DraftKings scoreboard.
Nevertheless, we are on to greener pastures in Week 8, and lucky for us we have some recency bias that will be working in our favor. Because seemingly all of the top 3 owned QBs, RBs, and WRs exceeded value last week, you probably saw a lot of people commenting "if only I would have played my cash lineup in GPPs this week I would have made so much money." That's exactly the kind of stuff that we want to hear as a GPP player! We welcome all optimal cash lineups in GPPs, because most of the time they will not have enough leverage or enough correlation to do well on a weekly basis. Alright, enough about the game theory of things, let's jump right into the Week 8 flowchart!
NFL DFS Flowchart Week 8 – DraftKings GPP
Team Stack
The Tennessee Titans are heading up to Cincinnati on Sunday to take on the Bengals in a game that has the second highest total on the slate. After coming off of a matchup against the Steelers, who have the 2nd best defense by DVOA, the Titans now get to go up against a defense that ranks 26th by DVOA. This should matchup great for Tennessee who so far have played in games averaging the 8th-most combined plays and the third-quickest situation-neutral pace. It will be interesting to see how the public stacks this game, and in my opinion they will favor Burrow and the Bengals with a Titans bring back. This is eerily reminiscent of the Week 6 flowchart where the public was going to be playing the Titans more, so I took the other side and played Houston. Ryan Tannehill, AJ Brown, and Jonnu Smith are my favorite plays this week for the Titans, who I think should be airing it out a lot. I also really like the Bengals against the spread this week, which solidifies by Titans passing stack even more.
Bring-it-Back Stack
On the Cincinnati side of the ball, I am rolling with AJ Green ($4500) who has been left for dust by the fantasy community but has quietly put up back-to-back weeks with 7 catches. On the flip side, I am also rolling with Tyler Boyd ($6600) who had a monster blowup game for the flowchart in Week 7 and has proven himself as Joe Burrow's WR1. My defensive plays this week also slightly fall into the leverage bucket, starting with the Packers ($2900) against the Vikings. This matchup is projecting to be pretty high owned this week after their shootout to kickoff the season, but I am willing to full fade Minnesota this week and I'm doubling down here with the Packers defense. Meanwhile on the other side of the chart, the Saints will be pretty high owned too because of condensed opportunities so the Bears ($2800) offer a contrarian option. Another thing working in both of these defenses favor is the high winds projected to be blowing through the Midwest on Sunday.
Low Owned Leverage
This has quickly turned into my favorite section of the flowchart, because we get to dive deep into some leverage spots. This week, we have plenty of options to choose from because a ton of potential chalk plays have popped up due to late-week injuries. I want to start with LaMical Perine, who is definitely one of my bolder calls of the season, but he is a perfect leverage play off the the cheap Jets wide receivers. Both Breshad Perriman and Jamison Crowder are going to be out this week, so everybody will be trying to fit Jets pass-catchers into bring back stacks with Mahomes. Meanwhile Perine, so a 50/50 split in carries last week and is clearly the Jets most explosive running back. Not only does Perine offer leverage off the volatile Jets receivers, but he doesn't cost much at all.
Keenan Allen will be very high owned and for good reason, as he has quickly become Justin Herbert's favorite receiver and is seeing an incredible amount of targets. However, Allen only has two touchdowns this season and if we think that continues then I love Mike Williams in this spot. Big Mike is only $4400 and could easily fall into two touchdown catches in he game.
The final leverage piece that I want to comment on is Jonathan Taylor. I think there is a pretty clear tier of Running Backs this week for cash consideration (Kamara, Henry, Hunt, Williams, Bernard) and I predict that a lot of these guys will trickle into the GPP constructions. Taylor is well-priced this week and has the ability to thrash the Lions run defense on Sunday. He will probably catch some ownership, but I think he is clearly the best play outside the Top 5 guys I listed, so let's roll with him here.
Stud RBs & Chalk
I don't think there is much needed to be said about Alvin Kamara ($8200) and Kareem Hunt ($6900). Once again, Michael Thomas is out (what is going on with that man?!) so Kamara should receive a ton of opportunities again. Hunt has yet to have a blowup game since he took over the Browns backfield after Nick Chubb went down with injury, but in all fairness last week was the first week where Hunt played the full game and got the true workload. In the windy weather conditions, I love his reception upside.
I want to make sure that I have a piece of this SEA/SF matchup as we have witnessed week after week Seattle's correlation to GPP winning lineups. Brandon Aiyuk should be the Niners WR1 with Deebo Samuel out again and I love DK Metcalf to bounce back after a quiet game last Sunday. I am hoping Metcalf goes lower owned than Lockett due to recency bias and a higher price tag.
That does it for my flowchart analysis this week. As always, feel free to hit me up on Twitter if you want to talk lineup strategy on Sunday morning. I will also post any updates I have to the NFL DFS flowchart as the rest of the injury news hits closer to kickoff. Good luck this weekend, let's go finish in the green!
Past NFL DFS Flowchart Results
Week 1 – Optimal Lineup 157 DKPts, min cash in GPPs (top 20%)
Week 2 – Optimal Lineup 175.4 DKPts, 3X-4X cash in GPPs (top 4-5%)
Week 3 – Optimal Lineup 122.3 DKPts, no cash
Week 4 – Optimal Lineup 171.3 DKPts, 2X cash in GPPs (top 7-10%)
Week 5 – Optimal Lineup 178.92, 3X cash in GPPs (top 3-4%)
Week 6 – Optimal Lineup 180.2, 2X-3X cash in GPPs (top 5-6%) (ALL LINEUP COMBOS CASHED)
Week 7 – Optimal Lineup 153.34, no cash