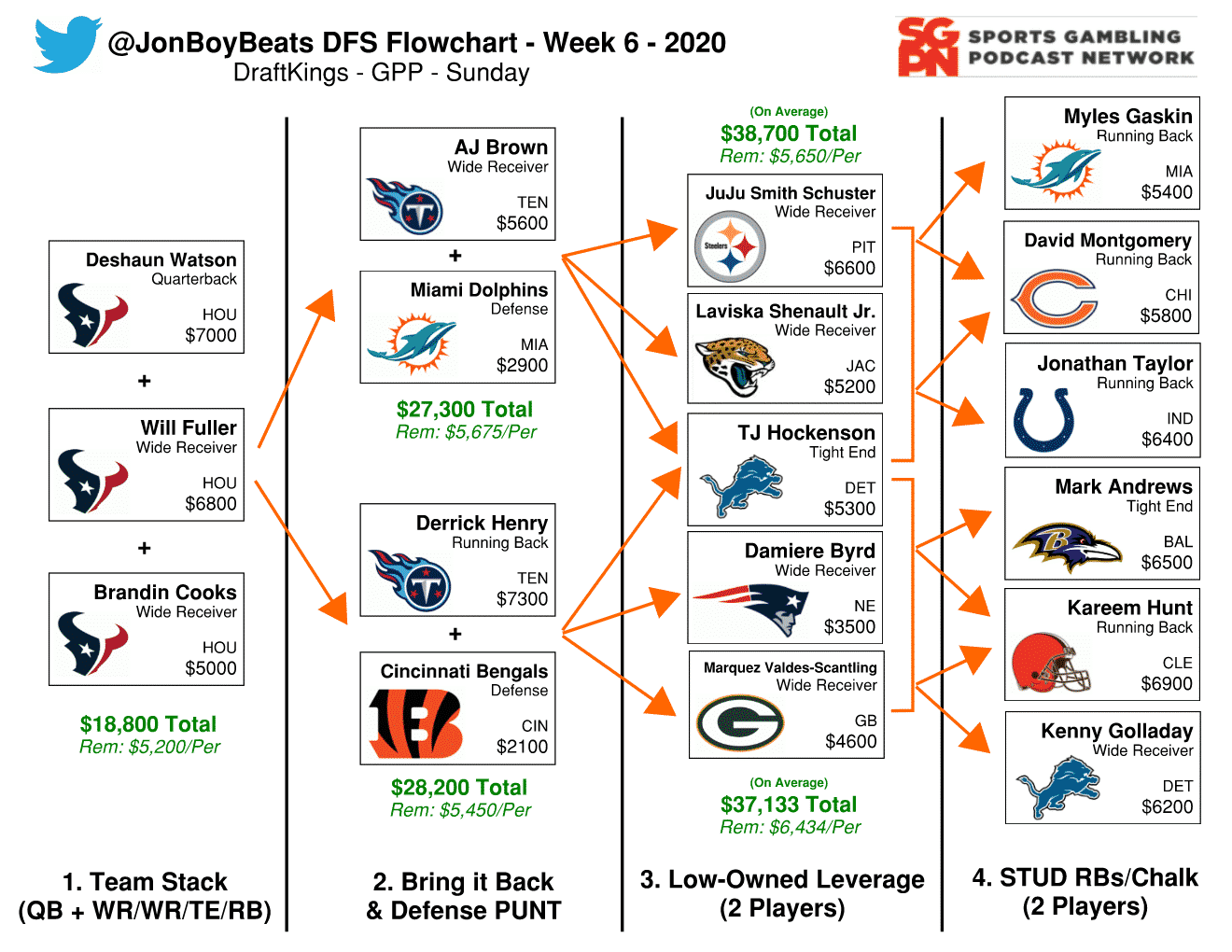 Week 5 presented the first banner week for the flowchart this season! The optimal lineup finished with 178.92 DKPts which was good enough to finish in the top 3-4% in most of the GPPs. More importantly, the CAR/ATL game stack included the QB8, RB2, WR6, WR11, and WR13 from the Sunday main slate and made it so pretty much all lineups were set up for success. That's exactly the kind of results we are looking for with the flowchart, and it's where I will continue to dial in my efforts on.
If this is your first time using the flowchart, make sure to check out the Week 1 article, where I break down and introduce it a little bit more in-depth. Also, as I mentioned in Week 3, always focus on making sure that you use all the $50,000 salary on DraftKings. Most of the pathways on the flowchart will get you close to there, but in these huge Sunday Main slates it does not do you any favors to leave money on the table. If you have a good feeling about someone, or just want to swap out to a different defense to help fill in the salary gap, I say go for it. People have also been using the flowchart as more of a player pool when building lineups, and I have seen some good results from that already this season. Let's jump right into the Week 6 flowchart!
NFL DFS Flowchart Week 6 – DraftKings GPP
Team Stack
The Houston Texans saw their head coach Bill O'Brien get fired before Week 5, and all they did was come out under interim head coach Romeo Crenell and get their first win of the season against the Jaguars. This week they face the Titans, who are coming off a Tuesday night football matchup last week, so the Texans have a rare +2 rest advantage for this game. Deshaun Watson was a phenomenal GPP play last week finishing as the QB4 in the main slate. Watson has now thrown for 300 yards in each of the past two games and finally broke the 3 touchdown barrier last week. We have yet to see him hit his rushing ceiling this season, and if he gets out of the pocket and scrambles for 40+ yards, he could really be in for a big day. Will Fuller also hasn't yet had his explosion this season, but he has scored a touchdown in 3 straight games and is looking healthy and consistent. At $6800 he still provides an extremely high ceiling and his floor has just kept rising this season. Speaking of floor and ceiling, Brandin Cooks has now displayed both of these in the last two games. In Week 4 he was extremely chalky and put up 0.0 points, and then in Week 5 he went off for 8-161-2 and was the WR3 on the slate. All we are asking for here is for him to pay off the $5000 price tag. If you see Cooks top 15 DKPts, you will know that we are off to a good start for the flowchart.
Bring-it-Back Stack
The Titans are going to be an extremely chalky team to play this week, coming off their six touchdown performance against the Bills on Tuesday. Unfortunately, I don't know how much I trust this chalk, especially up against the rest disparity we talked about above. For that reason, I am spreading out the Titans studs and making sure we only take one of them as we make our way through the flowchart. AJ Brown was an easy play on Tuesday night since his salary was so low in the showdown slate, and DraftKings still wasn't able to price him up in time for the Week 6 main slate. At $5600 he looks like a smash play, however the only thing that would theoretically prevent him from having a huge day is the guy sitting on the other path of the chart. Derrick Henry could easily go for 30 rushing attempts and two touchdowns against the Texans defense, which would obviously limit the Titans passing attack. This is where the decision making gets fun for the flowchart. Choose your own adventure!
Low Owned Leverage
Previously, I have been focusing on trying to target players under 3-5% projected ownership in column 3 of the flowchart, but starting this week I am going to be switching up my strategy a little bit. These players won't all come in at that low of ownership every week, but I can assure you that they will always be leverage plays off of some of the higher-owned chalk. It's important to understand the concept of leverage plays vs low-owned contrarian plays, as both can be key parts of building winning lineups.
Taking Week 2 as an example when Davante Adams was projecting to be extremely chalky (25%+ ownership), Aaron Jones was a clear leverage play. He was still going to be around 10% owned, but we knew that his ceiling was 100+ yards and 2 TDs. If Adams did hit, we would then be fighting 25% of lineups which meant the rest of our players would all have to perform extremely well. If Jones went off, we would immediately be ahead of that same 25% percent of lineups and that would put less stress on the remaining players in our lineup. We could probably get away with 6 out of 8 players doing well and still land into some good money.
Week 5 on the other hand, was a perfect example of contrarian plays being the key to a winning GPP lineup. Both Chase Claypool and Travis Fulgham were extremely low owned players under 2% and didn't present any obvious leverage plays off of chalk. Of course, they finished as the WR1 and WR2 last weekend and absolutely broke the slate.
A couple of names pop out this week in Column 3. JuJu Smith Schuster is going to come in at around a quarter of the ownership that Chase Claypool projects to have and I'm not sure there are many people out there who are confident to say that Claypool's ceiling is 100% locked in to be higher than JuJu's. Another player I am targeting is TJ Hockenson who provides leverage off of Kenny Golladay. Now you will see I still have Golladay included in the last column of the flowchart because I think he is "good" chalk this week, but it's going to be hard to separate yourself from the pack if you have both Brown and Golladay in your lineup. That's where Hockenson steps in and still provides you access to that Lions passing attack.
From the contrarian side of things, I like Marquez Valdes-Scantling as an option to fill the Fulgham/Claypool shoes from last week. If you remember the Monday night showdown slate from Week 4, MVS was one of the highest owned Packers options that night. Green Bay was without Adams and Lazard, so MVS was the clear play. He fizzled out and only scored 8.5 DKPts and it seems that the public is remembering that game pretty well. Green Bay still doesn't have Lazard, and with Adams back I think that Jamaal Williams will see less time on the field, and I also don't expect Robert TOnyan to score 3 more TDs. The arrow is clearly pointing up for MVS this week.
Stud RBs & Chalk
Unless you want to play two TEs, which is something that I usually don't advocate for, the only way to get to Mark Andrews is going to be on the bottom path of the flowchart. Andrews is part of a Baltimore offense that has very condensed production (between himself and Marquise Brown) and they face a Philadelphia offense this week that clearly has some issues. In a week where the low-priced tight end lineup is going to be the chalky construction (with both Irv Smith Jr. and Trey Burton projecting over 20% ownership), Andrews also gives you immediate leverage on the field by plugging in a high-priced tight end to your lineup.
Kareem Hunt and Jonathan Taylor are both guys who have been extremely chalky plays at Running Back this season in different weeks, but are going largely under the radar this week. Hunt faces a stout Pittsburgh defense, but I think Baker Mayfield will be dumping the ball off the him a lot this week, so I really like his receiving upside. Taylor on the other hand faces the opposite of a stout defensive line in that of the Cincinnati Bengals and should feast on the ground.
That does it for my flowchart analysis this week. As always, feel free to hit me up on Twitter if you want to talk lineup strategy on Saturday or Sunday morning. I will also post any updates I have to the NFL DFS flowchart as the rest of the injury news hits closer to kickoff. Good luck this weekend, let's go finish in the green!
Past NFL DFS Flowchart Results
Week 1 – Optimal Lineup 157 DKPts, min cash in GPPs (top 20%)
Week 2 – Optimal Lineup 175.4 DKPts, 3X-4X cash in GPPs (top 4-5%)
Week 3 – Optimal Lineup 122.3 DKPts, no cash
Week 4 – Optimal Lineup 171.3 DKPts, 2X cash in GPPs (top 7-10%)
Week 5 – Optimal Lineup 178.92, 3X cash in GPPs (top 3-4%)