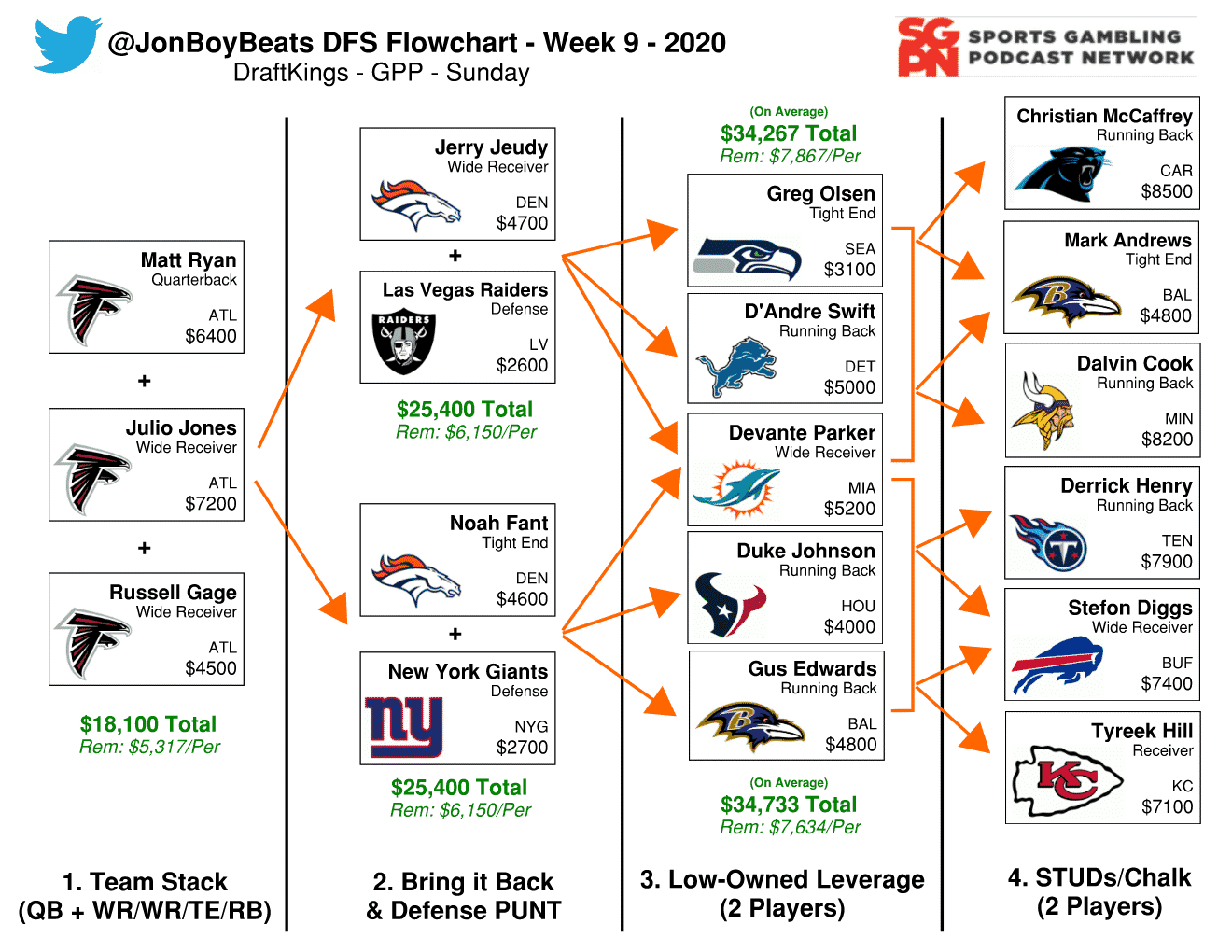 Back-to-back tough weeks for the flowchart. Week 8 was a tale of two sides as the Stud RB/Chalk column did extremely well, but the Leverage pieces flat out fizzled and didn't provide us the firepower to climb up the standings. This is a good lesson in being a GPP player, as we have to get used to and comfortable with piling up a couple of losing weeks in a row. When we hit it big (like Week 6) we want to hit it really big so it's able to cover a couple of these kinds of weeks. Unfortunately, for those of you out there tailing the flowchart every week, you want to see results every week, so let's put that slate behind us and dive right into Week 9. Keeping the analysis a little bit shorter this week.
NFL DFS Flowchart Week 9 – DraftKings GPP
Team Stack
The Atlanta Falcons are hosting the Denver Broncos on Sunday in a game that has a 49 point game total. Julio Jones will be a very popular play this weekend with Calvin Ridley out, so I want to double down and stack him with Matt Ryan and Russell Gage. The Falcons have come out and said that their wide receivers have designated backups, which means Christian Blake will step into the Ridley role and I would expect him to see some ownership at such a low price tag. Gage on the other hand has seen his target total double in games without Ridley during his career, so I am hoping that is a small leverage play.
Bring-it-Back Stack
On the Denver side, I really like their pass-catchers against this pass-funnel Atlanta defense. The Atlanta defense has given up six TE1 (top 12) weeks so far this season and they have given up an amazing eleven WR1/2 (top 24) weeks already. Jerry Jeudy seems like he is open on every single play, and I would hope that Drew Lock has some more time to get him the ball this week. On the flip side of the flowchart, Noah Fant looks to be fully healthy and could be in for a dominant showing this weekend at a mid-range price tag.
Low Owned Leverage
This column has some real deep dive names this week, that might make your stomach turn trying to fit two of these into your lineup. If it provides any condolence, just take a quick peek at all the studs hanging out in column #4 and you'll go back to feeling better about it. Also with Julio leading off the flowchart being one of the highest projected owned players on the slate, we have to dumpster dive a little bit here. I really like Greg Olsen against the Buffalo linebacker corps who continues to be beat up and injured. He obviously provides leverage off of Tyler Lockett and DK Metcalf this weekend.
Gus Edwards & Duke Johnson are two running backs who may be viewed as the second-fiddle in their offenses, but both provide some leverage off of two potentially popular guys. The Texans coaching staff came out this week commenting that they want to get Duke Johnson more involved, which is an interesting anecdote to consider with David Johnson projecting to be very popular. On the flipside, Gus Edwards has the best matchup of the weekend based on the Rotoviz GPS Ratings. I wouldn't recommend playing both of these guys in the same lineup, but I think both have a lot of upside.
Stud RBs & Chalk
This column is loaded this weekend. Top to bottom, we have all the studs covered here and you should be able to fit whoever you want from this column into your lineup. Christian McCaffrey is still the most expensive running back on the slate even though he has been off the field for the last two months, so I think a lot of people will be taking the wait-and-see approach with him. He has a great matchup against the Chiefs and we know he has a 30+ point ceiling. Mark Andrews is extremely low-priced against the Colts and seems like a great candidate to bounce back after a couple of slow weeks. Not much needs to be said about Dalvin Cook and Derrick Henry at this point, they have proven (when healthy) that they are bellcow running backs with the high floor that you want from an $8000 price tag.
That does it for my flowchart analysis this week. As always, feel free to hit me up on Twitter if you want to talk lineup strategy on Sunday morning. I will also post any updates I have to the NFL DFS flowchart as the rest of the injury news hits closer to kickoff. Good luck this weekend, let's go finish in the green!
Past NFL DFS Flowchart Results
Week 1 – Optimal Lineup 157 DKPts, min cash in GPPs (top 20%)
Week 2 – Optimal Lineup 175.4 DKPts, 3X-4X cash in GPPs (top 4-5%)
Week 3 – Optimal Lineup 122.3 DKPts, no cash
Week 4 – Optimal Lineup 171.3 DKPts, 2X cash in GPPs (top 7-10%)
Week 5 – Optimal Lineup 178.92, 3X cash in GPPs (top 3-4%)
Week 6 – Optimal Lineup 180.2, 2X-3X cash in GPPs (top 5-6%) (ALL LINEUP COMBOS CASHED)
Week 7 – Optimal Lineup 153.34, no cash
Week 8 – Optimal Lineup 140.12, no cash