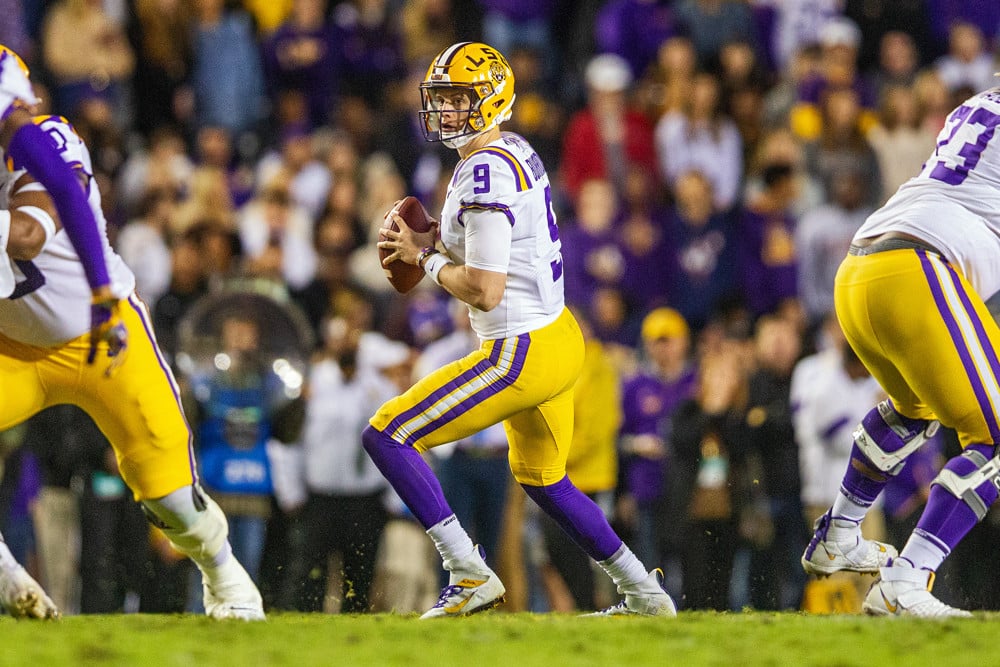 The Sports Gambling Podcast Network is back with a College Football Simulation Tournament! If you followed Degen Madness and Madden MAYhem then you know what to expect: exciting live simulation games, hilarious and insightful commentary from Sean "Stacking the Money" Green, Ryan "Real Money" Kramer, and "the Dantabase" Colby Dant.
Maybe you have been asking yourself, why the hell does college football only have a four team playoff and why the hell does it seem like it consists of basically the same teams every year? Well, SGP has been listening and we're here to help. This tournament will consist of 16 teams and will crown the true National Champion.
Enter your bracket here for the chance to win $500 bucks…straight cash homie.
Get your bets in exclusively at MyBookie!
All games can be viewed on Twitch, YouTube, Twitter (@GamblingPodcast), Twitter (@theSGPNetwork), Facebook, and Instagram
Miami (OH) Red Hawks @ LSU Tigers
Line: LSU – 24
Total: 49
Saturday 5pm PST
We Tigers! Well, Coach O, you guys had a remarkable year and congrats on winning the College Football Playoff National Championship Trophy. However, you only had to beat two teams to win that playoff. Now try beating four.
LSU is led by the Heisman winner, and #1 overall NFL draft pick, Joe Burrow. In fact, a total of five LSU Tigers were taken in the first round of this year's draft, and 14 were drafted overall. So yea, this is a pretty talented roster. Clyde Edwards-Helaire accumulated over 1,800 yards from scrimmage this year, scored 17 touchdowns, and will be playing for the Kansas City Chiefs in the fall. Both wideouts, Jamar Chase and Justin Jefferson (drafted by the Vikings) went over 1,000 yards and combined for 38 TD's. Also, don't forget about Randy Moss's son, TE Thaddeus Moss, who caught 47 balls for 540 yards and 4 TD's. Plain and simple, there's no stopping this offense.
The LSU defense isn't too shabby either. DE K'Lavon Chaisson and LB Patrick Queen were both first round draft picks and the secondary is led by S Grant Delpit and CB Kristian Fulton, who were both second round draft picks. The Redhawks will have their hands full putting up points on this athletic LSU defense.
Miami-OH had a nice little year, going 7-5 in the regular season before beating Central Michigan in the MAC title game, 26-21. It was their first MAC championship in 10 years. They went on to the LendingTree Bowl but lost to Louisiana 27-17.
The Redhawks are led by 2019 MAC freshman of the year, Brett Gabbert. Yep, his brother is Blaine Gabbert. Brett had a solid year, especially for a freshman, passing for over 2,400 yards and 11TD's. However, he didn't fare well against top competition, only completing 5 of 15 passes for 48 yards and an INT against Ohio State. The Redhawks have a solid RB in Jaylon Bester and a wide receiver trio of Jack Sorenson, James Maye, and Jalen Walker. They'll have to score some points to keep pace with LSU.
Picks
I mentioned the Ohio State game earlier. Welp, Miami-OH lost that game 76-5. That's not a typo, they lost seventy-six to five. The Tigers are better at every position. Hell, the LSU backups are better at every position. They are talented, athletic, and fast and Miami has no hopes of keeping up. While LSU might not win by 70, they'll cover the 24 with ease. Give me LSU and the Over.
Memphis Tigers @ Utah Utes
Line: Utah – 8
Total: 54
Saturday 7pm PST
The second half of the Saturday night double-header should be much more of a competitive game than the first. The Memphis Tigers go in to Salt Lake City to battle Kyle Whittingham and his Utah Utes.
Utah had an excellent year, going 11-1 in the regular season before dropping the Pac-12 championship to Oregon (37-15) and the Alamo Bowl to Texas (38-10). On their way to a berth in the conference championship, they beat the likes of BYU, USC, Washington State, and Washington in Seattle.
They are led by QB Tyler Huntley who capped off a stellar career, throwing for over 3,000 yards and 19 TD's, with only 4 INT's, in his senior year. The biggest threat on this offense, and new Buffalo Bill, Zach Moss ran for over 1,400 yards this season and 15 scores. The leading receiver was sophomore tight end, Brant Kuthrie who topped 600 yards with six TD's.
Utah is known for a physical brand of football and is very tough to beat at home in the altitude. Of the seven players recently drafted, six came from the defensive side of the ball. The Utes had one of the top secondaries in the county with S's Jaylen Johnson, Julian Blackmon and Terrell Burgess all being drafted within the first three rounds. Additionally, DT Leki Fotu was taken in the fourth round, DE Bradlee Anae in the 5th, and DT John Penisini in the 6th.
Memphis has some talent on their roster as well. The Redskins drafted RB/WR combo Antonio Gibson with the 2nd pick in the 3rd round while a CB and C were also taken in the 7th. They are led by Junior QB Brady White who threw for over 4,000 yards and 33 TD's. His favorite target is Junior WR Damonte Coxie who has posted consecutive 1,000 yard seasons and has 19 career receiving TD's. In the backfield, Kenneth Gainwell ran for over 1,400 yards and 13 TD's on the year.
The Tigers went 11-1 in the regular season and beat Cincinnati in the AAC Championship game before losing to Penn State (53-39) in the Cotton Bowl. Memphis now has six straight seasons winning at least eight games. Over this stretch, they've beaten the likes of Ole Miss, UCLA, BYU and others so they won't be intimidated by Utah.
Picks
Memphis is going to hang around here and make this a ball game. Utah has an advantage in the trenches but Memphis has better skill players. Utah lost their last two games by a combined 50 points. Something might not be right in SLC. We have a live dog Saturday night.  Give me Memphis and the points and give me the Under.