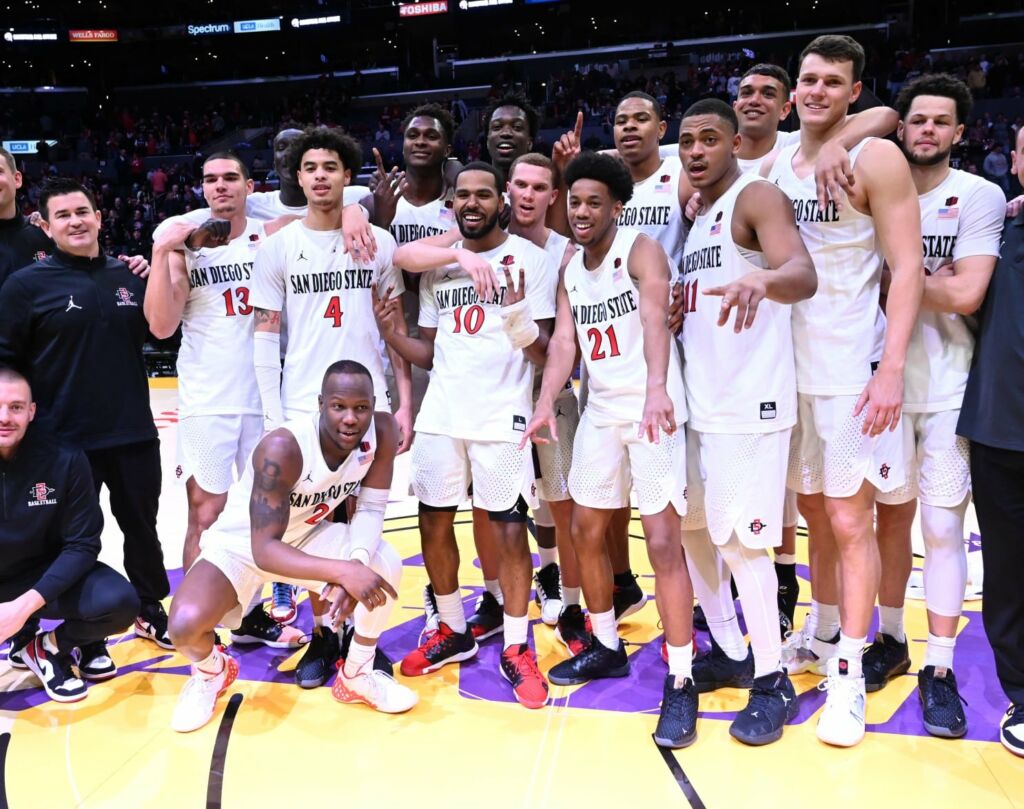 Degen Madness has officially come to a close, but I don't say this with sadness. The tournament certainly didn't disappoint in terms of entertainment. Many teams fought valiantly, but only one team emerged above the others. Big ups to "Our Gals" a.k.a. San Diego State for surviving the gauntlet and adding the 2020 Degen Madness Tournament trophy to their case.
If you're looking for more action, be sure to keep your eyes peeled as there will be an upcoming NFL Madden 20 Tournament a.k.a. Madden MAYhem presented by the Sports Gambling Podcast. The final details on this tournament will be released shortly. Also, props to MyBookie for offering odds on the Degen Madness Tournament and for keeping us degenerates with this sweet action.
*Be sure to listen to the latest SGP podcast right HERE*
Degen Madness Final Four
San Diego State 48 – Kansas 43
Spread : Kansas -6.5
Total : 92
Talk about a fun game! The first half this contest was a closely contested, back and forth battle. Neither team could separate from their opponent much although the Jayhawks took a four point lead into halftime. You got the feel that San Diego State should've been leading though as they were winning the boards they were just being out-shot.
The third quarter and much of the fourth quarter were close until about two minutes remaining, then the Aztecs took control. Kansas had four blocks in one possession late while facing a two point deficit, but they couldn't close the gap. San Diego State takes down the blue-blooded Kansas to advance to the Degen Madness championship.
https://twitter.com/justin_wood_/status/1251317823860649984?s=20
Footage from @JustinDecker's watch party after San Diego State's stunning Final 4 upset over Kansas in @GamblingPodcast #DegenMadness#OURGALS #OneShiningMoment pic.twitter.com/KkxxDBTxGO

— Cash Juno (@CashJuno) April 18, 2020
Ohio State 52 – Arizona 45
Spread : Ohio State -2.5
Total : 92.5
There was never much of a doubt for Ohio State backers in this contest. Arizona relied heavily on the booth's favorite, "Fire-crotch" Nico Mannion, and he couldn't deliver them to the promised land. The Wildcats somewhat were able to hang around in the first quarter, but then the Buckeyes busted things open.
The Wesson brothers of Ohio State were outstanding in this game, and they showed their dominance. The Buckeyes only trailed briefly for one point, and they led by as many as 14 at one point. They also shot an impressive 62% from the floor and they knocked down eight of 11 three point attempts as they cruised to the championship game.
#degensmadness @GamblingPodcast the wife knows what time it is baby. ohio st over 46 LFG #degennation pic.twitter.com/Lt981pEDL5

— Tristan Shah (@TristanShah) April 18, 2020
The fireball is gonna need to catch fire to make it to the #degenmadness finals. Tune in now! @GamblingPodcast

— Matthew Sullivan (@sullivan_writer) April 18, 2020
Final Four Highlights
#degenmadness https://t.co/S7pKQOtq0S

— alexanderjmac (@HONEYBDGRVSTREX) April 18, 2020
https://twitter.com/justin_wood_/status/1251317823860649984?s=20
@GamblingPodcast how's this for a setup #fireball #degensonly pic.twitter.com/9IeaMrmNcO

— Reed Rothchild (@Batya_Father) April 18, 2020
The winner of the 3pt cash tonight DM'd us and said he was too drunk to lookup his PayPal email. We really have the best fans. #DegensOnly

— Sports Gambling Podcast (@GamblingPodcast) April 18, 2020
Degen Madness Third Place Game
Kansas 55 – Arizona 32
Spread : Kansas -6.5
Total : 97.5
If you didn't think that Arizona was a little overrated after the Ohio State game, then you most definitely did after this third place game. Kansas was much quicker, sharper and just all around better in this contest. The Wildcats were once again reliable on Nico Mannion, and he came up short for the second day in a row.
Mannion was held scoreless in the first half and he only shot 2-8 from the floor the entire game, only scoring five points. Udoka Azubuike was a menace for the Jayhawks. He put up 15 points with nine rebounds as well. This was a dominant end to the tournament for a Kansas team with so much anticipation coming into the event.
Frozen Tomato Mannion is back … #degenmadness

— Sports Gambling Podcast (@GamblingPodcast) April 19, 2020
Hope y'all checked the column and won
Kansas ✅
Under ✅

— NC__NicK (@NC__NicK) April 19, 2020
Degen Madness Championship Game
San Diego State 41- Ohio State 39
Spread : San Diego State -3.5
Total : 91
I'm very confident when I say that I feel like these two teams deserved to battle for the Degen Madness Championship. San Diego State should have won this contest by a lot more, but they got the job done anyways. The Aztecs held a commanding 14-6 lead in the rebounding category going into halftime although the game was tied up.
Neither team could pull away in the second half, and this made for more entertainment. Ohio State had a chance for a potentially game-winning lay up with around five seconds remaining, but they couldn't put it to bed. San Diego State did what they did best the entire tournament, and that was pulling off clutch wins when it counted. The San Diego State Aztecs are the winners of the first annual and hopefully not the last Degen Madness Tournament.
Just so the timeline knows… San Diego State just won the National Championship but we didn't expect anything else #DegenMadness

— P (@1stPrest) April 19, 2020
Aztecs are the champs….. great tourney. #DegenMadness was awesome. Can't wait for the Madden Tourney. Thanks for entertainment @GamblingPodcast

— Joey Buckets (@Grind2Shine20) April 19, 2020
Degen Madness : The Final Highlights
Yes I am gambling on a 3rd place game #DegenMadness #totalDegenerate

— rasawyer (@rasawyer) April 19, 2020
let's bet on how many whiskeys deep @TheColbyD is… https://t.co/nHqvVx8aEX

— Sports Gambling Podcast (@GamblingPodcast) April 19, 2020
Thanks for helping us get through this time #DegenMadness

— Derek McKnight (@DerekMcKnight1) April 19, 2020
Great tourney @MyBookieNBA #DegenMadness was awesome. @GamblingPodcast did a great job entertaining the people. A+ product

— Joey Buckets (@Grind2Shine20) April 19, 2020