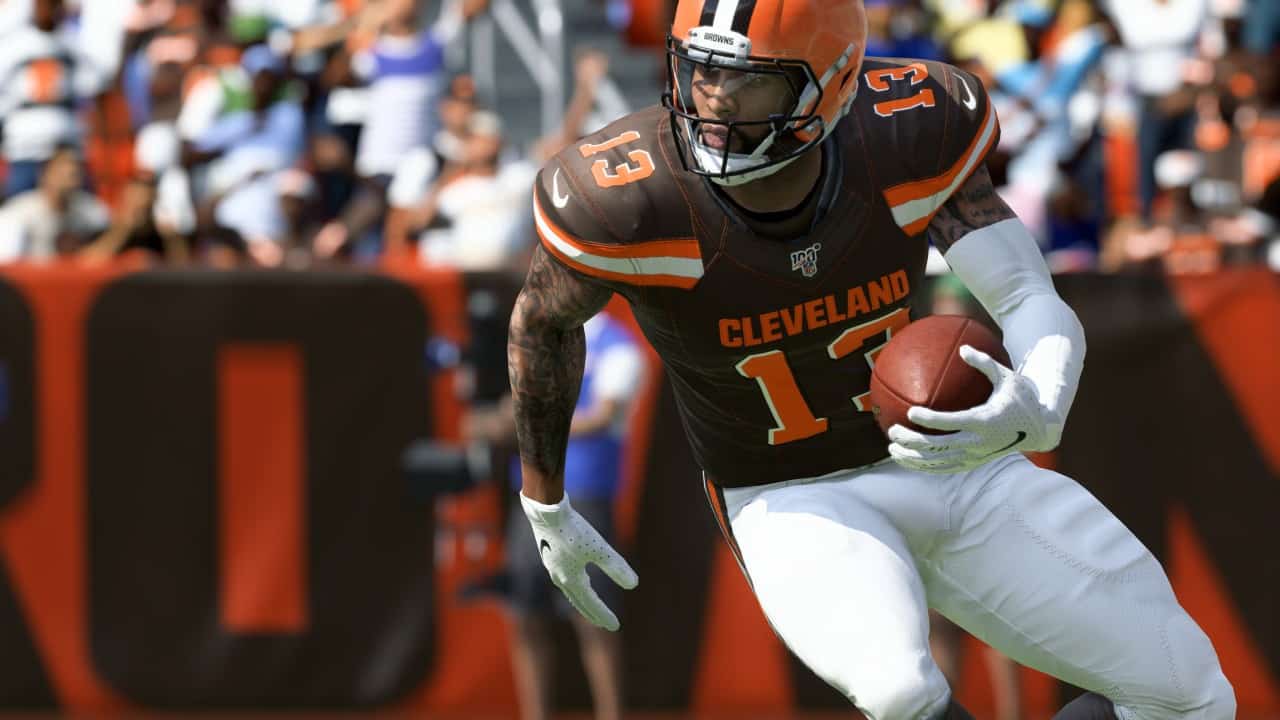 The Cleveland Browns have finally made it to the show. All those years of pain of watching John Elway drive 98 yards or Earnest Byner fumbling at the one yard line all were perhaps worth it just to see the Browns potentially win Madden Mayhem. Cinderella certainly has a name and it's the Cleveland Browns as they get ready to take on the New Orleans Saints for all the marbles.
The early game is a classic NFC East dual between two hated rivals. The New York Giants at the Philadelphia Eagles in the SGP Bowl. So on our last night of Madden Mayhem we get the Championship game mixed with the SGP Bowl! What could be better?
Get your bets in exclusively at MyBookie! And check out our Madden Mayhem Super Bowl Squares Pool.
All games can be viewed on Twitch, YouTube, Twitter (@GamblingPodcast), Twitter (@theSGPNetwork), Facebook, and Instagram
New York Giants @ Philadelphia Eagles
Line: Eagles -9.5
Total: 50.5
Sunday 5pm PST
This is it! With a lack of sports going on at the moment this is for trash talking rights over the next few months as Ryan "Real Money" Kramer's New York Giants head into Philadelphia to take on Sean "Stackin' The Money" Green's Philadelphia Eagles.
We saw both of these teams lay an egg early in Madden Mayhem but if you ask me it was the New York Giants who had the better performance. Sure, Daniel Jones struggled down the stretch but he played a pretty good game all things considering. Saquon Barkley had a quiet game in his first outing and that can't happen again. Look for Barkley to be the difference maker in this game. If he plays well I think the Giants can win. If he struggles again I think they lose.
Defensively, the G men must find a way to make Carson Wentz uncomfortable and they may just have the guys to do it. Dexter Lawrence and Leonard Williams need to show up. Look for newly acquired linebacker Blake Martinez and safety Jabrill Peppers to be players of note in this game.
The Philadelphia Eagles disappointed us in the first outing against what ended up being a decent Washington Redskins team. The Eagles fly as Carson Wentz does. Look for Wentz to use his tight ends Zach Ertz and Dallas Goedert to try and expose the Giants linebackers and safeties. Running back Miles Sanders is another dangerous player for the Eagles who must have a decent game if the Eagles are going to cover.
Defensively, the Eagles pass rush should be an issue for the Giants. Derek Barnett and Fletcher Cox are very well capable of making Daniel Jones have a tough afternoon. Watch out for newly acquired cornerback Darius Slay to instantly make an impact for the birds.
Picks
I think the Eagles get the win but they're giving away too many points. Give me the Giants and the points. Gun to my head I'm taking the UNDER as well.

New Orleans Saints vs Cleveland Browns
Line: Saints -8
Total: 52.5
Sunday 7pm PST
I can hardly wait for this matchup, the Madden Mayhem championship featuring the top seeded New Orleans Saints against the Madden Mayhem cinderella that is the Cleveland Browns.
Baker Mayfield despite fumbling away a touchdown early yesterday against the Chiefs looked good. Running backs Kareem Hunt and Nick Chubb played huge but can they do it again? We know Odell Beckham and Jarvis Landry will be a problem for any opposing team but perhaps lost in yesterdays win in Kansas City was Mayfield's connections with tight end Austin Hooper.
Defensively, the Browns were on point yesterday picking off Patrick Mahomes three times and taking one to the house. If they can get anything close to that performance they can beat the Saints. The key defensive players to watch are Myles Garrett and Olivier Vernon on the defensive line and the standout corners Greedy Williams and Denzel Ward.
The New Orleans Saints were the top seed in the NFC and they showed it by blowing out a few teams on the way to the championship. The Saints have been led by veteran QB Drew Brees and his onslaught of weapons Michael Thomas, Emmanuel Sanders and perhaps the Madden Mayhem MVP tight end Jared Cook. Even starting running back Alvin Kamara has proved to be a vital weapon of the passing game.
Defensively, the Saints have another MVP candidate in my eyes with star DE Cameron Jordan who's been a nightmare matchup for everyone they've played. Can the Browns slow down Jordan? I have my doubts. The Saints have also gotten great play from linebacker DeMario Davis and cornerback Marshon Lattimore. Lattimore and Janoris Jenkins have the tough task of taking on Landry and Beckham.
Picks
Browns are a team of destiny and 8 points is too much. I think Baker and company are a live dog on the moneyline but you might as well take the 8 points just in case. I'll also take the UNDER in this one.