NFL Week 5 is here and that means it's time for NFL Week 5 Referee Betting Stats and Trends report. In Week 4, the four referees I highlighted with strong trends continued their strong start. As we get more data points from week to week I will highlight those particular referees. As the saying goes, "If it's not broken, don't try to fix it." Again, I will put this disclaimer out there, this referee betting stats and trends report should NOT be your only source of handicapping. Let me dive into this week's report!
Referee Report: Game Totals
Ron Torbert
Torbert continues to be a perfect 4-0 to the Under thru the first four weeks of the regular season. In fact, over the last 18 regular-season games, Torbert is 14-4 to the Under. Additionally, Torbert's officiated games are averaging only 36.75 points per game. Furthermore, road teams are averaging only 10.5 points per game! This week Ron Torbert and his crew are assigned to the Thursday Night Football game between NFC West division rivals the Los Angeles Rams and the Seattle Seahawks … tread carefully here.
Brad Rogers
The Over train stayed afloat for Brad Rogers officiated games in Week 4 with the help of overtime between the New York Giants and New Orleans Saints. Now over the last 15 games, the over is 14-1! Brad Rogers games are averaging close to 60 points per game this season and flying over the total by an average of 11 points per game. In Week 5, Rogers is officiating two good defensive teams in the Denver Broncos and the Pittsburgh Steelers. Lastly, home teams are averaging 31.5 points per game in Rogers officiated games.
2021 NFL Referee Records

Referee Report: Against The Spread
Land Clark
So far this season, home teams are 3-1 against the spread and 3-1 on the money line. In fact, home teams are averaging 28.25 points per game, and road teams are averaging only 20 points per game. This is a small sample but we will keep track of this trend for Land Clark. In Week 5, Land Clark and crew are assigned to the AFC clash between the Indianapolis Colts and the Baltimore Ravens.
Alex Kemp
Dating back to last season, home teams were covering at a 60% rate against the spread. On the contrary, this season road teams are a perfect 3-0 against the spread and the money line thus far this season. Furthermore, road teams are averaging close to 24 points per game while home teams are averaging only 14 points per game. I would not fire off on this trend yet but I am highlighting which trend we should keep track of over the next couple of weeks.
Shawn Hochuli
Shawn Hochuli is one of the referees I have been keeping tabs on this season and backing the road teams. In fact, over the last 17 regular-season games, road teams are 13-3-1 against the spread. Last week, Houchli was assigned to the Arizona Cardinals and Los Angeles Rams matchup bringing his record to 4-0 against the spread for the road team. This week, Houchli is assigned to the NFC matchup between the Philadelphia Eagles and the Carolina Panthers.
                             Week 5 NFL Referee Assignments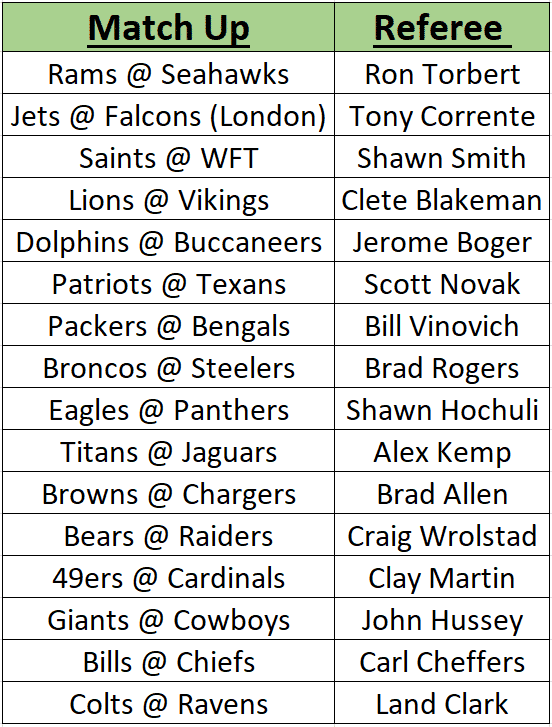 ---
NFL Related
Early Week 5 Waiver Wire Fantasy Football Targets